Industry analysis and Supply Chain Management
of Lafarge Surma Cement Limited
Bangladesh cement industry is the 40th largest market in the world. Currently capacity of the industry is about 20 million ton (MT). Top 13 players are alone controlling over 78% of the total industry capacity. However, the balance capacity still remains quite fragmented. (Zebun Nahar, 2011)
Development of cement industry in Bangladesh dates back to the early-fifties but its growth in real sense started only about a decade. The country has been experiencing an upsurge in cement consumption for the last five years.
Government gave permission for establishing cement industries in Bangladesh in FY1995. Initially the cement industry took place without the proper analysis of the demand and supply of cement in the country. Within the span of the two to three years, industry attained expanded capacity of the product with stable growth rate of consumption.
There were mainly four dominant players in the cement industry in the year 1998 that produced their own cement to meet the demand of their customers. These companies were:
Meghna Cement (owned by Bashundhara group)
Eastern Cement (currently known as Seven Horse)
Chatok Cement
Chittagong Cement (taken over by Heidelberg)
After a decade, currently 123 companies are listed as cement manufacturers in the country. Among them 63 have actual production capacity while 32 are in operation. The current installed capacity of the industry is 20.0 mn MT.
Lafarge Surma Cement Limited started its operation in 11th November 1997 as a private limited company according to Company Act 1994. Later on, it went to public on 20th November 2003. It is the joint venture of Lafarge and Cementos Molins, Spanish company with strong global presence in building materials. LSC has more than 24000 shareholders and listed in Dhaka and Chittagong Stock Exchange.
Objectives
Broad Objective
To analyze the existing cement industry in terms of Supply Chain Management System at Logistics unit of Lafarge Surma Cement Ltd.
Specific Objectives
The specific objectives of this report are:
To have a practical experience of Job life.
To find out the relevance and application of the theoretical knowledge in practical life.
To know about the real life scenarios and problems that occurs in a workplace which however cannot be understood properly by reading books and studying in classrooms.
To gain an in-depth knowledge about how a company (in this case a cement company) functions by utilizing its resources properly.
To gain knowledge about the cement industry of Bangladesh.
History of Lafarge
Joseph-Auguste Pavin de Lafarge founded the company Lafarge in 1833in the city of Le Teil in France with the product of limestone. Gradually the company expanded and acquired its first cement plant in 1987. Now it is operating its business in 62 countries along with Bangladesh. Cement, construction aggregates, asphalt and concrete are main products of Lafarge. Country wise these products vary. "Anticipate needs to drive advances in construction methods" is the mission of Lafarge Group. "Respect, Care and Rigor" are the solid values of Lafarge. The employees of Lafarge throughout the world also believe in integrity, ethics, courage, empathy, openness, commitment, performance, value creation, respect for employees and local cultures, environmental protection, conservation of natural resources and energy. The Group portfolio of businesses is as follows:
Cement: 63.5%,
Aggregates and concrete: 35.9%,
Other: 0.6%.
At present Bruno Lafont is the Chief Executive Officer of Lafarge group. From the record of 2013, Lafarge has 64000 employees throughout the globe. In 2013, its sales were 15.2 billion Euros. It has 1636 production sites in different countries. Lafarge head office is now in Paris, France. Lafarge built the first research center for building materials where the employees are trying to develop their products without hampering the environment.
Cementos Molins, Sociedad Anonima, is a Spanish Cement Company which was founded in 1928. With the experience of 75 years in manufacturing cement Cementos Molins has now become a renowned Concrete, Aggregates, Mortar and Pre-cast product producer in Spain. It has now 40 Ready Mix plants, 13 Aggregates quarry and 11 pre-cast product manufacturing units in Spain, it has industrial operation in Mexico, Argentina, Uruguay, Bangladesh and Tunisia.
Lafarge and Cementos went for a joint venture agreement. By this joint venture two companies formed named Surma Holdings with Lafarge and Molins. Each company holds 50% stake in the newly formed joint venture company. However, after transfer of the current Lafarge shareholding in Lafarge Surma Cement (LSC), the Joint Venture Company holds about 59% of LSC's common equity.
Lafarge Surma Cement Ltd. was established in 11th November, 1997. This commercial venture was born by an investment of 280USD dollars which was financed by Lafarge of France and Cementos Molins of Spain. However, till now it is the biggest foreign investment in our country.
Since Bangladesh has no commercial deposit of limestone, that's why in 2000 India and Bangladesh signed a historical agreement through exchange of letter to support this unique cross boarder commercial venture. According to this agreement, India would provide uninterrupted supply of limestone to the plant which was established in Chattak, Sylhet, Bangladesh.
Although the main plant is in Bangladesh; a subsidiary office named Lafarge Umiam Mining Private Ltd. (LUMPL) being registered in India, which operates its quarry at Nongtrai in Meghalaya.
Background of Lafarge Surma Cement
As it is mentioned earlier that LSC was incorporated on 11th November 1997 as a private limited company in Bangladesh under the Companies Act 1994. Subsequently, on 20th January 2003, Lafarge Surma Cement was made into a public limited company. The Company is listed in Dhaka and Chittagong Stock Exchanges and has more than 24,000 shareholders. The plant of Lafarge Surma Cement, which is located in Chhatak Sunamganj is the only fully integrated dry process cement plant in Bangladesh where high premium quality clinker (a semi finished product needed to produce cement) and cement are produced utilizing sophisticated and state-of-the-art machineries and processes. The Company's ability to produce its own clinker under its strict quality supervision and the presence of an international standard Quality Control and Monitoring Lab ensures the same consistent premium quality in each and every bag. Lafarge Surma Cement sources its primary raw material limestone from its own quarry in Meghalaya, India, which has one of the best quality limestone deposits in the world. This limestone is brought to the Plant using a 17 km long conveyer belt. In November 2000, the two Governments of India and Bangladesh signed a historic agreement through exchange of letters in order to support this unique cross border commercial venture, and till date it is the only cross border industrial venture between the two countries. As Bangladesh does not have any commercial deposit of limestone (the main raw materials for producing clinker), the agreement provides for uninterrupted supply of limestone to the cement plant from the quarry. Lafarge Surma Cement Ltd. wholly owns a subsidiary company Lafarge Umiam Mining Private Ltd. (LUMPL), which is registered in India and operates the quarry in Meghalaya.
By supplying clinker to other cement producers in the market and through import substitution of clinker, Lafarge Surma Cement helps the country save USD 65-70 million worth of foreign currency per year. The Company also contributes around BDT 1 (one) billion per annum as government revenue to the national exchequer of Bangladesh. About 5,000 people depend on our business directly or indirectly for their livelihood. Apart from these, the Company also contributes to the sustainable development of the society, economy and environment though its Corporate Social Responsibility initiatives in the area of education, health, employment generation, infrastructure development and environmental management.
This commercial venture, with an investment of USD 280 million is one of the largest foreign investments in Bangladesh. It has been financed by Lafarge, S.A., Cementos Molins, S.A., and a number of leading Bangladeshi business houses together with International Finance Corporation (IFC), The World Bank, the Asian Development Bank (ADB), German Development Bank (DEG), European Investment Bank (EIB) and the Netherlands Development Finance Company (FMO). Lafarge is a world leader in building materials, employing 64,000 people in 62 countries. As a top-ranking player in its Cement, Aggregates and Concrete businesses, it contributes to the construction of cities around the world, through its innovative solutions providing them with more housing and making them more compact, more durable, more beautiful, and better connected. With the world's leading building materials research facility, Lafarge places innovation at the heart of its priorities in order to contribute to more sustainable construction and to better serve architectural creativity.
Cementos Molins is a family owned Spanish Company with more than 80 years of experience. Apart from its operation in Spain, it has operations in Bangladesh, Argentina, Uruguay, Mexico, and Tunisia, controlling 16 million tons of cement. Lafarge Surma Cement will continue to strive to come up with range of products and solutions that will convert architectural dreams into realities and provide the building blocks for a modern and beautiful country. Lafarge Surma Cement Limited started its operation in 11th November 1997 as a  private limited company according to Company Act 1994. Later on, it went to public on 20th November 2003. It is the joint venture of Lafarge and Cementos Molins, Spanish company with strong global presence in building materials. LSC has more than 24000 shareholders and listed in Dhaka and Chittagong Stock Exchange.
Products
SUPERCRETE
Supercrete is a premium cement brand made for multi-purpose applications, namely – foundation, beam, column, slab masonry, plastering works, etc. This cement is purely limestone based, free of fly ash or slag, unlike other cements in the country.
Unique features of Supercrete are:
– Consistent Quality
– Early Strengths and Setting
– Good Workability
– Superior Finish
– Light Color
POWERCRETE
Innovative formulation from Lafarge Cement's unequalled technical resources has produced cement that is the effective solution to the productivity demands of large construction projects. Unique particles size and extra fitness reduces voids in concrete which protects the concrete from water contact. Powercrete is available in bulk quantity for big construction projects.
Powercrete has the characteristics of:
– Excellent strength performance at all ages
– Good early strength
– Superior workability
Porter's five forces
Departments of LSC
Information Technology Department
The fundamental capacity of this division is to give sound IT backings to the whole organization. It is likewise in charge of overseeing and exchanging information among the concerned powers of LSC. The head of IT alongside his group dependably attempt to give the representatives better support. It is a critical division.
Finance and Accounts Departments
The Finance and the Accounts Department of LSC is interlinked. This office is primarily in charge of keeping and checking on the financial records and to transform the reports which include the monetary exchanges of the organization. All the monetary reports and budgetary diary sections of LSC are readied by the Finance and Accounts office. These offices additionally guarantee the upkeep of the records for the organization. The yearly spending plan distributed to different branch workplaces are checked by the Finance and Accounts group. If there should arise an occurrence of any budgetary intricacies to be determined sheet or yearly reviewing, the office assumes the key part in fulfilling that. Checking bills, doing installments and repayments are their key assignments
HR Departments
This department is responsible for recruiting potential candidates, training them, making a succession planning and developing their talent.
To select a worker, the organization first gives the promotion of the empty position inside. Intrigued hopefuls from the association are permitted to apply for these positions. The representative would then need to confront a meeting. On the off, chance that he passes the meeting then the hopeful would need to take consent from his area of expertise head so as to switch his specialty or to move to another position. The second alternative is that the interior referrals are utilized where the representatives of LSC alludes to an applicant who may be qualified for the empty position of the organization. Last however not the minimum, opportunity notices are given in both the neighborhood news papers and the online business catalog of Bangladesh.
The preparation and advancement is essentially upheld by the logistics and promoting office. There are different sorts of preparing projects which are accommodated the representatives in LSC. The representatives who are working in the Commercial building in Dhaka are given additionally preparing which is of a more refined nature. This primarily alludes to doing so as to prepare where the worker essentially learns and by working with their chief. Then again, other concerned laborers of the organization, for example, the professionals, bricklayers, engineers, assembly line laborers and the merchants are prepared throughout the year.
Different sorts of at work instructional meetings alongside gatherings and classes are  organized them with help and backing from the promoting and the logistics division of the organization.
Succession planning and talent development
The administration of the association takes a gander at the track records of the representatives in the progression arranging project. The reputation for the most part comprises of data identified with the execution of a worker. This reputation is likewise made by the HR division of the organization. According to the consequences of the reputation, the lacks of the workers are recognized and obliged steps are taken by the HR staff to help that representative further evaluate and build up his abilities.
Marketing Department
Creation of market
The market is created by:
1) Providing advertisement.
2) Providing agent ship.
3) Giving dealership.
4) And also through the wholesalers and retailers of the product.
Determination of market demand and supply
Market demand and supply of the product is determined by: i) surveying. ii) Gathering monthly report. iii) Collecting the opinion of consumers. iv) Collecting the competitors' views and opinions. v) Collecting data and information from market researchers and specialists.
Meeting market demand and achieving target market
The company is able to meet its market demand. And it is capable to achieve the target market.
Best technique for creating market
The best technique for creating market is mainly agent ship.
Main approach on marketing
The chief approach on marketing is to satisfy the consumers.
Research and development (R&D ) program :
The types of techniques for R&D are:
i) Market survey for marketing product.
ii) Making discussion with the agent.
iii) Ensuring product quality and gathering report.
The marketing department of LSC follows each and every aspect which is mentioned to gain the best out of the market and from the customers as well. During Ramadan month they arranged several Iftar party to be in touch with their loyal and potential customers.
Sales Administration
The sales administration department of Lafarge Surma Cement Ltd works with the pricing procedure of it\s product. Pricing Procedure describes the "Price Management" of Lafarge Surma Cement Ltd. ("LSC"), which includes selling rebate to accommodate relevant changes. It sets internal control in the price and rebates changing management.
The Process
The entire process works in fifteen different steps in total. These fifteen steps are done under six different segments. These are:
– Customer & Sales Manager
– Customer Master Administration
– Sales Admin
– Treasury
– Depot Logistics
– Input Output Process
The process begins Customer and Sales Manager segment. The first step is to receive request from customer. From here the received request moves to the Customer Master Administrator segment. There a decision is taken whether to update the customer or not. If yes then it moves to the Customer Master File Administration section under Input Output Process segment.
From there it moves to Prepayment. In customer is not updated, it moves it directly to prepayment. From there if prepayment is to be made then it moves to Enter Prepayment section and then to Enter Sales Order function. If prepayment is not going to be made then it moves directly to Enter Sales Order function. This is the third step of the process. From prepayment onwards the functions are being operated under Sales Admin segment.
From here it moves to the fourth step which is Automatic Credit Card. The automatic credit card sends the order to Sales Order on Hold section where a decision is to be made. If yes then it moves to the fifth step which is Review Credit Limit & Customer Account. It moves forward from here to the sixth step which requires knowing if the problem is resolved. If no, then a decision has to be made whether to notify the customer or not. If no then sales admin closes the sales order which is the seventh step.
If the customer is notified then the customer pays and the order moves to the eighth step which is Release Sales Order on Hold. If the problem is resolved in step six then the order directly moves to the eighth step. Steps two, five, six and eight are performed under the treasury segment.
After the releasing of the sales order hold it moves to step nine which is Print Sales Order. This is an optional step. After printing it moves to WDS Process under Depot Logistics segment. Under the shipment process there are four steps starting with Check Documentation.
After that stock availability is checked and the approval for loading is issued. After loading process completes comes the step of document processing which is the thirteenth step. After this the order moves to VAT register update ad maintain step. The entire shipment process is done under the Depot Logistics segment. Upon completion of the shipment process the order moves to its fifteenth and final step which is Reconciliation WDS vs JDE vs VAT. This step is performed under the Input Output Process segment.
Pricing of Lafarge Surma Cement Ltd
The pricing of cement of various players in the industry are very close to one another. Due to the presence of homogeneous products in the market, price war is a sensitive issue in this industry which exists from time to time in the cement market. Cement prices have been on an upward trajectory since 2007 in line with steady increase in clinker costs. However, the large capacity expansions are expected to weigh down on price realizations by cement companies due to increasing availability of product.
Moreover, cement prices, like all commodity prices, are influenced by demand-supply dynamics. Seasonal factors like weak demand during monsoon in most areas also put pressure on prices. As the freight cost accounts for a substantial proportion of sales price, the ruling market price of cement becomes different in different regions.
Additional capacity utilization of the existing units as well as commissioning of new producing units is likely to bring down the sales price, unless there is an equivalent rise in demand. But if the demand does not rise proportionately to absorb the additional supply, the units would have to lower price to induce more sale to maintain the required level of revenue income. The quality of cement, brand image, export potential, price of cement in international market, anti- dumping position of cement manufacturer, future tariff policy etc. will have an impact on price of cement in future.
The factories which would be using captive power, which is cheaper and more reliable than grid power and backed by uninterrupted clinker supply at competitive price, are likely to be more cost efficient to emerge as the market leader.
Hence, average price of cement is expected to increase by BDT 5.0 – BDT 10.0 per bag over the next 3 years. Price may not increase in line with increasing demand as the cost of sales may dip due to stable clinker price and increasing supply of product.
Zone-wise Retail Price Comparison
Central Zone
In central zone, during the past year, Supercrete does not lead the market. Retail prices ranged between BDT 435~485 per bag. (Monthly Commercial Report Jan' 15, 2015)
North-East Zone
In north-east zone, during the past year, Supercrete leads the market. Retail prices ranged between BDT 415~430 per bag.
Factors Influencing Pricing Strategy at LFC
Price reflects the revenue generated for product. Here price means invoicing price for cement & clinker by the customers and distributors. Cement prices, like all commodity prices, are influenced by demand-supply dynamics. Seasonal factors like weak demand during monsoon in most areas also put pressure on prices. As the freight cost accounts for a substantial proportion of sales price, the ruling market price of cement becomes different in different regions.
Additional capacity utilization of the existing units as well as commissioning of new producing units is likely to bring down the sales price, unless there is an equivalent rise in demand. But if the demand does not rise proportionately to absorb the additional supply, the units would have to lower price to induce more sale to maintain the required level of revenue income. The quality of cement, brand image, export potential, price of cement in international market, anti- dumping position of cement manufacturer, future tariff policy etc. will have an impact on price of cement in future.
Factors
There are certain factors that directly have an impact on the pricing strategy at Lafarge Surma
Cement LTD. These are as follows:
– Price dynamics change in the market. This can be caused by fluctuation in costs like electricity cost, fuel cost, distribution cost elements etc. For example, if suddenly the fuel cost goes high by a large margin then the price of the product will also move upwards.
– Seasonality impact. Seasonality means a characteristic of a time series in which the data experiences regular and predictable changes which recur every calendar year. Any predictable change or pattern in a time series that recurs or repeats over a oneyear period can be said to be seasonal. These seasonality changes causes cement price to fluctuate.
– Special offer. During special offers special prices are introduced to go with the offer.
– Achievements for volume target. If a volume target is achieved then in some instances reduced prices are offered for a certain time period to the achiever.
– Strategic market decision. Sometimes strategic marketing decisions are taken which  affect the price of the product.
– Change of imported clinker price. Lafarge imports clinkers for production. If the clinker price moves upwards or downwards then the price of cement moves along with it.
– Non trade customer. For non trade channel customer, price may change based on negotiation with customers, customer's purchase order, MOU, business agreements with the customer and special project based competitive offer etc.
– Modes of transportation change/lifting location. If a customer's mode of transportation changes then often it causes the price of the product to change as well.
This happens because different vehicles cost different amount of money to deliver product. Similarly if the location of lifting is changed that also affects the price of the product.
– Freight cost elements change. Another reason for price of the product to change is if the freight cost elements change. These affect the price of the product directly.
– Need to be price competitive in the market. Sometimes to price competitive in the market the price of the product needs to be marked down. For instance if all the competitors are selling their product at a significantly cheaper price than sales of products from LSC will automatically go down. So to be competitive in the market the price needs to be marked down. (Nasif Kabir Siqqique, 2014)
Supply Chain Management
In definition, Supply Chain management defines the flow of goods, movement and storage of raw materials, placing finished goods from production place to customers through interconnected and interlinked networks of channels and businesses. "Keith Oliver", a consultant at Booz Allen Hamilton (Booz and Company) brought the word "Supply Chain Management" in business world through his interview for Financial Times in 1982.
Gradually, the word spreads to different organizations and became popular in mid 1990s. Major areas of SCM are operation management, logistics, procurement, information technologies, product development, sourcing and production. According to Robert Handfield, Ph.D. (2011), "Supply chain activities cover everything from product development, sourcing, production, and logistics, as well as the information systems needed to coordinate these activities.
The general process of SCM follows, design planning, execution, control and monitoring to maximize customer value and achieve a sustainable competitive advantage. Through SCM organizations gain various objectives, like creating net value, building a competitive infrastructure, leveraging worldwide logistics synchronizing supply with demand, measuring performance globally, calculating supply chain transactions, managing supplier relationships, and controlling associated business processes.
A definition is given by Hines (2004:p76): "Supply chain strategies require a total systems view of the links in the chain that work together efficiently to create customer satisfaction at the end point of delivery to the consumer. As a consequence, costs must be lowered throughout the chain by driving out unnecessary expenses, movements, and handling. The main focus is turned to efficiency and added value, or the end-user's perception of value.
Efficiency must be increased, and bottlenecks removed. The measurement of performance focuses on total system efficiency and the equitable monetary reward distribution to those  within the supply chain. The supply chain system must be responsive to customer requirements."
Supply Chain and Logistics
LSC, Supply Chain has three divisions and Logistics team has two subdivisions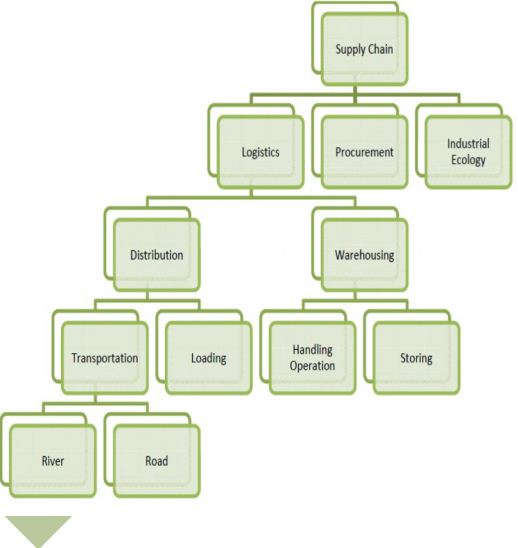 Principal functions of LSC Supply Chain Management are:
Transportation Management
Distribution Management
Inventory Management
Cost Management
Payment Management
Supplier Management
Customer Service Management
Transportation and Freight Management
Transportation is one of the center sections of SCM which concerns with cargo administration, shipment and transportation portion with vehicle sort, shipment size, recurrence and so forth. TFM meets expectations for both inbound (obtainment) and outbound (delivery) orders. Transportation and Freight Management for the most part manages stream of products and data.
With the assistance of TFM individuals can figure out the expense of transportation of products, it keeps up the nature of merchandise amid transportation, can discover the best course and mode for the most straightforward transportation.
Transportation administration frameworks deal with four key procedures of transportation administration:
Planning and decision making – TMS will define the most efficient transport schemes according to given parameters, which have a lower or higher importance according to the user policy: transport cost, shorter lead-time, fewer stops possible to ensure quality, flows regrouping coefficient, etc.
Transportation Execution – TMS will allow for the execution of the transportation plan such as carrier rate acceptance, carrier dispatching, EDI etc.
Transport follow-up – TMS will allow following any physical or administrative operation regarding transportation: traceability of transport event by event (shipping from A, arrival at B, customs clearance, etc.), editing of reception, custom clearance, invoicing and booking documents, sending of transport alerts (delay, accident, nonforecast stops…)
Measurement – TMS have or need to have a logistics key performance indicator (KPI) reporting function for transport. (Vanek, 2014)
Transport and freight management helps organizations to improve the economic well-being, social interaction, quality of physical environment and quality of daily life. It remains the bridge between demand and supply by fulfilling the demand of people in new location where no local supplies are available. Some components of TFM are: transit time, reliability, accessibility, capability, Security (Coyle, 2011)
Requirements for perfect TFM
For long separations water and rail modes are financially savvy as far as transportation. Associations' settle their vehicle mode in view of separation. To contend in the business numerous associations seek after the administration to enhance the foundation and administrations of rail and marine modes.
Standard calendar ought to keep up for accessibility of vehicles and labor to exchange merchandise. It should be possible effectively through expanded computerization and coordination among distributers. For simple transportation territorial conveyance framework ought to be taken after. Amid conveying products in urban territories human fueled transport ought to be utilized.
Freight can be lessened by decreasing volume and superfluous bundling
Implement armada administration programs that lessen vehicle mileage, use ideal estimated vehicles for every excursion, and protect that armada vehicles are kept up and worked in ways that diminish outer expenses (blockage, contamination, accident hazard, and so on.).
Change cargo conveyance times to lessen blockage.
Land use availability ought to increment by bunching regular destinations together, which decreases the measure of travel needed for merchandise dispersion.
Vehicle energizes need to keep up effectively and decrease outflows through outline upgrades and new advances. These incorporate expanded optimal design, weight diminishments, decreased motor grinding, enhanced motor and transmission plans, more effective tires, and more productive embellishments.
Training ought to ad lib for vehicle administrators to energize more pro
Improve passengers' ability to carry luggage and other baggage on public transit (Goldman and Murray 2011).
Now a day's organizations use ERP system for smoothen TFM. Some software providers are either acquired or merged with supply chain management consultancies and started offering shippers "blended"; managed and software services as an outsourced process. With new innovations and technologies the efficiency of freight and commercial transport is getting improved.
Transportation and Freight Management
LSC has a very structured transportation and Freight Management System. It follows two modes of transportation: Barge and Truck. From plant the majority transfer happens with barge and from depot majority transfer happens with trucks. LSC has contracts with some transporters who transfer LSC products regular basis. The freight is fixed for per bags in terms of cement. In terms of clinkers the freight is fixed by weight. GMS International Surveyor provides us the amount carried by any barge.
Transportation Types
Stocks Transfer from Plant to Depots:
As per LSC business model stocks are being transferred from plant to depots and terminals. This is called sales transfer/stocks transfer (ST). This is also called as internal transfer. For this type of shipment LSC fleet operation team arranges transports by road & river and enlisted suppliers provide required number of transports as per requirement of business which is governed by transports planning and execution process. This transfer incurs the cost of  freight, handling, BIWTA charges; empty bags consumption, demurrage etc which is called as "ITC" (Internal Transfer Cost).
Delivered Basis Sales:
As Executive Logistics (Fleet Operations) organize the vehicles (street/waterway) for conveying stocks at client end upon solicitation from deals group and accessibility of "SO" in frameworks. This is called "conveyed premise" deals/shipment for which LSC is completely in charge of cargo and different issues which will be secured by other piece of shipment procedure. This shipment causes expense of cargo, taking care of, void packs utilization, demurrage and so on which is called "FTC" (Freight to Customer)
Customer Pick-up Carrying:
There is another kind of transportation which is called "Client Pick-up Carrying". In this connection client will organize transports (trucks/canal boats/trawler) at his own particular obligation and send the same with legitimate documentation (DN, approval Paper). The vehicles/transports will likewise take after line frameworks (serial) for stacking at individual area.
Shortfall/ Damages
During delivery to customers there may be short fall in bags. Customer will inform sales team about shortfall. Thereafter sales team will inform HO Logistics team (fleet operation) and Customer Care Department. After that, Sales Operation & Customer Care will make a joint visit to customer site for investigation of claim. Based on the investigation report, fleet team will take necessary action on the basis of transport agreement.
Distributer Network
Appropriation system is another huge section of Supply Chain Management which is a framework interrelate administration of individuals, storeroom and transportation through  which products and administrations are exchanged from maker to customers. It is one of the key drivers of benefit. With an organized circulation arrange an organization can increase minimal effort and high responsiveness. The real significance of dispersion system is to give products and administrations to clients when they need. Substantial as a multinational organization, takes after diverse conveyance systems in light of their client's necessity. Case in point, Wal-Mart control their expense and keep up its game changer with the assistance of a great many partners, a privet armada of drivers, various appropriation focuses and transportation workplaces and minimizing the quantity of miles its trucks travel unfilled.
There are three types of distributions in terms of manufacturing industry. They are:
Primary Distribution: when goods are distributed from plants to different warehouses or depots that is called primary distribution.
Secondary Distribution: when goods are distributed from warehouse to customers that is called secondary distribution
Tertiary distribution: when goods are distributed from warehouse to retailers that is called tertiary distribution.
LSC Distributer Network
For smooth distribution of products, LSC has six depots in Kutubpur, Kanchpur, Sylhet, Nowapara, Mirpur and Dipnagar. From plants cement is sent to these depots as stock, so that goods can be transferred to the customers as early as possible. Kutubpur depot is fully owned by LSC; others are handled by third party but monitored and controlled by LSC. At every point LSC has handling contractor to load and unload goods swiftly.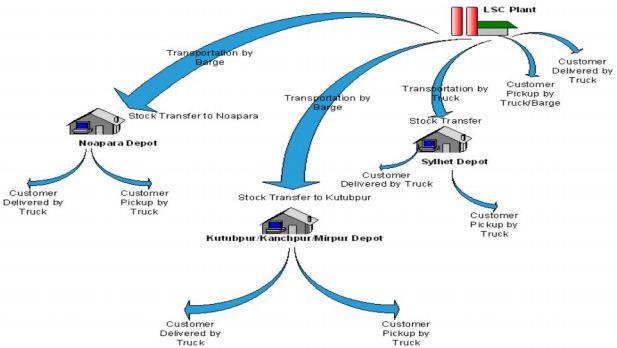 Inventory and Warehouse Management
The execution of a production network (responsiveness and productivity) is controlled by choices in the regions of stock, transportation, offices and data. Stock is kept up in the store network in view of confuses in the middle of supply and interest. Store network system plan and displaying is a mind boggling framework and stock make it more unpredictable yet it additionally gives benefit to the organization. Stock is extremely huge expense driver.
For diverse industry and items stock is kept and oversaw in distinctive ways. Expanding stock gives higher responsiveness however brings about higher stock conveying expense.
A supermarket inventory network ought to utilize authentic interest examples for regular things to mitigate weight on all individuals and give clients item amid crest interest periods.
For autos the store network is planned in such a way, and get together operations are situated with closeness to businesses, then the production network can be run economically without holding an excessive amount of stock in travel.
LSC Inventory Facility
For wellbeing, smooth transportation, and consumer loyalty, LSC keep stock in its six stops and plant. They keep the stock in such a path along these lines, to the point that simple exchange is conceivable. Directly after creation the merchandise are sent to stations as indicated by free space in every stop. Stops size and area were built up in light of the interest of client and simple exchange office of that territory. In instances of crisis cement kept in the capacity place of plant. In the distribution centers concrete sacks are kept in stacks. Stacking is done in a deliberate manner with the goal that cement sacks can undoubtedly take out when fundamental. From the distribution center, old concrete packs are dispatched first and afterward new sacks. Other than distribution centers, there are dump regions where stocks are kept also.
Stocks shortage or damage
In the distribution centers stock deficiency or harm may happen amid operations at those capacity places. In the event that stock lack or harm is distinguished in third gathering stations (distribution center/dump) amid compromise, Depot In-control will give authority letter to stockroom/dump proprietor for joint compromise. After joint compromise, Depots logistics group will bring up the issues with distribution center foreman on the premise of administration assertion and stocks quality will be deducted from builder's bill. On the off chance that LSC is in charge of stocks deficiency or harm for at all reasons (like long stockpiling & then clearing) then stocks alteration will happen according to DOA of the organization. LSC & transport builder will settle protection claim where material according to the terms of the administration understanding.
LSC Cost Management Optimization
Lafarge, utilizing the LCA (is an institutionalized strategy which permits the indispensable record, measurement and assessment of the natural harms joined with an item, a methodology, or an administration in the setting of a given inquiry) system, has recognized various levers which will decrease the expense of developments all through their lifecycle while keeping up or expanding their social and ecological exhibitions:
Decrease underway expenses;
Reserve funds in worksite time and assets;
Configuration of structures and developments which are monetary in their use stage (vitality devoured, support, and so on.);
The strength, adaptability and recyclability of developments and structures after some time, i.e. their capacity to be
Logistics Cost Reduction
Transportation through waterway state of mind is 3 times less unreasonable than transportation through street. That is the reason LSC transport its two third generation of concrete from plants with canal boat through waterway temperament. Just concrete needed for Sylhet warehouse is exchanged by truck. As far as exchanging from warehouses to client it is exceptionally hard to send through freight boat. At the point when cement is send by organization transport, in longer course cost increments yet in shorter course cost decreases.
So LSC diminish cost by selecting shorter course for organization exchange and maintain a strategic distance from longer course.
Another approach to lessen logistics expense is arrangement with the transporters and handlers which for the most part relies on upon sum and improving limit use.
For stock the expense once in a while varies. LSC consistently screen how cost can be decreased without diminishing quality and administration.
LSC People Management Strategy
In light of division need, LSC enlists exceptionally qualified workers. For enrollment they gathers resumes, sort out those in view of instruction and aptitudes. At that point call "sort out" contender for bent test and meeting. After that second period of meeting is taken by the executives lastly enroll the best representative for the organization. In the wake of enrolling workers, LSC give extraordinary preparing to every representative. Some broad preparing is given to all representatives:
Preparing on Company Policy
Direction on Behavioral Expectations
Preparing on Health and Safety
Preparing on VAT and TAX
Correspondence Training
Assessment of Employees
Consistently the workers are assessed by Key Performance Indicators (KPI). For individual worker KPI is given altered at the beginning of the year. The entire year, execution is assessed in two ways:
Administration and Leadership Skill: How great the representative is dealing with the workplace, how the worker is performing wellbeing measures and how well in driving colleagues.
Useful Skill: How productively the representative is performing own employment obligations
In light of these two abilities last assessment is finished. In the event that any representative has lacking on any range, unique preparing is arranged.
Shipment Process
The goal of this procedure is to guarantee emptying stocks from plant and conveying the same merchandise to client end through terminal & stations with compelling transportation & warehousing frameworks alongside keeping up standard procedure, agreeability and wellbeing.
This over all procedure is reported by Logistics division and sanction by Supply Chain Director. All logistics workers take after this as unchangeable rule. On the off chance that any change obliged then the entire office have a meeting and fix the progressions and after that take regard from the SCD.
Customer Management System
Lafarge treats its clients in a productive approach. It needs two sorts from claiming customers: Retailers and end consumers. Greatest bargains need aid carried of the retailers.
Those retailers would provide for A large number offices In view of their execution. Logistics Branch doesn't straightforwardly handle the clients However if any whine found from client's related logistics that is monitored Also took care of Toward those logistics group.
Client protestation & come back merchandise oversaw economy.
Client Complaints: In there will be At whatever protestation viewing item quality, afterward client informs those deals group. Offers fewer groups authoritatively send mail on client forethought less group to examination. Then afterward investigation, client mind manager/executive informs logistics less group for substitution cost for merchandise following endorsement from concerned power.
Come back goods: Assuming that any protestation emerging starting with the client will be advocated and endorsed Furthermore approved by worried cooperation At that point vital
activity will be taken Toward particular logistics less group to came back merchandise from client webpage upon Regard laid down to client objections taking care of strategy.
Came back products adjustment: following settlement from claiming client objections Furthermore bringing physical give back of products starting with customer, webpage station in-charge/terminal administration faculty speak for ho offers admin cooperation for change over framework & production about new "SO". Then afterward accessibility for "SO" in systems, station / terminal logistics group organize reinstatement for merchandise.
Corporate Social Responsibilities
As being a part of society we all have some responsibilities towards our surrounding society. Based on our ability we should fulfill this responsibility. Like individual human being a corporation or business has also some farm duties for the society, in general it is called corporate social responsibility. According to institutional theory, corporate social responsibility consisting of a series of propositions specifying the conditions under which corporations are likely to behave in socially responsible way. The initial objective of a business is making profit, but now the large multinationals and other businesses are focusing on Corporate Social Responsibility, which means they are trying to be ethically, legally and socially responsible towards the society. According to James Brusseau, three theoretical approaches had established for Corporate Social responsibility.
Corporate social responsibility (CSR)
The triple bottom line
Stakeholder theory
Recommendation
LSC can execute GPS framework in the vehicle so that from the head office the vehicles can be checked. With the assistance of GPS it can quantify, which vehicle squander the amount of time in movement and some other issues. It can likewise be observed whether the transporters are included with any fuel pilferage or some other wrongdoing.
Automation can be acquainted in line administration with give the products to client on time.
During blustery season, transportation for the most part done through trucks. In this way, long separation ought to be kept away from by truck. It will diminish the expense.
Additionally, taking into account interest anticipating the warehouses ought to be filled before stormy season. in every distribution center, programmed checking framework ought to be set up, so that when the concrete sacks will stack in the stockroom framework will keep record and amid uprooting products framework will do same. From the both data, correct free space can be measured and in view of the precise measure of products can be sent.