SME Financing of BRAC Bank Limited
BRAC, a national, private organization, started as an almost entirely donor funded, small scale relief and rehabilitation project initiated by Sir Fazle Hasan Abed to help the country overcome the devastation and trauma of the Liberation War and focused on resettling refugees returning from India. Today, BRAC has emerged as an independent, virtually self financed paradigm in sustainable human development. It is one of the largest Southern development organizations employing 97,192 people, with 61% women, and working with the twin objectives of poverty alleviation and empowerment of the poor.
International Finance Corporation
The International Finance Corporation (IFC) is the private sector arm and the commercial wing of the World Bank Group. IFC promotes sustainable private sector development in developing countries. Using certain channels and overseas representatives, IFC helps local financial institutions find profitable ways to target small and medium sized companies.
Funding comes from the Asian Development Bank, Canada, the European Commission, the Netherlands, Norway, the United Kingdom and IFC itself.
IFC is a 5.36% shareholder in BRAC Bank. A new assistance program signed in August 2005 aims to double the bank"s number of small and medium enterprise clients in 18 months through campaigns to target women entrepreneurs and rural clients, introduce new products and train branch managers.
Vision for the Future
"Building profitable and socially responsible financial institution focused on Market and Business with Growth potential, thereby assisting BRAC and stakeholders to build a just, enlightened, healthy democratic and poverty free Bangladesh".
Corporate Mission
Sustained growth in Small & Medium Enterprise sector
Continuous low-cost deposit Growth with controlled growth in retail assets.
Corporate Assets to be funded through self-liability mobilization. Growth in Assets through syndications and investment in faster growing sectors.
Continuous endeavor to increase non-funded income
Keep our debt charges at 2% to maintain a steady profitable growth
Achieve efficient synergies between the bank"s branches, SME unit offices and
BRAC field offices for delivery of remittance and Banks other products and services
Manage various lines of business in a full controlled environment with no compromise on service quality
Keep a divers, far flung team fully controlled environment with no compromise on service quality
Keep a diverse, far flung team fully motivated and driven towards materializing the banks vision into reality
Core Values
BRAC Bank"s Strength emanates from its mother company – BRAC. This means, we will hold the following values and will be guided by BRAC.
Value the fact that one is a member of the BRAC family
Creating an honest, open and enabling environment
Have a strong customer focus and build relationships based on integrity, superior service and mutual benefit
Strive for profit & sound growth
Work as team to serve the best interest of our owners
Relentless in pursuit of business innovation and
Improvement Value and respect people and make decisions
Based on merit Base recognition and reward on performance
Responsible, trustworthy and law-abiding in all that we do.
Observation
The BRAC Bank office environment is very friendly and maintains a corporate culture.
Every employee is enthusiastic to his/her works, and seniors are very cooperative to junior.
Work is never left pending for the next day unless it is absolutely necessary.
With a limited number of office equipment such as Printer, Photocopy & Scanner working processes are time consuming.
Decentralized offices such Archive, Barrister are also widen working processes time for ARA filling and Legal Notice
A very small team to pull of such a big work load of the entire department.
The salary package for the entry and mid-level management is considerably low.
Office area is very small for working process as File sorting for NIA & ARA and Legal Notice prepare.
Recommendation
The number of office equipment such as Printer, Photocopy & Scanner should be increased for the increase of working process speeds.
Promote a centralized archive office to supply loan file when ever Legal coordination unit needs with in a working day.
If a Barrister or his nominee officer always stays at SAM it will be easy and hurry to process Legal Notice.
Need a rule for lawyers that no hand writing "Lawyer Bill" because sometimes it"s making indecipherable and delay to process at Finance department.
The team should be extended for better work efficiency as the work load is massive for a small department.
Increase accommodation for file processing and legal notice prepare
General SME Guidelines by Bangladesh Bank
Bangladeshi SME sector is guided by general SME Guideline of Bangladesh Bank. Guidelines are as follows
Each bank/financial institution shall follow a separate business strategy in financing
SME loan with least formalities in executing documentation to ensure easy and speedy loan sanction and disbursement process.
Priority shall be given to small entrepreneurs.
For small entrepreneurs credit limit will be ranged from Tk. 50,000 (Fifty thousand) to Tk. 50, 00,000 (Fifty lacs)
For more participation of women entrepreneurs in industrial development of the country and for conducting business activities by women entrepreneurs in large number, priority shall have to be given to potential women entrepreneurs in respect of SME credit disbursement.
Banks & Financial Institutions shall put highest priority in receiving loan application from small and medium women entrepreneurs and settle the loan disbursement process within very reasonable time from the date of acceptance of the application.
Each bank and financial institution shall establish a separate "Women Entrepreneurs" Dedicated Desk" with necessary and suitable manpower, provides them training on SME financing and suitably appoints a lady officer as chief of dedicated desk. Branch wise list of "Women Entrepreneurs" Dedicated Desk "should be sent to SME and Special Programs Department of Bangladesh Bank within two months from the date of declaration of this policy and program.
Banks and financial institutions may sanction up to Tk. 25, 00,000 to women entrepreneurs against personal guarantee. In that case, group security/social security may be considered.
The success in SME loan disbursement will be considered as yardstick for further approval of new branches of the concerned bank. License for New Branches will be issued for financing the priority sectors like SME and agriculture from 2010 in the name of "SME/Agriculture Branch" instead of "SME Service Centre; in order to involve banks in financing priority sector like SME and Agriculture".
Each bank/financial institution shall fix the interest rate on SME loan sector/subsector wise. However, bank/financial institution will inform Bangladesh Bank sector/subsector wise rate of interest immediately and ensure disbursement of refinanced fund to the clients (women entrepreneurs) at Bank rate +5% interests
Minimum Requirement for SME Financing According to Bangladesh Bank
Each and every SME provider is regulated by separate restriction given by Bangladesh bank along with general banking rules. It may be noted that those minimum requirement should not in any way interrupt the role of monument process through establishing comprehensive credit risk management system appropriate to their type, scope, sophistication and scale of operation. The Board of Directors of particular bank is required to establish policies, procedures and practice in order to define risks, specify security requirement, design internal control and ensure strict compliance with them.
Importance of SME in Bangladesh
Employment generation
Developing country like Bangladesh where unemployment rate is near 17% (according to ADB), SME plays vital role to create employment. In 2005-2010, around 50% of jobs were created through SME.
Support small and medium enterprises
In Bangladesh, poor people are finance by micro-finance institutes while heavy businesses are encourage by corporate banks. Within this gap small and medium enterprise were ignorant by the traditional banking theme. However all those small and medium business are profitable. With the help of SME loan any potential borrowers can access BDT 2 Lac – BDT 30 core which were unthinkable even before 10 years back. BRAC bank provided 47.49% as SME loan of its entire loan amount in 2011.
Encourage manufacturing
Though Bangladesh is an agro-based country, for the time being entrepreneurs are more interested on manufacturing sectors. In the period of Jan-June 2012, BDT 10,463 billion has been invested in manufacturing sectors which is more than 2.3% of last year on the same period.
Enhance living standard
SME sector contributes in increasing living standard through-GDP growth, GNP growth, and employment generations, providing low priced local products, transecting local resource and improving rural life.
GDP growth
In 2011, SME resulted 25% GDP growth in Bangladesh. Through SME sector, Bangladeshi economy became able to decrease its dependency on foreign products, at the same time it has increased local resource transactions. SME"s contribution to national exports is also significant.
Poverty reduction
Poverty reduction is the logical sequence of employment generation by SME. Sector wise progress has facilities poverty reduction in both urban and rural areas.
Women empowerment
There has been increased women"s involvement in SMEs, especially home-based micro enterprises engaged in the production of clothing and textiles (boutiques and handicrafts, weaving and spinning), livestock and dairy, and retail sales
Decrees of urban migration
In Bangladesh most of the heavy firm, renowned businesses have been set up around Dhaka city. So there is tendency to come into Capital in-search of job. However SME has given new ray of hope to the entrepreneur of rural areas. About 60-65% of SME"s are located outside of metropolitan areas of Dhaka and Chittagong, having easy access to labor and less problematic business environment. Business cost in rural areas is low which also offer better prospects for industrial dispersal. Thus SME decreases urban migration.
Creation of entrepreneurs
SMEs are labour-intensive and low-capital based. Thus it"s encouraging individual entrepreneur to invest and to take risk. Mainly they are encouraged to invest in manufacturing sector where general public appeal is high.
International business growth
SME"s contribution to export is significant through different industries such as readymade garments, jute and leather.
Innovation
There is evidence in the context of developing countries that innovations from small enterprises have led to greater benefits to large-scale businesses. One salient feature of SMEs is that they often rely on home-grown techniques of production, which are based on authentic innovation. Now if they can be protected under intellectual property rights, this may generate substantial business opportunities for SMEs.
SME Background of BRAC Bank Limited
BRAC Bank is a financial supermarket that offers financial solutions for all strata – be it retail, SME, wholesale banking, capital market, or remittance; but it always had a focus on SME. This bank was actually founded on a philosophy of keeping trust on the hopes and dreams of Bangladeshi entrepreneurs – and majority of these entrepreneurs have been beyond the conventional banking reach.
If we think of the financial pyramid, there are corporate institutions (local and multinational) at the top of the pyramid and there are low income individuals at the bottom. Those at the top are served by banks and other financial institutions while those at the bottom are served by Micro Finance Institutions (MFIs), e.g. NGOs. But SME sector in the middle were missing access to necessary banking services and that "Missing Middle" is BRAC Bank"s target in SME financing.
The corporate mission of BRAC Bank Ltd is to ensure sustained growth in SME sector. In parallel with this goal, SME sector, the main concentrated area of the bank financing since its inception, comprises of more than 50% of total loans and advances.
SME Banking Division
BRAC Bank Limited is the largest SME Bank in the country and 4th largest SME Bank in the world in terms of outstanding loan amount. SME Banking Division holds highest asset volume among the business divisions of the Bank (SME Banking, Retail Banking, Corporate Banking, and Probashi Banking). As the name signifies, it provides landing and deposit solutions as well as value adding services (payment remainder, payment notification, etc) to small and medium size businesses within the country.
According to "Major Economic Indicators, Monthly Update Status" as on 31st March, 2012- 2013
The division has captured 5.28% market share within SME Banking arena of Bangladesh which valued 8.35% within the private banking industries.
It has served 470,000 entrepreneurs, with BDT 291,871 million of SME loan since its inception in 2001.
SME Products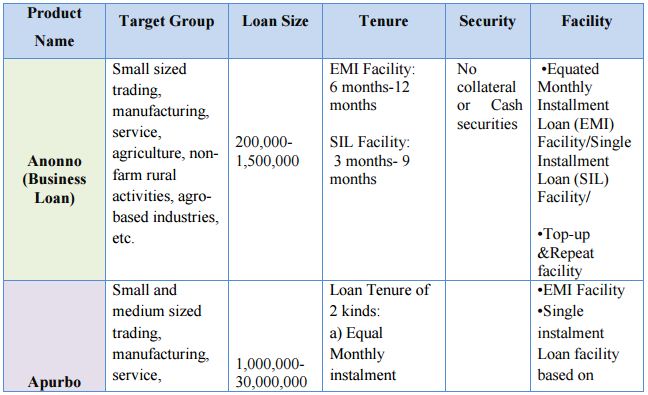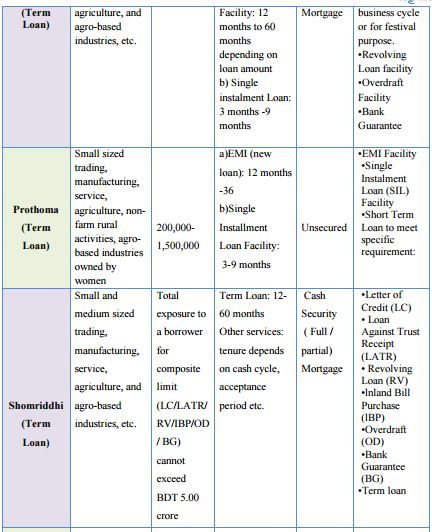 Apart from it, there is SHOMRIDDHI SME Loan to meet import-export related expenses, post import expenses, tax/duty payment, local bill purchase and working capital. SHOMRIDDHI loan is offering BDT 1 Lac to BDT 20 million to any kinds of Sole proprietorship, Partnership or Private Limited Company having valid trade license and which has been operating for at least 3 years. It provides- 1) LC and LATR facility. 2) Revolving loan, overdraft and 3) Local bill discounting facility for exporter/importers
SME Loan method of BRAC Bank
BRAC Bank Ltd. was set up with the growing need for capital mobilization and the need for formal contracts for a wider spectrum of clients of the country. When it came to SME financing, instead of approaching the problem by scaling down its regular operations, a separate program designed especially for SME financing was launched by BRAC Bank in 2002. BRAC Bank"s effort is noted in this regard for its complete focus on the credit needs of the small and medium enterprises. Since the initiation of SME operations by BRAC Bank, it has become the Bank"s largest and most profitable venture.
The unique feature of BRAC Bank is that it is the only bank that approaches prospective clients, while other banks wait for them to apply for loans when required. SME units of BRAC Bank is located in all districts of the country. Each unit has two to five Customer Relations Officers (CROs). The role of CROs is instrumental in not only selecting and approaching clients, but also in maintaining regular interaction with each client, monitoring the use of the loan and ensuring regular repayment.
Customer Relations Officer (CRO) helps a customer choose the scheme which best meets his financial requirements and fits his business size and nature. The CRO then collects all the requisite documents from the customer, consolidates the information, and after ensuring that all the required documentation are in place, he prepares the Loan Application Proposal (LAP) and passes it on to his Zonal Manager. The Zonal Manager visits the business, gives the file a final check and forwards it to the Credit Risk Management department of our bank.
The in the SME Credit wing visits the business location and analyzes the loan proposal by making an assessment of the customer"s ability to repay based on his business profile and matching customer"s proposal with his credit assessment to determine whether the customer can be financed. In areas where there is no centralized credit assessment department, the bank has audit team that visits the business location and assesses the file. The Origination department verifies the documentation and opens the loan accounts of our customers. In addition, they help obtain the CIB report of the customer, a mandatory requirement of Bangladesh Bank. The loan is then disbursed to the customer. SME Business and CRM jointly manage the collection responsibility across the country based on overdue aging. SME Repayment Unit performs the functions of loan repayment and the Closing Unit does the loan closure.
The CRO obtains the deposit slip from the customers for the monthly installments; he sends a mobile text to Head Office for realization of the installment. The slips are collected at the repayment unit for reconciliation. As the loan matures, the closing and clearing units handle the necessary paperwork and forward the clearance certificate and redemption authority of mortgage property to the respective CRO/ZM, who then hand them over to our customer.
Enterprise Selection Criteria
The success of SME will largely depend on the selection of a business and man behind it. In terms of the business (Enterprise), the following attributes should be sought:
The business must be in operation for at least three year. The business should be environment friendly, no narcotics or tobacco business. The business should be legally registered, i.e., valid trade license, income tax or VAT registration, wherever applicable.
The business should be in legal trade, i.e.; smuggling will not be allowed or socially unacceptable business will not be entertained.
The business must have a defined market with a clear potential growth.
The business must be located ideally close to the market and the source of its raw materials/suppliers. It should have access to all the utilities, skilled manpower"s that are required.
Recommendation
Any risk assessed by the management in turn will become a credit risk for the bank. So effort should make to understand the risk faced by the business. The Enterprise Selection Criteria is good enough, but the management must ensure that the criteria been fulfilled by the CROs when they forward any file.
Potential entrepreneur Selection Criteria
In order to understand the capability of the management behind the business, the following Should be assessed:
The entrepreneur should be physically able and in good health, preferably between the age of 25-50. If he/she is an elderly person closer to 50, it should be seen what the succession process will be and whether it is clearly defined or not.
The entrepreneur must have the necessary technical skill to run the business, i.e. academic background or vocational training, relevant work experience in another institution or years of experience in this line of business.
The entrepreneur must have and acceptable social standing in the community (People should speak highly of him), he should possess a high level of integrity (Does not cheat Anyone, generally helps people), and morally sound (Participates in community building)
The entrepreneur must possess a high level of enthusiasm and should demonstrate that he is in control of his business (Confidently replies to all queries) and has the ability to take up new and fresh challenges to take the business forward.
Suppliers or creditors should corroborate that he pays on time and is general in nature.
Recommendation
At times it is reported that people with bad reputation for integrity issues are offered loan in order to meet the business end targets, or because of political other pressures. So it has to be ensured that the criteria are fulfilled properly which will ensure smooth repayment of loan.
Guarantor Selection Criteria
Equally important is the selection of a guarantor. The same attribute applicable for an entrepreneur is applicable to a guarantor. In addition he should possess the followings:
The guarantor must have the ability to repay the entire loan and is economically solvent (Check his net worth).
The guarantor should be aware about all the aspect of the loan and his responsibility.
Government And semi-govt. Officials can be selected as a Guarantor such as school teacher, college teacher, doctor etc.
Police, BDR and Army persons, political leaders and workers, and Imam of mosque cannot be selected as a guarantor.
The guarantor should know the entrepreneur reasonable well and should preferably live in the same community.
Recommendation
Knowing the guarantor is as important as knowing the borrower. The current practice is very good as the guarantor has to be the spouse of the borrower, or parents, or any one from the first blood relative
Indictors and their interpretation from BRAC Bank perspective
Days Past Due (DPD)
Refers the number of days borrowers are not giving instilment, counting from the following date of instalment due date.
Portfolio at Risk (PAR)
When a loan account became delinquent for more than 30 days we can identify that account to be included as a risky account among the portfolio. The standard international measure of portfolio quality in banking is portfolio at risk (PAR) beyond a specified number of days:
Competitive Scan
Small Business
Term loans to small entrepreneurs is primarily dominated by BRAC Bank while 9-10 Banks/FIs namely City Bank, Bank Asia, EBL, SCB, IDLC, Prime bank, AB Bank, IFIC, Islami Bank, & BRAC NGO (in rural areas) also doing substantial business.
Overdrafts/CC (mortgage/stock hypo) business is mainly dominated by state owned commercial banks (SCBs) and PCBs across the country. Our business is insignificant.
Competition is growing and prices offered by almost all competition is lower than us.
Medium Enterprise
Financed by almost all scheduled banks in Bangladesh
Competition is intense and often price sensitive
Reasons for taking loan by SMEs from BBL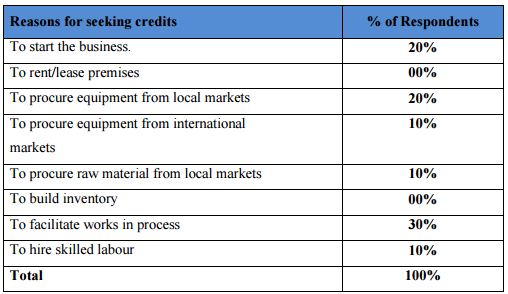 Survey results of 20 SME borrower show that there are at least eight reasons for which SMEs seek loans from BRAC Bank SME.The first reason is to initiate the business. Nearly 20percent of the SMEs took credit to start their business.Nearly 20 percent clients seek loans to procure equipmentfrom local markets.10 percent are for to procure equipmentsfrom international market and 30 percent are for tofacilitate work in process. BBL"s motto is to mobilise fund from the urban areas to ruler areas. This is a key solution towards economic advancement through employment generation. BRAC Bank at present stands among the top in the industry with a double digit profit growth every year and the risk is leaved past while the business model comes successfully. A total of more than 2000 employees are currently working in SME division and serving the nation. In which new SME customers and to ensure proper customer services to the SME Business, 551 new Customer Relationship Officers (CROs) were recruited in 2014 and this ensures the huge permanent employment generation in a single year by any Bank.
SMEs can help reduced poverty by contributing to the national economic growth, removing problems of labour- intensive industries, creating employment opportunities for the semiskilled workers and also linking small entrepreneurs with main stream business.BRAC Bank is trying to do the same considering it as a reality for the economic advantage advancement of the country, Managing Director (MD) and chief executive officer of BRAC Bank Ltd (BBL) Mr Syed MahbuburRahman said this while talking to the Financial Express on an interview.
Agreement signing with Bangladesh Bank
SME Business has signed-off two new refinancing schemes with Bangladesh Bank. BDT 1000 m fund has been created by Bangladesh Bank as "New Entrepreneurs Fund" to finance the New Entrepreneurs who has completed certain business training from Dhaka Chamber of Commerce (DCC). Also to encourage the financing to the marginal and micro entrepreneurs, BDT 2000 m fund has been created for "BDT 10 A/C holder". SME Banking Division has signed MoU with Bangladesh Bank to finance in these special sectors. SME Business is continuing women entrepreneur refinancing scheme, renewable energy refinancing, agricultural based industry refinancing and agro-financing with Bangladesh Bank.
Effects of NPL on SME loan
Banks profitability is affected adversely because of providing of classified loans.
Return on Investments (ROI) is reduced
The cost capital will go up
Assets and liability mismatch will widen
Its limits recycling of funds
Reduced earning capacity of assets
NOLs block capital. As NPLs do not earn any income, they adversely affected capital adequacy ratio
Incurrence of additional cost: on cost of funds for capital adequacy and operating cost for monitoring and recovering NPLs
Low yield on advances
NPLs reduce earning capacity of the assets and as a result of this;
Return on Assets (ROA) gets affected.
Adverse impact on net profit as interest cannot be shown into income account Moreover, provision to be made out of profit.
Adverse impact on fund flow
Additional manpower needs to be employed for handling NPL resulting additional expenditure.
It hampers normal routine business
Reduces equity
Bad effect on goodwill
SWOT Analysis
SWOT analysis is an important tool for evaluating the company"s Strengths, Weaknesses, Opportunities and Threats. It helps the organization to identify how to evaluate its performance and scan the macro environment, which in turn would help organization to navigate in the turbulent ocean of competition.
Strengths
Company status
BRAC bank has already established a favorable reputation in the banking industry of the country particularly among the new comers. Within a period of 11 years, BBL has already established a firm footing in the banking sector having tremendous growth in the profits and deposits. All these have leaded them to earn a reputation in the banking field.
Sponsors
BBL has been founded by a group of eminent entrepreneurs of the country having adequate financial strength. The sponsor directors belong to prominent resources persons of the country. The Board of Directors headed by its Chairman FazleHasan Abed. Therefore, BBL has a strong financial strength and it built upon a strong foundation.
Top Executive
The top management of the bank is also major strength for the BBL has contributed heavily towards the growth and development of the bank. The top management officials have all worked in reputed banks and their years of banking experience, skills, expertise will continue to contribute towards further expansion of the bank. At BBL, the top management is the driving force and the think tank of the organization where policies are crafted and often cascaded down.
Facilities and equipment
BBL has adequate physical facilities and equipments to provide better services to the customers. The bank has computerized and online banking operations under the software called MBS banking operations. Counting machines in the teller counters have been installed for speedy service ant the cash counters. Computerized statements for the customers as well as for the internal use of the banks are also available.
Interactive corporate culture
BBL has an interactive corporate culture. Unlike other local organization, BBL"s work environment is very friendly, interactive and informal. There are no hidden barriers or boundaries while interacting among the superior or the subordinate. The environment is also lively and since the nature of the banking job itself is monotonous, BBL"s likely work environment boosts up the spirit and motivation of the employees.
ATM
This is the fastest growing modern banking concept. BBL has 400+ ATM across the country to provide this facility. BBL also made an alliance with Rupali Bank for better and wide ATM service.
Weaknesses
Marketing and Advertising of SME loan
This is a major setback for BBL and one of its weakest areas. BBL"s adverting and promotional activities are satisfactory but it SME loan is not advertised well. It does not expose its SME product to general public and are not in lime light. BBL does not have neon sign or any advertisement for SME loan in the city. As a result people are not aware of the existence of this bank.
NGO name (BRAC)
BRAC is one of the largest NGO of the world and it is operating its activities in Bangladesh. BRAC bank is not a NGO bank but many people of them country consider it as a NGO bank like Grameen bank which is not correct.
Low remuneration package
The remuneration package for the entry and the mid-level management is considerably low. The compensation package for BBL entry level positions is even lower than the contemporary banks. Under the existing low payment structure, it will be very difficult to attract and retain high performing employees in BBL. Specially CRO"s are not satisfied with compensation package provided to them.
Opportunities
Growing Market
The SME sector in Bangladesh is still growing and the Government of Bangladesh is focusing strongly on this sector. This ample market growth opening is a big opportunity for BRAC Bank Ltd.
Diversification
BBL can pursue a diversification strategy in expanding its current line of business. The management can consider options of starting merchant banking or diversify in to leasing and insurance. By expanding their business portfolio, BBL can reduce their business risk.
Mobile Banking
Mobile banking or money transfer via mobile phone is already a popular choice among the mass. BRAC Bank also with its subsidiary b-Kash doing good, but there is a huge opportunity to grab the untapped market to bring it within their banking network.
Large Customer Base
BRAC Bank Ltd has an existing large customer base which gives them a clear head start against their competitors.
Threats
Upcoming banks
The upcoming private local banks can also pose a threat to the existing private commercial banks like BBL. It is expected that in the next few years more local private banks may emerge. If that happens the intensity of competition will rise further and banks will have to develop strategies to compete against an on slaughter of foreign banks.
Contemporary banks
The contemporary banks of BBL such as Dhaka bank, prime bank and Dutch Bangla are its major rivals. Prime bank and other banks are carrying out aggressive campaign to attract lucrative clients as well as big time depositors.
Inherent Risk of Business
The SME consists 60% of BRAC Bank Ltd"s activity where other Bank and financial institutions generally prefer large enterprise clients because of lower transition costs, and greater availability of collateral.
Conclusion
In current times the Small and Medium Enterprise (SME) Financing has become an important area for Commercial Banks in Bangladesh. To align its corporate policy with the regulation of Central Bank, BRAC banks have become more concerned about SME and opened windows to conduct business in this particular area. BRAC Bank Ltd has been established on the visionary to finance "missing middle" in order to bring economic development of the country. With its unique thinking and impressive business strategies it has proven small and medium enterprises as an emerging economic opportunity. And Non-performing loans challenges may spill over the SME banking system of BBL and constrict the money stock which may lead to a financial crisis. To tackle the NPL problem, not only bank but also foresighted changes are required to span the entire gamut of social, economic, political and administrative views of our country.