San Marino (/ˌsæn məˈriːnoʊ/, Italian: sam maˈriːno), officially the Republic of San Marino (Italian: Repubblica di San Marino), small republic situated on the slopes of Mount Titano, on the Adriatic side of central Italy between the Emilia-Romagna and Marche regions and surrounded on all sides by the Republic of Italy. It is also known as the Most Serene Republic of San Marino (Italian: Serenissima Repubblica di San Marino), the smallest independent state in Europe after Vatican City and Monaco and, until the independence of Nauru (1968), the smallest republic in the world.
It's the perfect place for a relaxed pitstop during an Italian road trip. San Marino has a population of roughly 33,562 people, spread out over an area of just over 61 square kilometers. Its capital is the City of San Marino and its largest settlement is Dogana. San Marino's official language is Italian.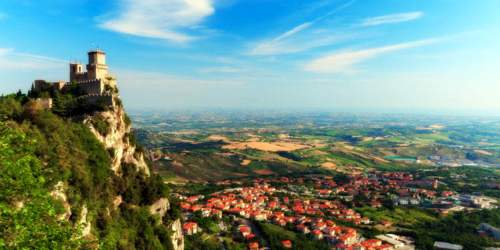 Although the country is small, it has a rich history, dating back to the 4th century. The main tourist attraction is the capital's old city center and UNESCO World Heritage Site, Mount Titano.
The country's economy is mainly based on finance, industry, services, and tourism. It is one of the wealthiest countries in the world in terms of GDP per capita, with a figure comparable to the most developed European regions. San Marino is considered to have a highly stable economy, with one of the lowest unemployment rates in Europe, no national debt and a budget surplus.
San Marino is 23.6 square miles (61 square km) and is dominated by Mount Titano. It lays claim to the titles of the oldest constitutional republic and oldest surviving sovereign state. The landscape is dominated by the huge, central limestone mass of Mount Titano (2,424 feet (739 meters)); hills spread out from it on the southwest, whereas the northeastern part gently slopes down toward the Romagna plain and the Adriatic coast. The silhouette of Mount Titano, with its three summits crowned by ancient triple fortifications, may be seen from many miles away.
San Marino was founded in the year 301 CE by Saint Marinus, a stonemason who came from the island of Arba which was part of the Roman Empire (today known as the island of Rab in modern-day Croatia). The government of San Marino made United States President Abraham Lincoln an honorary citizen. He wrote in reply, saying that the republic proved that "government founded on republican principles is capable of being so administered as to be secure and enduring."
During the 19th-century movement for Italian unification, San Marino offered asylum to revolutionaries, among them Giuseppe Garibaldi. After Italy became a national state, a series of treaties (the first in 1862) confirmed San Marino's independence. In World War II, San Marino remained neutral, but it was the target of a British bombing raid in 1944 and was briefly occupied by both the Germans and the Allies later that year.
San Marino had the world's first democratically elected communist government a coalition between the Sammarinese Communist Party and the Sammarinese Socialist Party, which held office between 1945 and 1957. During the 2019–20 coronavirus pandemic, as of June 2020, San Marino had the highest death rate per capita of any country.
Being completely surrounded by Italy, the cuisine of San Marino is heavily influenced by it, especially by the neighboring regions of Emilia Romagna and Le Marche. If visitors or travelers are interested in seeing more than just historical buildings and panoramic views, be sure to visit one of the city's museums. There's something for everyone, from a fascinating collection of historical weapons at the Sammarinese Museum of Ancient Arms to the rather creepy wax statues of the Vampire Museum.
The climate of San Marino is mild and temperate, with maximum temperatures in the high 70s F (about 26 °C) in summer and the high teens F (about −7 °C) in winter. Annual rainfall ranges between about 22 inches (560 mm) and 32 inches (800 mm). Vegetation is typical of the Mediterranean zone, with variations due to elevation, and includes olive, pine, oak, ash, poplar, fir, and elm, as well as many kinds of grasses and flowers. Besides domestic and farmyard animals, moles, hedgehogs, foxes, badgers, martens, weasels, and hares are found. Indigenous birds and birds of passage are plentiful.
The tourism sector contributes over 22% of San Marino's GDP, with approximately 2 million tourists having visited in 2014. The VAT (value-added tax) in Italy is 20%. There is no VAT in San Marino, and there are hundreds of shops full of tax-free merchandise. Though not part of the European Union, the official currency of San Marino is the Euro, thanks to a special monetary agreement with the EU. The official language is Italian. A widely spoken dialect has been defined as Celto-Gallic, akin to the Piedmont and Lombardy dialects as well as to that of Romagna.
The country's principal resources are industry, tourism, commerce, agriculture, and crafts. Manufactures include electronics, paint, cosmetics, ceramics, jewelry, and clothing. Ceramic and wrought-iron articles, as well as modern and reproduction furniture, are among San Marino's traditional craft products. Fine printing, particularly of postage stamps, is a consistent source of revenues. Banking is a vital industry. San Marino is a predominantly Catholic state over 97% of the population professes the Roman Catholic faith, but Catholicism is not an established religion.
The country also produces wines, such as Brugneto and Tessano Cask-Aged red wines) and Biancale and Roncale (still white wines). Since most people come for a day trip, the nights are quiet and peaceful, perfect for strolling around the old city or having a late dinner with a view of the Adriatic. There are no railroads, but the capital is reached from Borgo Maggiore by means of a cable railway. The site San Marino: Historic Centre and Mount Titano became part of the UNESCO World Heritage List in 2008. The decision was taken during the 32nd Session of the UNESCO World Heritage Committee composed of 21 Countries convened in Québec, Canada.
Information Sources: