Review about Lenovo Yoga Book
Introduction
Lenovo has crafted a brilliant, forward-thinking device that could very well create a subcategory in computing all of its own. But, with low-power components inside holding it back against the tablet competition, it's tough to outright recommend user buy the first generation.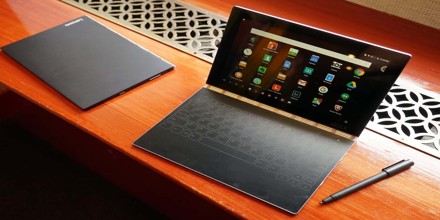 The Lenovo Yoga Book gets credit for offering one of the most unusual designs we've ever seen: This superportable two-in-one laptop/tablet hybrid includes a Wacom sketching pad that can instantly transform into a QWERTY keyboard. The result is a fun, highly portable device that instantly appeals to creative professionals — but one that's not nearly as practical as Lenovo makes it out to be.
This is the Yoga Book, a tablet that stands to be the logical conclusion of Lenovo's category-shifting Yoga design for laptop-tablet hybrids.
It's a device that, unlike the firm's previous Yoga 2-in-1 laptops and tablets, swaps the keyboard and touchpad for inputs that are entirely digital. Yes, this is the first laptop with a 100% digital touch keyboard. And yes, it does feel weird – at first – but more on that in a moment.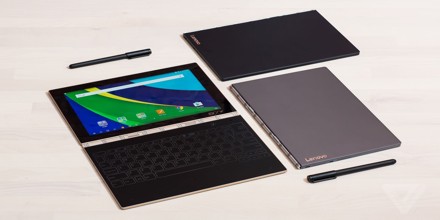 Design and Feature
The Yoga Book, at first glance, looks like every other Lenovo Yoga laptop – only smaller. The impressive, gorgeous watchband hinge first introduced with the Yoga 3 is present and correct, and the insanely thin device is wrapped in a smooth, luxurious magnesium alloy shell like so many Yoga devices before it.
The Android version of the Yoga Book, which we guess Lenovo expects to sell more of, comes in Champagne Gold, Gunmetal Gray and Carbon Black finishes. The Windows 10 version comes in just Carbon Black – though all of these finishes look downright premium.
A power button and volume rocker on the device's right side are edged in chrome, and speakers sit behind dotted grilles on either side of the keyboard deck. The speakers pump out suitable range and volume despite their size, thanks to Dolby Atmos technology inside.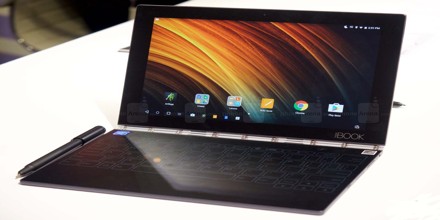 Another impressive feature about the Yoga Book despite its size is the 10.1-inch, 1,920 x 1,200 resolution screen. With 400 nits of brightness and the capability to display a range of 16.7 million colors, HD movies look excellent on the Yoga Book, and in-plane switching (IPS) means wide angles for screen sharing.
Lenovo built 64 GB of storage into this computer. That's not an overly-generous amount, but it's adequate, especially as it can be easily expanded with a microSD card. Those who intend to permanently install one of these might also invest in a flash drive that has both a micro-USB jack and a full-size USB jack, as this will make swapping files with other computers easier. Theoretically, typing on the Yoga Book should improve over time, as Lenovo's said it has artificial learning software built in. Turn the keyboard off, though, and the Yoga Book excels as a proper note-taking device. Using the stylus to draw and take notes feels perfectly natural, with near 1-to-1 precision thanks to the pen's 2,048 levels of pressure sensitivity.  As far as network connectivity goes, there's built-in 802.11ac wireless, along with Bluetooth 4 to hook up some external peripherals.
However, the really attractive thing about the Yoga Book is its bundled magnetic clip. This allows user to clip any old A5 notebook to the Yoga Book and still take notes, giving them both a physical version and a digital copy to share with friends or colleagues.
Lenovo promises that this computer will run for up to 13 hours on a single charge. To test this claim we used the Yoga Book under what we consider a fairly realistic usage pattern: almost continuous web browsing and video streaming over Wi-Fi with the screen set to about 80% brightness. The device lasted 8 hours and 36 minutes, which is more than enough to get through a standard work day. The 2-in-1 gets its power through its micro-USB port, so it can have its battery topped off with an average mobile phone charger.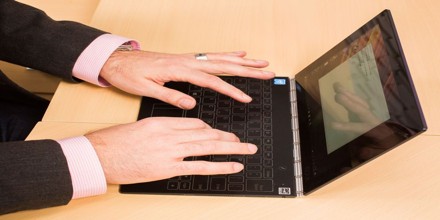 It's fine enough that the Yoga Book is the first laptop or tablet to include a keyboard that doubles as a full-blown Wacom digitizer. It's even better that the tool is a joy to use, not to mention that it has one super-neat trick up its sleeve. Pressing and holding a capacitive button above the keyboard with a pen icon switches the tool from displaying the keys to displaying, well, nothing but an illuminated pen icon. This means you can now use the surface to draw or write with the included Real Pen stylus.
Lenovo calls this the Create Pad, a layer of electromagnetic resonance (EMR) film beneath the keyboard that's powered by Wacom Feel technology. This means that the Real Pen needs nothing inside to operate, with the Create Pad doing all of the work – even the 2,048 levels of pressure sensitivity.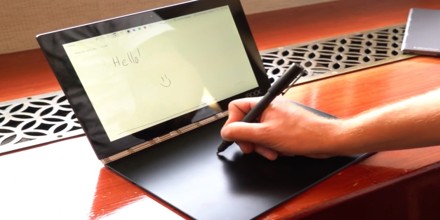 Lenovo Yoga Book Software
This version of the Yoga Book comes with Windows 10 Home 64, the latest version of Microsoft's signature operating system. This is well suited to 2-in-1s, as it boasis different modes for tablets and laptops. The tablet mode is designed to make it easier to control the computer entirely through the touchscreen, while the laptop mode emphasizes the use of keyboard and trackpad.
The Create Pad works brilliantly with these, allowing the user to draw on a surface that's flat on a table while the display is tilted up to make it easier to see. The user also has the option to draw directly on the screen, of course, but the Yoga Book's touchscreen isn't pressure sensitive; only the Create Pad is.