Review about Amazon Echo Show
Introduction
Amazon has officially unveiled its latest Echo product: a touchscreen device with built-in Alexa called the Echo Show. The Show follows in the footsteps of the recently announced Amazon Echo Look, which combined Amazon's Alexa voice assistant with a camera that can take pictures and offer style recommendations.  The Show is a radical departure from previous Echo devices as it can provide you with information visually (via its screen) as well as through sound; previous speakers were limited to using voice to communicate.
Amazon has announced that the Amazon Echo Show will be released on June 28, 2017 in both the US and UK, with pre-orders open now in the US.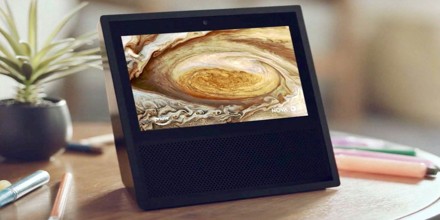 As is the case with the release date, there's no specific pricing for the UK – suggesting that the device might not be available in Blighty just yet.
In the USA however, user will have to fork out $229.99 for both the 'Black' and 'White' colour configurations.
The Show has the same basic capabilities as the regular, voice-only Echo (like setting timers and listening to music), but the built-in display adds plenty of new functionality. The Show's screen will give users more information about their Alexa queries, displaying a full weather report or the steps in each recipe, for example, and can be used to play videos, including news briefings from the likes of CNN, and content from YouTube and Amazon Video.
However it's used, the Echo Show proves how Alexa has, in the two years since its introduction, morphed into something remarkable. Now that it has a way to show and not just tell, Alexa's taking one big step closer to becoming what Amazon really thinks its chatbot could be: the totally natural, omnipresent, completely personal computer of the future.
Features of Amazon Echo Show
As well as the Alexa voice assistant, which we've become familiar with thanks to its inclusion in existing Amazon Echo speakers and Amazon Fire TV devices, the Amazon Echo Show is equipped with both a screen and a webcam, which will allow it to both show us, as well as tell we, information.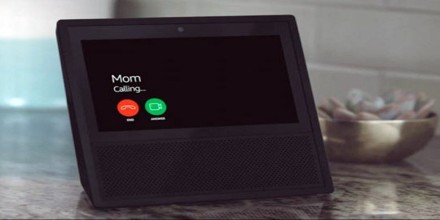 Built-in camera
Voice-assistance from Alexa; includes at least 12,000 skills or tasks
Bluetooth
Touchscreen display offers more on-screen information, step-by-step recipe instructions, 10-day weather reports and can be used to play videos.
Music display features: Connects to Spotify, Pandora, iHeartRadio, TuneIn and offers real-time song lyrics, custom stations, curated playlists, album art
Organization features: Ask Alexa to start timers, manage calendars, create to-do lists and sync all the information with the Alexa app.
Drop In feature: Free voice-call feature (similar to Apple's FaceTime) for those with the Alexa app, Echo, Echo Dot or Echo Show to message or call each other.
Compatible with smart home devices such as cameras, lights, fans, garages, sprinklers and more, so user can potentially ask Alexa to turn off the lights without getting off the couch.
The Amazon Echo Show is a fairly large bit of kit, measuring 187 x 187 x 90mm and weighing in at a hefty 1.17kg. But that extra space and weight is needed to kit the speaker-cum-tablet with a 7-inch touchscreen.
To enable video calls, Amazon has also fitted the Echo Show with a 5-megapixel camera, which sits front and centre on the device, near the top. There are also eight microphones with beam-forming technology and noise-cancellation, so the Echo Show can hear you from any direction, even when music is playing.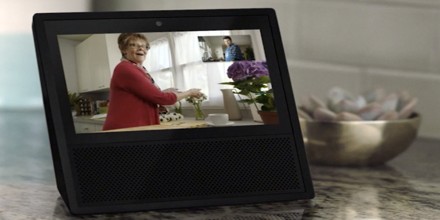 The most intriguing new feature, though, is access to video and voice calls. Anyone can make or receive a call through the Show if they have the Alexa app, there's no support for Skype as of right now, and Amazon is also unveiling a new feature called "Drop In," which lets designated friends and family make a call at any time. The receiver then has a 10-second window to reject a Drop In call or switch it to audio-only. Amazon says it imagines this feature will only be used in a small number of scenarios like checking in on an elderly relative.
Powering the Amazon Echo Show is Intel's Atom x5-Z8350, a cheap and low-power processor that generally features on budget tablet devices. There are dual 2-inch stereo speakers and a built-in modem that supports 802.11/a/b/g/n Wi-Fi.