1.1 Background Information
Just as the mastery of landscape artist comes out in the amazing landscapes that they design, the same way the art of finding, shaping, ornamenting and preserving the right talent pool, in the right place, at the right time is reflective of Peoplescape.
1.2. Introduction to the Company
PeopleScape is an extension of Market Access Providers Limited (MAPL), an undisputed leader in Bangladesh for providing complete marketing solution across a very wide range of customer base. Over the last 6 years the company has experienced a steady growth in business.
MAPL, has the most complete range of Marketing Solutions for marketers aiming to win in Bangladesh Market, ranging from First Moving Consumer Goods to Information & Communication Technology ; Specialty Goods to Industrial Products; Consumer Activation to Door to Door Sale; Direct Marketing to Urban and Rural  Distribution (outreach); Trade Marketing to Event Management; Creative Communication to Brand Experience Management.
Today's fast moving global business community relies on a sophisticated human resource organization to drive change in all areas of human capital. More than ever, executive management is recognizing that the human resource organization plays a vital role in the financial success of the company. One has to go beyond reducing top-line costs and delve into the business implications of HR partnering. HR partnering (HRP) is the newest, more exciting trend in both the Human Resource Outsourcing (HRO) industry, and the quickly expanding Business Process Outsourcing (BPO) industry.
Historically, organizations have been fearful of outsourcing "mission-critical" activities. They have limited the relationship to less strategic and more transactional activities. However, there has been a significant shift in this mindset over the past few years. This is where Peoplescape have stepped in with HRP.
1.3 Introduction to the Research proposal and its Objectives
The main purpose of the study is to prepare a report on analyze HR Outsourcing in Bangladesh & HR Services and submit the same to fulfill the partial requirements to complete MBA Program. In order to achieve the main objective the following specific objectives need to be attempted. The specific objectives are as:
i)        To study the standard HR practices in a national and multi-national company
ii)      To analyze the effectiveness of HR outsourcing in the context of Bangladesh.
iii)    To propose the structure of a possible HR Outsourcing company in Bangladesh
iv)    To examine the role, position and performance of PeopleScape as a HR Outsourcing Company in Bangladesh
v)      To recommend the strategy for improving the image and performance of PeopleScape as a global HR Outsourcing Company
1.4 Methodology
The requisite secondary data were use in the study. This data have been collected from brochure, manuals & website of Peoplescape. The collected data and information were processed and tabulated mainly with the help of data; those are collected from Peoplescape's official.
1.5 Organization structure of PeopleScapeOrganization chart of HRD
Organization chart of HRD
1.6 The role, Position and performance of PeopleScape
PeopleScape is an extension of Market Access Providers Limited (MAPL), an undisputed leader in Bangladesh for providing complete marketing solution across a very wide range of customer base. Over the last 6 years the company has experienced a steady growth in business.
MAPL has the most complete range of Marketing Solutions for marketers aiming to win in Bangladesh Market, ranging from First Moving Consumer Goods to Information & Communication Technology; Specialty Goods to Industrial Products; Consumer Activation to Door-to-Door Sales; Direct Marketing to Urban and Rural Distribution (outreach); Trade Marketing to Event Management; Creative Communication to Brand Experience Management.
Our vision is "to be the most preferred complete marketing solution provider in Bangladesh".
PeopleScape has grown and formed from MAPL's expertise in aligning Clients HR Agenda and Deliver Model with their Business Objectives, and thereby optimizing their investment in HR Processes and Programs.
1.7 HR Networks
1.8 PeopleScape's Clients
1.9 HR practices of national and multi-national company:
National and Multi-national company follows standard HR practices. One of the central questions in the literature on MNCs is the extent to which their subsidiaries act and behave as local firms (local isomorphism) versus the extent to which their practices resemble those of the parent company or some other global standard (internal consistency).
In the light of globalization, HRM is evolving from being a mere support function to one of strategic importance and several authors have argued that HRM policies and practices are becoming crucial because they can act as mechanisms for co-ordination and control of international operations. At the same time, it has been acknowledged that HRM constitutes a major constraint when MNCs try to implement global strategies, mainly because of the different cultural and institutional framework of each country in which the MNC operates.
The purpose of this program (conducted in collaboration with Barbara Myloni and Markus Pudelko) is to provide an insight into the interplay of cultural, institutional and organizational factors that affect the transfer of HRM practices across borders.
As is the case in many other areas of international management, previous research in this area has focused mostly on Japan and the USA as home/host countries. Within Europe, research has almost exclusively focused on Germany and the UK.
Firms' practices are thus considered to be embedded (Ferner, 2000) and to evolve in continuous interrelation with their specific institutional context. This body of work mainly focuses on two questions:
if and to what extent HR-strategies of MNCs are shaped by the national business system of their country of origin and
in which ways MNCs' behavior is adapted to their host countries' institutional setting.
In an attempt to answer these questions, instead of focusing on single HR-practices, researchers have tried to draw a broad picture of HRM in MNCs, examining the process of policy formulation, the transfer process, and the process of implementation of personnel policy in the host country. Through this approach, the interaction between MNCs and the businesses systems is depicted in detail also taking heed of the dynamics of this interaction.
1.10 Effectiveness of HR Outsourcing of Bangladesh
Most of the company doesn't follow the HR strategy. So they need to help HRP (Human Resource Partnering) or HR outsourcing.
May 26 2005 – Outsourcing basic human resource services can be the key to achieving a more influential and strategic role for the HR function. However, a new executive briefing from the CIPD also concludes that:
the decision to outsource needs to be carefully considered,
will not be right for all, and
Considerable effort needs to be devoted to ensuring a smooth transfer of responsibilities.
Written by Professor William Scott-Jackson, Tim Newham and Melanie Gurney of the Centre for Applied HR Research, OxfordBrookesUniversity, the report – HR Outsourcing: the key decisions – draws on the experiences of 17 organizations that are either outsourcing HR services or have considered the possibility and rejected it. The report is intended to offer practical guidance to HR and non-HR professionals responsible for developing and improving the delivery of HR services in their organizations.
2.1 Definitions of some key terminologies
PeopleScape deliveries on a 100% unwavering commitment to professionalism. All PeopleScape employees operate under a Code of Ethics designed to ensure total customer satisfaction. We strongly adhere all times to the following principles:
DISCOVERY
We will not propose or commence any program without completely understanding our clients' needs and goals
DISCLOSUR
Open and continue communication is the foundation of a successful relationship. All material information gathered on behalf of a client, either positive or negative, will be promptly reported to the appropriate client representative.
DISCETION
We will at all times act to protect the proprietary and confidential information of our clients.
DIVERSITY
We conscientiously comply with national and local laws governing equal opportunity in hiring.
DISIPLINE
We only accept programs for which a client will permit us to dedicate an appropriate amount of resources. All programs we accept adhere to carefully planned services level agreements and implementation guidelines and timetable.
2.2 The History of Outsourcing in Bangladesh
While temporary, contingency and executive search firms have provided staffing services for many decades, the concept of an employer outsourcing the management and ownership of part or all of their recruiting process wasn't first realized on a consistent basis until the 1970s in Silicon Valley's highly competitive high tech labor market. Fast-growing high tech companies were hard-pressed to locate and hire the technical specialists they required, and so had little choice but to pay large fees to highly specialized external recruiters in order to staff their projects. Over time, companies began to examine how they might reduce the growing expenses of recruitment fees while still hiring hard-to-find technical specialists.
Toward this end, companies began to examine the various steps in the recruiting process with an eye toward outsourcing only those portions that they had the greatest difficulty with and that added the greatest value to them. Initial RPO programs typically consisted of companies purchasing lists of potential candidates from RPO vendors. This "search/research" function, as it was called, generated names of competitors' employees for a company and served to augment the pool of potential candidates from which that company could hire.
Over time, as business in general embraced the concept of outsourcing more and more, RPO gained favor among Human Resource management: not only did RPO reduce overhead costs from their budgets but it also helped improve the company's competitive advantage in the labor market. As labor markets became more and more competitive, RPO became more of an acceptable option. Furthermore, through the advent in the 1980's and 1990's of human resources outsourcing (HRO) companies that began taking on the processes associated with benefits, taxes, and payroll, companies began recognizing that recruiting–a significant cost of HR–should also be considered for outsourcing. In the early 2000's more companies began considering the outsourcing of recruitment for major portions of their recruiting need. There have been fundamental changes in the US labor market that serve to reinforce the use of RPO as well. The labor market has become increasingly dynamic: workers today change employers more often than in previous generations.
De-regulated labor markets have also created a shift towards contract and part-time labor and shorter work tenures. These trends increase recruitment activity and may encourage the use of RPO. It should also be noted that even in slower economic times or higher unemployment, RPO is still considered by companies to assist in an increasing need to screen through a larger candidate pool.
2.3 The place of peopleScape among Multinational & Local Companies
PRACTICAL TOOLS & TECHNOLOGIES FOR ON GOING OPERATIONS

:
Many large HR consulting projects are simply a comprehensive analysis resulting in a report and recommendations.  All companies don't need reports; they need help in getting the job done.  As such, companies should look for HR consultants who can help with on-going operations, provide tactical solutions that generate impact today, and offer access to easy-to-use HR technologies.
END-TO-END SERVICE:
Firms typically don't need just a piece of the puzzle; they want an end-to-end solution.  As well, it's impractical to manage many different consulting partners—they need one vendor who can handle the bulk of the HR needs.  Ideally a company should get all its HR consulting from one or two vendors who know their business intimately, and can be relied on to provide consistently exceptional service.  In selecting HR vendors, companies should look for a consultant who can deal with a wide range of needs, not just one who can only deal with the strategy portion or a single, immediate issue.
COST

EFFECTIVENESS

:
High-end HR consultants can cost thousands of dollars a day even when the consultants delivering the work are quite junior. Firms simply can't justify these kinds of costs.  It's not unreasonable for Firms to ask consultants to demonstrate—in a straightforward way—that there is a very definite ROI for their work.
4.     

SPECIALIZED EXPERTISE:
Average sized firms typically are often staffed with HR generalists who have a good broad knowledge of HR.  However, at times they will need specialized expertise in areas like performance management or employee surveys.  Companies need to choose vendors who have the specialized expertise that can supplement the knowledge of in-house HR.
 The basic services offered by Peoplescape as a HR outsourcing firms may include:
§  Overseeing organizational structure and staffing requirements
§  Recruiting, training, and development
§  Tracking department objectives, goals, and strategies
Employee and manager training
Benefits administration
Employee orientation programs
Businesses that outsource HR are typically small-to-midsize firms with between 25 and 1,500 employees. These businesses view HR outsourcing as a strategic tool that relieves them of HR responsibilities and enables them to focus on what they do best. In addition to allowing you to concentrate on your core business activities, outsourcing provides some key benefits, including:
Providing you with skilled professionals who are focused specifically on HR
Helping you reduce and manage operating costs
Improving employee relations
If you need to hand off the entire HR function, consider a professional employer organization (PEO). A PEO becomes the employer of record, handling employee relations, payroll, benefits, workers' compensation, and all the other areas that fall under the HR umbrella, while you manage the employee's everyday business responsibilities. In India the concept of Professional Employer Organization (PEO) is better known as Contract Staffing.
If you don't need the comprehensive services of a PEO, you can contract specific projects through an HR outsourcing firm to help you:
Implement a human resource information system (HRIS)
Create or update employee handbooks and policy manuals
Develop and implement a compensation program
Create or review a performance appraisal system
Write and update affirmative action plans
Provide sexual harassment training
2.4 Policies of peopleScape for selecting HR personnel
Recruitment Process Outsourcing is a form of business process outsourcing (BPO) where an employer outsources or transfers all or part of its recruitment activities to an external service provider. The Recruitment Process Outsourcing Association defines RPO as follows: when a provider acts as a company's internal recruitment function for a portion or all of its jobs.
RPO providers manage the entire recruiting/hiring process from job profiling through the on-boarding of the new hire, including staff, technology, and method and reporting. A properly managed RPO will improve a company's time to hire, increase the quality of the candidate pool, provide verifiable metrics, reduce cost and improve governmental compliance. The RPO Alliance, a group of the Human Resources Outsourcing Association (HROA), approved this definition in February 2009: Recruitment Process Outsourcing (RPO) is a form of business process outsourcing (BPO) where an employer transfers all or part of its recruitment processes to an external service provider. An RPO provider can provide its own or may assume the company's staff, technology, methodologies and reporting. In all cases, RPO differs greatly from providers such as staffing companies and contingent/retained search providers in that it assumes ownership of the design and management of the recruitment process and the responsibility of results. Occasional recruitment support, for example temporary, contingency and executive search services are more analogous to out-tasking, co-sourcing or just sourcing. In this example the service provider is "a" source for certain types of recruitment activity.[3] The biggest distinction between RPO and other types of staffing is Process.
In RPO the service provider assumes ownership of the process, while in other types of staffing the service provider is part of a process controlled by the organization buying their services.
RPO's promoters claim that the solution offers improvement in quality, cost, service and speed. RPO providers claim that leveraging economies of scale enables them to offer recruitment processes at lower cost while economies of scope allow them to operate as high-quality specialists. Those economies of scale and scope arise from a larger staff of recruiters, databases of candidate resumes, and investment in recruitment tools and networks. RPO solutions are also claimed to change fixed investment costs into variable costs that vary with fluctuation in recruitment activity.
Companies may pay by transaction rather than by staff member, thus avoiding under-utilization or forcing costly layoffs of recruitment staff when activity is low. If a company fail to meet the company's needs. This is especially true for outsourced programs like RPO: RPO can only succeed in the context of a well-defined corporate and staffing strategy. As with any program, a company must manage its RPO activities. A company must provide initial direction and continued monitoring to assure the desired results. Overall, providing guidance to external activities can present a significant management challenge. Outsourcing of company processes may fail or prove a poor organizational fit. Improperly implemented RPO could reduce the effectiveness of recruitment. The costs charged for outsourced recruitment transactions may total more than the cost of the internal recruitment department.
RPO service providers may fail to provide the quality or volume of staff required by their customers. Placing all recruitment in the hands of a single outside provider may discourage the competition that would arise if multiple recruitment agencies were used. An RPO solution may not work if the company's existing recruitment processes are performing poorly. An RPO solution may not work if the service provider has inadequate recruitment processes or procedures to work with the client. RPO may not resolve difficulties that organizations have hiring staff when the organization is perceived negatively by potential employees. This will instead require improved branding and an adjustment of image.
The perception is that very few RPOs can successfully integrate their client's brand and therefore do not represent their client's brand as well as a retained search or internal recruiting resource may drive brand representation and or marketing. Further, most RPOs perform their staffing functions and service offsite, further disconnecting the client's growth & recruiting strategy from the actual workforce within the client company. This is obviously countered with effective measurements and effective management within the specific RPO. It is further countered within specific 'gated' RPO processes. This is important because during a period of rapid recruitment growth, one of the many positive effects that a company typically enjoys is an increase in the workforce wellness or an overall workforce positivity of sentiment of optimism that comes with personnel additions… this may be lessened with an offsite recruiting function. Organizations with efficient hiring process that are viewed as employers of choice by potential staff may stand to gain negligible benefits from RPO.
2.5 How to conduct an interview
 Before the Interview
Book an appropriate location
Review the job description
Draft and agree upon the interview questions to be asked
Review the applicant's resume, references, and other materials
Agree on a format for the interview
Ensure that you know and can identify the indicators of the applicant's ability to perform the job.
 During the Interview
Introduce committee members
Describe the format of the interview
Ask open-ended information, situational, and behavioral questions
Let the applicant do most of the talking
Keep the interview on track
Observe nonverbal behavior
Take notes
Leave time for the applicant to ask questions
Ask if you can check references and pursue references not listed on the resume
Describe the remainder of the search process and the time it will take
Thank applicant for his or her time 
After the Interview
Refer the candidate to Human Resources for a brief overview or written synopsis of GSU Employee Benefits
Refer any questions related to salary to the hiring manager or unit head
Evaluate the candidate
Document the Interview 
Interview Preparation Checklist
Send interview schedule and informational materials, if needed, to interviewee (See Sample in Section 6.)
Send list of interviewees requiring travel arrangements to the Travel Buyer in Procurement
Arrange tour of local community (if appropriate)
Arrange campus tour
Arrange meeting with hiring manager
Arrange meeting with other staff (if appropriate)
Arrange interview by search committee
Schedule candidate's presentation (if necessary)
Schedule meals and breaks as necessary (See Food Service information in Section 10.)
Sample Interview Questions
 Good interview questions can help you learn how well the candidate's previous experience and qualifications meet the requirements of the job. Some sample interview questions are:
Tell us a little more about your professional experiences, particularly those not mentioned on your resume.
Why are you interested in leaving your current assignment and why do you feel that this assignment would be better for you?
Do you feel this position is a promotion, a lateral move, a broadening of your professional experience, or just a change? Why do you think so?
How does this position fit into your overall career goals?
Describe the duties of your current job.
What is your favorite part of your current job and why is it your favorite part?
What are the three college courses that best prepared you for your current job?
What qualities or experiences make you the best candidate for this position?
Describe two or three major trends in your profession today.
On the basis of the information you have received so far, what do you see as the major challenges of this position and how would you meet them?
Describe a situation in which you did "all the right things" and were still unsuccessful. What did you learn from the experience?
Discuss the committees on which you have served and the impact of those committees on the organization where you currently work.
Why did you choose this profession/field?
What new skills have you learned over the past year?
Think about an instance when you were given an assignment that you thought you would not be able to complete. How did you accomplish the assignment?
Have you ever had a great idea but been told that you could not implement it? How did you react? What did you do?
Describe the best boss and the worst boss you have ever had.
Describe your ideal job.
What would your coworkers or your supervisor say about you?
Can you describe how you go about solving problems? Please give us some examples.
What is the biggest conflict you have ever been involved in at work? How did you handle that situation?
What new programs or services would you start if offered the position?
Please share with us your philosophy about customer service in an academic environment and give us some examples of service that would illustrate your views.
Tell us how you would learn your new job in the absence of a formal training program.
How would you characterize your level of computer literacy? What are some of the programs and applications with which you are familiar?
Think about a coworker from the present or past whom you admire? Why?
What are the characteristics that you prize most in an employee? What behaviors or characteristics do you find intolerable?
Can you share with us your ideas about professional development?
Describe some basic steps that you would take in implementing a new program.
What are one or two of your proudest professional accomplishments?
Do you have any knowledge of the unique role of a land grant university?
How do you feel about diversity in the workplace? Give us some examples of your efforts to promote diversity.
Tell us how you go about organizing your work. Also, describe any experience you have had with computers or other tools as they related to organization.
Please tell us what you think are the most important elements of a good ________________. [service, activity, product, class, etc.]
What professional associations do you belong to and how involved in them are you?
Tell us about your preferred work environment.
What experiences or skills will help you manage projects?
Tell us how you would use technology in your day-to-day job.
In what professional development activities have you been involved over the past few years?
What volunteer or social activities have helped you develop professional skills?
What things have you done on your own initiative to help you prepare for your next job?
Do you have any concerns that would make you have reservations about accepting this position if it is offered to you?
What do you think most uniquely qualifies you for this position?
Do you have any additional information that you would like to share?
Do you have any questions for us?
Interview Questions to Avoid
You cannot ask any question during an interview that relates to an applicant's race, color, religion, age, gender, national origin, or disability. In some states, inquires about a candidate's sexual orientation are illegal. The following questions are merely a few of the questions that should not be asked. 
Don't Ask
Applicable Law
Are you a U.S. citizen?
Civil Rights Act, Title VII (prohibits employment discrimination based on race, color, religion, sex, or national origin)
Where were you born?
What is your spouse's name?
What church do you attend?
What is your religion?
What is your race or ethnic origin?
What is your maiden name?
What is your birth date?
Age Discrimination in Employment Act

How old are you?
Do you have a disability?
Americans with Disabilities Act
Have you ever been treated for an illness?
Why are you in a wheelchair?
Are you married?
Civil Rights Act, Title VII; Pregnancy Discrimination Act
Do you have any children?
Do you have child care arrangements?
The following questions should be asked only when there is a bona fide, job-specific reason to ask them. If asked of one candidate, they should be asked of all candidates for the same position.
 Acceptable Alternative Questions
Do you have any responsibilities that conflict with the job's attendance or travel requirements?
Are you able to work in the United States on an unrestricted basis?
Are you able to perform the duties on the job description with or without reasonable accommodations?
Americans with Disabilities Act (ADA) Questions and Answers
Do you have any conflicts that would prevent you from working the schedule discussed?
If hired, can you provide proof that you are at least 18 years of age?
Have you worked under any other professional name or nickname?
Would you have any problem working extra hours, if required?
Would anything prevent you from making a long-term commitment to the position and the institution?
Tips on Telephone Interviews
 Planning and Arranging the Interview
Schedule a call of no more than 30 minutes with interviewee and interviewers.
Review interviewee's application materials.
Prepare questions.
Determine the order in which the interviewers will ask questions.
Test speaker-phone and teleconferencing equipment and procedures.
 Conducting the Interview
Introduce the individuals participating in the interview and describe how the interview will be conducted.
Ask questions pertaining to the resume (for example, questions about gaps in employment, special training, or a change of professions).
Ask why the person is interested in leaving his or her current position.
Ask one or two technical questions about the job.
Ask one or two questions that will help you determine the interviewee's "fit" to your campus (for example, "What is your philosophy of _________________?").
Ask follow-up questions as appropriate.
Ask the interviewee if he or she has any questions.
Explain to the interviewee the next step in the selection process.
Thank candidate for his or her time.
2.6 Compensation Management
Compensation is the remuneration received by an employee in return for his/her contribution to the organization. It is an organized practice that involves balancing the work-employee relation by providing monetary and non-monetary benefits to employees.
Compensation is an integral part of human resource management which helps in motivating the employees and improving organizational effectiveness.
Components of Compensation System:
Compensation systems are designed keeping in minds the strategic goals and business objectives. Compensation system is designed on the basis of certain factors after analyzing the job work and responsibilities. Components of a compensation system are as follows:
Job analysis
Salary structures
Pay structure
Need of Compensation Management:
A good compensation package is important to motivate the employees to increase the organizational productivity.
Unless compensation is provided no one will come and work for the organization. Thus, compensation helps in running an organization effectively and accomplishing its goals.
Salary is just a part of the compensation system, the employees have other psychological and self-actualization needs to fulfill. Thus, compensation serves the purpose.
The most competitive compensation will help the organization to attract and sustain the best talent. The compensation package should be as per industry standards.
Importance of CompEnsation Management
An ideal compensation system will have positive impact on the efficiency and results produced by employees. It will encourage the employees to perform better and achieve the standards fixed.
It will enhance the process of job evaluation. It will also help in setting up an ideal job evaluation and the set standards would be more realistic and achievable.
Such a system should be well defined and uniform. It will be apply to all the levels of the organization as a general system.
The system should be simple and flexible so that every employee would be able to compute his own compensation receivable.
It should be easy to implement, should not result in exploitation of workers.
It will raise the morale, efficiency and cooperation among the workers. It, being just and fair would provide satisfaction to the workers.
Such system would help management in complying with the various labor acts.
Such system should also solve disputes between the employee union and management.
The system should follow the management principle of equal pay.
It should motivate and encouragement those who perform better and should provide opportunities for those who wish to excel.
Sound Compensation/Reward System brings peace in the relationship of employer and employees.
It aims at creating a healthy competition among them and encourages employees to work hard and efficiently.
The system provides growth and advancement opportunities to the deserving employees.
The perfect compensation system provides platform for happy and satisfied workforce. This minimizes the labor turnover. The organization enjoys the stability.
The organization is able to retain the best talent by providing them adequate compensation thereby stopping them from switching over to another job.
The business organization can think of expansion and growth if it has the support of skillful, talented and happy workforce.
The sound compensation system is hallmark of organization's success and prosperity. The success and stability of organization is measured with pay-package it provides to its employees.
2.7 Performance Appraisal:
A performance appraisal, employee appraisal, performance review, or (career) development discussion is a method by which the job performance of an employee is evaluated (generally in terms of quality, quantity, cost, and time) typically by the corresponding manager or supervisor[2]. A performance appraisal is a part of guiding and managing career development. It is the process of obtaining, analyzing, and recording information about the relative worth of an employee to the organization. Performance appraisal is an analysis of an employee's recent successes and failures, personal strengths and weaknesses, and suitability for promotion or further training. It is also the judgment of an employee's performance in a job based on considerations other than productivity alone.
Aims
Generally, the aims of a performance appraisal are to:
Give employees feedback on performance
Identify employee training needs
Document criteria used to allocate organizational rewards
Form a basis for personnel decisions: salary increases, promotions, disciplinary actions,  bonuses, etc.
Provide the opportunity for organizational diagnosis and development
Facilitate communication between employee and administration
Validate selection techniques and human resource policies to meet federal Equal Employment Opportunity requirements.
To improve performance through counseling, coaching and development.
Methods
A common approach to assessing performance is to use a numerical or scalar rating system whereby managers are asked to score an individual against a number of objectives/attributes. In some companies, employees receive assessments from their manager, peers, subordinates, and customers, while also performing a self assessment. This is known as a 360-degree appraisal and forms good communication patterns.
The most popular methods used in the performance appraisal process include the following:
Management by objectives
360-degree appraisal
Behavioral observation scale
Behaviorally anchored rating scales
Trait-based systems, which rely on factors such as integrity and conscientiousness, are also commonly used by businesses. The scientific literature on the subject provides evidence that assessing employees on factors such as these should be avoided. The reasons for this are two-fold:
1)   Because trait-based systems are by definition based on personality traits, they make it difficult for a manager to provide feedback that can cause positive change in employee performance. This is caused by the fact that personality dimensions are for the most part static, and while an employee can change a specific behavior they cannot change their personality. For example, a person who lacks integrity may stop lying to a manager because they have been caught, but they still have low integrity and are likely to lie again when the threat of being caught is gone.
2)   Trait-based systems, because they are vague, are more easily influenced by office politics, causing them to be less reliable as a source of information on an employee's true performance. The vagueness of these instruments allows managers to fill them out based on who they want to/feel should get a raise, rather than basing scores on specific behaviors employees should/should not be engaging in. These systems are also more likely to leave a company open to discrimination claims because a manager can make biased decisions without having to back them up with specific behavioral information.
Performance appraisals are an instrument for social control. They are annual discussions, avoided more often than held, in which one adult identifies for another adult three improvement areas to work on over the next twelve months. You can soften them all you want, call them development discussions, have them on a regular basis, have the subordinate identify the improvement areas instead of the boss, and discuss values. None of this changes the basic transaction… If the intent of the appraisal is learning, it is not going to happen when the context of the dialogue is evaluation and judgment.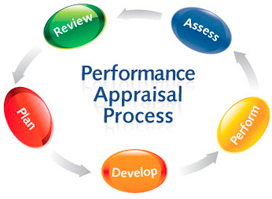 Importance of Performance Appraisal
A performance appraisal program (PA program) is important to employees' professional development, to meeting the company's or firm's goals or objectives and, ultimately, to contributing to the company's or firm's bottom line. No employer, whether a small CPA firm, a Big Four firm, a nonprofit organization, a government institution or a private or public company, should be exempt from having a formal PA program. Other benefits that could be derived from having a PA program include enhanced communications, an opportunity to effectively address performance problems, and improved employee morale.
Before creating a PA program, there are several factors to consider. The employer should first determine the objectives for the program. Second, the employer should develop a plan and timeframe for launching the program. Finally, the employer should prepare for any obstacles that might appear, and regularly consider ways to improve the program.
Purpose
The primary reason for having a PA program is to monitor employees' performance, motivate staff and improve company morale. Monitoring employee performance requires routine documentation, which is accomplished through completing a performance appraisal form. When employees are aware that the company is mindful of their performance and that they could be rewarded with merit increases and promotions, they are motivated to work harder. Morale is improved when employees receive recognition or reward for their work
An effective PA program will assist the company in achieving its goals and objectives. Not only will training needs be identified and addressed during a PA review, but hidden talent can be discovered as well. Through identifying these training needs, staff can perform their jobs at the highest level and be in a better position to address clients', members' and customers' concerns and questions. A well-developed staff is more likely to be proactive, productive and resourceful, all of which helps give the company a competitive edge, from improved customer relations to increased profits.
Getting off the Ground
Before the PA program is up and running, a performance appraisal form should be designed with input from managers. It should be able to sufficiently measure performance, be simple enough for all employees to complete, and not take more than an hour to finish. In implementing the PA program, top management should give the plan its blessing; employees should understand how it works, and the staff at large should be encouraged to view the program as a valuable human resources tool.
Pitfalls
Pitfalls of a PA program will be evident if the managers are not adequately trained to monitor, interview and grade their staff. Grading that does not accurately reflect the employee's work performance could land a company in hot water, as performance evaluations often are used as evidence in wrongful termination cases. Further still, supervisors who let personal bias creep into their employee evaluations could be setting the stage for a lawsuit.
Enhancing the  Program
The PA program should be reviewed at least annually to determine if it is meeting management's expectations. Areas to consider when reviewing the PA form should include the grading system, to see that core skills and soft skills are evaluated effectively; sufficient space for employee comments; and categories that correctly address and measure all of the employees' responsibilities and job descriptions. Additionally, the form should include a future goals section and a self-evaluation section.
The second part of this article, to be featured in next month's issue, will focus on how employees and managers should complete the performance evaluation form.
2.8 Training and development
In simple terms, training and development refers to the imparting of specific skills, abilities and knowledge to an employee. A formal definition of training & development is… it is any attempt to improve current or future employee performance by increasing an employee's ability to perform through learning, usually by changing the employee's attitude or increasing his or her skills and knowledge.
The need for training & development is determined by the employee's performance deficiency, computed as follows:
Training & Development need = Standard performance – Actual performance
AIMS/OBJECTIVES OF TRAINING & DEVELOPMENT
The fundamental aim of training is to help the organization achieve its purpose by adding value to its key resource – the people it employs.
Training means investing in the people to enable them to perform better and to empower them to make the best use of their natural abilities. The particular objectives of training are to:
Develop the competences of employees and improve their performance;
Help people to grow within the organization in order that, as far as possible, its future needs for human resource can be met from within;
Reduce the learning time for employees starting in new jobs on appointment, transfers or promotion, and ensure that they become fully competent as quickly and economically as possible.
INPUTS IN TRAINING AND DEVELOPMENTS
Any training and development program must contain inputs which enable the participants to gain skills, learn theoretical concepts and help acquire vision to look into distant future. In addition to these, there is a need to impart ethical orientation, emphasize on attitudinal changes and stress upon decision-making and problem-solving abilities and Skills.
Training, as was stated earlier, is imparting skills to employees. A worker needs skills to operate machines, and use other equipments with least damage or scrap. This is a basic skill without which the operator will not be able to function. There is also the need for motor skills. Motor skills refer to performance of specific physical activities.
 These skills involve training to move various parts of one's body in response to certain external and internal stimuli. Common motor skills include walking, riding a bicycle, tying a shoelace, throwing a ball and driving a car. Motor skills are needed for all employees – from the clerk to the general manager.
Employees, particularly supervisors and executives, need interpersonal skills popular known as the people skills. Interpersonal skills are needed to understand one self and others better, and act accordingly. Examples of interpersonal skills include listening, persuading, and showing an understanding of others' feelings.
Education
The purpose of education is to teach theoretical concepts and develop a sense of reasoning and judgment. That any training and development program must contain an element of education is well understood by HR specialist. Any such program has university professors as resource persons to enlighten participants about theoretical knowledge of the topic proposed o be discussed.
In fact organizations depute or encourage employees to do courses on a part time basis. Chief Executive Officers (CEO's) are known to attend refresher courses conducted by business schools. Education is important for managers and executives than for lower-cadre workers.
Development:
Another component of a training and development is development which is less skill oriented but stressed on knowledge. Knowledge about business environment, management principles and techniques, human relations, specific industry analysis and the like is useful for better management of the company.
Ethics:
There is need for imparting greater ethical orientation to a training and development program. There is no denial of the fact that ethics are largely ignored in businesses. Unethical practices abound in marketing, finance and production function in an organization. They are less see and talked about in the personnel function.
If the production, finance and marketing personnel indulge in unethical practices the fault rests on the HR manager. It is his/her duty to enlighten all the employees in the organization about the need of ethical behavior.
Attitudinal Changes:
Attitudes represent feeling and beliefs of individuals towards others. Attitude affects motivation, satisfaction and job commitment. Negative attitudes need to be converted into positive attitudes. Changing negative attitudes is difficult because
Employees refuse to changes
They have prior commitments
And information needed to change attitudes may not be sufficient
Training Process
How to make training effective?
Action on the following lines needs to be initiated to make training practice effective:
1)        Ensure that the management commits itself to allocate major resources and adequate time to training. This is what high-performing organizations do. For example, Xerox Corporation, in the US invests about $ 300 million annually, or about 2.5 per cent of its revenue on training. Similarly, Hewlett-Packard spends about five per cent of its annual revenue to train its 87.OC: workers.
2)        Ensure that training contributes to competitive strategies of the firm. Different strategies need different HR skills for implementation. Let training help employees at all levels acquire the needed skills.
3)        Ensure that a comprehensive and systematic approach to training exists and training and retraining are done at all levels on a continuous and ongoing basis.
4)        Make learning one of the fundamental values of the company. Let this philosophy Percolate down to all employees in the organization.
5)        Ensure that there is proper linkage among organizational, operational and individual training needs.
6)        Create a system to evaluate the effectiveness of training. (Evaluation of training has been discussed above.
2.9 Change Management:
Change management is a structured approach to transitioning individuals, teams, and organizations from a current state to a desired future state. Change management (or change control) is the process during which the changes of a system are implemented in a controlled manner by following a pre-defined framework/model with, to some extent, reasonable modifications [1].
In project management, change management refers to a project management process where changes to a project are formally introduced and approved.[2].
The field of change management grew from the recognition that organizations are composed of people. And the behaviors of people make up the outputs of an organization.
Types of Organizational Change
Strategic changes
Technological changes
Structural changes
Changing the attitudes and behaviors of personnel
As a multidisciplinary practice, Organizational Change Management requires for example: creative marketing to enable communication between change audiences, but also deep social understanding about leadership's styles and group dynamics. As a visible track on transformation projects, Organizational Change Management aligns groups' expectations, communicates, integrates teams and manages people training.
It make use of metrics, such as leader's commitment, communication effectiveness, and the perceived need for change to design accurate strategies, in order to avoid change failures or solve troubled change projects.
An effective change management plan needs to address all above mentioned dimensions of change.
This can be achieved in following ways:
Putting in place an effective Communication strategy which would bridge any gap in the understanding of change benefits and its implementation strategy.
Devise an effective skill up gradation scheme for the organization. Overall these measures can counter resistance from the employees of companies and align them to overall strategic direction of the organization.
Personnel counseling of staff members (if required) to alleviate any change related fears.
Process of Change Management:
Why change management:
Without change management, projects experience employee and manager resistance. Research says the greatest obstacle to change management is "employee resistance." This resistance impacts the project team and its success. HR can play a vital role in managing resistance to change and helping the team succeed.
Strategy:
Become comfortable and immersed in the field of change management
Believe in the cause
Introduce the field of change management, the people side, and clarify the definition. Make sure others know the difference  between change management, the people side, and change management, IT
Use best practices to show the importance of change management and what it can do for the success of a project (WIIFM)
Be a resource by providing people with reading materials and allowing them time to ask questions.
2.10 Turnover Management
Employee turnover can hurt the overall productivity of a farm and is often a symptom of other difficulties. One dairy manager put it this way: "Every time a milker leaves, I lose about one cow." Turnover in livestock operations upsets routines, makes animals uncomfortable, and affects the health and safety of the herd.
Other costs of turnover are associated with the processes of selecting, orienting, and training new workers. While an employee is being replaced, a substitute (sometimes you, the farmer or manager) has to be found to do the work. Many farm employers feel it takes about two years to train a year-round employee.
Some employment separations come quickly and as a surprise to both the worker and employer (e.g., the employee may be offered a job at another farm). Other separations are known long in advance to the worker, farmer, or both.
Many employees experience reluctance, ambivalence, and stress about leaving a job in pursuit of another. Some workers would rather retain a disliked job than venture into the unknown. Often employees leave mentally even though they show up to work regularly. Knowing the reasons why workers leave can give farmers an edge in improving working relationships.
One way of classifying turnover is by the degree of control the farm employer has over the separation. As a farmer you may have little influence over the worker's family problems, moderate influence over scheduling, and relatively high control of the relationship between management and workers.
Turnover is not always bad. Sometimes positions are no longer essential. Those who leave are not replaced. Many farmers are uncomfortable either disciplining or terminating poor performers and are relieved when these leave on their own accord. Some employers make a worker's life difficult so she will leave on her own. In the language of the courts this may be regarded as constructive discharge and be treated in a similar fashion as a regular firing.
Next, we look at a dairy turnover study. Although the data and reasons for turnover may vary with time, region, and type of agricultural commodity, this information may provide some useful insights into turnover.
High employee turnover hurts a company's bottom line. Experts estimate it costs upwards of twice an employee's salary to find and train a replacement. And churn can damage morale among remaining employees.
Here are some ways to lower turnover in your workplace:
Hiring the right people from the start, most experts agree, is the single best way to reduce employee turnover. Interview and vet candidates carefully, not just to ensure they have the right skills but also that they fit well with the company culture, managers and co-workers.
Setting the right compensation and benefits is important too. Work with human resources to get current data on industry pay packages, and get creative when necessary with benefits, flexible work schedules and bonus structures.
Review compensation and benefits packages at least annually. Pay attention to trends in the marketplace and have HR update you.
Pay attention to employees' personal needs and offer more flexibility where you can. Consider offering telecommuting, compressed schedules or on-site or back-up day care.
Bolster employees' engagement. Employees need social interaction and a rewarding work environment. They need respect and recognition from managers, and a challenging position with room to learn and move up.
Managers often overlook how important a positive work environment is for staffers, and how far meaningful recognition and praise from managers can go to achieve that. Awards, recognition and praise might just be the single most cost-effective way to maintain a happy, productive work force.
Simple emails of praise at the completion of a project, monthly memos outlining achievements of your team to the wider division, and peer-recognition programs are all ways to inject some positive feedback into a workforce. Also, consider reporting accomplishments up the chain. A thank you note to the employee is good. Copying higher-ups makes that note even more effective.
To make it easier to identify accomplishments, ask your team for weekly or monthly updates of their achievements. Ask for specific numbers, examples or emails of praise from co-workers or customers.
–        Outline challenging, clear career paths. Employees want to know where they could be headed and how they can get there. Annual reviews or midyear check-ins are one obvious venue for these discussion, but you should also encourage workers to come to you with career questions and wishes throughout the year.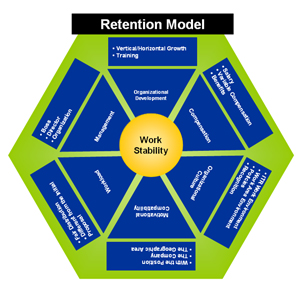 Why Employees Leave
Most employees leave their work for reasons other than money – and your organization can correct these reasons. Most leaving employees seek opportunities that allow them to use and develop their skills. Leaving employees want more meaning in their work. They often indicate that they want to use their qualities and skills in challenging teamwork led by capable leaders.
Managerial staff cite "career growth" and "leadership" as the major factors that influence attrition and retention, together with "opportunities for management" "ability of top management" "use of skills and abilities" and work/family balance
Professional employees cite concerns about "supervisory coaching and counseling," "company direction" and interesting work
Clerical employees voice concerns such as "type of work," "use of skills and abilities" and opportunities to learn
Hourly employees notice whether they are treated with respect, have capable management and interesting work
Employee Orientation
New employees who attend a positive orientation program are 70% more likely to be with the company three years later (Corning Glass).
Mergers/Acquisitions
Lee Hecht Harrison, a HR consulting firm, advises, "Far more employees will leave following a restructuring than are laid-off or terminated as a result of downsizing. This lost talent, and cost can be minimized through good communication."
Exit Inter views
Exit interviews provide an excellent source of information of internal problems, employees' perceptions of the organization, underlying workplace issues, and managers' leadership abilities.
Ineffective Managers
High employee turnover can be recognized and properly attributed to poor managerial performance, emotional intelligence and ineffective leadership. Poorly selected or improperly trained managers can be expensive…
A Workforce Magazine article, "Knowing how to keep your best and brightest," reported the results of interviews with 20,000 departing workers. The main reason that employees chose to leave was poor management. HR magazine found that 95 percent of exiting employees attributed their search for a new position to an ineffective manager.
Hire attitude; Train skills
We can help you hire and inspire appropriate employees…
Build positive, friendly, teamwork attitudes and commitment to customer services
Help new employees feel comfortable as they participate as valued team members
Provide periodic refresher courses to maintain team purpose and functionality
Apply Expert Modeling to rapidly transfer expert skills within a workforce
Reduce Attrition: Managers and Professional Employees
We can help you adjust your company vision and manager's performance reviews to reflect employee turnover, and provide mentoring and interpersonal training to inexperienced managers.
Develop and communicate a strong strategic vision
Provide relationship coaching and help people develop to their potential
Reward managers for their relationship skills – not only on technical know-how and financial results
People don't leave jobs, they leave managers! Replace managers who will not develop relationship skills
Reduce Attrition: Clerical and Hourly Employees
We can help you communicate. Most employees want to know more about their work. We can explain each process and help employees understand the importance of their work. Your employees will become more knowledgeable about their effectiveness. Here are a few ways …
Compliments and thanks cost little and can bring great benefits
Let employees know that their opinions are valuable
Keep employees informed – don't let them hear important news through rumors
Update employees with technical information
Address staff by their first names
Publicly praise what the employee has accomplished and say why it was important
Criticize privately about what the employee can do better and explain how to do it better
Create community with activities such as informal meals or events outside work
Involve employees in organizational planning
Titles cost little and remind employees that they are valuable
2.11 Salary Survey
Comprehensive methodology for conducting salary surveys Use of clear and consistent Guidelines for evaluating labor market conditions Identifying benchmark positions and employers:
Goal: To develop a survey process that is streamlined and refined
Goal: To improve the methodology and survey process
Roles:
Survey Administrator/Advisory Committee – Determines the positions to be included in the survey and the types of information to be collected.
Analyst – Responsible for monitoring the progress of survey participants; may perform data entry of survey responses; assists participants in interpreting the survey questionnaire and job descriptions; assists the participants in the process of completing the questionnaire; may assist in interpreting the survey results;
Participant – Matches jobs on the survey questionnaire to jobs at the participating institution; may compute average salaries, minimum, or maximum salaries; provides survey response within the specified deadline;
Determining 'benchmark' positions
Common Classification Standard – Jobs on a survey should be developed using a common classification standard.
Sample Job Titles and Descriptions – Demo app at HR.Superb.Net
Sources of job titles and descriptions – DOT, SOC, other classification systems.
Describing benchmark jobs
Balance between specificity of the description and generalize ability of the job for matching.
Grouping positions into job families
Similarity of functions
Hierarchy within job family
Defining what data to collect 
General Participant Information – Name and address of participating institution, number of employees in various categories, measures of fiscal size (Operating Budget; Assets; Annual Revenues; Sales; …), industry classification/type, ownership (public/private),
Contact Information – Name, address, title, phone, fax, and email of person responding to the survey
Employment Information – Benefits, working conditions, standard work week, union affiliations, cost of living increases,
Job Data including:

headcount – Number of incumbents in the job classification
average salary – Sum of the salaries of the incumbents divided by the number of incumbents
salary ranges – Applies only to those positions with specified minimum and maximum salaries
starting salary – may be the same as the minimum salary
exempt status
bonuses
commissions
overtime payments
reporting relationship
relative weights –

Designing the questionnaire form and brief job descriptions
Assurance of Confidentiality – Before you begin the salary survey, you should examine the measures taken to ensure the confidentiality of the survey participants.

Unions – Salary data may be mis-used by union employees to gain bargaining power. Therefore extreme caution must be used when responding to requests by Unions for salary survey data.
Survey Analysts – When using analysts to assist in conducting the survey, you may want to reassure the survey participants that the Analysts are sworn to secrecy with regard to the salary data: Survey Analysts shall exercise discretion when conducting the survey and shall not disseminate information that is proprietary and confidential. Analysts shall not use such information for personal gain.
Results only to Participants – Often times, the survey results are only provided to survey participants. This is one way to increase the participation rate. This also helps reassure participants that the results will not be used by consultants (for monetary gain).
Coding of Participant Information – If you report the data for each participant (in addition to averages), one way of helping to ensure confidentiality is to code the participants response in the survey results using a alphabetic code.

Access to results?
Identification of participants

Selection of participants can affect the results.
Sources of participants include

Local businesses
Associations of employers (within one industry)
Other salary surveys
Previously surveyed companies

Criteria for selection of participants

Established Businesses – startup's may be under significant fluctuations in salary levels
Should be able to provide data on at least 30 employees
As much as possible, the participants from the previous years that the survey was conducted should be encouraged to participate. This will improve the reliability of the survey results from one year to the next.
Number of Participants If surveying positions with high turnover, dramatically increasing salaries, or large variability in salaries for the same types of jobs, you should try to use a large number of participants to develop more accurate averages

Contacting the Participants
Letter sent to Human Resources Manager or Compensation Manager to announce the survey and request participation. This letter should include information on the participation deadlines, contact information for answers to questions.
Distribution of the survey questionnaire (mail, fax, internet)

If the questionnaire is lengthy you may want to mail it only to participants who respond to the initial letter.
Mail to the questionnaire either with the initial letter or in response to a reply from the solicited participant.

Data Collection
Coding of Responses
Follow up (phone / email)

Non Respondents; Need more time? Deadline extension?
Incomplete Responses; Missing Data; Failure to report data on common positions
Extreme Responses

Above ranges
Annualized salaries (only reported 10-month rates
2.12 Reference Check
Background checking is the process of authenticating the information supplied to a potential employer by a job applicant in his or her resume, application, and interviews. In most application processes, lying about background and credentials will keep the employer from hiring the applicant. Background checking ensures the employer that the candidate has the background and experience he or she claims.
Additionally, if it is determined at a later date through a background check, that an employee lied about credentials, qualifications, experience, education and so forth, the employer may fire the employee. This assumes that the employee signed a statement attesting to the truth of his or her provided information.
Common background checks include:
verification of academic credentials;
verification of prior employment including position, longevity, salary, and job                                                         performance, sometimes tracing back ten years or to the three prior positions;
discussions with business, professional, and personal references and verification of letters   of recommendation;
drug screens and occasionally, physical exams;
testing to confirm skills and knowledge;
an Internet search, on the candidate's name, especially at Google.com to confirm an individual's claims about their jobs, performance, awards, and more;
criminal background checks; and;
Especially for accounting and finance professionals, credit checks.
Background checking is usually conducted by Human Resources professionals, but occasionally, the supervisor of the position being filled assists, especially with reference background checking.
Additionally, background checking of people who are candidates for the same job should be the same. A clear connection should exist between the background checks conducted and the requirements of the job or of basic employment.
Reference should be checked for:
Verify employment
Verify what you have learned during the interview
Obtain employment recommendations
2.13 Succession Planning:
Succession planning is a process whereby an organization ensures that employees are recruited and developed to fill each key role within the company. Through your succession planning process, you recruit superior employees, develop their knowledge, skills, and abilities, and prepare them for advancement or promotion into ever more challenging roles. Through your succession planning process, you also retain superior employees because they appreciate the time, attention, and development that you are investing in them. To effectively do succession planning in your organization, you must identify the organization's long term goals. You must hire superior staff. You need to identify and understand the developmental needs of your employees. You must ensure that all key employees understand their career paths and the roles they are being developed to fill. You need to focus resources on key employee retention. You need to be aware of employment trends in your area to know the roles you will have a difficult time filling externally.
Within any organization, people in leadership positions eventually cease to fulfill that role. This can occur for a variety of reasons, such as:
promotion within the organization
move to part-time arrangements for better work-life balance
voluntary departure from the organization to pursue a career elsewhere
involuntary departure from the organization
retirement
serious illness
death
Organizations that fail to plan for the timely and effective filling of such leadership roles can be caught off guard, with the consequent disruption to normal business activities and the loss of market share. Succession planning is the preemptive process of identifying significant leadership positions that could put the organization at risk if left unfulfilled, targeting current employees that could move into such roles and grooming them for succession. Managing leadership succession effectively requires a structured approach that is agreed, understood and followed by everyone involved in the planning process.
The Succession Planning Process
Succession planning requires steps to obtain leadership guidance, collect relevant information, make key decisions, and execute succession and development actions. If undertaking this activity for the first time, you should consider creating a process that is "separate" from other, related activities such as performance management and development planning. Later, after you have executed your process a couple times, you may take down the special elements and start to integrate it with these other activities. The steps below outline such a stand-alone process.
Reference Checks of Prospective Employees
Verifying the accuracy of the facts of a candidate's background as you know them and uncovering facts relevant to the duties of the position sought is always prudent.  The scope and depth of a check might increase with the seniority and sensitivity of the position. Verification of degrees, licenses, and skills is important in the academic environment. The hiring manager or unit head should determine the types of information sought and how he/she can appropriately use that information.
2.14 Uniqueness of peopleScape in this sector
Human Resource Management is a very wide area of management, HR is not only to hire and fire people, today HR means putting right person in the right position at the right time and satisfy them to keep in the organization. Peoplescape is a complete HR firm and it offers all most all the HR Services. Some of those are:
 Recruitment Process
Payroll Management
Performance Appraisal
Training & Development
Change Management
Benefit Management
Exit  Process Management
Salary  Survey
Reference Check
3.1 Strength of the Company:
Assemble an oversight committee
The committee's role is to establish a succession planning process that can fulfill the purpose, goals, and scope outlined by the top leader, and to govern over the process until most of the major questions and issues have been resolved.
Set policy
The oversight committee creates policy around such issues as data security, assessment, succession nominations, communication and development.
Define operational parameters
Again, this is the purview of the oversight committee. Operational parameters include: positions for which successors will be nominated, the scope of the pool of succession nominees and the rating scales used for assessing contribution and potential.
Develop and conduct the assessment
The assessment is essential for comparing succession candidates and slotting them against specific succession positions. The assessment data, generally provided by direct managers of the succession pool, should be reviewed for equity in the ratings and for consensus in the nominations.
Compile and organize the data
The voluminous data that is collected must be compiled into the kind of information needed by leaders to make key decisions. Some of the compilations include: coded organization charts, a "contribution-potential matrix," reports of any "at risk" positions or individuals, and profiles for all individuals and positions. A spreadsheet or dedicated tool for organizing and displaying such information is recommended.
Conduct organizational reviews
Starting with business unit/functional heads, the succession plan and reports compiled are reviewed and key decisions made. These decisions could range from developmental opportunities for future leaders to actual leadership appointments. The business unit/functional level reviews are followed by reviews at the highest level – with correspondingly higher level decisions.
Implement development plans
While succession decisions may be executed immediately after the reviews, the developmental opportunities must be pursued over the following weeks and months. For future leaders to realize their potential and be better positioned to "step up" when the time comes, these development opportunities must not be allowed to languish once the spotlight is off the succession planning process.
Assess process effectiveness
Like any other business process, your succession planning process will need to be improved, streamlined, integrated with other human resources processes and possibly expanded to accommodate additional participants. While the experience is fresh, take a moment to gather feedback and assess process effectiveness – then set and achieve the most critical improvement objectives.
3.2 Weakness of the Company:
–          High Volume Recruiting : Situations like new plant/store openings, holiday seasonal staffing, and newly created positions can be stressful for an organization (and the HR department) because of recruiting volumes that they are not equipped to handle
–          Unbundled Recruiting SERVICES: Often organizations like to conduct their own recruiting, because they feel they know best which candidates will fit within the organization.
–          Avoiding LAWSUITS: A significant part can also spend ensuring legal compliance and hence avoiding lawsuits.
–          Performance Management : Performance management is an area many HR generalists struggle with this.
–          Exit Interviewing: It is hard to retain people when you don't know why they are leaving. 
–          Employee Surveys : Almost all large companies make extensive use of employee surveys and there is no reason why mid-sized and even small companies can not do so as well.
–          High Volume Recruiting : Sometimes organizations need to
                  hire largevolumes of employees at one time.
The points against regarding HR outsourcing as a panacea for organizational problems. The potential pitfalls include:
According to the report, handing over unnecessarily complex or badly understood systems to an external provider can be like "picking up spaghetti". This limits potential benefits from outsourcing. If processes cannot be improved before a move, the organization may have to accept off-the-shelf replacements that are not specifically geared to their needs. .
The greatest financial benefits of outsourcing often come from using sophisticated software. If effective IT systems already exist in-house, cost savings may not be achieved from an external provider;
Good employee management practices remain essential, and the key relationship between staff and their line managers remains in-house, leaving plenty of work on manager / staff relationships that still has to be handled despite the outsourcing relationship;
Local knowledge and ownership of human resource processes could be lost.
The decision to outsource HR services is a complicated one. Cost reasons alone are not sufficient to drive the decision. Decision makers need to ask whether there is a need to change the way the HR department operates and review existing provision. This review needs to consider cost, administrative efficiency and HR policy strategy and expertise. Where gaps are identified, organizations need to consider whether these are best solved by minor tinkering or major transformation.
It must also not be forgotten that a transition from in-house HR provision to the use of an outsourced provider is a significant change for the organization, and must be managed accordingly. If significant time is not devoted to the process of change, with unequivocal top-level support, there is a danger that staff / line manager relationships and other aspects of people management policy may be neglected
4.1 Recommendation
Organization should emphasize on equal pay opportunity.
They should arrange the orientation program from joining day of the worker it will help     worker to know quickly about the organization.
The employee's job should be secured.
There is no long time training program system in PeopleScape.
Long- term training program should have in PeopleScape.
PeopleScape should often deal with HR processes more effectively.
PeopleScape can enhance their employee skill & ability by partnership with reputed training institute.
PeopleScape may recruit HR background so that they will make working people more productive and satisfied.
PeopleScape can proper utilize the intern & rearrange their internship program, So that this fresh graduate can do various role of the company.
The company should provide equal employment opportunity.
HRD's main focus must be on employees rather than anything else.
They should conduct regular survey in their organization regarding various issues within the organization and work according the result.
4.2 Conclusion
In today's world of globalization, a new concept of Human resource outsourcing is coined so as to reduce  the complexities of handling day to day human resource issues in more accurate and other hand it helps an organization can focus on its core business.
Whatever your company's human resources requirements, there's an HR outsourcing firm out there to meet those needs. Some HR outsourcing firms are generalists, offering a wide variety of services, while others are specialists, focusing on specific areas such as payroll or recruiting. Depending on the size of your business and how much control you want to maintain over HR functions, you can either outsource all your HR tasks or contract for services a la carte.