2.1: background of Novartis Limited:
Novartis was created in 1996 from the merger of Ciba-Geigy and Sandoz Laboratories, both Swiss companies with long histories. At the time it was said to be the largest corporate merger in history. Ciba-Geigy was formed in 1970 by the merger of J. R. Geigy Ltd (founded in Basel in 1758) and Ciba (founded in Basel in 1859). Combining the histories of the merger partners, the company's effective history spans 250 years.
Ciba-Geigy
 Johann Rudolf Geigy-Gemuseus began trading in 1758 in materials, chemicals, dyes and drugs of all kinds in Basel, Switzerland. Johann Rudolf Geigy-Merian and Johann Muller-Pack acquired a site in Basel in 1857, where they built a dyewood mill and a dye extraction plant. Two years later, they began the production of synthetic fuchsine. In 1901, they formed the public limited company Geigy and the name of the company was changed to J. R. Geigy Ltd in 1914.
In 1859 Alexander Clavel took up the production of fuchsine in his factory for silk-dyeing works in Basel. In 1864, a new site for the production of synthetic dyes was constructed, and in 1873, Clavel sold his dye factory to the new company Bindschedler & Busch. In 1884 Bindschedler & Busch is transformed into a joint-stock company with the name "Gesellschaft für Chemische Industrie Basel" (Company for Chemical Industry Basel). The abbreviation Ciba was adopted as the company's name in 1945.
In 1925 J. R. Geigy Ltd. began producing textile auxiliaries an activity which Ciba took up in 1928.
In 1939, Geigy chemist Paul Hermann Müller discovered that DDT was effective against malaria-bearing insects. He received the Nobel Prize in Medicine for this work in 1948.
Ciba and Geigy merged in 1971 to form Ciba Geigy Ltd., and this company merged with Sandoz in 1996 to form Novartis.
Sandoz
The Chemiefirma Kern & Sandoz ("Kern & Sandoz Chemistry Firm") was founded in 1886 by Dr. Alfred Kern and Edouard Sandoz. The first dyes manufactured there were alizarine blue and auramine. After Kern's death, the partnership became the corporation Chemische Fabrik vormals Sandoz in 1895. The company began producing the fever-reducing drug antipyrin in the same year. Further pharmaceutical research began in 1917.
Between the World Wars, Gynergen (1921) and Calcium-Sandoz (1929) were brought to market. Sandoz also produced chemicals for textiles, paper, and leather, beginning in 1929. In 1939, they began producing agricultural chemicals.
The psychedelic effects of lysergic acid diethylamide (LSD) were discovered at the Sandoz laboratories in 1943 by Albert Hofmann. Sandoz began clinical trials, and marketed the substance, from 1947 through the mid 1960s, under the name Delysid as a psychiatric drug, thought useful for treating a wide variety of mental ailments, from alcoholism to sexual deviancy. Sandoz suggested in its literature that psychiatrists take LSD themselves, to gain a better subjective understanding of the schizophrenic experience, and many did exactly that. Research on LSD peaked in the 1950s and early 1960s. Sandoz withdrew the drug from the market in the mid 1960s.
Sandoz opened its first foreign offices in 1964.
In 1967, Sandoz merged with Wander AG (known for Ovomaltine and Isostar). Sandoz acquired the companies Delmark, Wasabröd (a Swedish manufacturer of crisp bread), and Gerber Products Company.
On 1 November 1986, a fire broke out in a production plant storage room, which led to a large amount of pesticide being released into the upper RhineRiver. This exposure killed many fish and aquatic lives..
 In 1995, Sandoz spun off its speciality chemicals business to form Clariant. Subsequently, in 1997, Clariant merged with the speciality chemicals business that was spun off from Hoechst AG in Germany.
Novartis
On March 7, 1996, the news shook the business world. It has been formally announced that, Sandoz and Ciba, two proud Swiss based companies with almost three hundred years of tradition, agreed to integrate to become one. The creation of Novartis was at that time one of the largest corporate merger in the history. Ciba-Geigy Ltd. and Sandoz both have a colorful and rich history spanning more than hundred years. Preceding the merger, there were months of top-secret negotiations and meetings of the minds on a bold strategic move.
With the approval of the EU and US Federal Trade Commission, Novartis finally came into existence on December 20, 1996, clearing all the regulatory hurdles of the merger.
Headquartered in Basel, Switzerland, Novartis innovates for the benefits of its customers. It operates through 360 affiliates in 140 countries and offers its products through its Pharmaceuticals, Generics, consumer Health, CIBA Vision, Animal Health and Business Development & Licensing Unit.
Moreover, Novartis provides a shareholder return that reflects outstanding performance. It also wants to build a reputation for an exciting workplace where people can realize their professional ambition and where creativity is encouraged. The recent history of Novartis has been marked by many interesting events and success stories. This research would focus on those in the following sections.
Novartis is the world leader in research and development of products to protect and improve health and well being. The very name, derived from the Latin novae artes, meaning 'new skills' reflects our commitment to focus on research and development to bring innovative new products to the community we serve. Novartis wants to have a positive impact on people's lives and to discover, develop and successfully market innovative products to cure disease and enhance the quality of life.
Novartis is a dynamic and forceful industry leader, based on a foundation of strong management and common cultural heritage. The new group will be concentrating on activities with greatest promise and which best reflect current competencies and know-how.
2.2: major functions of Novartis Limited:
At present, Novartis is one of the top 5 global pharmaceutical companies in the world. The complementary healthcare businesses of Novartis address the changing needs of patients and societies worldwide. With innovative pharmaceuticals at the core, Novartis is also a global leader in generics, vaccines and consumer health products.
Businesses:
Pharmaceuticals: The Pharmaceuticals Division of Novartis is recognized worldwide for the innovative medicines provided to patients, physicians and healthcare organizations. This business develops and markets patent-protected prescription drugs for important health needs. The products are concentrated in major therapeutic areas:
Cardiovascular and Metabolism
Oncology and Hematology
Neuroscience and Ophthalmics (NSO)
Respiratory
Immunology and Infectious Diseases (IID)
The current product portfolio includes more than 45 key marketed products, many of which are leaders in their respective therapeutic areas. The product development pipeline involves about 155 projects in various stages of clinical development – including potential new products as well as potential new indications or formulations for existing products.
Vaccines and Diagnostics:The Novartis Vaccines and Diagnostics Division provides more than 20 products to fight vaccine-preventable viral and bacterial diseases, and makes sophisticated equipment to test blood donations for infections. Novartis formed this division when it acquired Chiron Corporation in 2006.The division consists of two businesses:
º  Novartis Vaccines and Chiron
º  The blood testing business.
Sandoz:Novartis is the only pharmaceutical company with a global leadership position in both patented prescription and generic pharmaceuticals. Sandoz plays a critical role in the Novartis strategy of offering a range of treatment options to patients, physicians and healthcare providers worldwide. This broad portfolio helps to make affordable, high-quality medicines available to patients around the world and stabilize healthcare systems.
There are two main elements to the Sandoz business strategy:
1. Global reach and reputation: In addition to its unique position within Novartis, Sandoz benefits from a strong global presence and powerful brand recognition worldwide.
2. Unique expertise: Sandoz differentiates itself through its ability to develop and produce difficult-to-make medicines. Sandoz is the pioneer of biosimilars — follow-on versions of biopharmaceuticals following patent expiry — with the first two marketed products (human growth hormone Omnitrope and anemia medicine Binocrit). A third product, oncology medicine Zarzio, was approved in 2009.
Consumer Health: The Consumer Health Division creates, develops and manufactures a wide range of products designed to restore, maintain or improve the health and well-being of the customers.
The division focuses on three business units:
1. Over-the-Counter: Novartis Consumer Health, Inc. is a world leader in consumer healthcare, providing self-medication products for the treatment and prevention of common illness and conditions, and the enhancement of overall health and well being.
2. Animal Health: Novartis Animal Health focused on the well-being of companion animals and on the health and productivity of farm animals.
3. CIBA Vision: CIBA Vision is a global leader in the research, development and manufacturing of contact lenses and lens care products.
Associates:
With approximately 100000 associates in 140 countries worldwide, Novartis associates share a vision of "a better today and tomorrow for patients" – a vision that drives our growth and success. The greatest job satisfaction for the associates is the knowledge that they improve the quality of life for patients with increasing precision and efficiency through breakthrough science and innovation.
The performance-oriented culture and responsible approach attract top experts in all areas – research and development, marketing and sales, finance and administration. The talented associates have made Novartis a global leader in healthcare. Novartis is committed to rewarding the people who invest ideas and work in the company.
Locations:
| | | | | |
| --- | --- | --- | --- | --- |
| A | E | J | P | T |
| Albania | Ecuador | Jamaica | Pakistan | Taiwan |
| Algeria | Egypt | Japan | Panama | Thailand |
| Argentina | Estonia | Jordan | Peru | Trinidad and Tobago |
| Australia | | | Philippines | Tunisia |
| Austria | | K | Poland | Turkey |
| | F | Kazakhstan | Portugal | |
| B | France | Kenya | Puerto Rico | U |
| Bangladesh | Finland | Kuwait | | Ukraine |
| Belarus | | | Q | United Arab Emirates |
| Belgium | | L | Qatar | United Kingdom |
| Bermuda | G | Latvia | | United States of America |
| Bosnia and Herzegovina | Georgia | Lebanon | R | Uruguay |
| Brazil | Germany | Lithuania | Romania | Uzbekistan |
| Bulgaria | Ghana | | Russian Federation | |
| | Greece | M | | V |
| C | Guatemala | Macedonia | | Venezuela |
| Cameroon | | Malaysia | S | Viet Nam |
| Canada | | Malta | Saudi Arabia | |
| Chile | H | Mexico | Senegal | Y |
| China | Hungary | Morocco | Serbia | Yemen |
| Colombia | | | Singapore | |
| Costa Rica | | | Slovakia | |
| Croatia | I | N | Slovenia | |
| Cyprus | India | Netherlands | South Africa | |
| CzechRepublic | Indonesia | Netherlands Antilles | South Korea | |
| | Iran | New Zealand | Spain | |
| D | Ireland | Nicaragua | Sweden | |
| Denmark | Israel | Nigeria | Switzerland | |
| Dominican Republic | Italy | Norway | Syria | |
With the Headquarter in Basel Switzerland, Novartis has working in more than 140 countries around the world. Following is a list of major countries in which Novartis operates their business.
Other than the 140 countries, Novartis operates business to few other countries through franchises and agencies.
Business Growth:
In the year 2008, the total sales of Novartis AG was USD $36,172 million which is 3rd highest in the global pharmaceutical industry. The sales growth was 5.12 from the year 2007. Following graph shows the global sales trend of Novartis for the last five years.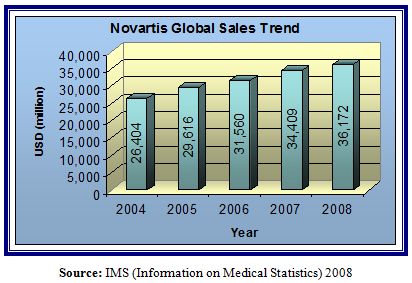 Novartis sustained momentum during 2008 from continuing operations. Net sales rise 9% to USD 41.5 billion on accelerating growth in Pharmaceuticals along with important contributions from Vaccines and Diagnostics and Consumer Health. Operating income advances 32% to USD 9.0 billion. Net income up 25% to USD 8.2 billion, impacted by a higher 2008 tax rate and start of financing costs for 25% Alcon stake. Basic EPS rises 28% to USD 3.59 from USD 2.81 in 2007. Dividend of CHF 2.00 per share proposed for 2008, a 25% increase from 2007 and representing a payout of 53% of net income from continuing operations. Novartis expects record results again in 2009 in an increasingly challenging environment
 Global Competition:
Novartis is one of the leading pharmaceutical companies around the world. The main competitors of Novartis are GlaxoSmithKline, Sanofi Aventis, Pfizer, Johnson & Johnson etc
Novartis had the 3rd highest sales in the year 2008 with a sales of $ 36,172 million. Pfizer had the highest sales with USD $43,363 million followed by GlaxoSmithKline withUSD $36,506 million. Sales.
Novartis is in the top position regarding revenue generation. Novartis had a revenue of USD $ 53,324 million while Pfizer, Bayer and GlaxoSmithKline was placed 2nd, 3rd and 4th with revenues of USD $48,371 million, $44,200 and $ 42,813 million repectively.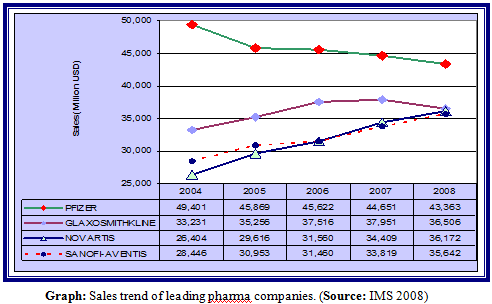 The above graph shows the growth of sales of the top competing company for the last 5 years. From the graph, it can be seen that, the sales growth of Novartis is stable, positive and growing significantly whereas the competing companies are going through fluctuations in the sales trend and few have negative growth.
Financial Analysis of Novartis (Bangladesh) Limited:
Return on Asset:
Return on Asset (%)

Years

Rate

Growth

2004

26.4

–

2005

25.2

-4.5

2006

22.6

-10.3

2007

17.2

-23.9

2008

18.6

8.1
Here we have taken the data from 2004 to 2008. According to the data of these 5 years.
In 2004, ROA was 26.4, in 2005 it became 25.2 and the growth rate turned into -4.5. It's because the ROA was less than the previous year, which indicates that growth rate has fallen. In 2006 ROA was 22.6 and along with that growth became -10.3. Again for the fall in ROA than previous year.. Now if we look on 2007, ROA was 17.2, which is a significant fall, and ultimately the growth rate has turned into -23.9.
But in 2008 ROA became 18.6, which was greater than the previous year, so the growth rate became positive 8.1. The reason behind this changes were, from 2004-2007, the asset increased, but the net income failed to run along with it. So the groeth rate and ROA was falling sequentially.
But in 2008 the net income was higher comparing to the previous year, so the ROA and growth rate, both increased.
Return on Equity:
Return on Equity (%)

Years

Rate

Growth

2004

18

–

2005

19

5.6

2006

19.3

1.6

2007

26.4

36.8

2008

16.5

-37.5
In case of ROE, in 2004 it was 18, which tuned into 19 along with a growth rate of 5.6. Growth rate was significant because of the change in ROE from 2004 to 2005. Again in 2006, ROE was 19.3 and growth rate was 1.6, which is lower than the previous year. It was because the change rate from 2005-2006 was lower than 2004-2005.
Now in 2007 the ROE drastically became 26.4, which has made the growth rate 36.8. The reason behind this drastic boom was, in 2007 the net income was much higher compare to the shareholders equity.
But in 2008, ROE became 16.5, and along with that the growth rate became -37.5. It was because, the net income was lower compared to the previous year.
EPS:
EPS (USD)

Years

Rate

Growth

2004

2.36

–

2005

2.63

11.4

2006

3.06

16.3

2007

5.15

68.3

2008

3.59

-30.3
The trend of EPS is also alike the previous ROE. In 2004, the EPS was 2.36, which turned into 2.63 with a growth rate of 11.4. As we know that we calculate EPS through a comparison in between net income and share price, so growth in net income has provided an additional 0.27 increment in the EPS.
In 2006, the EPS became 3.06, with a growth rate of 16.3. Again the increment was sequentially growing which resulted raise in growth rate. And in 2007 the EPS turned into a boom of 5.15, with a growth rate of 68.3. As it has been said earlier, it was because of the significant change in net income in 2007. But again in 2008, net income didn't cop-up with previous years growth, so EPS drop down to 3.59 and growth rate has fallen into -30.3.
Return on Sales:
Return on Sales:

Return on Sales:

Rate

Growth

Return on Sales:

23.1

–

Return on Sales:

21.4

-7.4

Return on Sales:

22.1

3.3

Return on Sales:

20.5

-7.2

Return on Sales:

21.6

5.4
According to our analysis, in 2004, the Return on Sales was 23.1, which drop down to 21.4 in 2005 with a negative growth rate of -7.4. In 2006, the  Return on Sales was 22.1, with a growth rate of 3.3. The rate increased because the Return on Sales was higher than the previous year.
But in 2007, again the Return on Sales became 20.5 with a fall in growth rate of -7.2. Although in 2008 Return on Sales again became 21.6 which resulted the growth rate a positive 5.4%
Net Income:
Net Income (USD)

Years

Rate

Growth

2004

5767

–

2005

6141

6.5

2006

6540

6.5

2007

7202

10.2

2008

8163

13.3
Incase of any financial analysis, Net income is a very significant term, which is considered to measure the profitibility of a company. In 2004, Novartis (Bangladesh) Limited made the Net income of 5767 millions, which was turned into a Net income of 6141 millions in 2005 with a growth rate of  6.5. Na d again in 2006 the Net income was 6540 and the rate was 6.5. It was because the change rate was almost equal as previous year.
But in 2007, Net income was 7202 millions, which was quite higher than the previous years, and it resulted into a growth rate of 10.2. And following the year 2007, in 2008 the Net income was 8163 millions which was again much higher than previous years, so the growth rate was 13.3.
Net Sales:
Net Sales (USD)

Years

Rate

Growth

2004

28247

–

2005

32212

14.0

2006

37020

14.9

2007

38072

2.8

2008

42459

11.5
As we know, sales is the ultimate target for any company. And good numberr of sales ensures the success of a firm. Here, in 2004, the sales was 28247 millions. In 2005 it turned into 32212 millions, which was good sign for Novartis. Again in 2006 sales was 37020 millions, with agrowth rate of 14.9 which was quite similar as the previous year.
But in 2007, the sales was 38072. The increment was higher than the previous year, but still rate was lower. For that reason the growth rate drop down to 2.8. And again in 2008, the sales was 42459 millions, with a growth rate of 11.5 again.
Total Asset:
Total Asset (USD)

Years

Rate

Growth

2004

21873

–

2005

24390

11.5

2006

31926

30.9

2007

38608

20.9

2008

43778

13.4
Asset is one of the most important parts in a company. In 2004, Novartis had an asset of 21873 millions USD. In 2005, Novartis ammased an asset of 24390 millions with a growth rate of 11.5. And in 2006 the asset was worth 31926 millions with a growth rate of 30.9. It was quite higher than the privious year.
In 2007, the asset was worth 38608 million USD. And the growth rate was 20.9, which was lower than previous year, but still a good rate. And in 2008, Asset was worth 43778 millions with a growth rate of 13.4.