Report on Marigolds Bradford C. Bearce
WVU Professor —
HorticultureFamily: Compositae
Scientific Name: Tagetes sp.
Origin: South America-Argentina and New Mexico
Classification: Annual, herb
Use: Bedding plants, pot culture, edging, cut flowers
Height: 6 inches to 4 feet
Spread: 6 inches to 3 feet
Hardiness: Tender
Stems (Bark): Herbaceous
Flowers: Orange, yellow, mixed, red, cream and maroon; rounded or flat heads
Fruit: Ineffective
Foliage: Lacy, feather-like, finely dissected, opposite, often pungent odor
Texture: Medium to fine
Growth Rate: Rapid
Form: Rounded
Soil Requirements: Good garden loam, moist, well drained
Maintenance: Keep soil moist but not wet. Remove spent flower heads for continuous flowering
Situation: Sun; flowering delayed if planted in shady areas
Insects & Diseases: Spider mites, spittle bug, aster yellows, wilt
Remarks: Propagate from seed sown indoors in March, April, or direct seed outdoors in May after danger of frost has passed.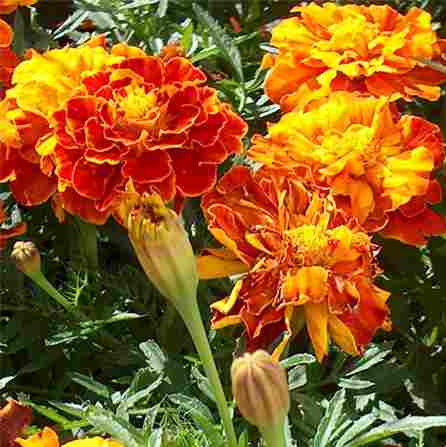 Planting
Marigolds require approximately 45 to 50 days to flower after seeding, therefore seeding indoors should be done in late March or early April. The plants should be ready for planting outdoors after the danger of frost has passed, about May 15.
Seed may be planted in seedbeds, coldframes, flats, clay pots, or peat pots.
Pulverize the soil. Place the seed on the surface or in furrows and cover with 1/4 inch of perlite or vermiculite.
Keep the soil moist and warm. The seed will germinate within a few days.
When true leaves appear, the individual plants may be transplanted into individual 3-inch containers. Shade for a few days until the plants become established.
Give the plants full sun.
Plants will be ready to plant in the garden after the danger of frost has passed. Marigolds may be seeded directly into the garden after the danger of frost has passed. Follow the directions above as to preparing soil and seed depth. Seedlings may be thinned if necessary.
Other Varieties:
There are many varieties of Marigolds and new ones are introduced each year. Various references group the species and varieties in many different ways, such as by size, (large, semi-dwarf, dwarf) or flower shape, such as chrysanthemums or pompon types, peony types and singles. However, for simplification, here, Marigolds are divided into four basic species: African Marigolds–Tagetes erecta; French Marigolds–Tagetes patula; Triploids–a hybrid (Tagetes erecta x Tagetes patula); Single Marigolds–Tagetes tenuifolia (signata) pumila. Within each of these species there are many hybrids producing variations in color and size.
African Marigolds–Tagetes erecta
Large flowered "African" or "Aztec" Marigolds– Plants are compact, erect, 12 to 14 inches tall; flowers to 3 1/2 inches across, blooms two to three weeks earlier than tall varieties, most flowers are doubles with flat or ball-like flower heads; colors range from primrose yellow through pumpkin-orange, no bicolors; used primarily as dividers; do not need to be staked as do tall varieties.
Tall–"African" or "Aztec" Marigolds–Large flowers in late summer to fall (short days determine flowering time), orange or yellow; plants attain heights of 3 feet or more and spread 3 feet; space plants 1 foot apart in groups of threes; should be staked or enclosed with wire up to 2 feet in height; used primarily for cutting.
French Marigolds– Tagetes patula
Large-flowered "French" Marigolds–Used primarily as a divider or bedding plant; medium height (12 to 16 inches and same width) spacing 8 to 12 inches; flowers are large, up to 2 inches in diameter; varieties include flowers which are doubled, large single daisy-like or supercrested.
Dwarf "French" Marigolds–Small plant up to 12 inches; flowers small (1 to 1? inches across) in colors of yellow, gold or orange; continuous flowering from early summer to late fall, blooms may be crested, tufted, button or single types; some varieties are bicolored, yellow marked with brownish-red; two plantings may be needed as flowering becomes sparse during hot summer "dog days" from planting date.
Triploids (Tagetes erecta x Tagetes patula) hybrid
Triploids– a cross between "French" and "African" Marigolds; flowers about 2? inches across and flower well during hot weather; flowers may be bicolored.
Single Marigolds – Tagetes tenuifolia (signata) pumila Single marigolds- simple, daisy-like blooms and long stems; some varieties of merit are Cinnabar, Burgundy, Ripples and Chippendale Daisy.
 How to Grow Marigold Plants
Annual, Tagetas Ercta, Tagetas Patula
Marigold plants are a very prolific, easy to grow annual flower. Kids love 'em and adults love 'em. Marigold flowers are available in a variety of colors, including white, yellow, orange, red and mixed colors. Marigold Flowers will bloom from mid-summer all the way until frost. They can be used for indoor arrangements, but give off a pungent odor that is sometimes too strong indoors.
Did you Know? Marigolds are considered companion plants that keep insects away. Many gardeners grow them amidst their vegetable crops. More on Companion Plants
---
Variety abounds!
There is a variety for everyone and for every need. There is a profusion of colors, multi-colors, and hues. Marigolds also come in a wide range of sizes from miniatures smaller than a foot to giant varieties that can grow up to four feet tall! You can select the color and size that is perfect for your flower garden. And don't overlook Marigolds in container gardens as the smaller varieties do well in containers.
---
Propagation:
Marigolds are grown from seeds. They like full to partial sun. Marigold seeds  can be directly sowed into your flower garden, or seeded indoors for transplanting later. We recommend planting Marigolds in pots and containers indoors, then transplanting them outdoors. This allows you to make the proper spacing without the need for thinning seedlings.
Sow Marigold seeds early in the season and cover lightly with soil. Water thoroughly once. They germinate easily and will grow quickly, producing their first of a continual display of blooms by mid-summer.
Transplant Marigold plants into your garden after the last frost date for your area. Spacing depends upon size with miniature varieties spaced four to six inches apart, and Giant varieties one to two feet apart.
---
How to Grow Marigold Flowers:
Marigold plants like rich, well drained soil, but are very tolerant of average to slightly poor soils. Improving your soil quality will produce much healthier plants and flowers, so add plenty of compost. Add a general purpose fertilizer once a month.
Once your Marigolds are established, they should grow well, even if left unattended. Soil should be moist, but not wet. Water them during dry periods, once or twice per week.
Add mulch around the plants for appearance and to keep weeds down.
Around mid-summer, your plants will begin to produce flowers and will continue to do so up to the first frost. You do not need remove dead flower blooms, except for appearance.
Marigolds are annuals and susceptible to frost. They may survive the first light frost with only a little damage. They will not survive a hard frost or freeze.
 Insect and Disease:
Insects largely avoid Marigolds. Insects do not like it's pungent odor. This is why Marigolds make good companion plants. You can even make an insect repellent spray from these plants. See Organic Sprays
While insects avoid Marigolds, slugs can do major damage. Slugs like to slither up the stem and chew on the leaves. They can destroy an entire flower garden of Marigolds. They can be seen on the plants overnight, in wet weather and early morning. If an infestation occurs, treat quickly to avoid major damage. More on Slugs and Snails
---
More Information:
Buy Marigold Seeds
How to Grow Marigold Plants
Buy Flower, Vegetable and Herb Seeds Finest quality Ferry Morse Seed, America's oldest seed company with their famous "guarantee to grow".
Tired of old black tube edging that keeps coming out of the ground? Envision Edging is designed with a unique "J-lip" design, and 11″ steel stakes, making it almost impossible to pull out. Durable and long lasting, yet flexible.
Marigolds are prolific annuals that can add color to any garden. You can choose from a wide range of colors and sizes. The colors include orange, yellow, mahogony, crimson, some bicolors and even white.
The taller American varieties of marigolds can be grown outdoors and the dwarf French varieties in pots and containers. The Marigold seeds can be sown in April. Marigolds begin flowering in June and continue flowering until frost.
Factors involved in growing Marigolds
Though Marigolds are easy to grow, some factors are to be considered when growing them:
Sunlight: Marigolds can grow in full sun to partial-shade, but it is preferable to plant them in sunny locations as shading may have an adverse effect on flowering.
Soil: Marigolds grow best in moist, well-drained and fertile soil.
Spacing: Grow your tall Marigold varieties 40cm apart and the dwarf varieties 20cm apart to give room to the growing branches. This will result in a uniform display.
Temperature: Minimum temperature for growing marigolds is 10°C. Optimum temperature for the germination of seeds is 19°C.
Watering: Marigolds do not need regular watering but require so during the dry spells. Be careful not to sprinkle water on the flowers of tall varieties, otherwise they become water-logged and soft. It is better to water Marigolds during the early morning hours so that there is sufficient time for the water on the foliage to dry up.
Fertilizers: Marigolds do not require fertilizers if the soil is rich in organic material. For poor soils, you can add a slow-acting, granular fertilizer(about 1 teaspoon per plant), but be careful not to add an excess of fertilizers which may result in an increased growth of foliage instead of flowers.
Mulching: When the marigold seedlings are tall enough, spread a 2 or 3 inch layer of some organic material such as dried grass, wood chips or chopped leaves on the soil around them. This mulch reduces weeds, retains moisture in the soil, cools the soil, and fertilizes the soil as it decomposes.
Looking to flowers to a special someone?
The Flower Expert Shop recommends the following popular products for your dear ones. Shop for bouquets, arrangements, gifts and more . . .
Taking Care of Marigolds
Marigolds are self-reliant plants, but a little care can ensure that they are perpetually blooming in your garden.
Pruning: Marigolds do not require much pruning, but deadheading is good for marigolds as it suppresses seeding and encourages blooming.
Staking: Provide staking for tall varieties of Marigolds to protect them from strong winds and heavy rainfall. Insert a sturdy stick or some green stalk behind the plant and tie it with some soft material like plastic. The stick may be small so that it does not show.
Insects and Pests: Marigolds have a pungent odor, so they are not troubled by insects, but during the wet season, they can be visited by slugs. Slug pellets would solve the problem.