Humanity seems to have a habit of leaving rubbish behind wherever we go. Garbage may be found all the way from the Mariana Trench to the Himalayas. As NASA's Perseverance is demonstrating, other worlds are obviously not immune to this. The rover has captured a photo of what seems to be a piece of foil wedged between two boulders. The resourceful rover has already rediscovered a piece of technology it left behind last year, resulting in the first self-driving hit-and-run on another world. The debris of the landing gear that transported Ingenuity and Perseverance safely to Mars was also discovered by Ingenuity, the Mars helicopter.
However, it looks that the garbage has expanded further. On June 15, Perseverance's Earthly representatives tweeted, "My crew has uncovered something unexpected: It's a piece of a thermal blanket that they suspect may have originated from my descent stage, the rocket-powered jet pack that set me down on landing day back in 2021,"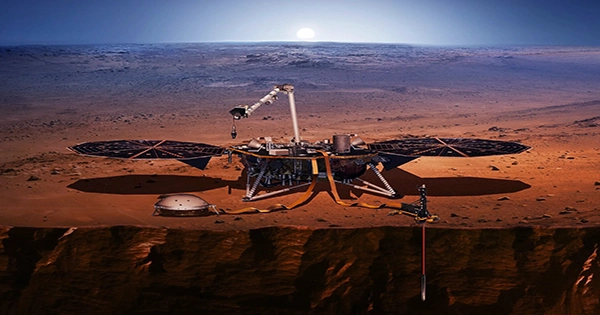 It's unknown how the fragment ended up around 2 kilometers (1.24 miles) from where Ingenuity shot the descending stage. It might have disintegrated before to the crash landing, or it could have been driven there by the wind. Perseverance is discovering some very fascinating items in this historic river delta that originally supplied water to the Jezero Crater, between strange rock formations and pieces of rubbish. Perhaps the rover will unearth the ultimate amazing find, such as proof of the presence of ancient life on Mars.
The amazing scenery that the robotic population of Mars has uncovered on its journeys can't help but leave you speechless. Certain characteristics of Mars, such as its blue sunset, are completely unfamiliar to us, but many others are. Some of the sights are too familiar, such as "snakes" in the rock formations and even balancing boulders. One of NASA's Perseverance's most recent photos provides a twofold geological curiosity for our enjoyment. It saw a little boulder standing on top of a much larger rock, like a cairn, and in the front, an eroded layered cliff with what seems to be a snake's head.