Historical Background
Rupali Bank Ltd. was constituted with the merger of 3 (three) erstwhile commercial banks i.e. Muslim Commercial  Bank Ltd. Australasia Bank Ltd. and Standard Banks Ltd. operated in the then Pakistan on March 26, 1972 under the Bangladesh Banks (Nationalization) Order 1972 (P.O. No. 26 of 1972), with all their assets, benefits, rights, powers, authorities, privileges, liabilities, borrowings and obligations. Rupali Bank worked as a nationalized commercial bank till December 13, 1986.
Rupali Bank Ltd. emerged as the largest Public Limited Banking Company of the country on December 14, 1986.
Vision
Rupali Bank Ltd. dreams poverty free Bangladesh, where sports & athletics, science and education, health and hygiene, clean and pollution free environment and above all a society based on morality make all our lives worth living.
Mission
The Bank participates actively in socio-economic development of the country by performing commercially viable and socially desirable banking functions.
Develop Long-term relationships that help our customers achieve financial success.
Offer rewarding career opportunities and cultivate staff commitments.
Core Values
* Social Responsibility
* Performance
* Integrity
* Respect
* Innovation
* Teamwork
Guidelines  Principles of Rupali Bank Ltd.
Transparency and accountability.
Zero tolerance on corruption and inefficiency
Flexibility in operation
Constant review of clients' performance
Other guiding principles includes decentralization and devolution, defining roles and responsibilities, use of state of art modern technologies, bottom-up approach in planning, partnership etc.
Strategic Objectives
Develop a customer oriented service culture with special emphasis on customer care and convenience.
Increase our market share by following a disciplined growth strategy.
Achieve a significant share of deposit and credits from the existing and niche markets.
Leverage our technology platform and pen scalable systems to achieve cost-effective operations, efficient MIS, improved delivery capability and high service standards.
Develop innovative products and services that attract our targeted customers and market segments.
Maintain a high quality assets portfolio to achieve strong and Sustainable returns and to continuously  build shareholders' value.
Strengthen the bank's brand recognition.
Explore new avenues for growth and profitability, particularly by diversifying loan portfolio through structured finance and expansion of retail and SME financing.
Organization Structure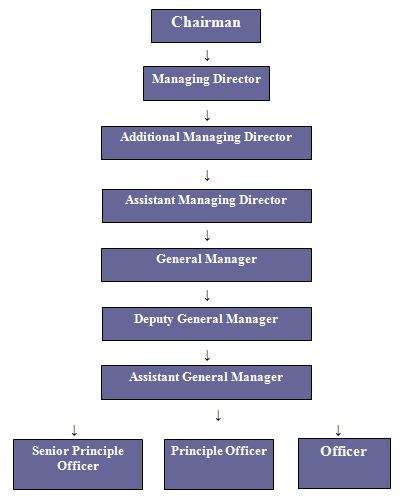 Divisions of Rupali Bank Limited
Rupali Bank Limited. has some major divisions comprising of various Departments, The major divisions are as follows:
Investment Division: This division has the authority to determine the party or the client who will get the credit facility from the bank. The credit clients are selected according to the criteria of credit policy.
Financial Administration Division: This division can handle the credit proposal, disbursement, monitoring and credit recovery position that is given by all branches.
Audit and Inspection Division: This division can control all the financial position, activities of overall organization. They provide the total budgetary limitation to every department for the respective year.
Marketing and Public Relation Division: This division mainly works for improving the marketing network, Implementing the marketing strategies and the concept of Trade Marketing.
Common Service Division: This division can handle all the genera activities except the credit and financial sector. All the administration activities are designed and implemented by this division.
Human Resource Division (HRD): This division deals with the employees as the core resources of the organization.
Computer (IT) Division: This division can handle the IT activities. Each branch has their own IT division and all branch-wise activities are reported to the head office IT division.
Financial Analysis
Total Assets
Total asset of RBL stood at Tk 12443.45 crore in 2010 from Tk 8779.14 crore in 2009 registering a growth of 41.73 percent. The increase in asset of RBL was mainly driven by growth of customer deposits. The growth of deposits was used for funding growth in credit and holding of securities for SLR purpose. The economy witnessed a lower growth scenario in credit and deposits mobilization.
Growth of Balance Sheet Items
Outstanding Tk in crore
Growth of RBL%
2010
2009
Assets
12443.45
8779.14
41.73
Deposits
9112.38
7380.34
23.46
Loans & Advances
6604.90
5234.42
26.18
Cash and Balance with Bangladesh Bank
RBL's position increased from Tk 528.64 crore in 2009 to Tk 754.26 crore in 2010 showing a growth of 42.68 percent. The growth in deposits increased the Cash Reserve Requirement of the Bank which is maintained with Bangladesh Bank and its agent. CRR was maintained adequately through out the year.
Balance with other Banks and Financial Institutions
RBL's position increased from Tk 206.97 crore in 2009 to Tk 268.85 in 2010 registering a growth of 61.88 crore. Adequate funds were also maintained with correspondent banks for payment against LC commitments.
Money at Call & Short Notice
* This was the major area of operation of the RBL's Treasury Division. The total money at call and short notice of RBL stood at Tk.320.00 crore in 2010 from Tk.370.00 crore in 2009.
Investment
RBL's investment increased during the year by Tk. 141.42 crore and stood at Tk 1571.71 crore as at 31 December, 2010.
Loans and Advances/Investments
Loans and advances of RBL increased by Tkl370.48 crore showing a growth of 26.18 percent during 2010. Yield on loans and advances of RBL decreased to 01.11 percent due to reduction of lending rates on corporate and medium scale financing as imposed by Bangladesh Bank. Concentration of loans and advances was well managed and details of credit are given at notes to accounts no 7.00. Ratio of non performing loan of RBL decreased to 11.96 percent as against 19.48 percent of previous year.
Liabilities
The total liabilities (excluding equity) of RBL stood at Tk 11028.30 crore in 2010 from Tk.9337.32 crore in 2009 registering a growth of 18.11 percent. The increase in liability was mainly due to growth in deposits.
Borrowings from Financial Institutions and Agents
The borrowing represents, RBL's borrowing against refinance from Bangladesh Bank. Refinance was taken for rural financing and against nostro accounts in abroad.
Deposits
The deposits of RBL grew by 23.46 percent in 2010 Customer deposits of the Bank grew by 22.95 percent. The growth was supported by branch network and high standard service provided to customers along with liability.
Deposit Mix
Campaign carries out by retail liability team for mobilization of no cost and low cost deposits. No cost and low cost deposits comprised of 16 percent of the deposits as against 15 percent in the previous year indicated significant improvement of deposit mix. However, fixed deposits remained the main component of deposits contributing about 26 percent of the total deposits. Interest cost of deposit decreased to 4.16 percent as against 4.52 percent of previous year. The clientele group of the Bank was individuals' corporation, NGO, NBFI, government and private bodies etc.
Types of Deposits
Outstanding in crore Taka
Growth
2010
2009
Percentage (%)
Current & Contingent
922.74
717.21
28.65
Bills payable
129.67
92.36
40.39
Savings
3324.36
2945.04
12.88
Short term deposits
1334.42
816.74
63.38
FDR
2388.32
1758.63
35.8
Scheme Deposits
507.95
691.01
(26.49)
Other deposits
504.92
359.35
40.51
Total Deposits
9112.38
7380.34
23.46
Source: Annual Report 2010
Shareholders' Fund
RBL's Shareholders' fund position is Tk 1,973.33 crore by during 2010. Paid-up capital of RBL is Tkl25.00 crore during 2010. The Statutory reserve increased by Tk 28.51 crore during the year and stood at Tk 153.54 crore. Distributable profit stood at Tk 31.51 crore during the year. The strong growth in Shareholders' fund will help the Bank to expand its business.
Analysis of Income Statement of RBL
Taka in crore
| | | | |
| --- | --- | --- | --- |
| SLNo | Particulars | 2010 | 2009 |
| 1 | Net interest income | 208.88 | 173.98 |
| 2 | Investment income | 176.28 | 155.90 |
| 3 | Non interest income | 93.82 | 72.22 |
| 4 | Total operating income | 478.98 | 402.10 |
| 5 | Total operating expenses | 234.30 | 192.23 |
| 6 | Profit before tax and provision | 244.68 | 209.87 |
| 7 | General Provision on loans | _ | – |
| 8 | Provision for classified loans | _ | . |
| 9 | General provision on Off- Balance Sheet Item | 50.16 | 0.17 |
| 10 | Provision for diminution in value of investments | 8.00 | _ |
| 11 | Other provisions | 102.11 | 42.85 |
| 12 | Net profit before tax | 142.57 | 166.85 |
| 13 | Provision for tax | 82.54 | _ |
| 14 | Net profit after tax | 60.03 | 166.85 |
Net Interest Income
RBL's net interest income grew by 20.06 percent during 2010. Interest earned from loans and advances and profit earned on investment remained the principal component of interest income. However interest cost of deposits was the main component of interest expenses. Net interest income was the highest contributor to total income,
Investment Income
RBL's investment income consists of interest earned on treasury bills & bonds and dividend received on shares. Investment income increased by Tk 20.38 crore during the year registering a growth of 13.07 percent over the previous year and became the main contributor to total income, accounting for 72.04 percent of the operating income.
Non-interest Income
The non-interest income of RBL is 29.91 percent from the previous year. Fees and exchange based income of the Bank grew by 4.52 percent during the year. Other charges and recoveries increased during the year
Taka in crore
| | | |
| --- | --- | --- |
| Particulars | 2010 | 2009 |
| Commission | 10.94 | 10.63 |
| Exchange | 44.05 | 41.99 |
| Service Charge | 23.82 | 11.63 |
| Miscellaneous | 13.56 | 7.68 |
| Other operating income | 1.45 | 0.29 |
| Total | 93.82 | 72.22 |
N o n -in te re s t In c o m e
Total Operating Expenses
Total operating expenses increased by 42.07 crore during the year mainly due to increase in personnel and other operating expenses. To match with the growth of SME and retail business and Branch expansion substantial number of manpower was recruited especially in SME and retail segments will benefit the Bank in broad spectrum. RBL also made donation amounting to Tk 2.54 crore to carry on various CSR activities. RBL also focused on developing brand image and increased promotional and advertisement expenses. This strategy added value to the business. The Bank's cost income ratio is 70.35 percent in 2010 from 82.96 percent in 2009. Considering these factors, the ratio indicates the satisfactory operating efficiency of the Bank.
The productivity of the employee continued to grow which is evident from the following ratio:
Taka in crore
| | | |
| --- | --- | --- |
| Particulars | 2010 | 2009 |
| Income per employee | 0.18 | 0.16 |
| Profit before tax per employee | 0.03 | 0.04 |
| Asset per employee (excluding contingent) | 2.73 | 1.94 |
Provision for Classified Loans
Total provision against classified loan was Tk 680.87 crore as against Tk 852.86 crore of previous year.Provision against unclassified loans was made to Tk 62.00 crore during 2010 as against Tk 45.53 crore of previous year. General provision requirement on off-balance sheet outstanding had to be provided Tk 81.70 crore as against Tk 31.54 crore of previous year. The bank has provided Tk 8.83 crore as provision for diminution in value of investments. This is to be noted that general provision is regarded as Tier-ii capital of the Bank and provides safeguard against future default as well supports business growth by strengthening the capital base.
| | | |
| --- | --- | --- |
| | 2010 | 2009 |
| NPL ratio | 12.15% | 19.48% |
| Industry Average of NPL | 9.20% | 10.80% |
| Provision | 112.28% | 189.93% |
| Industry average | 102.30% | 92.79% |
Recovery against Classified and Written-off Loans
RBL was able to recover Tk 266.41 crore against classified loans and Tk 27.51 crore against witten-off loans during the year 2010.
Net Profit before Tax
After making above provisions, net profit before tax of RBL stood at Tk 142.57 crore. Higher investment income especially from treasury increased the net profit before tax.
Provision for Income Tax
Provision against current year income tax of RBL was Tk 82.54 crore. Net Profit after Tax
Net Profit afte Tax stood at Tk 60.03 crore during the year 2010.The calculated Earning per Share (EPS) is Tk 48.02 at December 31, 2010. Average ROA and ROI stood at 1.15 percent and 11.22 percent respectively.
Statutory Reserve
As per Bank Company Act 1991, 20 percent of operating profit before tax is required to be transferred to Statutory Reserve. As such an amount of Tk 28.51 crore has been transferred to Statutory Reserve.
Dividends
Thus fund available for distribution is Tk 31.51 crore from current year profit. In order to maintain a satisfactory capital adequacy ratio of the Bank, the Board decided to recommend 10 percent stock dividend for the year 2010. Satisfactory Capital Fund will enable the Bank to increase business activities.
Shareholders' Value
RBL remains fully committed to delivery of higher shareholder value. The high profitability track record underpins the value, the shareholders' derived from investing in the shares of Rupali Bank Limited. The earning per share stood at Tk 48.02 on 2010.
Corporate Social Responsibility (CSR)
Rupali Bank Ltd. RBL has been rendering various services for attaining greater social goals and objectives. In this process, we aim to the development of the society as a whole and fulfillment of corporate social obligation in particular. To reinforce CSR activities, the bank has undertaken fresh initiatives in line with Bangladesh Bank guidelines in the areas of social service. Internship employment of poor, sports and culture, banking for the disadvantaged group, disaster and relief and activities.
Rupali Bank Training Institute
Since 2009, as many as 602 officers were imparted training by Rupali Bank Training Institute through 24 courses/ workshops including 10 foundation courses to the newly joined probationary officers throughout the month and the course relating to Fake Note Detection, BACH program, Money Laundering Prevention Act, Core Risk, Foreign Exchange and Computer. As many as 105 trainees have participated in 43 courses in BIBM. In addition to this, 18 trainees took part in 12 courses conducted by Bangladesh Bank and other institutions outside.
Computer Operation and Application of Information Technology
Extensive activities on computer technology and their implementation have been undertaken by this bank during the year in question. Till 2009, the number of computerized branches stood at 145. The work relating to change of old computers in previously computerized 31 branches is in progress. Remittance and EFT System have been modernized and arrangement for Money Transfer through Western Union in 71 branches has been made operative. On-line Banking with foreign Exchange Branches at Dhaka and Agrabad Branch of Chittagong has been introduced. The vendor institution has started preliminary activities to introduce On-Line banking operation on test basis in 10 more branches of the bank. The information of 25 Divisions of Head Office are being publicized through Bank's own website (www.rupalibank.org). In order to expedite the flow of information 10 Internet of 64 kbps (shared line) and 10 Internet line of 256 kbps (dedicated line) have been installed in Head Office. The supply and installation of necessary hardware and software including communication link with Bangladesh Bank have been made. SIT (System Integrity Test) with Bangladesh Bank is in completion and prepared to operate in live at any time as per instruction of Bangladesh bank.
Legal Activities
As regards the recovery of default loans, the number of the suits such as original suits under trial, execution suits, appeal/ others and suits in Bankruptcy Court field by the Bank stood at 4570 with an involvement of Tk. 1603.29 crore. The number of the suits in which the certificates issued for possession and enjoyment of the mortgaged property by the court is 501 involving Tk. 82.03 crore; the suits field against the bank were 156 involving Tk. 327.93 crore; the IRO suits 110; the suits disposed of 294 involving Tk. 222.28 crore. The suits newly filed 42 involving Tk. 89.18 crore and the recovery through suits amounts to Tk. 222.28 crore. The number of lawyers conducting the suits in Dhaka Metropolitan area is 110 and in other areas 236. Besides these, the number of writs arising from Artha Rin Adalat Act, 2003 pending for disposal is 304 at the end of the year in question.
Other Banking Activities
94 branches of our bank are engaged in works relating to the payment of portion of salaries afforded by the government to the teachers and employees of registered non-government educational institutions including teachers of non-government educational institutional, 98 branches relating to the payment of scholarship and stipends to the girl students at primary and secondary levels and 69 branches relating to the payment of stipends to the girl students at primary and higher secondary level. In addition to those, almost all the branches of Rupali Bank are engaged in work relating to the payment of pension bill to the retired government, civil and military personnel and the receipt of utility bills such as PDB, DESA, REB, WASA, GAS & Telephone etc. including other service-related work of the government (such as receipt of Municipal Tax and Land Development Tax, purchase and sale of Prize Bonds, receipt of Hajj money etc).
Products and Services
Deposits
 Current Deposit (CD)
 Call Deposit (CDR)
 Special Notice Deposit (SND)
 Savings Deposit (SB)
 Savings Deposits Earned from Foreign Remittance (SB)
 Fixed Deposit (FDR)
 3 months and above but less than 6 months
 6 months and above but less than 1 year
 1 year and above but less than 2 years
 2 years and above but not more than 3 years
Deposit Schemes:
 Rupali Deposit Pension Scheme (RDPS)
 Rupali Deposit Pension Scheme-2 (RDPS-2)
 Rupali Deposit Scheme (RDS)
 Rupali Monthly Earning Scheme (RMES)
Loans and Advances
General Products
Cash Credit(Hypothecation)
Cash Credit (Pledge)
Overdraft (OD)
Loan against FDR
Loan against Deposit Schemes
Industrial Project Loan   (Long and Mid Term)
Short Term Loan
SOE Loan
Syndicate Loan
Housing  Loan— General and Commercial
Personal    Loan/    Professional Loan
Household Loan
Self   Reliance   and   SpecialProgram Loan
Local Bank Guarantee
Loan          under         Equity Entrepreneurship Fund (EEF)
Student Loan
Small and Medium Enterprise Loan (SME)
> SHOHOJ   > SHULOV    > BUSINESS > MAJHARI
Small Enterprise Financing
Manufacturing
*   Fixed Assets Financing
*   Working Capital Financing
Trading and Services
*   Fixed Assets Financing
*   Working Capital Financing
Rural and Agro Credit
Young Farmers' Loan
Solar-Energy and Bio-Gas Plant Establishment Loan
Fishery Loan
Shrimp Cultivation Loan
Goat/Sheep Rearing Loan
Poultry Loan
Dairy Loan
Loan Against Crop Storage in Silos
Small Loan
Micro-Credit
Micro-Credit for the Handicapped
Loan for Tree Plantation
Peas, Bean, Maze and Spices Loan
Other
Other Loans
* Bank-NGO Linkage Credit
* Loan Against Share/Debenture
* Loan Against Brickfield/ Gold Ornaments
* Loan for Preservation of Potatoes in the Cold Storage
* Transport Loan/Car Loan
* Woman Entrepreneur Financing Program
* Consumer Credit/Travel Agency and Diagnostic Centre Business Loan
Foreign Exchange Business
All sorts of Foreign Exchange Transactions are made in Rupali Bank Limited following 'Guidelines for Foreign Exchange Transactions (GFET-2009) by Bangladesh Bank such as-
Foreign Currency Accounts
 Foreign Currency Account
 Resident Foreign Currency Deposit Account
 Non Resident Foreign Currency Deposit Account
 Exporters' Retention Quota Account
Import Finance
* Letters of Credit
* Loan Against Imported Merchandise (LIM)
* Loan Against Trust Receipt (LTR)
Export Finance
Pre-shipment Credit
Cash Credit Against Hypothecation of Raw Materials/Exportable Goods
Cash Credit Against Pledge of Raw Materials /Exportable Goods
Packing Credit (PC)
Back to Back L/C
Back to Back L/C under Export Development Fund (EDF)
Post-shipment Credit
Negotiation of Export Documents
Collection of Export Documents
Foreign Bills Purchased (FBP)
Inland Bills Purchased (IBP)
Bond
Wage Earners Development Bond
Investment Bond
Premium Bond
Guarantee
Bid Bond
Performance Guarantee
Warranty Guarantee
Shipping Guarantee
Guarantee Against Foreign Bank's Counter Guarantee
Advance Payment Guarantee
Customs and Excise Guarantee
Forex and Fund Management
All sorts of Dealing Room Operation
Foreign Remittance
Foreign Currency Endorsement
Issuance and Encashment of Traveler's Cheque
Foreign Currency Encashment
Issuance and Encashment of Foreign Drafts
Opening of Student File and remittance there against
Treasury
Treasury Bills
Treasury Bonds
REPO
Reverse REPO
Money Market Operation
Fund Transfer
Inter-Branch Money Transfer
Telegraphic Transfer
Modern Banking Services
Value Added Service
     *   Locker Service
New Products and Services
Merchant Banking Services
ELDORADO EFT System (will be introduced soon)
1. Local Remittance
2. Foreign Remittance
SWOT ANALYSIS
Rupali Bank Ltd. is a State-owned Commercial Bank. Rupali Bank came into being in 1972 with the integration of Muslim Commercial Bank, Australasia Bank and Standard Bank Ltd. From the very inception of its birth, this Bank, as a prospective bank, has been passing its time through diverse Strengths, Weaknesses, Opportunities and Threats. The present Board, on assuming the responsibility, has identified those strengths, Weakness, Opportunities and Threats the Bank possess for the year 2011 in the following manner and chalked out all plans purely on the basis of the same.
Strengths
The Bank has well-arrayed network with 492 branches in rural, semi-urban and urban areas for rendering services throughout the country.
The Bank has reputation and tradition for a long time.
The Bank has well-acquainted and independent brand.
The Bank has sound, reliable and extensive deposit base of long duration.
The Bank has worldwide 163 correspondence arrangement and 22 exchange houses through which foreign trade transactions and remittance activities are accomplished.
The Bank has a huge number of tested customers.
Weaknesses
Lack of long-term business planning
Weakness in credit management.
Tangle of a huge number of suits.
Defaulted loan for a colossal amount.
Blocked loan at interest free rate or nominal rate of interest.
Weak automation and lack of application of modern information technology.
Lack of efficient and experienced officers.
Training weakness.
Lack of marketing planning.
Absence of time suited products.
Lack of foreign branches and a limited number of correspondents and exchange houses.
Absence of subject related and specialized (such as CA, lawyer, IT Specialist etc.) officers.
Opportunities
Branch modernization and automation.
Introduction of On-Line banking and delivery of ATM services.
Relocation of branches in commercially important locations.
Strengthening of marketing activities.
Introduction of competitive modern banking products.
Expansion of local and foreign remittance business through vast branch network.
Introduction of mobile banking service.
Introduction of Merchant Banking.
Setting up of Mini branches at the outlying areas of the country under 'Mini Banking' programme.
Expansion of corporate branches.
Expansion of AD branches.
Threats
Competitive State-owned Commercial Bank.
Competition with private & foreign commercial banks working in Bangladesh.
Lack of competitive pay & allowances and facilities for the officers/staff.
Conclusion:
As a bank Rupali Bank Limited has to do a lot of things for the betterment of the country. The Bank is strongly positioned in the market and with its core strengths it can match shareholders' expectations and thus raise their wealth in future through ethical banking and best pricing. Thus, it has to take initiative so that it can fulfill the desire of the govt. as well as people. It will enhance more public services and build up working teams to provide the best services to its valuable customers.