New Features of Google Maps will show wildfire boundaries
Google Maps is adding a new feature to keep people safe. Type in the name of an ongoing wildfire into Google search, and the site will now bring up a map featuring a near-real-time boundary of the fire. Google is adding a new feature to its eponymous mapping service that will show the real-time impact of a wildfire through a dynamic wildfire boundary. If you search for nearby wildfires or a specific, ongoing fire by name, Google will now bring up SOS alerts in both Search and Maps which show an approximate boundary for the fire along with road closures. What's especially impressive about this, however, is that Google is updating this information essentially in real-time.
Google Maps will also update users with road closures and provide them with directions that help them avoid danger and roadblocks. This quickly-accessible info gives users a scope of the size of the fire, the spread, and how it might affect them. If someone is looking at an area near a blaze on Google Maps, they'll get an alert. When searching for areas affected by the fire, too, Google will show an alert about the situation. The new feature is currently available only in the United States, and it is expected that Google will expand this feature to other countries as well.
Getting accurate information to people near a wildfire can save lives. Using satellite data from NOAA, this information is updated hourly which can help save lives. It's also a constant challenge for emergency responders because the situation can change rapidly, while hearsay online can quickly drown out reputable sources. The feature was originally piloted in California last year, but now the feature is available to the entire United States. Google developed the new mapping feature with input from the California Governor's Office of Emergency Services (Cal OES) as part of an effort to make important updates easier to find.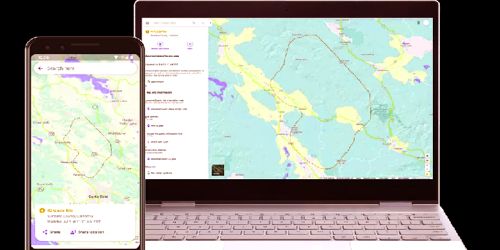 Fig: Google Maps will now show wildfire boundaries
Now, the same Google search would result in more curated content. One of the best things about Google is that it is constantly trying the services it offers and wants to ensure that the users are having the best possible experience.   Google has introduced a new wildfire boundary map in Search and Maps in the U.S. Red dashes on the map outline an area consumed by flames. It's generated from data provided by the National Oceanic and Atmospheric Administration's GOES satellites, which is then processed by Google's geospatial analysis platform, Earth Engine. The result is the shifting, red boundary that's refreshed about once every hour. It works in the simplest of ways, and all you need to do is search for the name of an active wildfire on your phone or on your computer, and you will be given a map that will show an approximate boundary of the fire in "near real-time".
Google says it hopes to roll out the feature in other countries in the future. And while its mapping is focused on helping out civilians, Google says it is also exploring how similar features could help emergency responders in California. Not just that, you will also be provided with information and other necessary resources from local emergency agencies. You will get an alert from the app if you are exploring an area close to an active wildfire on the Google Maps application.
For anyone who is using Google Maps, you will be able to view the same information as well as receive warnings whenever you are getting close to the active zone of fire. California's fire seasons have grown more devastating as the climate heats up. In order to show the approximate boundaries of the wildfire in real-time, Google is going to be using satellite data from the National Oceanic and Atmospheric Administration's (NOAA) GOES satellites and data analysis capacities of the Google Earth Engine as well. The feature is available on Android as well as the iOS version of the Google Maps app and Google Search.