The Mamanuca Islands (Fijian: mamaˈnuða) of Fiji are a volcanic archipelago lying to the west of Nadi and to the south of the Yasawa Islands. The group, a popular tourist destination, consists of about 20 islands, but about seven of these are covered by the Pacific Ocean at high tide. Volcanic in origin, the Mamanucas are home to many of Fiji's more traditional resorts, such as Mana, Beachcomber, Castaway, and Plantation Island. The islands are characterized by exceptionally good weather and, their proximity to Nadi International Airport (which is ten minutes away by plane or approximately an hour by boat) makes them very popular with tourists.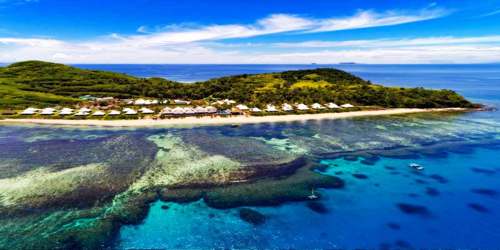 Here, visitors will find 20 stunning palm-fringed islands that are home to some of Fiji's most exclusive resorts. With a fantastic range of water-sports, surfing, cruise, dive, boating, spa, and other activity options, visitors will enjoy days of fun-filled adventures and balmy, romantic evenings. Featuring some of the most stunning white-sand beaches and coral gardens in Fiji, visitors will be blown away by the pristine beauty that these untouched islands have to offer.
The islands offer crystal clear waters, palm-fringed sandy beaches, and live coral reefs. There are islands, villages, resorts to visit, snorkel and swim. The coastal/marine ecosystem and recreation value of the archipelago contribute to its national significance as outlined in Fiji's Biodiversity Strategy and Action Plan.
Accommodation ranges from lively backpacker resorts to family-friendly hotels with thatched bures (traditional huts), and luxury hideaways like Vomo Island Resort, Likuliku Lagoon Resort, and the adults-only Tokoriki Island Resort. Popular mid-range resorts include Matamanoa Island Resort, Malolo Island Resort, Mana Island Resort, and Castaway Island.
In addition to the numerous mid-range (and upscale) properties, there are also very basic backpacker accommodations on Mana and several of the other islands. All of the resort islands have fine beaches some of the best in Fiji. Diving in the area is also excellent. Those interested in learning how to dive might consider taking a course at any of the resorts. The generally good weather makes it a good venue for beginners.
Port Denarau is the gateway to the Mamanuca and Yasawa islands. One may take day trips from Denarau to the Mamanuca Islands or find a resort to stay overnight. Activities in the Mamanucas include sailing, swimming, snorkeling, kayaking, semi-submersible coral viewing, diving, swimming with reef sharks, windsurfing, hiking, visiting villages, mini-golf and discovering secluded beaches.
One of the planet's top surf breaks, Cloudbreak, lies about a mile away from Tavarua Island Resort, but you can access this legendary break from other island resorts as well. Fijians love children, so this is also a fabulous destination for families with youngsters looking to relax.
The Mamanucas offer convenience, almost guaranteed sunshine, and great beaches. Most are essentially private, resort islands and was the first venue in Fiji for mass tourism. What they don't offer is a lot of Fijian cultures. If the visitor's goal is to get a taste of local culture then don't plan on spending all of their time here. The islands are also a good option for day-trippers, who can easily catch a boat from Port Denarau or take an air shuttle.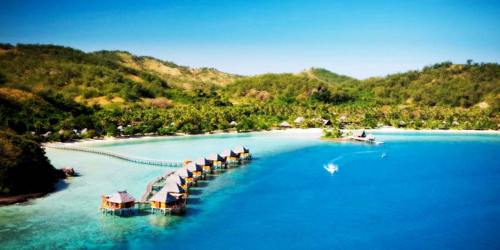 The American edition of Survivor has used the islands as the location for filming, beginning with its 33rd season (Survivor: Millennials vs. Gen X) in April 2016. Typically, two 39 day competitions will be filmed back to back, with the first season airing in the fall of that year, and the second airing in the spring of the following year. This marks the longest consecutive period that Survivor has filmed in one location.
Before the airing of the 35th season (Survivor: Heroes vs. Healers vs. Hustlers), host Jeff Probst said in an interview with Entertainment Weekly that the Mamanuca Islands is the optimal location for the show and he would like to stay there permanently.
Information Sources: