A landscape architect is a person who is educated in the field of landscape architecture. S/He is a person who designs outdoor environments, especially harmonizing parks or gardens with buildings and roads. It is the study and practice of designing environments (outdoors & indoors) of varying scale that encompasses elements of art, environment, architecture, engineering, and sociology. They analyze, plan, design, manage and nurture the built and natural environments. They have a significant impact on communities and quality of life. A good and reputable landscape architect has experience or has the training to work with challenging issues in both commercial and residential sites.
"Landscape Architect is the study and practice of designing environments of varying scale that encompasses elements of art, environment, architecture, engineering, and sociology."
These professionals design parks, campuses, streetscapes, trails, plazas, and other projects that help define a community. The practice of landscape architecture includes site analysis, site inventory, site planning, land planning, planting design, grading, stormwater management, sustainable design, construction specification, and ensuring that all plans meet the current building codes and local and federal ordinances. They also design and plan the restoration of natural places disturbed by humans such as wetlands, stream corridors, mined areas, and forested land.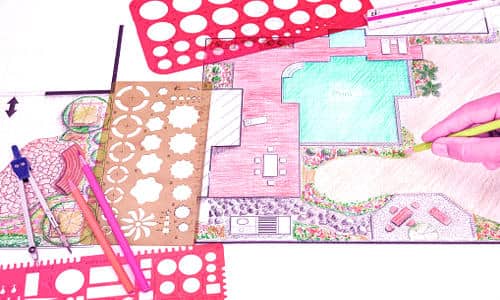 Landscape Architect Design Backyard Plan
Landscape architecture has been existing for a long time and this career has been yielding amazing benefits to those who enjoy being in the profession. Education in and respect for historic landscapes and cultural resources allows landscape architects to work on preservation planning projects for national, state, and local historic outdoor sites and areas. They have to consider environmental regulations, client needs, geographic variables, and existing structures when they're working on their designs. Their design work and meetings are conducted in offices, but they also visit worksites.
Job responsibilities of a landscape architect include:
Discussing projects with clients,
Meeting with other professionals working on other aspects of a project,
Inspecting the site to identify immovable items they need to work around, such as rock formations or buildings,
Drafting plans for how they propose to design the space,
Preparing a budget for the client.
The title landscape architect was first used by Frederick Law Olmsted, the designer of New York City's Central Park. Its value to society is greater than many can imagine and should be celebrated by the population of every town, city, and country. Landscape architects will be employed in private, public, and academic organizations.