Background of the Study
Bachelor of Business Administration (BBA) is a comprehensive professional course designed to make professionals with better business and administrative knowledge. After studying and completing the relevant courses successfully, there is a provision to go through internship in an organization. An important phase of BBA program is Internship, where student experiences the real scenario, gets the opportunity to learn about the real professional world and compare the events with whatever they have learnt so far. As a business student, one must be acquainted with the conceptual and practical knowledge of business. Thus, it is an important responsibility of the concerned business school to arrange for the pupils to get the essence of professionalism. As a part of this activity, Dhaka University had been successfully placing the students to different professionally renowned organizations to give the respective students the orientation of the real life corporate environment.
Internship Program of Dhaka University is a graduation requirement for the BBA students. This report is a partial requirement to fulfill the Internship program of BBA curriculum at the Dhaka University. Assigned by the institutional supervisor, this report is prepared for internship and placement committee, based on the concepts learnt in Prime Bank Limited related to Importance of Research and Development.
As per the concurrent demand of the organization, the organizational supervisor Hossain-Al-Safeer Chowdhury, SEO & In-Charge of R&D Division, Prime Bank Limited, set the project assignment. The topic of the Internship Report is "Importance of Research and Development in Banking Sector: A case study of Prime Bank Limited"
Objective of the Study
The internship program and the report have following purposes:
To have a detail knowledge about on-the-job responsibility.
To experience the real business world.
To become part of a project which helps to apply and utilize the knowledge in future profession.
To compare the real scenario with the lessons learned at Dhaka University.
To fulfill the partial requirement of BBA Program.
 Significance of the Study
The banking sector is increasingly becoming competitive in Bangladesh. Every bank has to be on top of what they are doing and thus maximize the share of this sector (also known as share of wallet in the industry). To be proactive in every decision, information is the key to be on top to forecast future business conditions. As a result, a division dedicated to gathering information to present a view of future prospects and risks plays a key role in the organization.
Part of being competitive is expansion of branches and this is another key role where a R&D division plays in providing the best possible combination of expansive measures. Proper presentation and exploitation of information is the key and the basis for providing valuable decision that ultimately determines whether the company will add or lose value.
For the manager of a branch of the bank, information on a commodity's forecasted price provided by the R&D will help in deciding whether to provide credit or open letter of credit associated with this commodity in manufacturing or international business to minimize risk. The heads of the managing and executing committee of the bank always needs to be updated with the performance of the bank and new emerging
Scope of the Study
Scope of study is a general outline of what the study (i.e. class or seminar) will cover. Here the "Scope" defines the Importance of R&D in the Banking sector. The definitions of scope are the "borders" where the objective, knowledge, instruction or outcome of the activity is found. So here the Study will give a presentation of activities, influence, evaluation and feedback of the R&D Division to the banking operation of Prime Bank Limited. Besides, it can also demonstrate the possible outcome that may bring success if research and development activities are undertaken by the other banks.
Methodology of the Study
The internship program generally started with visit and observation. However, in respective areas of the study different methods can be used where necessary. In preparing this report some methods were followed as preparing a report about the activities of any financial organization is a difficult and complicated task and no single methods is appropriate for preparing the report. Effective research involves six basic steps, shown in the following figure:

A case Study of Prime Bank Limited'
The basic objective of methodology is to accomplish and interpret relevant information for decision making process. To make the research fruitful a research plan was developed which involved three steps.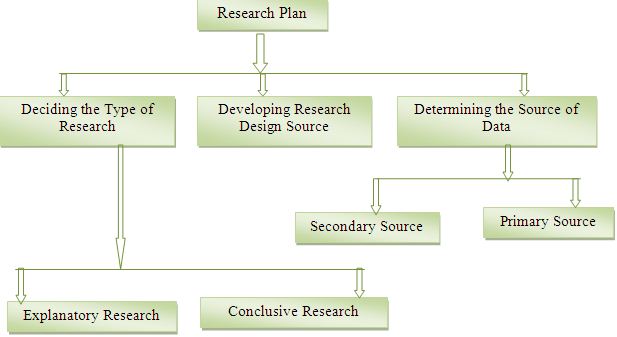 The type of this research is an explanatory research as it is not only identifies the problems but also give suggestions. The reason behind the selection of this type of research methodology is because of its nature of its findings. As I am working to disclose the Importance of R&D in the banking sector then I need to concentrate on the core activities of R&D Division. I need to know the organizational procedure of accomplishing the works asked or suggested by other departments or the top management. At the same time I also need to know the feedback of R&D to them against the requirements. So observation and close attachment of activities of R&D will help me to get the insight. That's why explanatory research will help me to get the insight.
Sources of Data
Sources of information for writing this report are:
ü  Personal experiences gained by visiting different Official of the R&D Division.
ü  Studying of the old files.
ü  Different 'Instruction Manuals' published by Prime Bank Limited
ü  Personal investigation of different strategic decision of PBL undertaken by R&D Division suggested by top management.
ü  The documents I have assisted to prepare e.g. Report on opening of a Liaison Office, Newsletter, Branch Feasibility Report, Benchmark Study etc.
ü  Annual and half yearly Reports published by Prime Bank Limited.
Primary Sources
Primary source: Primary data are those which are collected by the researcher for particular purpose. For this research, primary data has been collected through
Surveying R&D Head, Project Manager (Marketing Research), Project Manager (Policy Research), Project Manager (Operations Research) and surveying the employees.
Secondly observation method has been followed to collect the necessary data.
Secondary Sources
ü  Executed Documents related to R&D kept at Division's custody.
ü  Documents of Prime Bank's current and proposed products and services those are    available or will be available within a short term in the market.
ü  Annual report
ü  Various books and journals on financial performances of Bangladeshi   banking industry.
Limitations of the Study
      The bank did not provide much data on different projects done by it due to confidentiality. So getting the genuine feedback of R&D Division was impossible in some extents which might represent reverse.
      The finding is based on the review of single bank's R&D Division performance. So this least sample size does not represent the actual scenario of R&D's impact on banking operation
      Another very important limitation is time constraint as the whole report has been prepared during attending a full time job in the concerned company.
Background of the Organization
Banking is one of the most sensitive businesses all over the world. Banks play an important role in the economy and are considered as the backbone of an economy in every country and Bangladesh is no exemption. Banks are custodian to the assets of the general masses. The banking sector plays a significant role in a contemporary world of money and economy. It influences and facilitates many different but integrated economic activities like resources mobilization, poverty elimination, production and distribution of public finance.
Monetary policy and banking system play an important role in the development of all economic fields of the country because necessary finances for completion of economic plans are provided by them. Therefore an organized banking system and the financial institutions play an active role in this matter. In Bangladesh, the banking sector dominates the financial sector and it contributes to economic growth by efficiently allocating investment funds among competing alternative uses, by raising the rate of capital formation by separating the act of saving from the act of investment, as well as by providing incentives for increased savings and investment1. The overall performance of bank does not merely depend upon the banking industry itself but also on the performance of economy wherever it is operating. The banking sector in Bangladesh is disparate from the banking sector as seen in developed countries. This is one of the foremost service sectors in Bangladesh economy.
In the backdrop of economic liberalization and financial sector reforms, a group of highly successful local entrepreneurs conceived an idea of floating a commercial bank with a different outlook. The idea was being competent, excellent and consistent delivery of reliable service with superior value products. Accordingly, Prime Bank Ltd. (PBL) with a motto-"A bank with a difference" was created. The business started on 17th April 1995 with the firm commitment of excellent customer service with a difference at Motijheel Commercial Area, Dhaka. The sponsors are reputed personalities in the field of trade and commerce and their experience ranges from shipping to textile and finance to energy. It was listed with both. Dhaka Stock Exchange & Chittagong Stock Exchange in 1999 through initial public offering (IPO).
The bank was registered as a Merchant Banker with the Securities and Exchange Commission, Bangladesh in 2000 for starting its Investment Banking and Advisory services. It has opened its first fully owned subsidiary – Prime Exchange Co. Pte Ltd. in Singapore, which started its operation from 8th July 2006 to offer remittance service to Bangladeshi Nationals living in Singapore. With the introduction of ATM in March 2008, PBL is now well poised towards expansion of alternative delivery across the country.
Organizational Profile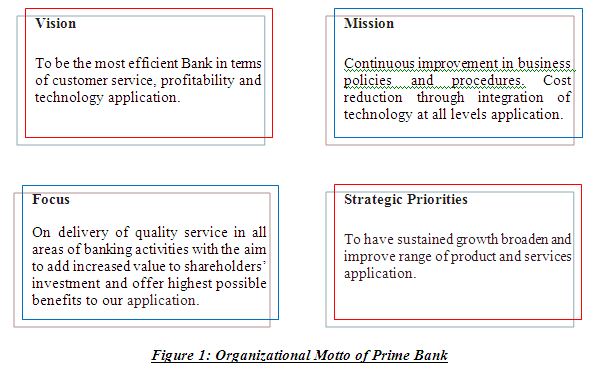 Objectives of PBL
ü  Deliver solutions that meet customer' financial needs.
ü  Full implementation and utilization of the Bank's excellence program which aims to provide service to customers.
ü  Build trusted relationships with all stakeholders.
ü  Build and manage the Banks' portfolio of business to achieve strong and sustainable shareholder return.
ü  Create and leverage strategic assets and capabilities for competitive advantage.
ü  To facilitate the bank with modern banking technique.
ü  To accelerate commercial activities and capture large market share.
Branch Network
The Prime Bank Group has a large and well distributed branch network of 86 full fledged branches and 3 Off-shore Banking Unit & Booths in Bangladesh with a strong tradition of service excellence. The Bank has also made its presence in Singapore through its fully owned subsidiary Prime Exchange Co. Pte Ltd. for facilitating inward foreign remittance to Bangladesh. The number of branch in each division is given below along with the rate at which branches increased each year.

Corporate Profile-Prime Bank Limited
Core Business
Prime Bank focuses on a wide range of banking and financial services which include commercial banking, retail & SME asset management, Islamic banking, investment banking, merchant banking and card business. Prime Bank is a market leader in corporate to consumer banking and retail lending to SMEs in Bangladesh.
 Efficient Capital and Strong Asset Quality
The Prime Bank Group has a strong capital base with a risk-weighted capital adequacy ratio of 10.88 percent and a Tier-1 of 8.67 percent at the end of 2008. The Group has one of the most efficient capital structures in Bangladesh. The Bank also has good asset quality in the banking industry and very strong financial ratings.
Awards and Accolades
Prime Bank continues to earn recognition and trust for its strong and sustained financial performance and product management. In 2008, Prime Bank was honored with best bank award in Bangladesh by ICAB and also SAFA Bronze Award in the region.
Hierarchy of Position of Prime Bank Limited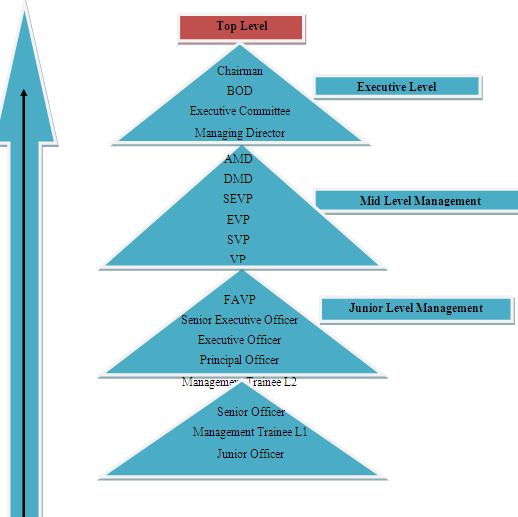 PRODUCTS & SERVICES of PBL
Deposits
ü  Local Currency Deposit Accounts
v  Conventional Banking: Current Deposit, Savings Deposit, Short Term Deposit, Non Resident, NR Investors Taka Account, Security Deposit Receipt, Deposit Under others Scheme.
v  Islamic Banking: Al-Wadiah Current Account, Mudaraba Savings Deposit, Mudaraba Short Term Deposit, Convertible Taka Account, Mudaraba Term Deposit, Mudaraba Special Saving Scheme Deposit.
ü  Foreign Currency Deposit Accounts
v  Forex & Fund Management: SWAPS, Import/Export Financing, Custodian Services, Money Market Lending & Borrowing.
ü  Special Services
v  Cash Services: ATM Services, Cheque Encashment, Foreign Currency
v  Fund Transfer: Inter-Branch Money Transfer, SWIFT, Telegraphic Transfer, Issuing and Enchasing Foreign Drafts.
v  Travel Services: Traveler's Chaques.
v  Value Added Services: Locker Service, Insured Deposit, Senior Citizen Scheme.
v  Credit Cards: Visa Credit Card-Local, Visa Credit Card-International, Master Card-Local, Master Card-International.
Advances
ü  Conventional Banking: Loan Against Imported Merchandize (LIM), Letter of Trust Receipt (LTR), Payment Against Documents (PAD), EDF Loans, Secured Overdraft (SOD), Inland Documentary Bills Purchased (IDBP), Cash Credit, Loan General, Lease Finance, Hire Purchase, Housing Loan-Commercial, Retail Loans, Auto Loans, Home Loan, Consumer Durable Loan, Doctors Loans, Marriage Loan, Travel Loan, Education Loan, Hospitalization Loan, CNG Conversion Loan, Advance Against Salary, Any Purpose Loan.
ü  Islamic Banking: Bai-Murabaha, Bai-Salam, Quard, Bills, Bai-Muajjal, Izarah, HP under Sirkatul Milk, Musharaka, Term Investment-Retail.
ü  Other Services: Letters of Credit, Letters of Guarantee.
Overview of R&D activities in Prime Bank Limited
Introduction
In the economic literature R&D plays an important role in at least two different ways. First, in the theory of industrial organization and also in the theory of international trade R&D is seen as a strategic variable by which firms conquer, or at the least preserve, market shares, and governments give their domestic firms a competitive edge in international trade, either through cost reductions (in the case of process R&D) or through product differentiation (in the case of product R&D). Second, in growth theory and in the management literature R&D is seen as an investment in knowledge or in absorptive capacity and hence indirectly as a contributor to economic growth.
"Because it's basic purpose is to create customer:' the business enterprise has two – and only two basic functions – marketing and innovation"……………… Peter Drucker
The word 'innovation' in the above excerpt of management guru Peter Drucker is basically referring to all kinds of Research & Development (R&D) activities that have the potential to renew or extend present businesses or generate new ones, including core competency development, invention, product development, process improvement, etc.
Having realized the importance of R&D activities as did Peter Drucker, Prime Bank Limited, a conventional Commercial Bank, has decided to start R&D activities in a harmonized way consistent with overall operations of the Bank. In that connection, an R&D Team has been appointed to make the headway toward a full fledged and vibrant R&D operation of the Bank. By this inspiration Prime bank opened this department in 2006 under the supervision of S.M Anisuzzaman, SAVP and head of R&D division. At the initial stage the scope was very limited but the need of this department is increasing day by day for the market demand and to operate the bank with more efficiency.
This internship report presents the operations of the Research and Development (R&D) division of the Prime Bank limited. Behind the notice of the consumer and the flashy branches, this division acts as a support division of the bank providing valuable and timely information to all other units. The information is used before taking key business and investment decisions that directly affect the profitability and thus, the value of the bank. The division is involved in a diverse array of jobs from feasibility and sector analysis to optimizing the bank's operation. The level of involvement as an intern in this division is high which makes it easier for me to specifically define each role of this division which is reflected fully in the report.
Overview of Research and Development Division's activities of PBL
Activities of the R&D Department
 The division's activities are divided mainly in the following functional groups:
ü  Marketing Research
ü  Operations Research
ü  Business policy Research
Each of the functional groups is both highly dependent and supportive to on each other and extensive knowledge and information sharing is done.
Marketing Research
Marketing research provides a window to the competitive market that exists in the banking sector today. In order to provide something new, innovative and have a customer focused orientation in developing new financial products, marketing research provides the best alternative. Some of the objectives of marketing research are
ü  Develop new and improve old financial products, service and service outlets of the bank to provide better service that meets the needs of the customers for both consumers and businesses (B2B).
ü  Develop more effective ways to promote the products to the market.
These are some of the main objectives of any marketing research and the R&D division uses this tool to increase their consumer base and ultimately increase profits. In order to achieve this ultimate goal, the marketing research group has to do the following activities.
Study on Business Policy Research
ü  Guideline for new avenues of business development
ü  Guideline for investment
ü  Guideline for management growth                  
Study on Economy and Financial Markets
ü  Macroeconomic review and publications
ü  Annual business guideline
ü  Strategic planning of the bank
ü  Performance and benchmark study of the bank with other competitive banks of the same generation/category
ü  Business trend analysis and forecasting
ü  Studies conforming to the fundamental objectives of the Business Policy.
Routine Monthly Researches
Besides the three types of main researches, the division is responsible for directly reporting to the Managing Director and Executive Board some key market information. This information is necessary to keep up to date and stay on the top of the business. As a result the following systematic information is prepared by the division.
 Importance of R&D Division in banking sector
In this chapter, I will try to probe in the issue of having R&D activities in the Bank from two discrete viewpoints: firstly, general factors or events in an organization; secondly, relevant trends in the current macro financial scenario of Bangladesh
Banking industry is one of the major Service Sector in Bangladesh Economy. Following characteristics, viz., Globalization (Entrance of Foreign Banks), Liberalization (and Privatization (e.g Rupali Bank Limited, Agrani Bank Limited, etc) are contributing to quick and structural changes in the market scenario. In the banking industry, banks have been allowed to be operated in private sector only two decades ago. At present there are 49 Scheduled banks operating in Bangladesh out of which 4 are nationalized, 5 are specialized, 30 are local private and 10 foreign banks. Stiff competition among banks has been further accentuated as non banking financial institutions (NBFI) are offering similar kind of products and services to the market. After years of minimal growth, now we observe a marked rise in the contribution of retail and small and medium enterprises (SMEs) in overall lending portfolio of commercial banks. Expansion is the word of the day, and as usual, SMEs having higher growth potential can be a potential basket where banks can put their money. Recent surge in retail and SMEs sectors is due to the rise of a huge middle class and SME sector particularly due to moderate growth in GDP, Export Earning and Foreign Remittance in recent years. So to survive and thrive in this very competitive environment Bank must have to find innovative fields of revenue generating business.
In this highly competitive environment described above, a Bank has to explore newer or improved avenues of products, services, line of businesses in order to consolidate and make upswing in its growth cycle, and this is where R&D can contribute through the previously mentioned activities.
My works in R &D Division
Commodity Price Forecasting
This is one of the most important routine tasks that the R&D division has to do. Here prices are forecasted for some key commodities which provide information to branch managers thought Bangladesh about investment decisions. In broad the purpose of price forecasting is
ü  Come up with the best forecasted price of selected commodities
ü  This forecasted price provides important decisions in opening Letter of Credits (LC)
ü  Since PBL has a huge investment in the commodity market, it is vital for them to predict the price beforehand.
Prime bank has significant investment in eight commodities and these are the commodities on which price forecasting is done. The commodities are:
ü  Rice
ü  Scrap Rod
ü  Wheat
ü  Cotton
ü  Pulse
ü  Sugar
ü  Fertilizer
ü   Edible Oil
Commodity research is part of the business policy research and helps the bank to invest in the right markets. Thus risk is minimized and thus, commodity market research is sort of a risk analysis.
Constituents of the Commodity research
a. International price trend analysis:
Here the global price of a particular commodity is monitored and trend analyzed. The objective is to see the relation of international price and local price and how they interact with each other. This analysis is particularly important for mass imported goods; such as wheat, edible oil, etc.
b. Banking Sector Exposure
Here the LC opened and settled and by all the banks in Bangladesh is compared with that of LC opened by PBL for that particular sector to see the share that it captured.
c. International Production and Consumption (Export and Import)
This is a key analysis and international supply and consumption are the main determinants of world price of that commodity and for import intensive products, this analysis is particularly important.
As an intern I have innovated and added some parts along with these analyses. They are:
Difference in LC opened and settled
Correlation with this difference with local price
Share of PBL of LC opened among banks.
The difference in LC settled and opened and settled has a strong correlation with local price.
I have investigated this relationship and presented this scenario to the head of division and other economists. The discussion resulted in the conclusion that importers hold on to their LC when the imported good prices are low expecting price increases; thus the high difference in LC opened and settled. When international price begins to rise, they settle their LC to the point that they settle earlier opened LC; thus the low and negative figures of LC opened and settled difference. This is a very unethical but usually practiced mode of business by importers of Bangladesh and especially for regularly imported food like wheat.
While working in the division, we discover such relationships and practiced almost everyday which are key information not only for the bank to use but for the whole economy as a whole.
Newsletter Publication
Prime Bank Limited publishes a monthly newsletter called the IN FOCUS targeted for use by the personnel of banking and the financial sector. Prime Bank believes information is the main differential that can make it the emerging organization in the competitive world and publication of Newsletter is important to update every employee of the organization. The stages of the publication of Newsletter are as follows:
ü  News collection from international and local sources
ü  Screening of relevant news
ü  Summarizing the relevant information
ü  Sectoral categorization of the news and finally,
ü  Publication of the news
The main sectors in which the news is focused on the newsletter are:
ü  Finance and banking
ü  Bangladesh Economy
ü  Global Economy and Business
ü  Energy
ü  Agriculture
ü  Telecommunications
The importance of Newsletter as a source of updated information is immense. The Newsletter is a source of information for the employees of Prime Bank Ltd. for what is going on in the financial sector. The Newsletter also tries to identify the International and domestic market movements, Government policy changes and impacts on the banking sector. It also tries to identify the emerging markets and potential for doing business in those sectors. These information gives the managers an overview of where the economy is headed as for a branch manager, information is key to providing loans and retaining it successfully. So far, 8 issues of IN FOCUS have been published and they are available in http://www.primebank.com.bd/new_letter.jsp.
Benchmark Study for improving Service Quality
Prime Bank Limited goes under the continuous inspection of the quality of its products and services. Banking industry is one of the growing one which product and service scenario is changing very quickly with time and technology. So to survive one need to be in the edge of these changing as they can offer the most competitive and superior product and services. Customer retention as well as potential customer attraction is obligatory for doing business in banking industry. Under this view point, Prime Bank Limited has undertaken a program named 'Benchmark Study for improving service quality'.
Benchmarking: Benchmarking is the process of comparing one's business processes and performance metrics to industry bests and/or best practices from other industries. Dimensions typically measured are quality, time, and cost. Improvements from learning mean doing things better, faster, and cheaper.
Benchmarking involves management identifying the best firms in their industry, or any other industry where similar processes exist, and comparing the results and processes of those studied (the "targets") to one's own results and processes to learn how well the targets perform and, more importantly, how they do it.
Also referred to as "best practice benchmarking" or "process benchmarking", it is a process used in management and particularly strategic management, in which organizations evaluate various aspects of their processes in relation to best practice companies' processes, usually within a peer group defined for the purposes of comparison. This then allows organizations to develop plans on how to make improvements or adapt specific best practices, usually with the aim of increasing some aspect of performance. Benchmarking may be a one-off event, but is often treated as a continuous process in which organizations continually seek to improve their practices.
The following methodology has been followed by Prime Bank Limited for benchmarking study
Identify problem areas – Because benchmarking can be applied to any business process or function, a range of research techniques may be required. They include: informal conversations with customers, employees, or suppliers; exploratory research techniques such as focus groups; or in-depth marketing research, quantitative research, surveys, questionnaires, re-engineering analysis, process mapping, quality control variance reports, or financial ratio analysis. Before embarking on comparison with other organizations it is essential that you know your own organization's function, processes; base lining performance provides a point against which improvement effort can be measured.
Identify other industries that have similar processes – For instance if one were interested in improving hand offs in addiction treatment he/she would try to identify other fields that also have hand off challenges. These could include air traffic control, cell phone switching between towers, transfer of patients from surgery to recovery rooms.
Identify organizations that are leaders in these areas – Look for the very best in any industry and in any country. Consult customers, suppliers, financial analysts, trade associations, and magazines to determine which companies are worthy of study.
Survey companies for measures and practices – Companies target specific business processes using detailed surveys of measures and practices used to identify business process alternatives and leading companies. Surveys are typically masked to protect confidential data by neutral associations and consultants.
Visit the "best practice" companies to identify leading edge practices – Companies typically agree to mutually exchange information beneficial to all parties in a benchmarking group and share the results within the group.
Implement new and improved business practices – Take the leading edge practices and develop implementation plans which include identification of specific opportunities, funding the project and selling the ideas to the organization for the purpose of gaining demonstrated value from the process.
In data collection procedure R&D Division has appointed third party market research organization. Actually there were two market research firms who collected data as well made reports according to the banks requirements. Then the R&D Division has also analyzed the collected data and presented to the top management according to their requirements.
The Benchmarking study was divided into two parts
The Branch Activity and
Teller Activity
There were several variables of the above two activities. The variables of branch activities are as follows
Greeting Skill of Front Desk Officer (FDO)
Listening Skill of FDO
Speaking Skill of FDO
Attitude towards help of FDO
Knowledge level of (FDO)
Objection handling skill of FDO
Professionalism level of FDO
Branch environment of FDO
Findings, Conclusion and Recommendations
Findings
ü  R&D Division is linked with other Division for any compliance and necessity
ü  There is a very strong relationship between R&D with management decision. The feedback of R&D is evaluated sincerely by the management.
ü  All types of upcoming products and services manuals are shared with R&D for feasibility test.
ü  R&D analyze and make reports according to the requirements and presents it in suitable way to the user
ü  Besides research works different types of support services works are also done by R&D
ü  The current organizational status of the bank in context of economic and financial indicators as well as employee behavior is checked time to time by this division.
Conclusion
Research and Development Division are not available in the other contemporary competitive banks in Bangladesh. Here Prime Bank Limited is the pioneer in starting R&D Division. Now there are some other banks who also started this division for going ahead.  Working at the research and development division has been a fruitful experience for me as it added a huge amount of value to me. Some of the main areas I have gained expertise in after the completion of the internship program at PBL are:
Analytical expertise
Banking knowledge
Research methodology
Expertise in different types of research tools and techniques
Recommendations
I have identified some key works of R&D Division that really helps the top managennt to take decision effectively and competitively.These endeavors are timely taken only for satisfying the customers with differentiated products and services. The R&D Division of PBL mainly works under Managing Director. The Division mainly works for unanticipated needs and better services for its customer by maintaining its corporate head office strategy. And I found that there is a deep relationship between R&D works and the operations of banking. The R&D department's time to time feedback help the management to understand the changes of market forces and help in taking quick decision to keep an edge. To achieve this thing the following measures can be taken
ü  Banking industry mostly deals with finance and its behavior. Though R&D division is entitled to examine different aspects banking operations, the financial part is relatively absent here. Financial Administration (FAD) actually supervises this area.
ü  Dependency on third party market research firm should be minimized as the research works are sophisticated and very sensitive to the competitors. For this reason more expertise should be hired.
ü  Sometimes R&D gets stuck with other departments works. At that time the flow and regular activities are hampared. So management should give the priority of R&D works.
ü  The recommendation R&D works should be evaluated prioriy basis as it works are done through comprehensive research using relialble data and tools
ü  The existing number of employees are not sufficient for smooth operation of the R&D Division