Background of the report:
This report is titled as "Human Resource Practices in real estate companies". The report consists of two-fold purpose. First analyze the comparative differences between "Kusholi Nirman Ltd" & "Mehnati Construction Ltd" then analysis on economic development of Bangladesh in real estate companies. This report will help us to know about overall overview of Bangladesh real estate companies and their Recruitment policy, Selection policy, Training & development policy, Performance appraisal, Compensation & benefits and Heath & safety.
Real estate companies are the leading financial institutions in Bangladesh. Under the list of Rehab all real estate companies' purposes is to provide the safety, comfortable, reliable houses to live.  Our main purposes to make the report to know how real estate companies in Bangladesh run their business and how to control the rules & regulations for HR department. Lack of providing information by the selected two company's authority we ware unable to mention the recent trends in their sectors, number of players involved and market share.
Methodology
Data Collection method:
Primary sources:    Face to face interview of companies AGM or Information center.
Secondary sources:
Data analysis:
For the data analysis, computer software (e.g. Microsoft word) is used, which helped to make the analysis in a well-arranged manner for the research easier, more efficient, and more effective.
Limitations of the report:
Several drawbacks that appeared at the time of preparing the report and hindered the total work process are as under:
It was difficult to make information based rich report in a short time period.
Address of the selected real estate companies was not match.
The selected real estate companies avoided us and did not provide enough information.
It was very difficult to identify the present situation of the real estate companies in such a small period of time.
One of the main barriers of the report was the confidentiality of the data.
Kusholi Nirman Ltd Company details:
Kusholi Nirman Ltd has started its humble journey in 2005. Distance of a decade was tough and amusing. We crossed this long way happily gathering experiences from both side of our way. We by this time tried to understand the turns and twists of different nature of this business Endeavour, to understand the miseries and sorrows, joy and happiness of our honorable landowners, customers, employees and all persons directly or indirectly affiliated with the job we undertaken. We want to understand more we want to provide whatever we have in terms of engineering and managerial skill to the cause of people we owe i.e. Landowners, customers, our affectionate colleagues in particular and to nation in general. We are committed to sincerity and well do everything to carryout the responsibility one entrusted upon us whatsoever it may be.  The top management of the company has consisted with 4 directors who obtain vast ranged skill and academically processed an outstanding specialization in the area of Civil engineering and Architectural efficacy.
Kusholi Nirman Ltd has more than 2050 skilled professionals equipped with all necessary tools and machinery like mixer Machine, Drill Machine, Welding Machine, Crane/hoist, fair face shuttering material, wood technology and so on. Moreover, we have about 1000 people working with us through sub-contractors of RCC work, Brick and plastering work, sanitary and plumbing work , mosaic and tiles fitting , Aluminum and Grill work, wood work, Electrical work, Painting etc. We also emphasized on developing a safe and secured work environment for our personnel at the work place and ensured different safety tools in each and every construction site with wide ranged awareness for all employees.
Considering its social corporate responsibility, Kusholi Nirman Ltd has formed a charity organization namely "Rabeya Samad Foundation" under which a huge number of orphan children's are providing education, living shelter, developing technical work skill for totally free of cost. Kusholi Nirman Ltd management also contributing to keeps the ecological balance by arranging frequent plantation and awareness program round the year.
1. Appointment:
All candidates appointed by the company will be issued an appointment letter/ services agreement stating their terms of employment like basic pay, entitlement of benefits, Leave quota, grade etc. HR department will provide a copy state with the job responsibility of a new member with the joint collaboration of concern departmental head.  Education will be accomplished by the in-charge of the concern Department rather than HR official.
2. Probation:
Every permanent appointment will be subject to probationary period which will be indicated in the letter of appointment.
3. Staff number, Identify card etc:
Every employee is allotted a staff number which the must quote in all this his personal correspondence with the management.
Every employee is provided with an Identity Card and the employee concerned is personally responsible for its safe keeping.
The card must be surrendered by the employee at the time of leaving the employment or at the any time on being called upon to do so.
The card must be produced on demand at any time.
Loss of the card must be report to the human resource department at once and a new card will be issued on payment of the actual cost.
3. Working hours:
            Working hours will be notified on the notice aboard from time to time. The working hours are liable to alteration from time to time to suit the exigencies of business as well as the provisions of labor law.
            Overtime:
a)      Subject to the provisions of the labor laws, the management reserves the right to the requiring all or any employee to work overtime and/or weekly holidays and festival holidays.
b)       No overtime will be paid unless the employee has been directed by the head of his department to work overtime.
c)      Overtime will be paid including other facilities provided according to the provisions of law or rule of the company as enforced from time to time.
Attendance & Punctuality:
v  Employee must enter and leave his or her place of duty by the entrance specified for on that behalf and the record will keep by automatic time card machine. No employee is allowed to leave his or her place of duty during the working hours for personal or official work without leave / gate pas / permission issued by the department head.
v  All employees are required to report for duty punctually and regularly and to record their attendance in the manner prescribed by the management from time to time.
Performance Appraisal:
            Every official who carries a supervisory rule within the organization (exclude the personnel remains under probation) will be considered for appraisal their performance at every end the year at 360 degree manners or (using any other personnel appraisal tools as per as mgt.'s decision) and the findings will be reported with his personal file and service book.
           The strength and weakness of an individual will be remarked by the appraisal and will forward his suggestion or option to HRD.
            HR department will take necessary steps like training (institutional or on the job), counseling to improve the efficiency of a person in a particular area, which has founded during his yearly appraisal procedure.
Promotion:
Promotion from one grade to another is entirely at the discretion of the management and will depend on vacancies in the establishments and the employees merit, qualifications, efficiency etc, Length of service will be taken into account but the company servers the right at all times to select those, for promotion who in its opinion are the best suited to undertake the duties of the vacant post, the management being the sole judge, , suitability .If permanent employees are promoted of a new post, he may at any time, during the promotion period, be reverted to his old permanent post.
Service year & yearly increment:
The   service year starts from 1st January and ends on 31 st December. Increment of salary within the scale matrix of pay for the respect grade, if due, is given with affect from January 1, provided the employee has joined the services of an English calendar month.
Transfer:
The management can transfer employees from one department to another department or from one project to another project for better administration or any other at its sole discretion.
Retirement:
All employees will retire at the age of 60 years. The management may, however, re-employ on man employee on his her retirement on year contract basis for periods not exceeding three years at the sole discretion of the management.
Salary & fringe benefits:
The following benefits are paid monthly in arrears:
Basic salary: This is paid in steps of the scale matrix of pay for the grade. The amount will disburse through Bank account.
Fringe benefits: Besides basic salary, the entire employee's shall all the employees shall get a sum of TK…….per month being the fringe benefits.
Bonus:
A person will be entailed for bonus after 6 months of his services with the organization .The disbursement of the Bonus amount shall be allocated as per the followings manners:
Service Length            Entitlement for %           Amount     Mode
1 Year & above                      110%            Equivalent of take –home salary    40%+80%
(On declared bonus date)
Less Than 1 year
(More than 6 months)               50%          (60% bonus in 2 installment)             40%+55%
Mgt keeps the right for entitlement if required.
Provident Fund:
Permanent employees are required to join the companies' provident fund after serving for a period of full 6 months. The employees will subscribed to the fund through deduction from their monthly salary at the rate of 10% of their basic salary per month. The company subscribes equal amounts as into the account of concerned employee.
Gratuity:
A permanent employee is an entitled to the payment of the gratuity after completing 5 years of continuous services at the specified rates. A copy of the gratuity role is available on request from the HUMAN RESOURSE DEPARTMENT.
Group insurance:
All employed are insured at the rate of BDT 1 lakh and the premium is paid by the company.
Accident Insurance:
All employees drawing a minimum wage of BDT 5000 per month are insured under this scheme while the employees in respect of the above will be governed by the workmen's compensation Act. Long service award:
After having been in continues employment of 15 years, an employee is entitled to long service award as per the existing rule. A copy of the rule is available on request from the HUMAN RESOURSE DEPARTMENT.
Medical facility:
The company provides free consultation at working places only.
Dress code uniforms:
Every employee should obey the prescribed dress code (full sleeve shirt, black shoe & tie) and uniforms to certain categories of employees provided by the company. Here it is mentioned that company will not pay the cost for the dress for any official (Only guard, peon driver will be given the dress 2 times in a year.
Tea:
Employees are provided with three cups of tea per fully working day at the company's costs.
Sales & services of Kusholi Nirman Ltd Articles:
Any employees may purchase Kusholi Nirman Ltd  products at the rates set out by the management from time to time either in cash or on installment basis.
Loan facilities:
We have the following loan schemes:
A) Emergency loan scheme                      up to tk 25,000 without interest
B) Any purpose loan scheme                    up to tk 2, 00,000 with 10% interest
Justification of the necessity & urgency should be rational & recommended by the Departmental Head, if anyone's likes to avail any purpose loan scheme .Although, Mgt. will preserve every right regarding every rights regarding approval or disapproval of the loan.
Shift working:
The workers posted at our project or head office are liable to work in any shift and wen required by the management.
 Leave facility:
Casual leave                                   20 days in calendar year
Sick leave                                       14 days in calendar year
Festival leaves                                10 days in calendar year
* Festival leave stated above means those which are under Optional Leave Category &     Mgt .preserves  the right for any disapproval if feel for.
HR Department will supply a printed Leave Card on the 1st day of every year for every personal. Entailment for leave, record of availed applied leave will appears on the card, which rankled a dept. Head to be aware about the leave quota of an applicant without asking HRD. |After recommendation the card shall be forwarded to HRD to insert the record at HRIS & will return ask with signature.
Loss of lien:
If any employee remain absent beyond the period of leave originally granted or subsequently extended. He shall be liable to loss his lien to his appointment unless he or she returned within ten days. Of the equity of his leave and explains to the satisfaction of the employer his liability to return earlier vide clause 5 (3) of Employment of labor (so) Act, 1965.
DISCHARGE ON MEDICAL GROUNDS:
An employee may be discharge from service of reason of physical or mental incapability or continued or ill-health or such other reason not amounting to misconduct.
Dismissal from service:
An employee may:-
be dismissed from service of he or she is convicted for an offence; or
be dismissed if he is found guilty or 'misconduct' under the previous of employment of labor (S.O) Act, 1965.
Termination of employment by the employee:
A permanent employee may terminate his employment by giving one-months (the Notice Period may extend up to three months based on the job nature & position) prior notice.
Grievance procedure:
Any employee, who has a grievance in respect of any matter connected with his employment, shall follow the existing Grievance Procedure. For details, please consult the Human Resource Department.
Employee Handbook Acknowledgement:
We acknowledgement that I have receive a copy Kusholi Nirman Ltd of  Employee Handbook dated Kusholi Nirman Ltd  I understand that his handbook replaces any and prior verbal and written communities regarding Kusholi Nirman Ltd working conditions, polices, procedures, appeal process, and benefits. We understand that the working condition, policies, procedures, appeal processes and benefits described in this handbook are confidential and may not be distributed in any way nor discussed with any Way nor discussed with any one who is not an employee of Kusholi Nirman Ltd. We have read and understand the contents of this handbook and will act in accord with these policies and procedures as a condition of my employment with Kusholi Nirman Ltd .
Mehnati Construction Ltd company details:
Mehnati Construction Ltd properties Limited operates as a real estate development company in Bangladesh. The Company was founded in 1995 and is based in DhakaCity. Mehnati Construction Ltd Properties Limited operates as a subsidiary of Mehnati Construction Ltd  Group. Mehnati Construction Ltd  Properties is one of the most reputed real estate developers in Bangladesh in terms of quality and customer satisfaction. A team of hard-core professionals consisting of engineers, technocrats, planners and architects along with a dedicated workforce help to achieve, which a few others could hope for – Total Quality to the absolute delight of the customer.
The apartment or commercial space that you choose is an expression of your specific needs and wants… in fact; it is a statement of the self, reflecting your mindset. We promise our customers total service backed by years of collective experience and an extensive portfolio to successful assignment… service that hinges on our complete understanding and anticipation of your expectations, aspirations and needs. This stands us in good stead in delivering top quality apartments & commercial spaces. We ensure full fledged after sales service support to our customers, backing them even in their smallest of needs. Quality runs in the veins of the organization and has imbibed into each and every one of us at real value. The in-depth experience gained from executing large residential and commercial developments has created the urge in us to set ourselves high standards to comply witty. This effort has really made us a cut above the rest, as our prestigious developments will testify to our fresh path-breaking designs that highlight several exciting new features. It is only logical that the customer feels very much at home with real value investment.
Mission and Vision:
Vision of Mehnati Construction Ltd:
To contribute significantly for building a strong brand image and become the most valuable real estate company of the country.
Mission  Mehnati Construction Ltd:
Our mission is to continue to be the leading real estate company in Bangladesh by providing our clients the most efficient and effective product and services, combining our effort and expertise. To contribute significantly for building a strong brand image and become the most valuable real estate company of the country.
Product of the company: Lands and buildings
Organogram of the company: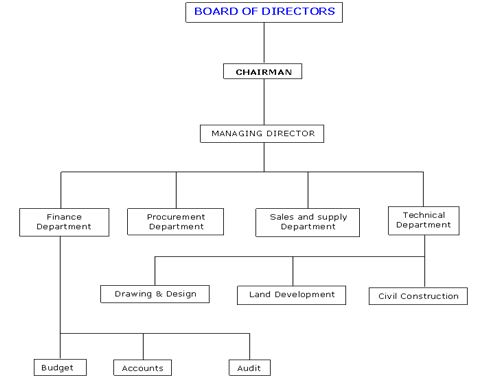 HR Policies of Mehnati Construction Ltd:
In Mehnati Construction Ltd  properties ltd they have no systematic HR policies about recruitment, selection, training and development, performance appraisal and compensation benefits. The person of Mehnati Construction Ltd properties ltd to whom we have visited surprisingly have answered that there are no methods of recruitment. They usually recruit the employees by the reference of their members of Mehnati Construction Ltd group. Although they give their advertisement through print media like news paper, magazine. In the advertisement they have showed the requirements  for the job. They just have shown it in the news paper for the purpose of showing their survive ness in the real estate market as we think.besides they recruit the employees from other external sources such as boss reference.The budget for recruitment process is so limited except cost of advertisement in news paper. In Mehnati Construction Ltd  properties ltd we think there is a mismatch of job descriptions and job specifications. As we know that job description is the description of the duties and responsibilities to the job. On the other hand job specifications mean the requirement for doing the job properly such as education, experience, skill etc. As they recruited the employees frequently by the reference of their boss, there can be a mismatch between job description and job specifications.
Selections policy:
 There are no proper steps followed by the company. The interviews techniques that they use traditional face to face interview which is not effective for the selection process.
The training and development policies:
They basically use on the job training method by which employee learn from their work place. And there is a missing of off the job training. The training budget is quit small.
Performance appraisal:
Which means as we know appraising one's actual performance with the standard performance. The performance appraisal methods used by the Mehnati Construction Ltd  properties ltd are comparative method in which employees are ranked from highest to lowest according to the performance of them such appraisal has been occurred two times in a year.
Compensation and benefits:
The basic difference between compensation and benefit is that compensation means all from of pay or reward going to employees and arising from their employment a benefit means something additional then reward. The Mehnati Construction Ltd  properties ltd provides some benefits to their employments such as medical facilities, retirement plan, insurance, bike.
Health and safety:
They don't maintain proper health and safety measures for the employees.
Note: In the below both real estates company's aspects are compared:
Comparison between a & b company ltd in recruitment policy:
| | | |
| --- | --- | --- |
| Particulars | A | B |
| Methods of recruitment | Yes, They follow this method | Yes, They also follow this method |
Budget for recruitmentYes, They follow this methodThey not follow this methodMatching of job description & job SpecificationYes, follow this method
They not follow this method
Comparison between a & b company ltd in Selection policy:
| | | |
| --- | --- | --- |
| Particulars | A | B |
| Interview techniques | Yes, They follow this method | Yes, They also follow this method |
Steps of selectionThey not follow this methodThey follow this methodTime consumingThey need high time to consuming.
They not follow this method
Comparison between a & b company ltd in Training & development policy:
Particulars
A
B
Types or names of training follow
Yes, They follow this process
No, They cannot follow this process.
Training methodOn the job training, of the job training.They not follow this methodTraining budgetThey follow this budget method.They not follow this method
Comparison between a & b company ltd in Performance appraisal:
Particulars
A
B
Methods use in Performance appraisal
They follow Category,comparative,Narrative
Method.In few case they follow this method.Time interval of such appraisalYes, They follow this process
They not follow this methodOutcome of performance appraisalThey not follow this method
They not follow this method.
Comparison between a & b company ltd in Compensation, Benefits & health :
Particulars
A
B
Range of Salary
7,000-1,20,000
4,000-50,000
Benefits
Car, flat are given to their performance.
Car is given to their performance.
Medical facilityYes that is free to the employees.Sometime they give them medical facility.
Findings (Problems):
The real estate and mortgage industry has long been the largest source of investments in the Bangladesh. But many real estate companies are now facing the specter of going out of business. The following article provides information regarding the problems of real estate.
Overhead:
Because real estate sales personnel are usually compensated by commission, real estate companies save much of their overhead by not having salaried personnel. Ownership of office property, operating expenses and insurance are just some of the considerations that brokers of real estate firms have to contend with. When their agents are not making sales, the entire brokerage suffers. Tightening loan restrictions and fear in the real estate market has forced many brokerages into a state where expenses are outstripping income.
           *In our HRM report purpose we can say that they are not properly maintaining recruiting, selection, performance appraisal (HR) method's as a result they face more problem in HR department.
Image:
The public view of real estate companies is based on an image they project of success. Large offices, fancy decorations and money spent on image enhancing public events and sponsorships are part of the picture. While this ties directly into overhead, the image that a firm projects is another consideration in itself. Hints at brokerages being unsuccessful can mean a death sentence for a firm. Many major expenses are incurred for the sake of the image of a brokerage and portraying it as a successful business no matter what the cost.
Real Estate Company is not practice HR policy as a result in HR department collapse day by day.
Errors and Omissions Insurance:
One of the most expensive problems of A & B that affect real estate companies has to do with the errors and omissions insurance they are required to carry for all of their sales people. Agents making errors or omitting details can cost real estate. Carrying insurance for a real estate company is extremely costly.
Agent Retention:
Another large problem that affects many real estate brokerages is retaining agents. Many agents are leaving the field and getting sales positions in other industries. The fewer agents a brokerage has, the more overhead it incurs and the less potential it has to make sales.
Misconceptions:
A common misconception in the public is that real estate agents are greedy and dishonest. With the ability of many consumers to get information on the Internet, the need for a real estate agent is decreasing. While many real estate companies attempt to combat this perception through advertising and other resources, it appears that fewer people are using real estate agents to facilitate transactions.
Other Problems:
Ignorance new technological problem: The two companies has technological problem.
Problem in requirement & selection
Career Development problem
Salary problem
Increase turnover
Lack of Training & Development
Conflict during promotion
Lack of socialization & orientation
Negative image in Labor market
Problem in Hierarchical position
Low productivity
Conclusion:
Though the report has some limitations for not providing enough information by the selected real estate companies after all we tried our level best to create a strong reliable and practical report based on the information of two real estate companies. Though the both companies have some internal & external limitation in the market, they are taking different stapes to over-come that limitation. Among the real estate companies in Bangladesh above selected two are the most popular to the people. They have already achieved the beliefs and reliability of the people. In the field of economy condition of Bangladesh the both real estate companies have contributions. They said that they are promised to provide reliable lands and buildings for the people in Bangladesh and continuously they delivery their services. They provide not only better houses they also provide better lives for the employees.
Recommendations:
Increasing health and hygiene rules according Bangladesh labor code 2006
Precautions in case of fire
Increasing safety officers
Need Powerful committee
Increasing new technological avengement
Need to faire  in time of requirement & selection
Career Development programs
Salary should be enhanced
Reducing turnover or lay-off
Enhancing of Training & Development
Reducing conflict during promotion
To keep socialization & orientation
Expanding positive image in Labor market
Powerful Hierarchical position
High productivity with reliable