China has released a series of new videos (with words!) and images of its first rover to Mars so we can share each experience and its historic historical exploration steps. Among the releases is Jhuranga's first audio since it took its first steps on Mars by shutting down the lander platform. A video has also been released on Tuesday about the rover being shaken and trying to change something, as well as some incredible new 3D stereo images of the rover parachuting to the surface of the Red Planet that it did on May 15 this year.
The first is audio encouraging people to touch the wheels on Mars outside of Juring's lander. It may sound like Mars is getting populated by judging by the small amount of roaring monsters, but what you hear is that the sound of the processes of the wheels will shrink the thin atmosphere of the planet as it comes out of the ramp. However, Mars audio is a relatively new and rare thing, so we can't be peak yet. Haigan Warren mentions below that the mix of perseverance was not able to manage its landing, although it later revealed some bizarre noises. According to Chinese news site CCTV, Jia Yang, deputy chief designer of the Tianwen-1 system, explained, "The pin was actually made when the pin of the Mars rover was rotating on the rack or sounding a collision between metals."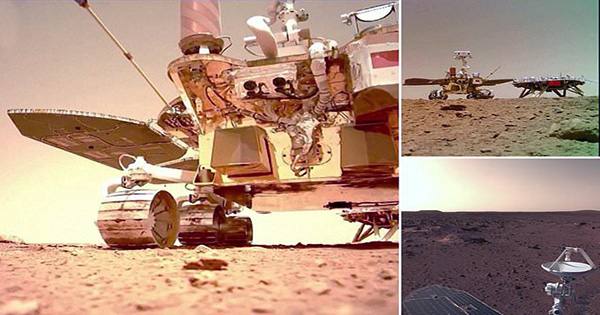 "The purpose of [installing] this recording device is to capture the sounds of the wind on Mars during its windy weather on Mars. We want to hear what the wind sounds like on any planet other than Earth."
There are some beautiful footage of the driving of the six-wheeled rover, including the curiosity of taking a small camera about 10 meters away, standing next to the landing platform to take a group selfie, and turned into a somewhat stylish place. The Chinese National Space Administration (CNSA) has released some amazing 3D stereo footage of a supersonic parachute deployment, landing rapidly on the surface of Mars.