Google's Android Wear 2.0
In 8th February 2017 Google announced the all-new Android Wear 2.0 operating system update for its line of Android-based smartwatches, alongside two new devices debuting this Friday, February 10: the LG Watch Sport and LG Watch Style.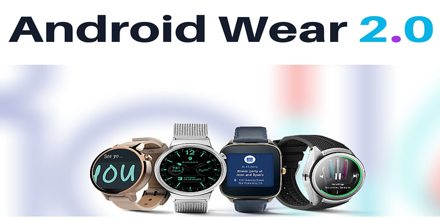 LG Watch Style and LG Watch Sport are for different crowds — one's slimmer and feature-limited, one's super-thick and packed with everything from GPS and Android Pay to an LTE connection for phone calls.
Wear 2.0 is a total overhaul of Google's smartwatch platform with a whole new design, an on-watch Play Store, a new version of Google Fit, Android Pay, and in general, a move toward being more of a standalone computer rather than a smartwatch slave.
LG, Android Wear
The biggest difference between Apple Watch and the new LG watches is their circular OLED display, which measures 1.38 inches on the LG Watch Sport and 1.20 inches on the LG Watch Style. The two new LG watches differ in a variety of other categories as well: the Style is thinner and has more strap customization options, but it lacks cellular connectivity, GPS, NFC, and has a smaller battery.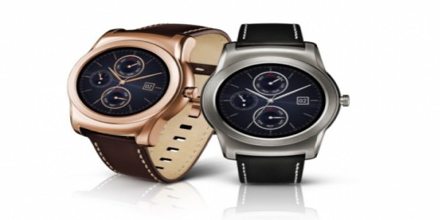 That sets up the LG Watch Sport as the new flagship smartwatch from the company, with a built-in gyroscope, accelerometer, cellular connectivity, heart rate sensor, and GPS sensors to fuel a fitness-focused lifestyle, as well as NFC for Android Pay. There are also dedicated buttons for Google Fit and Android Pay so users can more quickly access these features, with Google calling it "Android Wear's most powerful watch yet."
The LG Watch Sport is available in titanium and blue with a high performance elastomer strap, but it's non-customizable beyond this set-up. Those interested in the U.S. will be able to buy the LG Watch Style at Best Buy and the Google Store for $249, while the LG Watch Sport will be available at AT&T, Verizon, and the Google Store for $349. Both smartwatches launch on February 10, and more countries will begin selling the devices in the coming weeks.
A cellular-connected Android Wear watch can also fuel better workouts, according to Google, thanks to the ability to stay in touch with calls and messages, stream Google Play Music off the watch and through Bluetooth headphones, and the addition of weight-lifting, push-up, sit-up, and squat rep counters. When a message is received, users can dictate or handwrite an answer, and "Smart Reply" includes intelligent, contextual responses based on the incoming message.
Improvements about Android Wear 2.0
Android Wear 2.0 is a lot better at accessing information quickly on the fly, thanks mostly to these added watch-face customizations. Apple's had this already via its Apple Watch complications, but Android Wear 2 now offers them too, and more so than Samsung's Gear S2 and S3. Each bit of info can also act as an app shortcut, saving time. In general, it's great news. But the problem is, few third-party apps currently support complications on the beta-access early software can used prelaunch.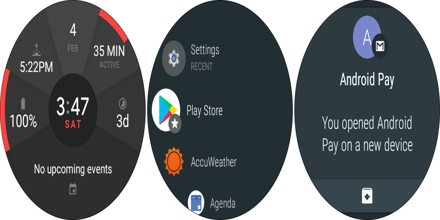 Google's attempt to make a better on-wrist fitness app has made strides, mainly in how many workout types Fit recognizes and how the workout stats appear on-wrist. Tapping the top button on the LG Watch Sport lets our start a workout (like walking, jogging and more) and while the activity is going, we can look at stats on our wrist. Those three stats can be customized: We can add heart rate, distance or elapsed time, for instance. We can't seem to add more than that, though. And we found the interface a little sluggish and chunky-looking. Bringing up daily Google Fit stats resulted in a slow "updating" message that felt less responsive than Apple Watch or Samsung Gear S3.
Theoretically, Android Wear is now a lot more independent of your phone than before. With Wi-Fi or LTE, the watch can connect to what it needs to function. Even offline, Wear 2.0 is designed to run apps on its own and minimize the "Check your phone" messages that used to be everywhere.
While Android Wear 2 apps are made to work on-wrist away from a paired phone, so far there aren't a lot of updated apps to test out. On the LTE-connected, fully independent phone/watch LG Watch Sport, Google Maps handled navigation nicely, we could check messages, and we used Google Assistant to search for things as needed. The Google Play Store will also work even when paired with an iPhone, but the updated iOS app wasn't available to review prelaunch.
It makes finding apps easier, and the scrollable app tray in Android Wear 2.0 is a better solution than the Apple Watch's messy grid of apps. It's also better than Samsung's spinning wheel-of-apps design, and we got to what we needed faster, with 20 apps or so installed, at least.
Summary about Android Wear 2.0
Google's delayed software update to its Android Wear watches has finally arrived, in the form of two new LG watches co-designed with Google.
With LG's help, Google is launching a pair of devices for Wear 2.0, both of which will hit stores February 10th. The $349 LG Watch Sport is the most exciting, with LTE, NFC, GPS, and a heart rate sensor (we have a full review, here). Given that it is packing an LTE modem, the LG Watch Sport is headed for Verizon and AT&T stores in the US, along with the Google Store. The Wear 2.0 launch isn't just about new hardware, though. Many of the older Android Wear watches are getting upgraded to 2.0.