Faujasite is a mineral group in the zeolite family of silicate minerals. It is a zeolite mineral consisting of sodalite cages connected through hexagonal prisms. The group consists of faujasite-Na, faujasite-Mg, and faujasite-Ca. They all share the same basic formula: (Na2, Ca, Mg)3.5[Al7Si17O48]·32(H2O) by varying the amounts of sodium, magnesium, and calcium. This mineral is occurring in colorless octahedral crystals in the amygdaloid of the Kaiserstuhl in southern Baden. It is a hydrous silicate of aluminum, calcium, and sodium.
It was named for Barthélemy Faujas de Saint-Fond (1741–1819), French geologist and volcanologist.
General Information
Category: Zeolite
Formula: (Na2, Ca, Mg)3.5[Al7Si17O48]·32(H2O)
Crystal system: Cubic
Crystal class: Hexoctahedral (m3m)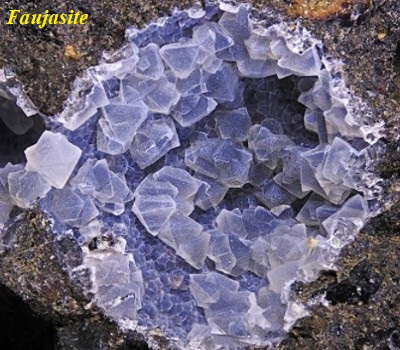 Properties                             
Color: Colorless, white
Crystal habit: Octahedral or rarely trisoctahedral crystals up to 4 mm in size
Fracture: Uneven to conchoidal
Tenacity: Brittle
Mohs scale hardness: 4.5-5
Luster: Vitreous to adamantine
Streak: White
Diaphaneity: Transparent
Specific gravity: 1.92–1.93
Optical properties: Isotropic
Occurrence
Faujasite occurs in vesicles within basalt and phonolite lava and tuff as an alteration or authigenic mineral. It occurs with other zeolites, olivine, augite, and nepheline. It occurs as a rare mineral in several locations worldwide and is also synthesized industrially.
Faujasite was first described in 1842 for an occurrence in the Limberg Quarries, Sasbach, Kaiserstuhl, Baden-Württemberg, Germany.
Use
Faujasite is used above all as a catalyst in fluid catalytic cracking to convert high-boiling fractions of petroleum crude to more valuable gasoline, diesel and other products. It is also used in the hydrocracking units as a platinum/palladium support to increase the aromatic content of reformulated refinery products.
Information Source: