Environmental education is a process that allows people to learn about environmental issues, solve problems, and take action to help the environment. It refers to organized efforts to teach how natural environments work, particularly how humans can manage their behavior and ecosystems in order to live sustainably. As a result, people gain a better understanding of environmental issues and the ability to make informed and responsible decisions. It is a multidisciplinary field that incorporates biology, chemistry, physics, ecology, earth science, atmospheric science, mathematics, and geography.
According to the United Nations Educational, Scientific, and Cultural Organization (UNESCO), EE is critical in instilling an inherent respect for nature in society and increasing public environmental awareness. UNESCO emphasizes the role of EE in ensuring future global developments of societal quality of life (QOL) through environmental protection, poverty eradication, inequity reduction, and the assurance of sustainable development (UNESCO, 2014a).
Environmental education does not advocate for a specific point of view or course of action. Rather, environmental education teaches people how to weigh different sides of an issue using critical thinking, and it improves their problem-solving and decision-making abilities. It is the study of the interactions and relationships between natural and human systems. In short, environmental education is provided so that people can have a better understanding of the world around them and know how to properly care for it, thereby making the world a better place.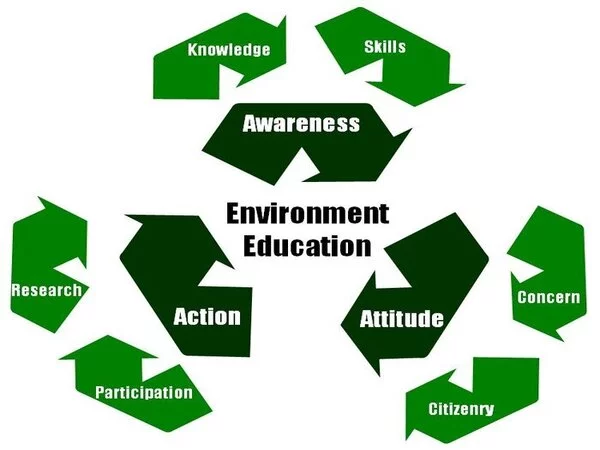 The term frequently refers to education in the school system, from primary to postsecondary. However, it can sometimes refer to all efforts to educate the general public and other audiences, such as print materials, websites, media campaigns, and so on. There are also methods for teaching environmental education outside of the traditional classroom. Aquariums, zoos, parks, and nature centers all provide opportunities for the public to learn about the environment.
Focus
Environmental education focuses on:
1. Engaging citizens of all demographics in order to;
2. Consider environmental issues critically, ethically, and creatively;
3. Make informed decisions about environmental issues;
4. Develop the skills and commitment to act independently and collaboratively to sustain and improve the environment; and
5. To increase their environmental awareness, resulting in positive environmental behavior change.