The Egg Nebula is a planetary nebula, located in the constellation Cygnus, approximately 4,000 light-years away from Earth. It is so named because of its oval shape, which resembles an egg. The central star of the nebula has shed its outer layers, which are now expanding and glowing due to ionization from the hot, central star. The Egg Nebula is an example of the final stages of a star's life cycle.
It's named for its distinctive, egg-like shape, which is created by the outflow of gas from a dying star at its center. The nebula is expanding and will eventually dissipate into the surrounding interstellar medium. Its peculiar properties were first described in 1975 using data from an 11-µmeter survey conducted by the Air Force Geophysical Laboratory (AFGL) using a sounding rocket from 1971 to 1974. (Previously, Fritz Zwicky classified the object as a pair of galaxies.)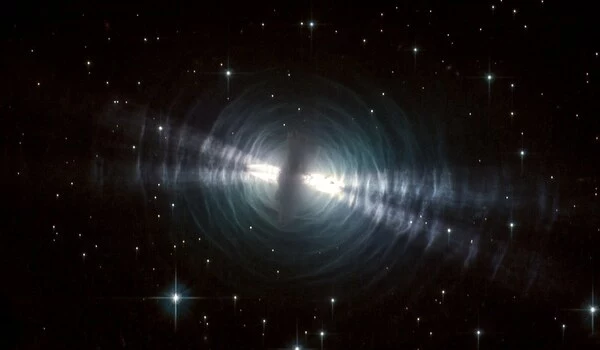 The Egg Nebula is distinguished by a series of bright arcs and circles that surround the central star. The central star is shrouded in a dense layer of gas and dust, blocking its direct light from our view. The light from the central star, on the other hand, penetrates the thinner regions of this dusty enclosure, illuminating the outer layers of gas to create the arcs seen in this glorious image (Hubble Site). The central star has a spectral type of F5, according to the spectra of the starlight scattered by the dust. An F5 star's photosphere is about 900 K hotter than the Sun's, but it is still not hot enough to start ionizing the nebula.
The dusty enclosure surrounding the central star is almost certainly a disc. The image's bipolar outflows indicate that the system has angular momentum, which was most likely generated by an accretion disc. Furthermore, a disc geometry would account for the varying thickness of the enclosure, which allows light to escape along the axis of the disc and illuminate the outer layers of gas while blocking it from our direct view along the disc edge. Although dusty discs around several post-AGB objects have been confirmed, a disc around the Egg Nebula has yet to be confirmed.