That's it sportswear Ltd is one of the most important sister concern of Hameem Group . It is one of the major garments manufacturing organization in Bangladesh. This organization increasingly reducing its rejection and rework rate in-process and final garments in order to ensure product quality and delivery time as per buyer requirement and increase profitability. It will ensure sufficient training and suitable work to increase productivity and skills of the employee.
Now this Garment has a 100000 square feet area. Its production capacity is around 900000 Pcs per month, number of machines 7500 and number of employees at least 7000. Mainly my report is focusing the financial position of these garments for the last three year where the financial trend of the company has been cleared.
Objectives
The objective of my report is to make a comprehensive financial analysis of That's it sportswear ltd.
Scope
To know about the financial position of That's it garments.
To know what kind of activities is done in garments sector.
To know the performance of this garments.
Methodology
The method of the data analysis was divided into two parts. First, I gather opinions from my manager and then by personal interviewing from the That's It Sportswear Ltd. different levels personnel's and analyzed data in my suggested way. Then I have presented those data to my manager and he gave me the instruction of processing those information for making the report affordable.
The major secondary sources are-
• Financial reports
• Relevant books, Research papers, Newspapers and Journals
• Internet & various study selected reports.
Organizational overview
ABOUT THAT'S ITS SPORTSWEAR LTD.
That's it sportswear ltd. is a professionally managed company engaged in the field of manufacturing, and exporting of high quality garments in Bangladesh. We started with a zeal and determination to redefine fashion in the industry. Standing on the grounds of style and elegance, we offer garments that are abreast of the changing international trends. We assure our customers of timely delivery and quality not being compromised at any cost. Since from the day one of its founding, That's it sportswear ltd has progressively, consistently developing into one of the most competent and professionally well equipped organization in the RMG sector in Bangladesh. In a short span of time the company has amazed vast experience in the field of sourcing and manufacturing high quality apparels. The company can proudly boast of accomplishing the most challenging and demanding orders from various parts of the globe with precision and to the utmost satisfaction of its esteemed customers of great reputation and standards.
That's it sportswear limited has been setup by a group of highly educated, wellexperienced entrepreneurs to run a garment factory who have excellent track record of Industrial Management, International Marketing as well as Local Business. It is managed by highly qualified and experienced personnel. Skilled workers are deployed for its manufacturing units. The company's success is because of its maintaining the standard of quality, time schedule and of its preference on buyer's desire. That's it sportswear ltd. employs 8,200 people and has an annual turnover $50 million. Our work force consists of highly experienced Q.Cs (Quality Controllers) and the team's priority is "Quality comes first" basis, as well as engaged to pick up the best quality for our valued customers all over the world. The company has been maintaining the schedule time frame for each shipment and has been full filling customers with their every need.
The company owned its own washing plant named "Express wash ltd" at Ashulia with highly qualified technicians to meet buyers' requirements. That's it sportswear Limited has achieved worldwide reputation for quality, price and committed delivery. Its main work includes woven garment making and selling to overseas buyers in USA, UK, Europe and African countries.
Garment Unit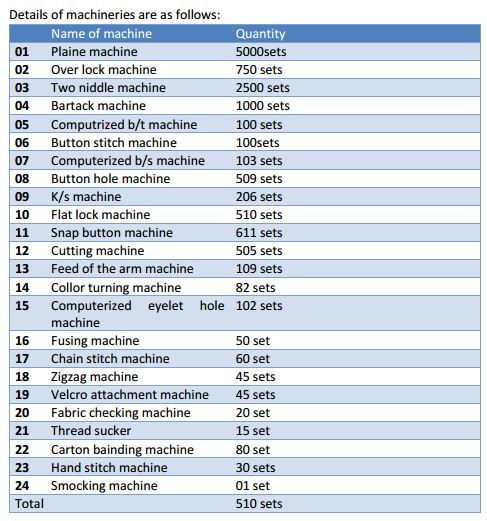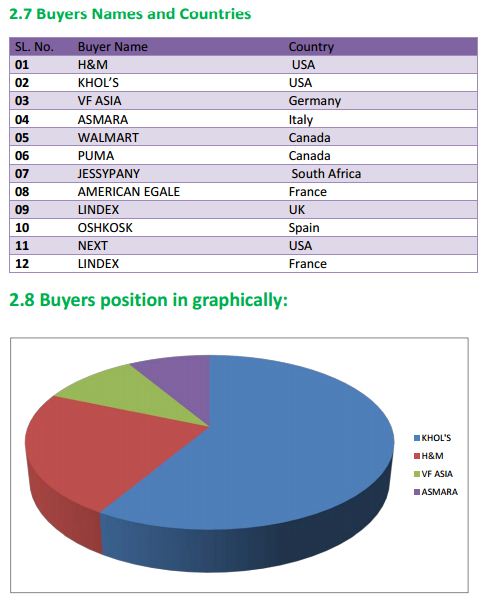 Company SOWT Analysis
The SWOT analysis having identified the company's internal strength and weakness as well as external opportunities and threats. We need to consider by previous marketing and other related analysis an overall picture has revealed of Design & Source Limited . It can develop new function business of corporate strategies to accomplish this change. A SWOT analysis is shown in the below:
Strength of the company:
Strength is the power of a company by using it a company may achieve the competitive advantage "Design & Source Limited is a well reputed company in the Garments industries of the country". It is an enormous activity in the Garments industry .Here the existing strength of the company is mentioned as below-
• No loan from any bank.
• A large amount of Assets.
• A well known reputed brand name.
• Good quality of product.
• Well environment.
• Management competence.
• Sound marketing skills.
• Good material management system.
• Availability of efficient and qualified human resources world latest.
• Appropriate organizational style.
• Appropriate control system.
• Good financial management
Weakness of the company:
Weakness is the internal and existing limitation of a company for which it is unable to be many competitive advantages. Some weaknesses of the That's it sportswear Ltd. are –
Lack of proper promotional program.
Top management always pressure on lower management.
Too much labor turnover rate.
Depends on fully foreign order.
Developing people skill assessing process requirement text time.
Integration of section output & input still need further co-ordination among the section.
Poor security in store.
Small capital
Old model computer system that is very slow to work.
No security in use of computer.
So much Salary discrimination.
Opportunity of the company:
An inventorying opportunity is an area of seller head in which a company can perform profitable. The opportunities identified for the That's it Sportswear Ltd. are as follows:
Company can expand its product line by introducing differentiation or introducing new product.
The good will and demand of these kinds of products are increasing data by day especially in the European market.
Greater possibility to product diversification with quality.
Supervisor and foreign technician live on site to provide 24-hour coverage.
Threats of the company:
Threat is an external obstacle or a barrier for which a company can't achieve its pre determined goals. The major threats of this company are as follows:
It is mainly depend on own capital. It does not get any tax advantages.
Political unrest or instability is the threat of this company. Because of hartal and political violence. Production is hampered and it cannot supply the product at the right time.
Increasing foreign company's domination.
And most important threat war to one country to others.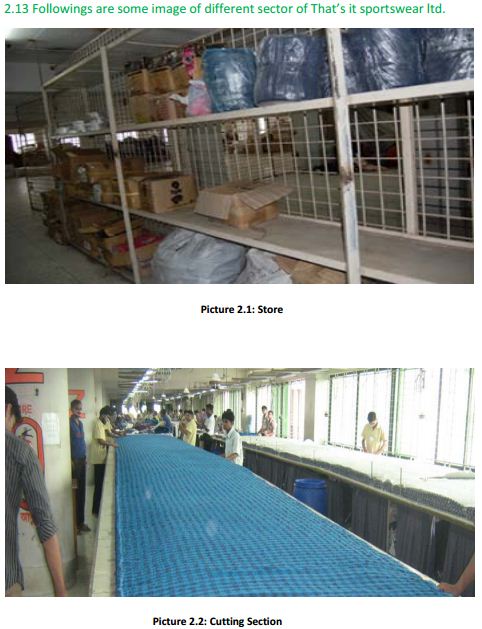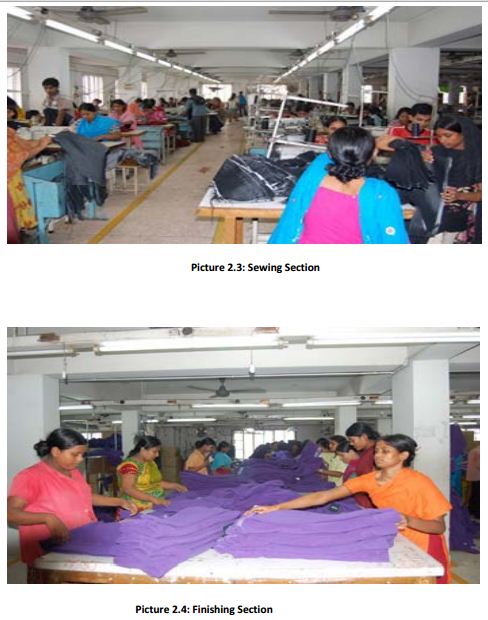 Financial Analysis
The three main financial statements are the profit and loss statement (the income statement), the balance sheet, and the cash flow statement. Each of the financial statements may show a different perspective of the company, but each financial statement is designed to show you the money: where the money came from, where the money went, and where the money is right now.
Applying financial ratios and accounting formulas to the financial statements can provide valuable insight into the company's profitability, financial strength, and efficiency of operations.
Income Statement
Below is the income statement from year 2009 to 2011 (3 Years) of THAT'S IT SPORTS WEAR LTD.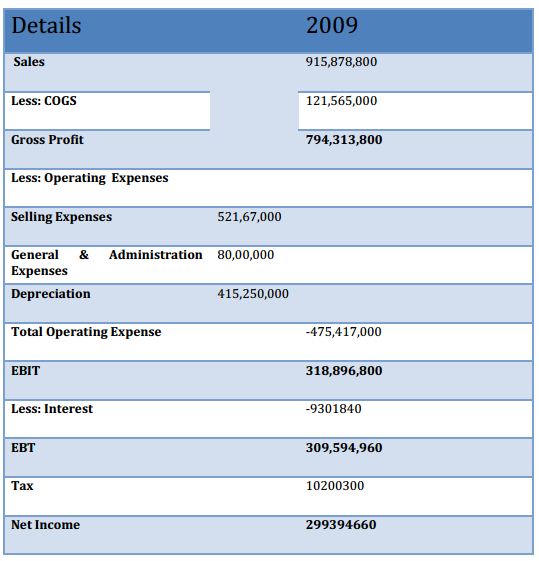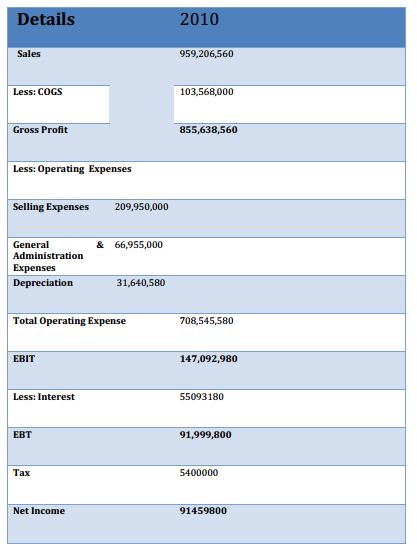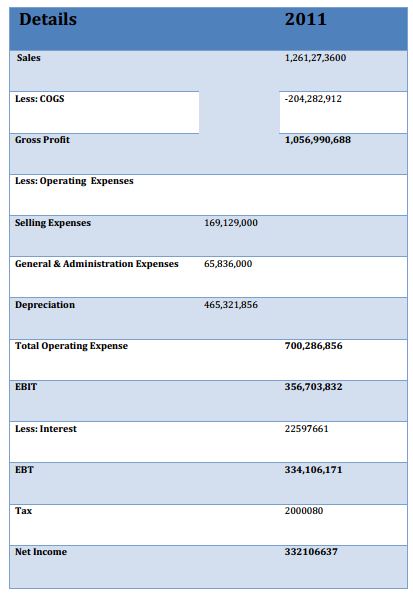 Retained Earnings Calculation
Since there is no engagement with security market so the net income is retained as the ultimate income for the business. Hence, there is no dividend paid by the company.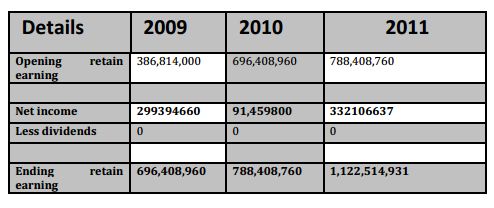 Balance Sheet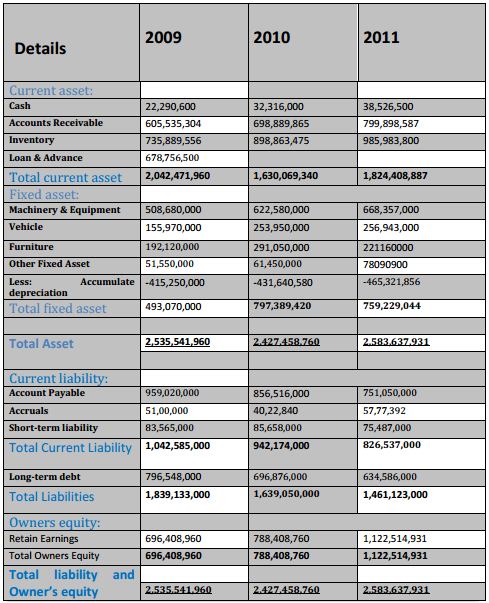 Ratio Analysis

Below are the ratio Analysis of That's it sportswear ltd:

Liquidity Ratio: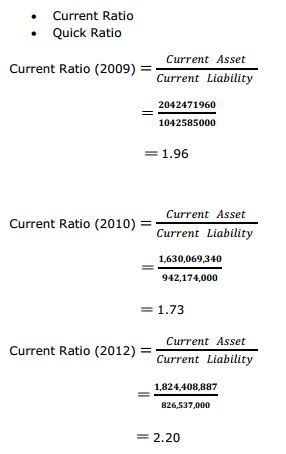 Activity Ratio:
• Inventory Turnover/ Average Age of Inventory
• Average Collection Period
• Average Payment Period
• Total Asset Turnover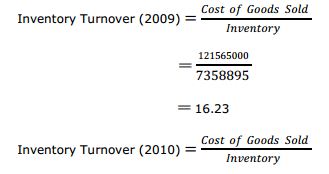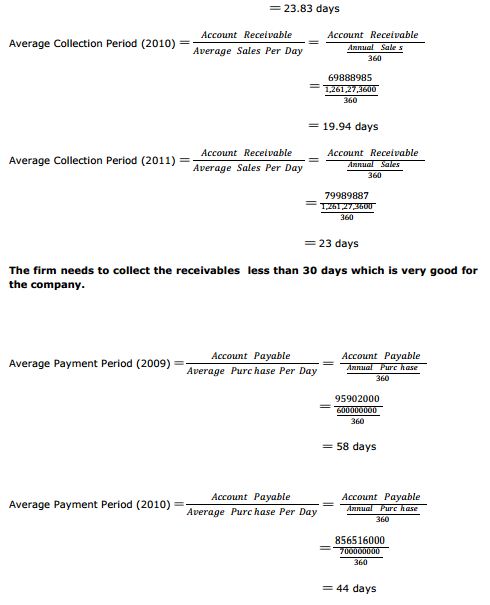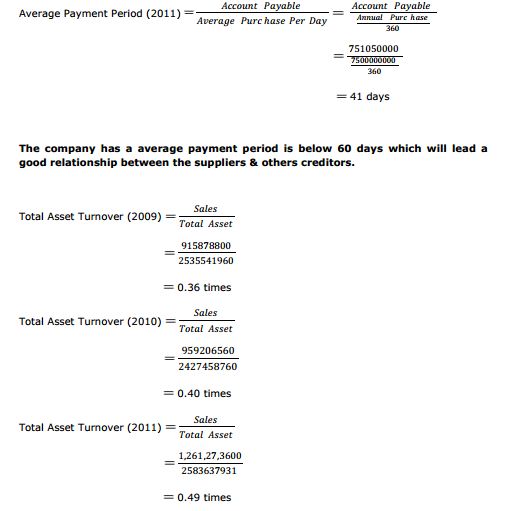 Generally the higher the firm's total asset turnover the more efficiently its assets have been used. However it seems asset turnover ratio of That's it company increased day by day.
Debt Ratio: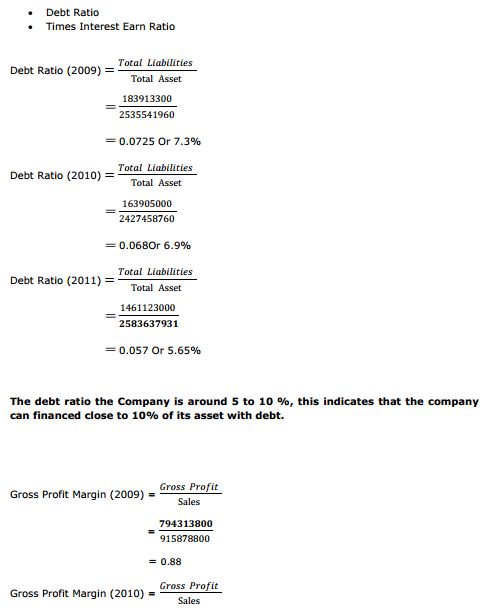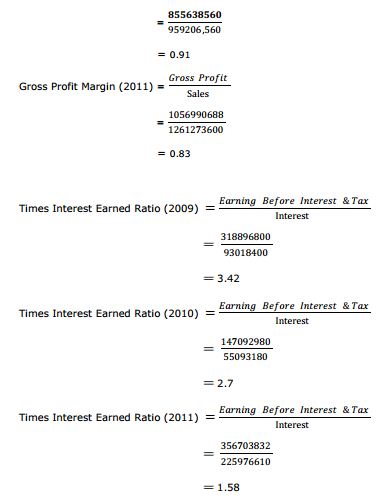 Times interest earned ratio of the Company is not acceptable. A value of 3.0 or closer to 5.0 often suggested. The firm 's earnings before interest & tax below 3.0.
Profitability Ratio: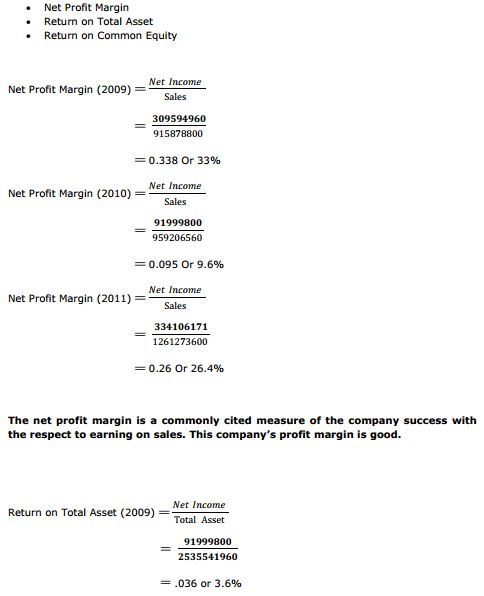 The calculated ROE of 100% indicate that this Company Earned 100% on each Taka of owners' equity.
Weighted Average Cost of Capital
In calculating WACC we will consider the weights based investment of the operation of this plant. We assumed our cost of equity will be 12%. And as said cost of debt is 15%. Moreover, our weight for debt and equity will be 40% and 60%. In total the WACC will be 13.2%.
WACC = % of equity * cost of equity + % of debt * cost of debt (40%*0.12) + (60%*0.15)
= 4.2 + 9
=13.2%
Cash Flow Statement
The table below shows the calculation of free cash flow and firm value. To find the firm value we need to discount all the free cash flows to present value at the rate of WACC of 13.2%.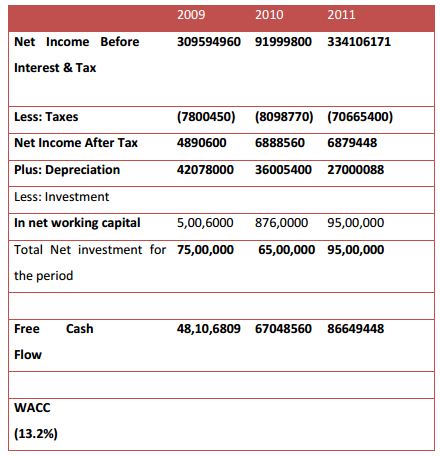 Findings and Recommendation
Findings
After completing my internship program in That's IT Sportswear Limited, I have gathered some positive and negative ideas of financial practice and position in this company, alongside the financial analysis I had a good knowledge about other sectors of this company, which are as follows:
In keeping documents, That's IT Sportswear Limited didn't follow the international standard. This company used its own standard operating procedure to maintain document for that its make me puzzle to do the financial analysis.
Another major problem is inter project fund transfer. For that actual financial position is not clear.
Times interest earned ratio of the Company is not acceptable.
Standard Inventory system is not followed.
In some sections the company is not using modern facilities and equipments.
The company is not so aggressive in making new buyer to increase its sales.
That's IT Sportswear Limited has foreign reputation in exporting garments.
The company knows how to make customer satisfaction.
It has relatively low labor turnover.33 | Page
The employees are paid an average range of wages and salaries which are market standard.
Recommendation
Garments sector plays a very important role to earn foreign exchange to our country. A large number of foreign money comes Garments sector plays a very important role to earn foreign exchange to our country. A large amount of foreign money comes from the exporting of Garments. However a large number of workers maintain their live on this sector. Specially the women. So, government should take special nursing in garments sector. That's IT sportswear ltd is one of the leading export oriented garment in the country though its overall performance is well Some extra points are given to accelerate the present position :
The authority should be positive about audit. They have to realize that audit gives them the opportunity to justify their work.
That's It sportswear Ltd. should follow international standard to making financial position and also analyzing the balance sheet through various ratios for determining efficiency, profit-earning capacity, financial solvency
etc.
Cost control system must be implemented at every stage in the organization.
They should determine yearly inventory cost like ordering cost, carrying cost acquisition cost separately.
They should determine optimum level of inventory.
They should computerize their every level of inventory. For purchasing raw materials, the company should follow acquisition procedure strictly.
Inter project fund transfer should be kept by using proper accounting standard.
Adequate training facilities provided for personnel for development .Should follow a specific inventory costing method, in the context of rising trend in raw materials price.
Sound communication should be established between managing directors to Head office auditors. Steps to be taken to provide proper data & information.
Conclusion
After we do all the analysis and strategic plan from various aspects we can believe that That's It sportswear ltd. will go and sustain competitively in the market. Because from our financial plan, income statement, ratio analysis we see that the company has good aspect in the future just it need to catch up in some points where it can improve further more. As day by day the sales quantity of the company increased it can offer better product with a competitive price to the mass also. Furthermore day by day this company is looking forward to hire some expert employee who can really turn out the company as number one in the country. We as a team give value in a good customer service, trustworthy, honesty and quick feedback and we believe that can push our company in a place where we want see after a certain period.