Common Methods of Training
Training is a process of learning through a sequence of programmed behavior. It is aimed at increasing the skills and knowledge with a view to doing a particular job. After the determination of training needs, setting, training objectives, and designing training programs, the training programs need to be implemented. The basic purpose of training is to fill the gap between the present capabilities of an employee and the requirements of a job. In this regard, we can assume numbers of training methods. The selection of best method depends upon the purpose and objective of training. The most commonly used methods of training are as follows:
On-the-job Training (OJT)
In this method, a trainee is placed on the job and then taught the necessary skills to perform his job. Thus in this method, the trainee learns by observing and handling the job under the guidance and supervision of an instructor or a supervisor.
OJT is the most commonly used method of employee training which is concerned with the philosophy, "Learning by doing". OJT method is suitable for imparting operative or technical skills to operative personnel. This places the employees in the actual work environment and trainees are provided with knowledge, skill, and abilities to perform different tasks. They get such knowledge while using actual machines and equipment. Those jobs which are either difficult to stimulate or can be learned quickly by watching and doing are trained through on-the-job training method. Following methods may be used under on-the-job training:
Apprenticeship training
Jon instruction training
Program instruction
Coaching and counseling
Internship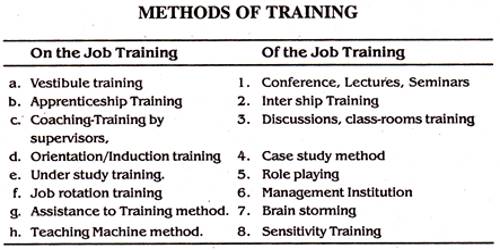 Off-the-job Training
Off-the-job training is another method of employee training which is concerned with the arrangements organized away from an organizational workstation. It takes place outside the workstation and is mostly classroom base. The trainees focus on learning experience by going under training outside the organizational workplace. The trainees are removed from the stress and demands of the workplace as the training program is organized away from the organizational workplace. It consists of a number of techniques classroom lectures, films, demonstration, case studies and other simulation exercises. It is concerned with providing both knowledge and skills in doing certain jobs. The workers are free of tension and work hurdles when they are learning so that they can learn better. Following methods may be used under off-the-job training:
Classroom lecturers
Films
Simulation exercise
Program instruction.
Information Source: