Collinsite is a mineral with formula Ca2(Mg, Fe2+)(PO4)2·2H2O. It a mineral consisting of a hydrous phosphate of calcium, magnesium, and iron, occurring in concentric layers in phosphorite nodules. It is a relatively rare and not well-known phosphate mineral. There are three varieties of the mineral: magnesian collinsite, zincian collinsite, and strontian collinsite. The crystal structure consists of polyhedral chains linked by weak hydrogen bonds. It forms in nodules and as crusts in altered granite pegmatites. Crystals tend to be prismatic and are often aggregated together into bundles.
It was discovered in British Columbia, Canada, and formally described in 1927. It was named in honor of William Henry Collins (1878–1937), director of the Geological Survey of Canada.
General Information
Category: Phosphate mineral
Formula: Ca2(Mg,Fe2+)(PO4)22H2O
Crystal system: Triclinic
Crystal class: Pinacoidal (1) (same H-M symbol)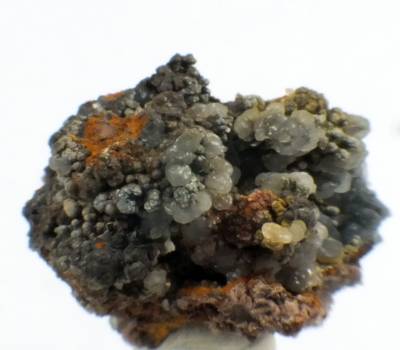 Properties
Collinsite is translucent and brown, chocolate-black, light brown, yellowish white, white, or colorless. It is colorless in thin section and light yellow-brown to colorless in transmitted light. The zincian variety of collinsite is pale blue. The mineral can occur with fibrous habit, as globular aggregates of crystals, as concentrically layered botryoidal masses, or as bladed or prismatic crystals up to 2 cm (0.79 in).
Tenacity: Brittle
Mohs scale hardness: 3 to 3.5
Luster: Subvitreous, silky if fibrous
Streak: White
Diaphaneity: Translucent
Specific gravity: 2.99
Occurrence
Collinsite has been found in Australia, Austria, Bahamas, Brazil, Canada, Germany, Namibia, Norway, Romania, Russia, South Africa, Spain, and the United States. The mineral formed as an incrustation of other minerals by weathering. It occurs in association with bitumen, bobierrite, carbonate-rich fluoroapatite, cryptomelane, dolomite, Fe–Mn oxides, kovdorskite, parahopeite, and scholzite.
Association: Carbonatian fluorapatite, bitumen (Lake Fran¸cois, Canada); parahopeite, scholzite, cryptomelane, Fe–Mn oxides (Reaphook Hill, Australia); bobierrite, kovdorskite, dolomite (Kovdor massif, Russia).
Information Source;