Bayer CropScience Flashback:
The Bayer Cropscience Ltd business was founded 147 years ago in 1863 On August, businessman Friderich Bayer and master Johann Friedrich Weskott establish a dyestuffs factory in Barmen, now of the city of Wuppertal. The company founders purchase an interest in a coal tar dye factory in the United States (1865) and begin exporting intermediates.
Than 1876 a branch factory is opened in Moscow. On July 1, 1881 the descendant of Bayer and Weskott establish the join stock company Farbenfabriken vorm. Friedr. Bayer & Co. In 1884 the chemist Carl Duisberg starts his career at Bayer.
Under his leadership, the scientists make pioneering discoveries. In 1897 Bayer scientist Dr. Felix Hoffmann succeeds in synthesizing a chemically pure and stable form of acetylsalicylic acid, the active ingredient of Aspirin® .
In 1899 Aspirin® is registered as a trademark and sets out to become the world's favorite painkiller. The company's headquarters are transferred to Leverkusen 1912.
In 1925 Farbenfabriken  vorm Fridr. Bayer & Co. merge with other companies to form I.G Farbenindustrie AG. As Germany's most important chemical Company, I.G. Farbenindustrie also becomes involved in the events of the Third Reich. After the Second World War, the Allies seized and subsequently break up the I.G Farben.
In 1939 Bayer scientist Gerhard Domagk is awarded the Nobel Prize for Medicine for the discovery of the antibacterial effects of sulfonamides (Prontosil). Bayer is re-established as Farbenfabriken Bayer AG in 1951 (changing its name to Bayer AG in 1972).
Ground is broken for the Brunsbuttel production site  in 1973 and six years latter, in 1979, for the Agricultural Center (now the corporate headquarters of Bayer CropScience) in Monheim. 1986 Bayer's entire U.S activities are consolidated under the management holding company Bayer USA Inc, Pittsburgh.
In 1994 the first production facility of Bayer Bitterfeld GmbH comes on stream. In the same year, Bayer acquires the North American self-medication business Sterling Winthrop, at the same time regaining full right to the Bayer name for all products and the Bayer Cross trademark in the United States and Canada, which had been confiscated after the First World War.
In 1999 to make the 100th birthday of Aspirin® on March 6, Professional mountaineers wrap Bayer's former high-rise headquarters building in Leverkusen, transforming it into the world's biggest Aspirin® pack and earning the company three entries in the Guinness Book of Records.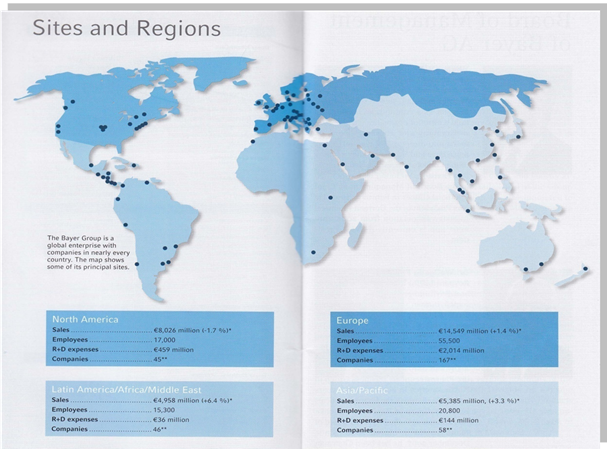 Figure: Sites & Region of BCS
In 2000 acquisition of the polyols business of Lyondell Chemical Company, United States, makers Bayer the world's biggest producer of raw materials for polyurethanes.
 In 2001 Bayer acquire Aventis CropScience for € 7.25 billion, making it a world leader in crop protection. On December6, the company's management announces plans to establish independent operating subsidiaries under the umbrella of a management holding company.
In 2002 Bayer CropScience AG is launched in October as the first legally independent Bayer subgroup. The world Health Organization (WHO) 2003 includes acetylsalicylic acid, the active ingredient in Aspirin®, in its "List of essential medicines"
In October 2003, the subgroups Bayer Chemicals AG and Bayer HealthCare AG and the service company Bayer Technology Service GmbH gain legal independence as part of the reorganization of the Bayer Group. The subgroup Bayer Material Science AG and the bservice Companies Bayer Business Services GmbH and Bayer Industry Services GmbH & Co. OHG follow in December. In 2008 November, the world's largest MDI production facility goes on strem in Shanghi.
  BCS Values:
  A will to success
  A passion for our stakeholders
  Integrity, openness & honesty
  Respect for people & nature
  Sustainability of our action
BCS in Bangladesh – A Walk down the Memory:
 BCS manufactures and markets high quality and well established international Agro-chemicals. The brand portfolio of BCS Bangladesh currently consists of Insecticides; Fungicides; Plant Hormone & Liquid Fertilizer; Bio Science Products; Herbicides.
It has eight regional office around the country; Mymensingh, Bhairab, Commilla, Jessore, Bogra, Rangpur, Rajshahi & Faridpur. The Head Quarter Abedin Tower, 2nd & 3rd floor, 35 Kemal Ataturk Avenue, Nanani C/A, Dhaka-1213 and manufacturing plant are located in Tongi Industrial Area, Gazipure.
 Crop Science Against the background of the unfavorable weather and market conditions in the first half of the year, we are lowering our sales and earnings forecast for 2010 at Crop Science. Provided market conditions return to normal in the second half of the year, we anticipate that sales in 2010 overall will be slightly lower than the prior-year level on a currency- and portfolio-adjusted basis (previously: increase of between 2% and 3%). We expect EBITDA before special items to decline significantly in 2010 (previously: level with the previous year).
Organization Structure:
BCS's total operation is managed through the following functional departments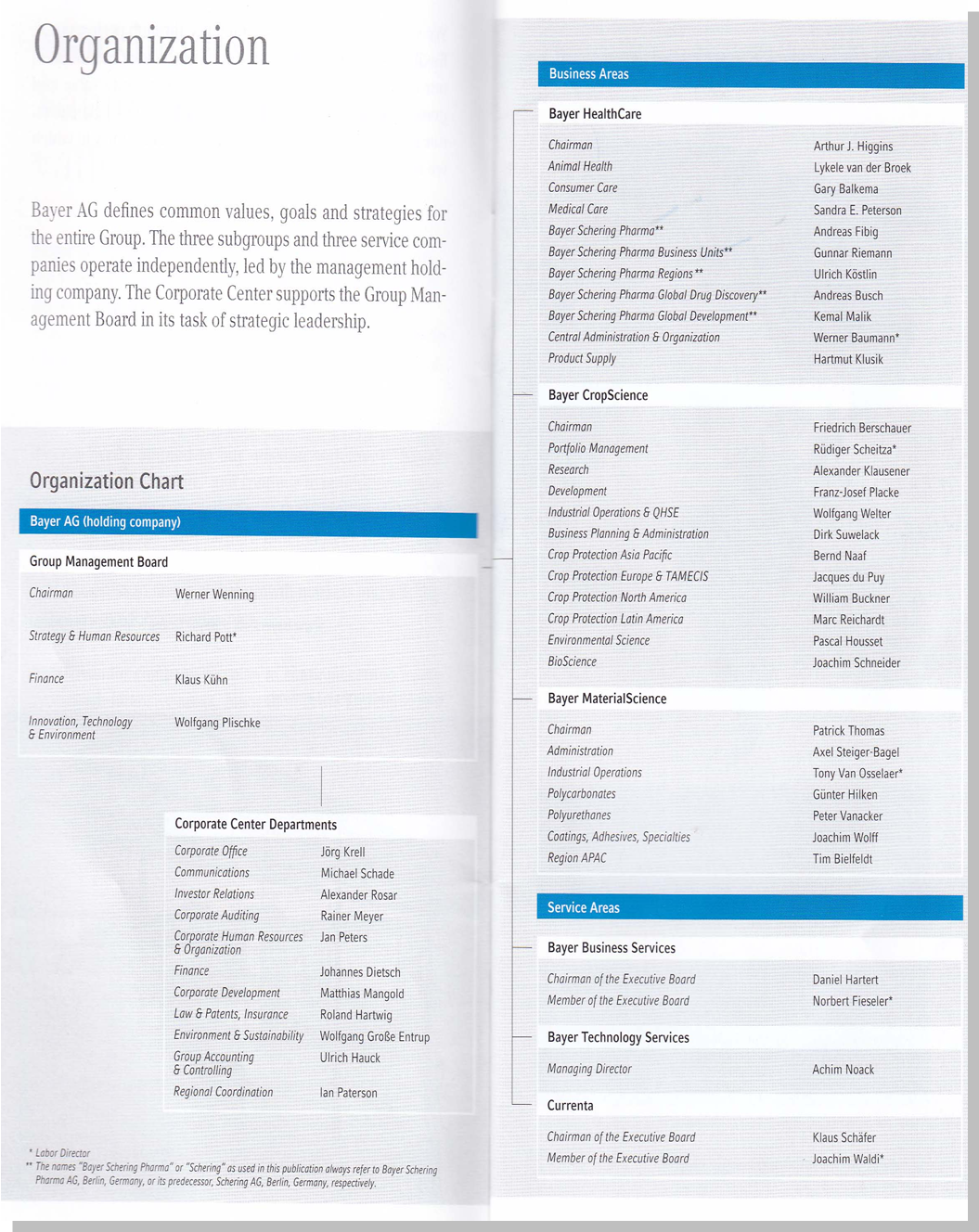 Figure 1.2:  Organization Chart of BCS Employee:
 Employee:
On June 30, 2010, the Bayer Group employed 107,800 people worldwide, compared with 108,400 twelve months earlier. The number of employees thus remained practically constant (-0.6%). In Germany we had 36,200 employees (June 30, 2009: 36,400), who made up 33.6% of the Group workforce. HealthCare employed 53,300 people (Q2 2009: 53,700).
The remaining 21,500 (Q2 2009: 21,600) employees worked mainly for the service companies. Personnel expenses rose by 2.4% in the first half of 2010 to €4,044 million (H1 2009: €3,948 million). This increase was largely attributable to regular salary increases and to negative currency effects. Sales of the Bayer Group rose by 14.6 percent in the second quarter, to EUR 9,179 million (Q2 2009: EUR 8,009 million). Adjusted for currency and portfolio effects, business grew by 9.2 percent. Earnings before interest, taxes, depreciation and amortization (EBITDA) – before special items – improved by 8.6 percent to EUR 1,917 million (Q2 2009: EUR 1,765 million). This was attributable primarily to the gratifying business trends at Material Science and Consumer Health, as well as to positive currency effects. The operating result (EBIT) before special items advanced by 14.4 percent to EUR 1,260 million (Q2 2009: EUR 1,101 million).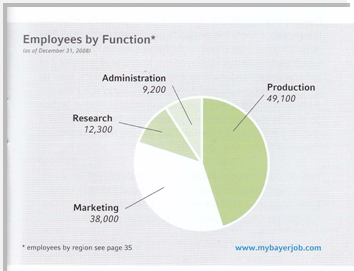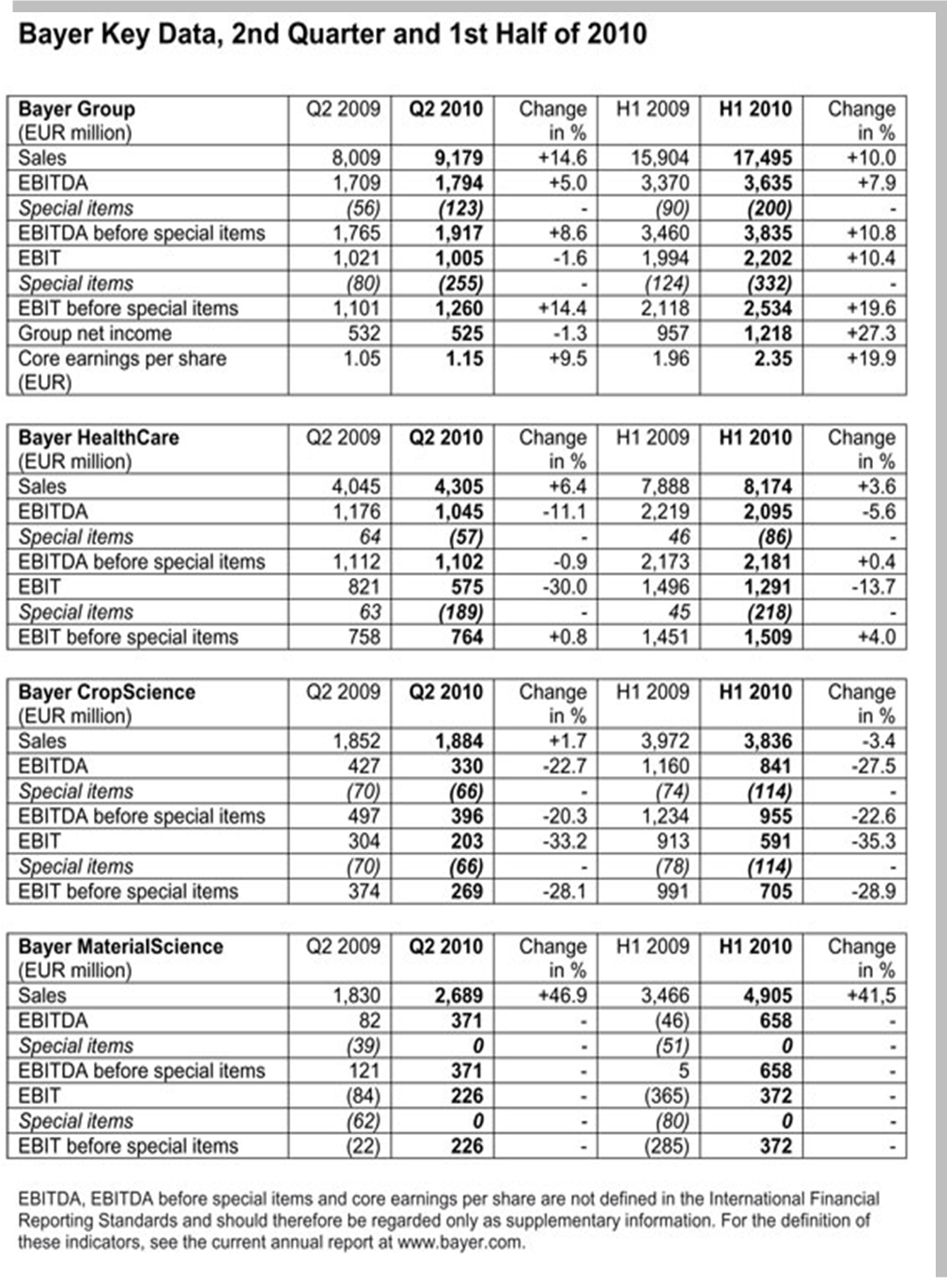 Financial Statements
Bayer Group Consolidated Income Statements
 

[Table 19]

2nd Quarter
2009
2nd Quarter
2010
1st Half
2009
1st Half
2010
€ million
€ million
€ million
€ million
Net sales
8,009
9,179
15,904
17,495
Cost of goods sold
(3,794)
(4,464)
(7,580)
(8,374)
Gross profit
4,215
4,715
8,324
9,121
Selling expenses
(2,033)
(2,258)
(3,993)
(4,224)
Research and development expenses
(663)
(747)
(1,320)
(1,464)
General administration expenses
(404)
(434)
(806)
(839)
Other operating income
412
172
546
206
Other operating expenses
(506)
(443)
(757)
(598)
Operating result [EBIT]
1,021
1,005
1,994
2,202
Equity-method loss
(13)
(12)
(26)
(32)
Non-operating income
195
160
478
315
Non-operating expenses
(474)
(409)
(1,078)
(788)
Non-operating result
(292)
(261)
(626)
(505)
Income before income taxes
729
744
1,368
1,697
Income taxes
(199)
(220)
(414)
(479)
Income after taxes
530
524
954
1,218
of which attributable to non-controlling interest
(2)
(1)
(3)
0
of which attributable to Bayer AG stockholders (net income)
532
525
957
1,218
€
€
€
€
Earnings per share
Basic*
0.67
0.63
1.22
1.47
Diluted*
0.67
0.63
1.22
1.47
* The ordinary shares that resulted from conversion of the mandatory convertible bond were treated as already issued shares following the issuance of the bond.
 The Bayer Group once again achieved gains in sales and earnings in the second quarter of 2010. "MaterialScience has left the crisis behind and saw business expand more strongly than expected. Volumes have returned to the pre-crisis level," explained Management Board Chairman Werner Wenning following the publication of the interim report for the second quarter.
 Sales at HealthCare improved slightly, while the subgroup's earnings matched the prior-year level. CropScience was down year on year. That subgroup saw volumes and selling prices decline in a market environment made difficult by the competitive situation and unfavorable weather conditions. "We can confirm the 2010 Group outlook we raised in April," Wenning said.
The Bayer Chairman announced that the company will increase its investment for the future more substantially than planned. "We now expect research and development expenses for the full year to come in at a record level of some EUR 3.1 billion.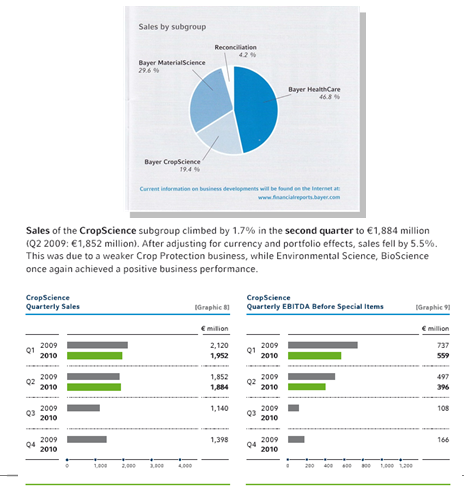 Introduction – Story Begins Here:
Bayer CropScience Ltd-Bangladesh is a company registry under the companies Act 1994. The company inter alia on the business of manufacturing/ Marketing/ Distributing Agro Chemicals and other agricultural related product/ Inputs (here in after referred to as the product). Bayer is a global enterprise with core competencies in the fields of health care, nutrition and high-tech materials.
The company's products and services are designed to benefit people and improve their quality of life. At the same time Bayer creates value through innovation, growth and high earning power.
The Group is committed to the principles of sustainable development and to its role as a socially and ethically responsible corporate citizen. Economy, ecology and social responsibility are corporate policy objectives of equal rank.
 The main Points of COFA (Code of Conduct of the Association)-
 No Conflict of interest, separation of corporate & personal interest
 Commitment to fair competition no Antitrust Violation
 Integrity in Business Dealing no corrupt practices
 Principal of sustainability no risk for human health & environment
 Protection of Human Right, healthy working environment
 Proper Records & Information transparent reporting & Communication
 Up holding commercial laws no export-import Violation
Overview
Motivation ?

Assume responsibility
UN Global Compact

Social Initiatives ?

Overview
Education and Research ?

Overview
School Support
Global Exploration Fund

Environment and Nature
Health and Social Needs ?

Overview
Family Planning
Tuberculosis
AIDS
Malaria
Chagas Disease
Sleeping Sickness
Fighting Hunger
Child Labor
Donations

Sports and Culture
Bayer Foundations
International Projects

Sustainability ?

Overview
Sustainabilty Program – Social Media Info Kit
Awards
Strategy
Management ?

Sustainability Management
Sustainable Development Policy
Bayer Human Rights Position
Position on Responsible Care
Position on Global Product Strategy

Report ?

Focus issues
Performance report

webReport ?

Overview
A wind turbine for the home
An eco-friendly concept for innovative buildings
Seeing the world through children's eyes
The way to a life
 Origin of the Report:
Now a day, education is not just limited to books and class rooms. In today's world, education is the tool to understand the real world and apply knowledge for the betterment of the society as well as business. From education the theoretical knowledge is obtained from courses of study, which is only the half way of the subject matter. Practical knowledge has no alternative. The perfect coordination between theory and practice is of paramount importance in the context of the modern business world in order to resolve the dichotomy between these two areas. Internship Program brings a student closer to the real life situation and thereby helps to launch a career with some prior experience. From the internship program, each student is attached with an organization.  The report has been prepared to fulfill the partial requirement of the Masters of Business Administration program of the Business School, American International University-Bangladesh (AIUB). For this report I worked at Bayer CropScience Ltd as an internee. During this time I was engage with studying & discussing about "The supply chain and logistic Management on Agrochemicals.
 Title of the Internship:
"The supply chain and logistic Management on Agrochemicals of an international company. A case study of BAYER CROP SCIENCE LTD"
 Objectives of the Study:
The prime objectives of this report are:
To get in–depth knowledge about the supply chain and logistic Management
To study company's current position in terms Agro-chemical  logistics
To identify areas for further improvement & come up with realistic recommendations
To fulfill the requirement of Internship Program
To gain in-depth knowledge of  import and Logistics of BCS
  Specific objective:
To submit a report for the fulfillment of my MBA program
Find out the overall Supply Chain System
To gather comprehensive knowledge on overall Multinational Organization and the expectations of the cultivator/ farmer  regarding the service level of the Agrochemical Company
This report has been prepared through extensive discussion with BCS employees.  While preparing this report, I had a great opportunity to have an in depth knowledge of all the Corporate activities practiced by the Bayer CropScience Limited.
 Scope and Delimitation of the Study:
This report is based on my involvement in the project and the information gathered through literature survey and data collection from different processes in BCS. Information also provided by Sayed Abul Khair,  Sr. Manager, Production Import & Logistics under whom I am doing my internship. However the report covers following areas:
Sustainability strategies for warehousing and transportation.
Profitable steps for a supply chain.
Sufficient records & publications as well as up to date facts & figures are not readily available. These constraints narrowed the scope of the real analysis.
For the reason of confidentiality, some useful information could not be disclosed.
Time frame for the research was rather limited.
Professional obligations further limited the scope to go for a detailed analysis.
 Methodology:
Methodology includes direct observation, face-to-face discussion with employees of different departments, study of files, circulars etc. and practical work. Methodology includes both quantitative and qualitative data. However, this report is basically qualitative in nature. In all the cases depending on the requirements data have been collected from different sources. This report is based on secondary source of information. This is a desk research where secondary information is essential for the purpose of the objective due to some limitations.  For theoretical development of this research paper the data has been collected from the various sources like different publications, library sources, internet, books, articles, etc. In fact, secondary data was collected from:
Reports and journals of BCS, published at home and abroad.
News papers.
Feed back from Sr. Manager, Production Import & Logistics.
Internet
 Source of information:
Chart 2.1: Source of Information
I collect all this information by two ways.
While working BCS as an intern I have collect information by conversion with the concern officers and staffs. So mostly I collected information by my practical experience.
I collect different report & Magazine of BCS for my report source. Rather than the rest of the information comes from the BCS website.
  Data analysis:
Data that are collected through the primary investigation or from secondary sources have been analyzed. The data have been verified from different sources such as from Periodicals published by the BCS. Based on the notes taken from the entire above sources a report was then written up gradually.
However, it is necessary discussion among the employee of BCS regarding report preparation. The necessary improvements & changes in the report then made if it is required.
Limitations:
Like any other study the limitations of this study is not out of questions. But the following factors seem to me the main points of weakness of this study:
Supply chain and logistic Management is a very recent issue and it has not yet been considered in all the process's activities.
The research focused only on a limited period of time that is three months. As a result, the strength of outcome will be controlled by the fact of narrow time era and exhaustive study was impractical.
Primary data could not be collected.
Actually it's a study based report & that's why it may not follow a traditional internship report.
Finally, to generalize the findings this paper might be necessary needed further research with respect to other countries to confirm the claims made in this.
 Basic Concept of
 Supply Chain & Logistics
What is Supply Chain
Supply chains encompass the companies and the business activities needed to design, make, deliver, and use a product or service. Businesses depend on their supply chains to provide them with what they need to survive and thrive. Every business fits into one or more supply chains and has a role to play in each of them.
The term "supply chain management" arose in the late 1980s and came into widespread use in the 1990s. Prior to that time, businesses used terms such as "logistics" and "operations management" instead. Some definitions of a supply chain are offered below:
 "A supply chain is a network of facilities and distribution options that performs the functions of procurement of materials, transformation of these materials into intermediate and finished products, and the distribution of these finished products to customers."—from Ganeshan and Harrison at Penn State University in their article An Introduction to Supply Chain Management
 "Supply chain management is the coordination of production, inventory, location, and transportation among the participants in a supply chain to achieve the best mix of responsiveness and efficiency for the market being served."
—from Michael H. Hugos, Essentials of Supply Chain Management
  "A supply chain consists of all stages involved, directly or indirectly, in fulfilling a customer request. The supply chain not only includes the manufacturer and suppliers, but also transporters, warehouses, retailers, and customers themselves."—from Chopra and Meindl in their book Supply Chain Management: Strategy, Planning, and Operations.
 The pace of change and the uncertainty about how markets will evolve has made it increasingly important for companies to be aware of the supply chains they participate in and to understand the roles that they play. Those companies that learn how to build and participate in strong supply chains will have a substantial competitive advantage in their markets.
What is Logistics
Saying that goes, "Amateurs talk strategy and professionals talk logistics." People can discuss all sorts of grand strategies and dashing maneuvers but none of that will be possible without first figuring out how to meet the day-to-day demands of providing an army with fuel, spare parts, food, shelter, and ammunition. It is the seemingly mundane activities of the quartermaster and the supply sergeants that often determine an army's success. This has many analogies in business.
Logistic is the integrated management of all the activities required to move products through the supply chain.  Logistics is defined as a business planning framework for the management of material, service, information and capital flows. It includes the increasingly complex information, communication and control systems required in today's business environment. For a typical product this supply chain extends from a raw material source through the production and distribution system to the point of consumption and the associated reverse logistics.
The logistical activities comprise freight transport, storage, inventory management, materials handling and all the related information processing.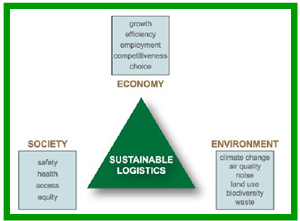 The main objective of logistics is to co-ordinate these activities in a way that meets customer requirements at minimum cost. In the past this cost has been defined in purely monetary terms. As concern for the environment rises, companies must take more account of the external costs of logistics associated mainly with climate change, air pollution, noise, vibration and accidents. This research project is examining ways of reducing these externalities and achieving a more sustainable balance between economic, environmental and social objectives.
Logistics is the management of the flow of goods, information and other resources between the point of origin and the point of consumption in order to meet the requirements of consumers (frequently, and originally, military organizations). Logistics involves the integration of information, transportation, inventory, warehousing, material handling, and packaging, and occasionally security. Logistics is a channel of the supply chain which adds the value of time and place utility. Today the complexity of production logistics can be modeled, analyzed, visualized and optimized by plant simulation software.
Relation between Supply Chain & Logistics Concept:
There is a difference between the concept of supply chain management and the traditional concept of logistics. Logistics typically refers to activities that occur within the boundaries of a single organization and supply chains refer to networks of companies that work together and coordinate their actions to deliver a product to market. Also traditional logistics focuses its attention on activities such as procurement, distribution, maintenance, and inventory management. Supply chain management acknowledges all of traditional logistics and also includes activities such as marketing, new product development, finance, and customer service.
Supply chain management views the supply chain and the organizations in it as a single entity. It brings a systems approach to understanding and managing the different activities needed to coordinate the flow of products and services to best serve the ultimate customer. This systems approach provides the framework in which to best respond to business requirements that otherwise would seem to be in conflict with each other. Taken individually, different supply chain requirements often have conflicting needs. For instance, the requirement of maintaining high levels of customer service calls for maintaining high levels of inventory, but then the requirement to operate efficiently calls for reducing inventory levels. It is only when these requirements are seen together as parts of a larger picture that ways can be found to effectively balance their different demands. Effective supply chain management requires simultaneous improvements in both customer service levels and the internal operating efficiencies of the companies in the supply chain. Customer service at its most basic level means consistently high order fill rates, high on-time delivery rates, and a very low rate of products returned by customers for whatever reason. Internal efficiency for organizations in a supply chain means that these organizations get an attractive rate of return on their investments in inventory and other assets and those they find ways to lower their operating and sales expenses.
There are five areas where companies can make decisions that will define their supply chain capabilities: Production; Inventory; Location; Transportation; and Information.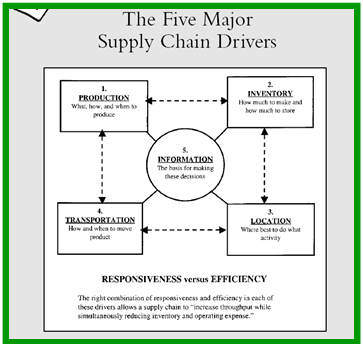 a.    Production
Production refers to the capacity of a supply chain to make and store products. The facilities of production are factories and warehouses. The fundamental decision that managers face when making production decisions is how to resolve the trade-off between responsiveness and efficiency. If factories and warehouses are built with a lot of excess capacity, they can be very flexible and respond quickly to wide swings in product demand. Facilities where all or almost all capacity is being used are not capable of responding easily to fluctuations in demand. On the other hand, capacity costs money and excess capacity is idle capacity not in use and not generating revenue. So the more excess capacity that exists, the less efficient the operation becomes.
 b.    Inventory
 Inventory is spread throughout the supply chain and includes everything from raw material to work in process to finished goods that are held by the manufacturers, distributors, and retailers in a supply chain. Again, managers must decide where they want to position themselves in the trade-off between responsiveness and efficiency. Holding large amounts of inventory allows a company or an entire supply chain to be very responsive to fluctuations in customer demand. However, the creation and storage of inventory is a cost and to achieve high levels of efficiency, the cost of inventory should be kept as low as possible.
c.  Location
 Location refers to the geographical sitting of supply chain facilities. It also includes the decisions related to which activities should be performed in each facility. The responsiveness versus efficiency trade-off here is the decision whether to centralize activities in fewer locations to gain economies of scale and efficiency, or to decentralize activities in many locations close to customers and suppliers in order for operations to be more responsive.
When making location decisions, managers need to consider a range of factors that relate to a given location including the cost of facilities, the cost of labor, skills available in the workforce, infrastructure conditions, taxes and tariffs, and proximity to suppliers and customers.
Location decisions tend to be very strategic decisions because they commit large amounts of money to long-term plans.
Location decisions have strong impacts on the cost and performance characteristics of a supply chain. Once the size, number, and location of facilities are determined, that also defines the number of possible paths through which products can flow on the way to the final customer.
Location decisions reflect a company's basic strategy for building and delivering its products to market.
d.    Transportation
 This refers to the movement of everything from raw material to finished goods between different facilities in a supply chain. In transportation the trade-off between responsiveness and efficiency is manifested in the choice of transport mode. Fast modes of transport such as airplanes are very responsive but also more costly. Slower modes such as ship and rail are very cost efficient but not as responsive. Since transportation costs can be as much as a third of the operating cost of a supply chain, decisions made here are very important.
 e.     Information
 Information is the basis upon which to make decisions regarding the other four supply chain drivers. It is the connection between all of the activities and operations in a supply chain. To the extent that this connection is a strong one, (i.e., the data is accurate, timely, and complete), the companies in a supply chain will each be able to make good decisions for their own operations. This will also tend to maximize the profitability of the supply chain as a whole. That is the way that stock markets or other free markets work and supply chains has many of the same dynamics as markets.
Supply Chains Structure Evaluation:
 The participants in a supply chain are continuously making decisions that affect how they manage the five supply chain drivers. Each organization tries to maximize its performance in dealing with these drivers through a combination of outsourcing, partnering, and in-house expertise.
 In the fast-moving markets of our present economy a company usually will focus on what it considers to be its core competencies in supply chain management and outsource the rest.
This was not always the case though. In the slower moving mass markets of the industrial age it was common for successful companies to attempt to own much of their supply chain. That was known as vertical integration.
 Globalization, highly competitive markets, and the rapid pace of technological change are now driving the development of supply chains where multiple companies work together, each company focusing on the activities that it does best. Mining companies focus on mining, timber company's focus on logging and making lumber and manufacturing companies focus on different types of manufacturing from making component parts to doing final assembly.
Instead of vertical integration, companies now practice "virtual integration."
 Companies find other companies who they can work with to perform the activities called for in their supply chains. How a company defines its core competencies and how it positions itself in the supply a chain it serves is one of the most important decisions it can make.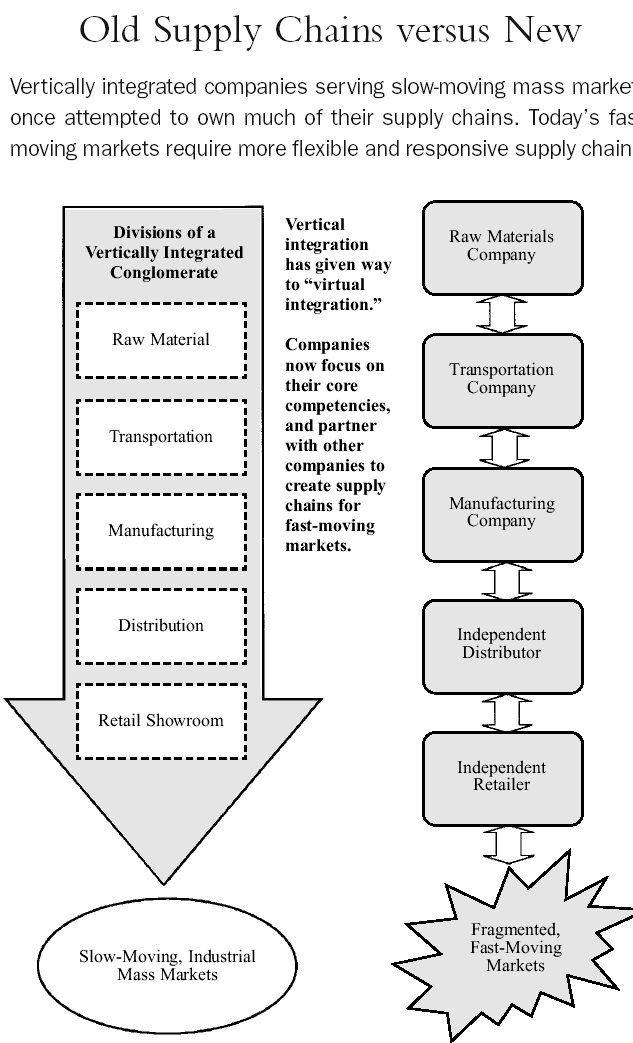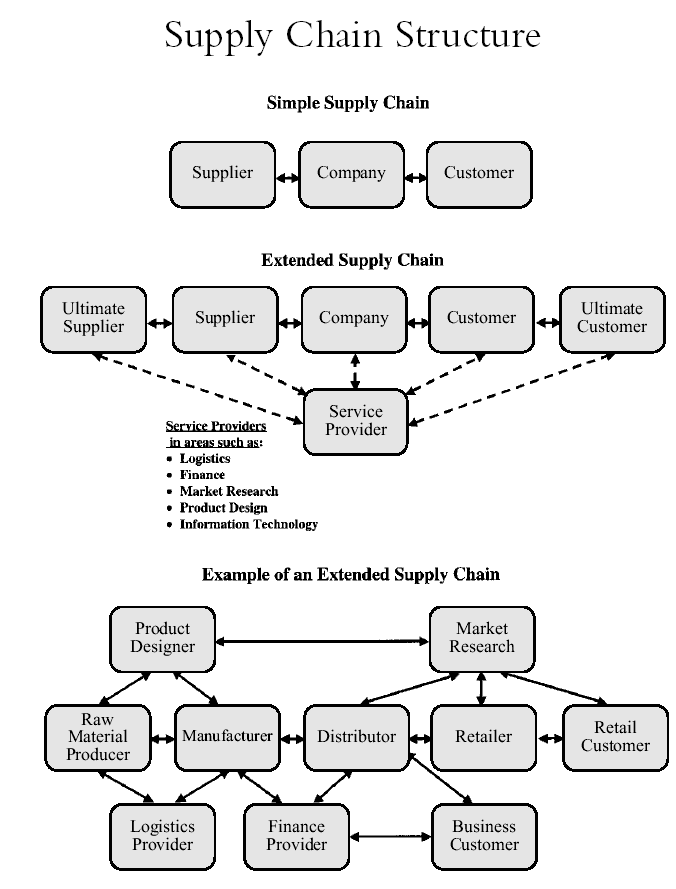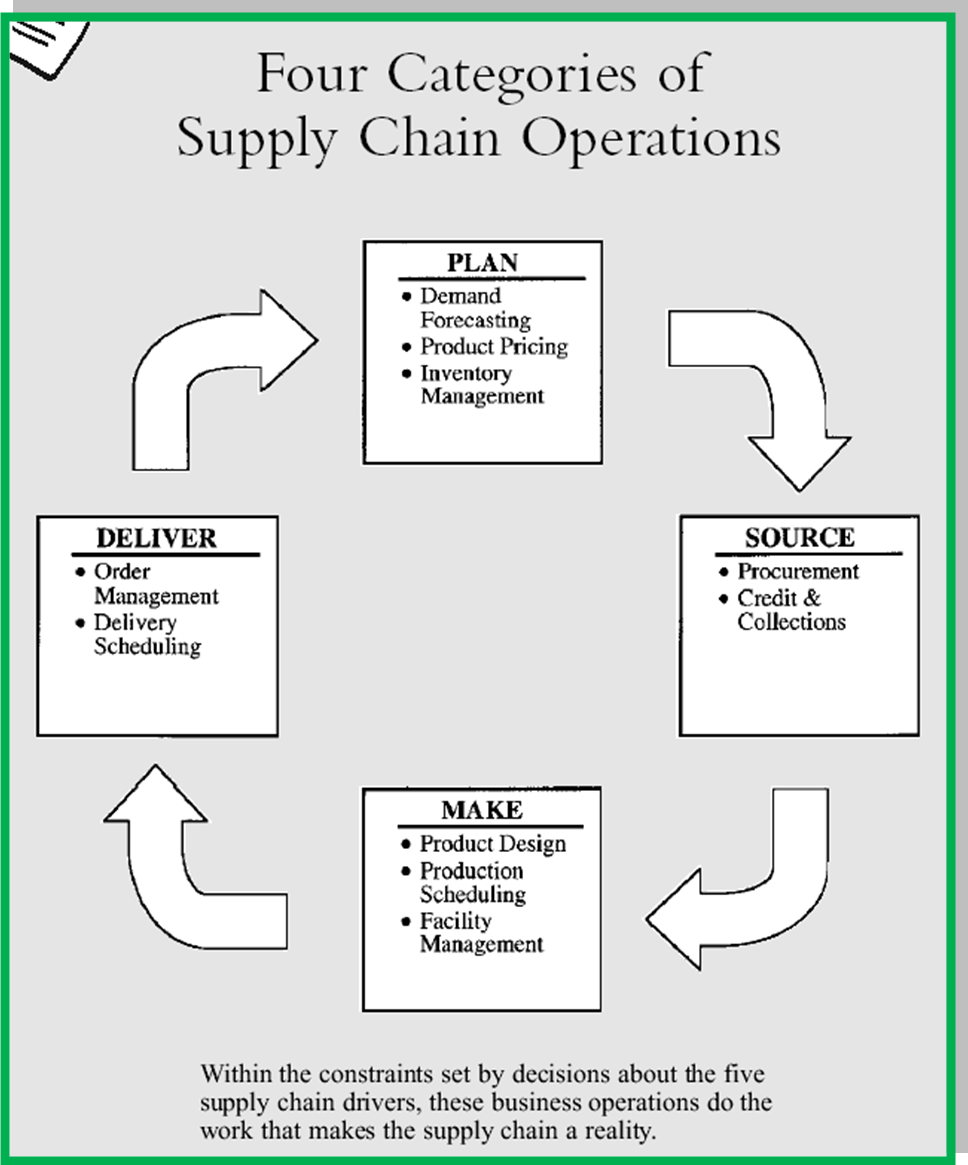 Supply Chain Coordination
   & Technology Uses Of Bayer
Data & Net-Work:
The spread of high speed data communications networks and computer technology has made it possible to manage the supply chain. Information is a key supply chain driver because it serves as the glue that allows the other supply chain drivers to work together with the goal of creating an integrated co-ordinate supply chain. Information is crucial to supply chain performance because it provides the foundation on which supply chain process execute transaction and managers make decision. The main purpose of use information Technology is-
For Accurate information
For in a timely manner
Information for right kind
Information is used when making a wide variety of decision about each of the supply chain.
Facility, Inventory, Transportation & Sourcing is the key stages.
Facility- Determining the location, capacity and schedule of facility requires information on the trade offs among efficiency and flexibility, demand, exchange rates, taxes and so on. BCS use SAP software for demand. Side by side the information provided by the territory to set their import decision.
Inventory- Setting optimal inventory policies required information that include the demand patterns, cost of carrying inventory, cost of stocking out and cost of ordering. For example BCS collect detailed demand cost, margin and suppliers information to make these inventory policy decisions.
Transportation- Deciding on transportation network, routings, models shipments and vendors requires information including cost, customer location and shipment size to make good decisions. BCS uses information to tightly its operations with distributors. This integration allows BCS to implement cross-docking in its transportation network saving on both inventory and transportation cost.
Sourcing Information on product margin, price, quality, delivery lead time and so on are all important in making sourcing decision. It must be recorded in order to execute operations even once sourcing decision has been made. 
Coordination in the Supply Chain:
 These factors interact with each other in different combinations in different supply chains but the net effect is that they generate the wild demand swings that make it so hard to run an efficient supply chain. These factors must be understood and addressed in order to coordinate the actions of any supply chain. They are:
a)      Demand forecasting
b)      Order batching
c)      Product rationing
d)     Product pricing
e)      Performance incentives
 a.   Demand forecasting
Demand forecasting based on orders received instead of end user demand data will inherently become more and more inaccurate as it moves up the supply chain. Companies that are removed from contact with the end user can lose touch with actual market demand if they view their role as simply filling the orders placed with them by their immediate customers.
Demand data more & more inaccurate up the Supply Chain (S/C)
Companies up the S/C further distorts the demand picture and pass on the order accordingly
Sharing point-of-sales (POS) data among all the companies to tame bullwhip
 b.    Order batching
 Order batching occurs because companies place orders periodically for amounts of product that will minimize their order processing and transportation costs.
Companies tend to order in lot sizes determined by the EOQ
Due to batching, variance is magnified as it moves up the S/C
Ordering costs can be reduced by using electronic ordering technology
Transportation costs by using third party logistics suppliers
 c.     Product rationing
One common rationing approach is for a manufacturer to allocate the available supply of product based on the number of orders received. Thus if the available supply equals 70 percent of the orders received, the manufacturer will fill 70 percent of the amount of each order and back order the rest. This leads distributors and retailers in the supply chain to raise their order quantities artificially in order to increase the amount of product that gets rationed to them.
A manufacturer allocates available supply of product based on the number of orders received
Artificial order quantity leads to "Shortage Gaming"
Use of historical data and customer awareness will lessen panic buying
 d.    Product pricing
 Product pricing causes product prices to fluctuate, resulting in distortions of product demand. If special sales are offered and product prices are lowered, it will induce customers to buy more products or to buy product sooner than they otherwise would.
Product pricing causes product prices to fluctuate, resulting in distortions of product demand.
Instead of smooth flow of products through S/C, price fluctuations can create waves of demand
Answers generally revolve around the concept of "everyday low prices.", customer perception
 Performance incentives:
These are often different for different companies and individuals in a supply chain. Each company can see its job as managing its position in isolation from the rest of the supply chain. Within companies, individuals can also see their job in isolation from the rest of the company.
Companies to structure incentives that reward on sales made each month or each quarter
Driven by sales quota, not real demand
Solution is activity based costing highlighting associated costs, S/C operations efficiency
Information Systems that Support the Supply Chain:
Information technology can support internal operations and also collaboration between companies in a supply chain. Using high speed data networks and databases, companies can share data to better manage the supply chain as a whole and their own individual positions within the supply chain. The effective use of this technology is a key aspect of a company's success.
The Internet: The Internet is the global data communications network that uses what is known as Internet Protocol (IP) standards to move data from one point to another. The Internet is the universal communications network that can connect with all computers and communication devices. Once a device is hooked into the Internet it can communicate with any other device that is also connected to the Internet regardless of the different internal data formats that they may use.
Broadband: Basically, this means any communications technology that offers high speed (faster than a 56Kb dial-up modem) access to the Internet with a connection that is always on.
EDI: Electronic Data Interchange (EDI) is a technology that was developed to transmit common types of data between companies that do business with each other.
XML:  XML (e- Xtensible Markup Language) is a technology that is being developed to transmit data in flexible formats between computers and between computers and humans.
Data Manipulation and Reporting:
Different supply chain systems are created by combining processing logic to manipulate and display data with the technology required to capture, communicate, store, and retrieve data. The way that a system manipulates and displays the data that flows through it is determined by the specific business operations that the system is designed to support. Information systems contain the processing logic needed by the business operations they support.
Several kinds of systems that support supply chain operations:
Enterprise Resource Planning (ERP)
Procurement Systems
 Advanced Planning and Scheduling
Transportation Planning Systems
 Demand Planning
Customer Relation Management (CRM) and Sales Force
Automation (SFA)
Supply Chain Management (SCM)
Inventory Management Systems
Manufacturing Execution Systems (MES)
Transportation Scheduling Systems
Warehouse Management Systems (WMS)
      Import
      Operation's of BCS
Import trade of Bangladesh is controlled under the Import & Export control Act (IEC) 1950. BCS will import the goods into Bangladesh following import poling, public notice, F.E circular, UCPDC & other instruction from competent authorities from time to time.
 Definition of Import:
          In carrying of any thing from one country to author for sale is called import. Import means brining merchandise to the country from any place rest of the world, two things mainly involves with import of merchandise.
Carrying of commodities physically into the country.
Making payments towards the lost to the merchandise and services connected with its dispatch to the importer.
In case of Import, the importers are asked by their exporters to open a letter of credit. So that their payment against goods is ensured
 Types of Importer:
Importers are those who are authorized by the import trade control authority i.e. CCI & E for import of goods essential for consumption or for production purposes.
There are mainly three types of importers.
i)                    Commercial Importers
ii)                  Industrial Importers
iii)                Importers under wage earner scheme.
BCS import product for the Commercial & Industrial basis. They commercially import products than do few industrial work then spread them BCS channels for marketing.
 BCS strictly follows the flowing Import Responsibilities:
1)      Firm Order Raised
2)      Proforma Invoice
3)      Insurance Cover Note
4)      Complete Procedure of LC Open
5)      Collect PSI ID
6)      LC & PSI-ID Number to Send the Supplier
7)      Correspondence with the Suppliers
8)      Correspondent with Bank & local PSI
9)      Correspondence with C & F Agent
10)  Collect Shipping Document From Bank
11)  Marine Insurance Policy
12)  CRF Report Collect From Bank
13)   Obtain Estimated Custom Duty from C & F
14)  Custom Duty Procedure & Send to C & F and Bank
15)  Procedure of Goods Release
16)  Documents Required for Fertilizer Release
17)  Orginal Documents/ LC sent to C & F Agents
18)  Bill of Entry sent to Bank Monthly Basis
19)  Address of all Concern Person: Local/Overseas
20)  NOC from Bank (If any require)
21)  NOC from PSI (If any require)
22)  Time to Time mail Correspondence Local and Overseas Respective Area
 Import Procedure:
An importer is required to have the following formalities to import the goods-
An account with a Bank
Import Registration Certificate (IRC)
Tax Paying Identification (TIN) Number Certificate
Proforma Invoice/ Indent
Membership Certificate
LCA (Letter of Credit Application) form duly attested
One set of IMP Form (four copies)
Insurance Cover note with money receipt
Others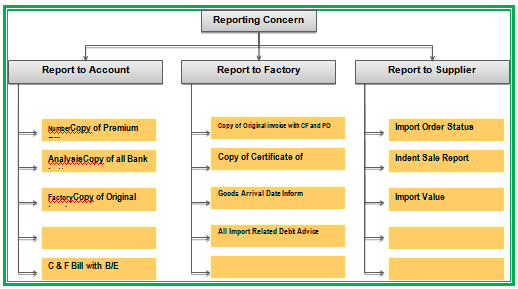 Chart 5.1: Reporting Concern
 Letter Of Credit (L/C):
Letter of Credit (L/C) is a payment guarantee to the seller by the buyer's bank. It is in fact, a Credit Contract/undertaking whereby the buyer's bank is committed (on behalf of the buyer) to place an agreed amount of money at the seller's disposal under some agreed conditions. If the conditions of the credit do not require for presentation of specified
documents, it is called Clean Credit. On the contrary, if the presentation of specified documents is obligatory, the credit is called a Documentary Credit.
            In an international business environment, buyers and sellers are generally unknown to each other. So seller of goods always seeks security for the payment of his exported goods. Bank gives export guarantee that it will pay for the goods on behalf of the buyer if the buyer does not pay. This guarantee is called Letter of Credit. Thus the contract between importer and exporter is given a legal shape by the banker by 'Letter of Credit'.
Buyers and sellers enter into contracts for buying and selling goods/ services and the buyer instructs his bank to issue L/C in favors of the seller. Here bank assumes fiduciary function between the buyer and seller.
To import, a person should be competent to be an 'Importer'. According to Import and Export Control Act, 1950 the Office of Chief Controller of Import and Export provides the registration (IRC) to the importer. After obtaining this, the person has to secure a letter of credit authorization (LCA) from Bangladesh Bank. And then a person becomes a qualified importer. He is the person who requests or instructs the opening bank to open an L/C. He is also called opener or applicant of the credit.
 Parties to Letter of Credit:
As per UCPDC – 500 terms and conditions of the L/C the seller is required to be routed through some intermediary banks in order to get his claim. So, we see that the following parties are involved to a letter of credit, namely –
Obligatory Parties are:
Importer/ Buyer/Purchaser/ Applicant
Opening Bank/ Issuing bank
Advising Bank/ Notifying Bank
Exporter/ Seller/Supplier/Shipper/ Beneficiary
Optional Parties (In case of need) are:
Negotiating Bank (Exporter's Bank L/C negotiating Bank)
Confirming Bank (for add confirming L/C)
Paying/ Reimbursing bank
A. Applicant
The person or body (customer of the bank) who requests the bank (opening bank) to issue letter of credit
B. Opening Bank / Issuing Bank
The bank that opens/issues letter of credit on behalf of the applicant/importer
C. Advising Bank/ Notifying Bank
The bank through which the L/C IS advised to the beneficiary (exporter)
D. Exporter/ Seller/ Beneficiary
Beneficiary of the L/C is the party in whose favor the letter of credit is issued. Usually they are the seller or exporter.
 E. Confirming Bank
The bank, which under instruction in the letter of credit adds their irrevocable undertaking to that of the issuing bank
 It is done at the request of the issuing bank having arrangement with them. The confirmation constitutes a definite undertaking on the part of confirming bank in addition to that of issuing bank.
 F. Negotiating Bank
The bank that negotiates document and pays the amount to the beneficiary when presented complying credit terms
If the negotiation of the documents is not restricted to a particular bank in the L/C, normally negotiating bank is the banker of the beneficiary.
 G. Reimbursing / Paying Bank
The bank nominated in the credit by the issuing bank to make payment against stipulated documents, complying with the credit terms. Normally issuing bank maintains account with the reimbursing bank.
 Mechanism of L/C:
The following diagram brings out clearly the operation of L/C: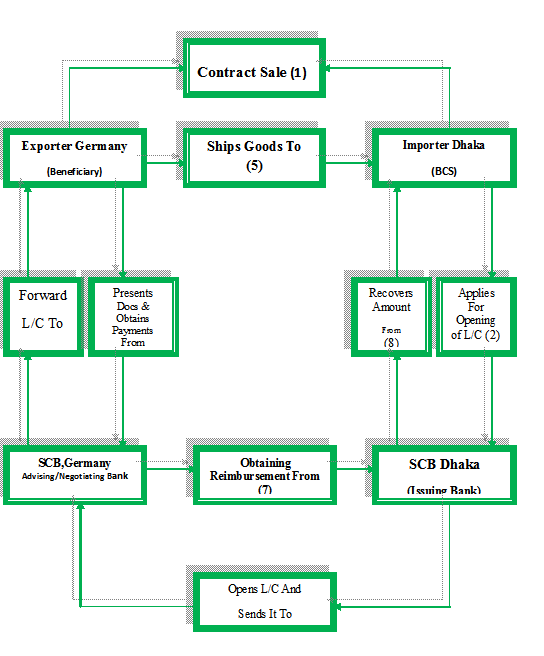 Diagram 5.2: The L/C Mechanism
  Steps for import L/C Operation – 8 steps operation    
 Step 1 – Registration with CCI&E
  For engaging in international, trade, every trader must be first registered with the Chief Controller of Import and Export,
  By paying specified registration fees to the CCI&E. the trader will get [RC/ERC (Import/Export Registration Certificate), to open L/C with bank, this IRC is must.
Step 2 – Determination terms of credit
The terms of the letter of credit are depending upon the contract between the Importer and exporter. The terms of the credit specify the amount of credit, name and address of the beneficiary and opener, tenor of the bill of exchange, period and mode of shipment and of destination, nature of credit, expiry date, name and number of sets of shipping documents etc.
Step 3 – Proposal for Opening of L/C
To have an import LC limit an importer submits an application to department to UCBL. The proposal contains the following particulars:
  Full particulars of the bank account
  Nature of business
  Required amount of limit
  Payment terms and conditions
  Goods to be imported
  Offered security
  Repayment schedule
Step 4 – Application by importer to the banker to open letter of credit
For opening L/C, the importer is required to fill up a prescribed application form provided by the banker along with the following documents:
| | |
| --- | --- |
| 1. L/C Application form | 7. Authority to debit account |
| 2. Filled up LCA form | 8. Filled up amendment request Form |
| 3. Demand Promissory Note | 9. IMP form |
| 4. pro-forma invoice | 10. Insurance cover note and money              receipt. |
| 5. Tax Identification number (TIN) | 11. Membership certificate |
| 6.Import registration certificate | 12. Rate fluctuation undertaking |
Step 5 – Opening of L/C by the bank for the opener:
  Taking filled up application form from the importer.
  Collects credit report of exporter from exporter's country through his foreign correspondence there.
  Opening bank then issues credit by air mail/TEL EX/SWIFT followed by L/C advice as asked by the opener through his foreign correspondent or branch as the case may be, at the place of beneficiary. The advising bank advises the L/C to the beneficiary on his own form where it is addressed to him or merely hand over the original L/C to the beneficiary if it is so addressed.
 step 6 – Shipment of goods and lodgment of documents by exporter:
Then exporter ships the goods to the destination of the importer country. Sends die documents to the L/C opening bank through his negotiating bank. Generally the following documents are sent to the Opening Banker with L/C:
| | |
| --- | --- |
| 1. Bill of Exchange | 6. Packing List |
| 2. Bill of Lading | 7. Advice Details of Shipment |
| 3. Commercial Invoice | 8. Pre-shipment Inspection Certificate |
| 4. Certification of Origin | 9. Vessel Particular |
| 5. A certificate stating that each packet contains the description of goods over the packet. | 10.Shipment Certificate |
 Step 7 – Lodgment of Documents by the opening Bank from the negotiating bank
 After receiving the documents, the opening banker scrutinizes the documents. If any discrepancy found, it informs the importer, if importer accepts the fault, then opening bankers call importer retiring the document. At this time many thing can happen. These are indicated in the following:
  Discrepancy found but the importer accepts – no problem occurs in lodgment.
  Discrepancy found and importer not agreed to accept – In this case, importer protest and send back all the documents to the exporter and request his to make in the specified manner. Here banker is not bound to pay because the documents send by exporter is not in accordance with the terms of L/C.
Documents are OK but importer is willing to retire the documents – In this case bank is obligated to pay the price of exported goods. Since importer did not pay for bill of exchange, this payment by bank is one kind of credit to the importer and this credit in banking is known as PAD.
Everything is O.K. but importer fails to clear goods from the port and request bank         to clear – In this case banks clear the goods and takes delivery of the same by paying customs duty and sales tax etc. So, this expenditure is debited to the importer's account and in banking it is called LIM.
Step 8 – Retirement
The importer receives the intimation and gives necessary instruction to the bank for retirement of the import bills or for the disposal of the shipping document to clear the imported goods from the customs authority. The importer may instruct the bank to retire the documents by debiting his account with the bank or may ask for LTR (Loan against Trust Receipt) .When the officer thinks fit the application to open a L/C, giving the following entries creates the following charge
Accounting Procedure in case of L/C Opening:                          
| | | |
| --- | --- | --- |
| Particulars  | Debit/ Credit  | Charges in Taka  |
| Customer's A/C | Debit | |
| L/C Margin A/C | Credit | |
| Commission A/C on L/C | Credit | .05% |
| VAT | Credit | 15% on commission |
| SWIFT Charge | Credit | 3000/- |
| Stamp | Credit | I50/= |
| Postage | Credit | 300/- |
| DHL/Courier | Credit | 1500 |
 Importer's Application for L/C Limit:
To have an import L/C limit, an importer submits an application to the Bank Foreign Exchange wing furnishing the followings-
Full particulars of bank account
Nature of business
Required amount of limit
Payment terms and conditions
Goods to be imported
Offered security
Repayment schedule
A credit Officer of SCB scrutinizes this application and accordingly prepares a proposal (CLP) and forwards it to the 'Head Office Credit Committee (HOCC)'. The Committee, if satisfied, sanctions the limit and returns back to the branch. Thus the importer is entitled for the limit.
 L/C Application:
Every branch of SCB Bank provides a printed form for opening a L/C to the importer. A special adhesive stamp is affixed on the form.  While opening, the stamp is cancelled. Usually the importer expresses his desire to open a L/C quoting the amount of margin in percentage. The importer gives the following details-
Full name and address of the applicant.
Date and place of expiry of the credit
Applicant's A/C number
Amount (both in figure and word)
The mode of transmission of document (SWIFT/ Courier/ Telex)
Confirmation of credit to the beneficiary (requested or not requested)
Partial shipment is allowed or not
The type of loading (loading on board)
Brief description of the goods to be imported with HS code no.
Credit available with by sight payment/ by acceptance/ by negotiation/ by deferred payment at against the documents detailed herein/ and beneficiaries draft at on.
The time bar within which the document should be presented.
Sales terms (FOB/ C &F/ CIF)
Shipping Mark
IRC Number and LCA Number
Insurance cover note with money receipt
Country of origin
The above information is provided along with the following documents-
Proforma Invoice/ Indent stating the description of the goods including quantity, unit price, etc.
Insurance cover notes with money receipt, name and address of issuing company and the policy number.
Four set of IMP (Import) Form
Scrutinization of L/C Application:
 The Standard Chartered Bank Official scrutinizes the application in the following manner-
The terms and conditions of the L/C must be complied with UCPDC 500 and Exchange Control & Import Trade Regulation;
Eligibility of the goods to import;
The L/C must not be opened in favor of the importer or his agent;
L/C must be signed by the importer agreeing all terms and conditions mentioned in the application;
IMP form duly filled in and signed;
Validity of IRC;
HS code of the goods;
Insurance cover note with date of shipment;
Radioactivity report in case of food items;
Survey reports or certificate in case of old machinery (ies).;
Carrying vessel is not from Israel;
Certificate declaring that the item is in operation not more than 5 years in case of year.
 Accounting Procedure In Case Of L/C Opening:
When the officer thinks fit the application to open a L/C, giving the following entries- creates the following charges-
Table-5.1: Showing Accounting Treatment at the Time of L/C Opening
| | | |
| --- | --- | --- |
| Particulars | Debit/ Credit | Charges in Taka |
| Customer's A/C Or Parties A/C | Debit | |
| L/C Margin A/C | Credit | Commonly 10%-30% |
| Commission A/C on L/C | Credit | 0.5% |
| VAT | Credit | 15% on commission |
| SWIFT Charge | Credit | Tk. 2,500/= |
| Foreign Courier Charge (FCC) | Credit | US$ 25/= |
| Stamp | Credit | Tk. 320/= |
| Others | Credit | Tk. 300/= |
   Source: Standard Chartered Bank
 After that, L/C number and the above entries are given in the L/C Register. L/C opening register has the following details-
Date, L/C No., Name of the customer, Foreign currency amount, Exchange rate, Taka equivalent and source of import;
Goods, Country of origin, Advising bank, Expiry date, Tenor and Margin;
Charges: commission, postage, SWIFT, FCC and total;
Initial with date and remarks.
The contra entries stating the liability of the bank and the client are as follows-
                         Client's Liability               Dr.
                         Banker's Liability             Cr.
Or,
Liability Voucher should be created as follows:
                        Dr. Assets as per contra (L/c cash) @ B.C. Selling
                        Cr. Liability as per contra (L/C cash) @ B.C. Selling
Then the transmission of L/C is done through SWIFT to advise the L/C to the beneficiary.
 Amendment of L/C:
Involved parties in a L/C, particularly the seller and the buyer cannot always satisfy the terms and conditions in full as expected due to some obvious and genuine reason. In such a situation, the credit should be amended.
SC Bank transmits the amendment by SWIFT/ Telex to the advising bank. In case of irrevocable letter of credit, it can not be revoked, amended or cancelled without the agreement of the issuing bank, the confirming bank (if any) and the beneficiary.
 On the other hand, revocable credit can be amended or cancelled by the issuing bank at any moment and without prior notice to the beneficiary. According to UCPDC 500 L/C must be an irrevocable one. For amended L/C's, service charge and telex charge is debited from the party's account accordingly.
 Advising the Import L/C:
Advising depicts the proof of authenticity of the credit to the seller/ beneficiary. The advising process consists of forwarding the original credit to the beneficiary. Before forwarding the advising bank has to verify the signature (s) of the L/C opening bank (Standard Chartered). In addition, it ensures that the terms and conditions of the L/C are not inconsistent with the existing regulations. In such a case, advising bank does not undertake any liability.
| | | |
| --- | --- | --- |
| Importer | | L/C Opening Bank |
| | | |
| L/C Beneficiary | | L/C Advising Bank |
Figure: L/C Advising Mechanism
Adding Confirmation:
The confirming bank does adding confirmation. Confirming bank is a bank, which adds its confirmation to the credit, and it is done at the request of the issuing bank. The confirming bank may or may not be the advising bank. The advising usually does not it if there is not a prior arrangement with the issuing bank. By being involved as a confirming agent the advising bank undertakes to negotiate beneficiary's bill without recourse to him.
Presentation of the Documents:
   The seller being satisfied with the terms and the conditions of the credit proceeds to dispatch the required goods to the buyer. Then he has to present the documents evidencing dispatching of goods to the negotiating bank on or before the stipulated expiry date of the credit. After receiving all the documents, the negotiating bank then checks the documents against the credit. If the documents are found in order, the bank will pay, accept or negotiate to SCB. First of all it must be ensured that full set of documents as mentioned in the L/C has been received. Following documents are included, namely-
Letter of Credit
Commercial Invoice
Bill of Exchange
Bill of lading
Insurance cover note
Certificate of origin
Others.
 Then SCB checks the documents. The usual documents are-
Invoice: The form containing information Exporter, Consignee, Carriage by, Vessel, Port Discharge, Container No Description of the Goods, Quality, Rate & Amount in USD.
Packing list: Containing information Package, Description, Weight
Bill of lading
Transport Agency (Loading Received):
Certificate of origin: Containing information Product Name, Name of Vessel, No of Package,  Port of loading & Discharge,
Certificate: It declares that "We hereby said that we have completed with the following L/C Clauses.  It also contain Reference No, Order No, Bill of Loading No, L/C No, IRC No, HS Code No, TIN No, VAT Registration No.
LC (Letter of Credit): It contains the Name & Address of the Industry unites, IRC No, Sector of Industry, Source of financing, Description of the item to be imported.
CRF (Clean Report of Findings): It contain L/C Issuing Bank Name, No & Date, Buyer, Seller, Port of Discharge, Proforma Invoice/ Identity No, Container No, Serial No, Packing, Detailed Report of Goods inspection, Place of Inspection, Issued By, Referance No, Comment about the quality of the Inspected goods, Remarks & Specify which  statutory requirements of Import policy Order in force has not been fulfilled
Proforma Invoice: It's containing information Exporter & Consignee Name, Pre-carriage by, Vessel No, Port of Loading, Port of Discharge, Final Destination, Container No, Description of the Goods, Shipments.
Shipping Bill: It contains the information Exporter & Consignee Name, Customs House Agent, Lorry/ Goods Train & Wagon No, or By Track, Marks No, Net Wet No, Analysis for export Value, Declaration.
Non negotiable copy of bill of lading
Bill of exchange
Pre-shipment inspection report
Shipment certificate: It contains Invoice No & Date, B/L AWB No & Date, Vessel Name/ Flight No, Transshipment Details, Additional Details.
Insurance Forwarding:  It contains Order No, Bill of Loading, L/C No, Our Control No, LCA Form No, IRC No, HS Code No, TIN No, VAT Registration No, Insurance Cover Note No.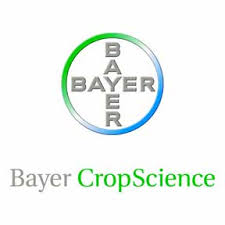 Some are parts:
Bayer Cropscience Ltd (Part 1)