Executive Summary
In the global market increase the demand of hygienic food, KFC is trying to do some contribution in its industry. This report has seven chapters. First chapter is introduction. In this chapter we've discussed the objective of the study, methodology and limitation of the study. In chapter two we've discussed the company overview, environment and competitors of the firm, a recent problem faced by the firm, and we also developed a SWOT analysis. Findings, recommendation and appendix are included in chapter three.  And lastly we draw a conclusion of this report.
Introduction
Now a day, the food choice of the people of Bangladesh is changing. Today people like fast food a lot. Whenever we talk about fast food, the first choice that comes to our mind is KFC. KFC is known for its uniqueness in fried chicken. They use a secret recipe to make their chicken tasty and crispy. Their employees are not allowed to share their recipe with anyone. And they have to maintain a specific quality in their food. So they offer hygienic food to their customers. As a result they have been able to grab a very good number of loyal customers. They rely on this food brand. So parents allow their children to enjoy KFC food without any doubt. Now the young generation has become their main target group. Whenever they offer any new item or make any special offer, they keep this customer segment in their mind.
Methodology
It deals with the process of doing the assignment. Here we mainly followed secondary data collection process. We arranged our information from the web. But some information like number of employees, products and services etc was not available in the web. To collect that information, some of our group members went there personally and collect the required information through primary data collection process. In our assignment we used times new roman style. And normal font size was 12 although it varied in the heading and sub-heading part.
Objectives
Every report has some objectives and to fulfill those objectives people do the assignment. As our course teacher had given us to do an assignment on KFC, our first objective was to do the assignment successfully. To do it successfully, we had to make a study on the firm. The objectives of the study are given below-
to know about KFC broadly
to have a specific knowledge about the company
to know about their establishment period, products & services
to know the name of companies from which they are facing tough competition
to know about their branches located inside & outside Dhaka
to form a SWOT analysis of the firm
to draw a overall picture of the company etc.
These were the main objectives of our study.
Limitations
Every study has its own limitations. While doing the assignment we also faced some limitations. They are given below –
Different class schedule of group members
Lack of space in the discussion room
Lack of facilities in the lab
Lack of necessary information in the web
lack of  convenient environment in the discussion room
lack of group discussion because of mid- term examination
Reluctance of KFC employees sharing their information etc.
These are the limitations that we faced while doing the assignment.
Company overview
Company overview includes the following factors –
·         Company background
·         Products & services
·         Establishment period
·         Corporate office
·         Location of the firm
·          Firm's logo etc.
Company Background
Transcom Foods Limited, a concern of Transcom Group is the franchisee of KFC in Bangladesh. The first ever KFC restaurant has been opened in September at Gulshan, Dhaka with a seating capacity of 178 person.
Kentucky Fried Chicken stands for high-quality fast food in a popular array of complete meals to enrich the consumer's everyday life. KFC strives to serve great-tasting, "finger lickin' good" chicken meals that enable the whole family to share a fun, uninhibited and thoroughly satisfying eating experience, with the same convenience and affordability of an ordinary Quick Service Restaurant. TFL successfully launched the flagship KFC on South Avenue, Gulshan in September 2006. It has already won over the heart of the Dhaka crowd with its great tasting food, high standard of hygiene, cleanliness, terrific interior and of course excellent and affordable pricing. Following its enormous success in Gulshan, the second outlet was opened in Dhanmondi in November 2008, and yet another in Banani in December 2008. Most recently TFL has opened two outlets at Eskaton on February 2010 and another one is in Paltan.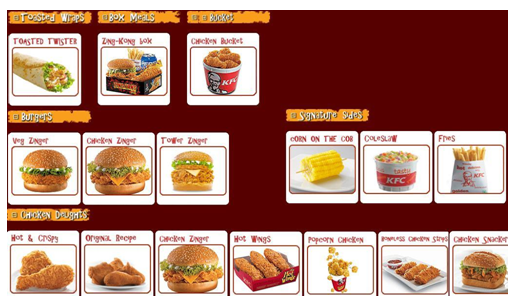 Branches
1. Gulshan: Bir Uttam Mir Shawkat Ali Sorok (South Avenue), Gulshan1,Dhaka.
2. Dhanmondi: H#84, R#7/a, Sat Masjid Road, Dhaka.
3. Banani: Bulu Ocean Tower, Kemal Ataturk Avenue, Dhaka.
4. Baily Road: 10 Natok DSarani, New Baily Road, Dhaka.
5. Eskaton: 400 New Eskaton, Dhaka.
6. Chittagong: Amin Centre, Laikhan Bazar.
Location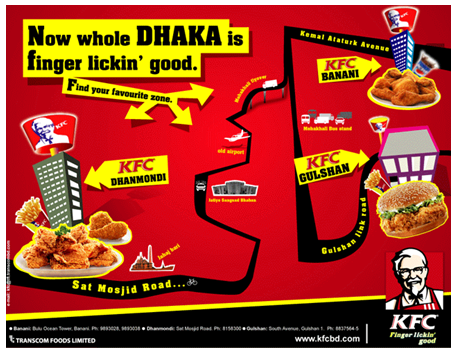 Nutrition
Product
Ave Serving Size
(Edible)
Energy kg/
serve kg/
100g
Protein g/
serve g/
100g
Fat Total g/
serve g/
100g
Fat Saturated g/
serve g/
100g
Carbohydrate Total g/
serve g/
100g
Carbohydrate Sugars g/
serve g/
100g
Sodium mg/
serve mg/
100g
Total Dietary Fibre g/
serve g/
100g
Original Recipe Chicken*
159g (2 pieces)

35.9 22.6
28.9 18.2
8.1 5.1
12.4 7.8
0.5 0.3
840 528
1.3 0.8
Potato & Gravy
110g (regular tub)
295 268
1.4 1.3
1.8 1.6
1.0 0.9
11.6 10.5
0.3 0.3
420 382
1.1 1.0
Coleslaw
110g (regular tub)
452 411
1.2 1.1
3.9 3.5
0.4 0.4
16.2 14.7
16.0 14.5
264 240
– –
Crispy Strips
206g (3 pieces)
2064 1002
43.9 21.3
21.8 10.6
10.5 5.1
29.0 14.1
0.8 0.4
822 399
2.1 1.0
Hot & Spicy Chicken
176g (2 pieces)
2031 1154
33.8 19.2
31.3 17.8
12.8 7.3
17.2 9.8
0.5 0.3
824 468
1.2 0.7
Original Fillet Burger
182g
1927 1059
28.4 15.6

6.2 3.4
38.6 21.2
5.5 3.0
970 533
2.5 1.4
Original ZingerbBurger
206g
2336 1134
26.0 12.6
30.7 14.9
10.3 5.0
43.5 21.1
5.4 2.6
1063 516
2.5 1.2
Environment of the KFC
Internal environment
Internal environment is the part of the business environment which refers to the companies internal components like owner, employee etc.
Owner
The company was founded as Kentucky Fried Chicken by Colonel Harland Sanders in 1952. Now Rojer Eaton is the president of the company. And Harvey R. Brownlea is the CEO of company. Transcom Foods Limited, a concern of Transcom Group is the franchisee of KFC in Bangladesh.
Employee
KFC have almost 24000 of employee as the part of internal environment
External environments
External environment refers to those business environment components which are outside the company. In word where the company run there business.  Like the consumer. Govt. etc
Consumer
KFC generally target the upper middle class people and young people of Bangladesh. Young people are the main consumer of the KFC.
 Government
Government is also is the part of the external environment. Govt. influences the company through different regulation and rules.
Competitors
Every organization has some competitors who provide similar goods & services. KFC also have some competitors in the food market. Although KFC access a unique place in the market because of its secret recipe and brand name, it faces a tough competition by other food brands. Those brands may not have the same recognition and taste as KFC, but
they attract a good number of customers because of their low price. The main competitors of KFC are –
There are some other companies like NFC and RFC who are also involved in this competition. In the metro shopping mall, there is also a KFC (king fried chicken).some people consider it as real KFC.
These fast food companies provide customers with similar types of fried chicken for low price. The chicken may be different in taste but they use the same formula to make their fries crispy as KFC does. As a result, they become successful in attracting customers. Moreover, as these companies provide fried chicken for low price, they get a huge number of customers. In KFC the lowest price for fried chicken is 280 taka where in BFC it is only 80 taka. So middle class people our country prefer BFC to KFC. And a huge number of students, who love fried chicken, are not able to spend a lot of money as their pocket money is limited. They are regular customers of local food brands as they can afford KFC visit occasionally.
 Uniqueness of the firm
There are some unique qualities in KFC which make the firm different from others. They are given below-
High quality product
Assurance of purity
Customer loyalty
Unique taste
Customer care
Employee loyalty
Secret recipe
Popular among young generation
Faith  and trust of people
Recognized brand etc.
These are the major uniqueness of the firm that makes it different from other firms.
Recent problem in KFC
Recently KFC faced some unwanted problem due to bird flue in Bangladesh. Because of the bird flue people started to avoid chicken in there dishes. As result people also started neglecting KFC and other fast food companies in Bangladesh.
Most recently there rises a question about the quality of food in KFC due to having cockcrows in the burger of KFC. This affected in the consumer loyalty of KFC. Although KFC faced the situation cleverly, people are still are not sure in the quality of KFC in Bangladesh. These have an impact on sale of KFC.
SWOT Analysis
The acronomy stands for strength, weakness, opportunities and threat of an organization the SWOT analysis of KFC is given below-
 Strengths
Strengths can be found internally in a company and can be used to the company's advantage. The strengths identified are as follows:
1. KFC's secret recipe
The secret recipe has long been a source of advertising, and allowed KFC to set itself apart from other food brands.
2. Recognition and reputation
KFC's early entrance into the fast-food industry in 1954 allowed KFC to develop strong brand name recognition and a strong foothold in the industry. The Colonel is KFC's original owner and a very recognizable figure, both in the U.S. and internationally, in their new logo.
3. Traditional employee loyalty
As it is a renowned food brand, it has maintained a long and strong network with their employees. In return they get a very strong employee loyalty which is known as their unique company asset. They provide their employees with various types of facilities other than salary (long term contract, recognition, management training.) etc.
4. Improving operating efficiencies by reducing overhead and other operating costs can directly affect operating profit
Due to the strong competition in the food market, the fast-food chains are reluctant to raise prices to increase profit. Many of the chains are turning to operating efficiencies to increase profit. For many companies, operating efficiencies are achieved through improvements in customer service, cleaner restaurants, faster and friendlier service, and continued high-quality products.
5. Emotional benefit because of recognition
As KFC is a very well known food brand in the market, it was able to create a very loyal group of customers who rely on their food quality. This group of regular customers serves as an asset for the company.
6. Strong and experienced management
As KFC in BD is a franchise company, so it follows a systematic management system. They are bound to follow a specific system. They can not change it whenever they want. It has been followed successfully for couple of years.
7. High quality and 100% pure product
As it follows a very systematic and secret recipe, they are able to maintain a high quality in their food. As it is a franchise company, so they are not allowed to change or share the recipe.  They are bound to maintain a specific quality level in food making.
Weaknesses
1. KFC has a long time to market with new products
Because of the nature of the chicken segment of the fast food industry, innovation was never a primary strategy for KFC. However, during the late 1980's, other fast food chains began to offer chicken as a menu option.
2. High production cost comparing to the competitors companies
KFC has to maintain a quality level in food making. So their production cost is higher then their competitors. To gain their production cost they ask for a pretty much higher price for their fast food.
3. No access to home service
KFC do not offer any home service like pizza hut and dominos, as a result they loss a good number of customers. Sometimes people want to enjoy the food in their own home with all of their family members. Sometimes people also get tired and do not want to spend the time to travel to the restaurant.
4. Lack of branch
KFC have only a few branches in the Dhaka city. They do not have their branch in shopping mall like Bashudhara city like other fast food brands like BFC or FFC.  As they have only few branches in the renowned area, so they loss a huge number of customers residing in other parts of Dhaka.
Opportunities
1. Increasing demand
The demand for fast food is increasing day by day. Formerly, people used to have it occasionally. Now they like to have it regularly. Even in occasions or party, they prefer fast food to desi food. So, it is a very good opportunity for the fast food companies to sell their products to customers.
2. Fondness of youth
Today's youth are getting westernized. They are following all of latest western fashion. They are following their food habit too.  Now they like fast food very much. All of the fast food companies are using this opportunity very intelligently.
3. Daily needed product
Now the children as well as their parents are passing a quality time of the day outside their home. All of the food companies can take advantage of this opportunity. As now people love fast food more, so the fast food companies are enjoying the most benefits of this opportunity.
Threats
1. Increasing competition and rising sales of substitute products
Faced by slowed sales growth in the fast-food industry, other segments of the industry have turned to new menu offerings while KFC still offers its limited choice of chickens.
2. Changing preferences of consumers
During the 1980s, consumers began to demand healthier foods and KFC was faced with a limited menu consisting mainly of fried foods. In order to reduce KFC's image as a fried chicken chain, it changed its logo from Kentucky Fried Chicken to KFC in 1991.
3. Inflation in local market
When the real value of money decreases it creates inflation in the economy. During inflation, people have less money to spend as well as the price of raw materials also rises. It creates threat for the overall economy. As a result, the food market also gets affected by it.
4. Sharp rise in the production cost
Rise in the price of raw materials increases the total production cost. So when the price of raw materials increases, KFC needs to increases its price. As a result, consumers become less interested to spend a huge amount of money on fast food.
5. Instability of the price of raw materials
In our country the price of chicken is not stable. So the fast food brand like KFC faces a problem in setting their menu. The price of raw materials changes almost everyday, but they can not change their price list everyday.
Findings
While doing this assignment, as we have done a research on KFC we get familiar with some of the problems of the company.
High price
KFC has set a very high price for their fast food. So the middle class people of our country can not even think of going to KFC. Children of middle class families treat it as a dream coming true whenever they get chance to go to KFC. They also loss a huge number of customers who can not afford KFC visit regularly but they enjoy it occasionally.
Limited choice
KFC is famous for its unique taste but it offers a very limited number of choices in drinks and fried chickens for a long period of time. They do not change their menu regularly like pizza hut.
Lack of special offer
KFC hardly give any special offer like "happy price menu" for students and kids. In India these types of offer is available for the youth. They do this type of things to attract and create a new customer segment.
Recommendations
In the findings we have mentioned a number of problems about KFC in bd. here are our recommendation about solving the problems. They should try to –
reduce their price a little bit
increase their number of  branches
offer home service to the customers
offer happy price menu occasionally
offer different flavor of  fried chicken
Conclusion
In this assignment, we have talked about a famous food brand- KFC. Here we talked about their background, environment, competitors etc. we also made a SWOT analysis which enabled us to know about their strengths, weaknesses, opportunities and threats. Based on this segment, we also find out some of their problems and made recommendation. In one part, we made an analysis about the recent problem faced by them. Although they are famous for their quality, it is obvious to have some problem too. They should try to solve their problem as soon as possible and continue to serve their customers with great quality.