I am Ali Arafath Siddiqui; student of Communication & Media Studies (CMS) Department, University of Development Alternative (UODA) has to do an internship program at the end of my Bachelor Program at CMS. I've chosen the topic "A Study on Newspaper reporting".
In this regard I have an organizational attachment to a national newspaper The Daily Prothom Alo. I am working in this Newspaper since 2005. But as an intern I joined here from January 01, 2009. And I worked up to March 30, 2009. Within that period, I have collected the necessary data for preparing this report.
Now I am working in The Daily Prothom Alo as a Contractual Feature Reporter. My main work is to assist Sub-editors to make the supplements. As like as Computer Protidin, Binodon, Porasona, Kajer Khabor, Khet Khamar, Dhakai Thaki, Ain Adhikar, Bigyan Projonmo, Ros Alo, Naksha, Nari Mancha,  Shastho Kushal, Bondhu Shava, Ananda, Projonmo Dot Com, Gollachut, Shahitto Shamoiky, Annya Alo etc.
I am working The Daily Prothom Alo under Mr. Pallab Muhaimen, Assistant Editor of Feature Department in Prothom Alo. In Internship period he supervised me to complete my intern successfully.
During the internship period I learned a lot of things that encourage me to make myself as a journalist. During the period, I completed some assignments as like as professional journalist.
After observing all these activities I realized that 'Newspaper and other media are the important part of our society. We can create Public Awareness by newspaper. It's not a single work. It is a Team Work and each and every person cooperate with everyone, and then we get a final out put'.
An internship is a unique aspect of education that integrates study with planned and supervised career-related work experience. Students are involved as non-paid or paid `Authentic Employees' receiving academic credit for work experiences.  The purpose of the program is to develop and strengthen the student's educational and career preparation.  An internship will expose the student to the interpersonal relationships a job requires, both with co-workers and supervisors that are essential in obtaining a successful, satisfying career.  Internships enable employers to assist the university in preparing students to work in today's mass media environment. Internship is a period of apprenticeship when students work off-campus, under supervision, in a newspaper, TV channel, media agency, hospital, business, laboratory, or government agency or program. It also allows students to learn practical applications of classroom material.
An internship is a type of work experience for entry-level job-seekers. Internships involve working in your expected career field, either during a semester or over the summer. Besides gaining valuable experience, we get exposed to the mass media environment and gain valuable references and network contacts. Career counselors, employers, and others have long touted the importance for university students to work one or more internships during our study years.
Internships are arrangements in which university students and career changers lend their talents to companies in return for an opportunity to develop journalistic skills, learn about a new media, and gain exposure to the work environment. Internship programs are set up as either non-compensated or compensated internships. Whether paid or non-paid, an internship position is often quite beneficial to the student who participates, for he or she receives `Real World' mass media experience and an early opportunity to impress potential employers. Employers too benefit from internship programs by obtaining the services of skilled personnel for modest cost and by being exposed to new ideas and perspectives.
Ending a good newspaper internship is one of the surest ways to gain great experience and to ease our way on in to a real job. But where are the internships, who has the best ones and how do you get one? The hunt for a three-month internship is a year-round job. It seems our either sending off applications or reading rejection letters, preparing for an internship or working it. It takes a lot of work and there are no guarantees.
Internships are seen by University students as potentially valuable tools to explore general career avenues as well as specific companies. Such arrangements can provide them with valuable work experience (both practical and for résumé enhancement) and an opportunity to line up a job before graduation. In addition to securing good work experience, students also may be able to gain academic credit and financial compensation (albeit modest in size) for internships. As Steven Bahls and Jane Easter Bahls observed in Entrepreneur, "when an internship is set up through a local college or university, students can often obtain academic credit for their effort.
Internship programs are also potentially valuable to employers. Unfortunately, some companies continue to regard interns as little more than a free source of labor to catch up on filing and other tedious office tasks. But many newspaper or media center owners and managers realize that internship programs can provide them with an early opportunity to gauge the talents of a new generation of workers and, in many cases, sell themselves as a quality place for students to begin their careers after they graduate.
Interns also often prove to be invaluable recruiting tools when they return to campus. "A student returning from an internship with a favorable impression becomes an on-campus advertisement," observed Crumbley and Sumners. "Students listen to their peers and often trust their opinions more than those of campus representatives or professors.
An internship provides the student with a greater understanding of career demands and qualifications.  It allows the student to understand the connection between what is studied and how it is applied in the world of work; thus it enhances the student's knowledge of himself and his/her potential for aspiring to and reaching goals set in Career Awareness classes.
Advantages of internships
Doing an internship will help you to avoid that common dilemma that many students face after graduation. When companies are looking to hire, you will not be turned away because you do not have the practical work experience that many employers are looking for. In other words, you will have a little more ammunition to run on. In such a competitive market, making sure you are on the top is a priority.
There are some advantages of internships. There are as follows:
Learn production skills and gain practical work experience.
Explore and make decisions about future career options.
Increase marketability after graduation.
Combine academic knowledge with hands-on work experience.
Build networks in the selected field of interest.
Learn effective job-strategy techniques.
Goals of an internship
Provide students with a full and realistic view of workplace culture and expectations. There are some advantages of internships. There are as follows:
Integrate academic preparation with professional challenges.
Build confidence and success through internship experiences.
Encourage contact between students and professionals in their field of interest.
Help students build professional networks
Objectives of Internship
On the internship period I do have some objectives which I hope will be achieved:
To learn the journalistic way of writing.
To know the structure of a media house.
Educate myself with the reporting skills.
To improve my communication skills.
Want to know about the pre and post process of printing a newspaper.
Know about editing.
Have fun in the working environment.
To gather comprehensive knowledge on overall program of the Media Impression.
To compare other Media house performance with the overall performance of Media Impression.
To suggest some policy measure for improving performance of Program.
Successful Internship Completion
To insure the success of individual internship experiences, the following strategies will be implemented:
Weekly reports from the mentor at the site of the internship to Internship Manager on attendance and following directions
Work-site visits by the Internship Manager.
Final meeting with the student, mentor, and other work-site supervisors (parents may be included)
Final report for student's grade in Career Readiness and Workforce Development from the mentor at internship site.
Background of the Study
This Internship Program as well as this Report is an indispensable part of our courses of Communication and Media Studies. After completion of our courses in the different areas of studies, students are sent to different reputed Media organization to acquire the real life experience. So, I was placed in Creative Designer & PR Officer to understand the working System in Media House and I really enjoy it very much.
Significance of the Study
Media is the symbol of Art stability of a country. It is an institute which is responsible for safeguarding the Art stability of any country. In modern age the role of Media is very wide as well as comprehensive.
I have concentrated on journalism mainly in these four years of University of Development Alternative (UODA).  So I wanted to do my intern in a print media. Daily Prothom Alo is the largest selling newspaper in our country. It is the most preferable and acceptable one.
The editor and publisher of this newspaper is Matiur Rahman. Daily Prothom Alo is the most readable Bangla newspaper. Currently daily it published more then 4 lakhs. Daily Prothom Alo stated its journey on 4th November 1998. Daily Prothom Alo owned by the Transcom Group. The chairman of this company is Md. Latifur Rahman.
Organizational Structure:
Type of organization:     Daily newspaper.
Establishment:                4th November 1998.
Total staff:                      721 people. 20% are female.
Total section:                  16 sections.
Circulation:                      Minimum daily 4 lakhs.
Communication System: Maximum informal. For official formal.
Working environment:   Friendly.
Working hour:             9am-5pm/11am-7pm/2pm-10pm/5pm-1am.
Address:                         The Daily Prothom Alo
 CA Bhaban, 100 Kazi Nazrul Islam Avenue,
 Karwan Bazar, Dhaka-1215.
 Phone: (PABX) 8802-8110081, 8802-8115307-10, Fax: 8802-9130496.
E-mail: info@prothom-alo.com
Objectives Of The Organization
The Daily Prothom Alo carries on with the long-term responsibility is to strengthen public opinion on how the democratic system should work and how to sustain and nurture democratic norms effectively.
It was a privilege for The Daily Prothom Alo to be part of a changing scene after the fall of millennium renaissance of democracy. With that privilege came an enormous responsibility of upholding the duties of a free press. The newspaper is proud to pursue that policy without relenting for the past 10 years.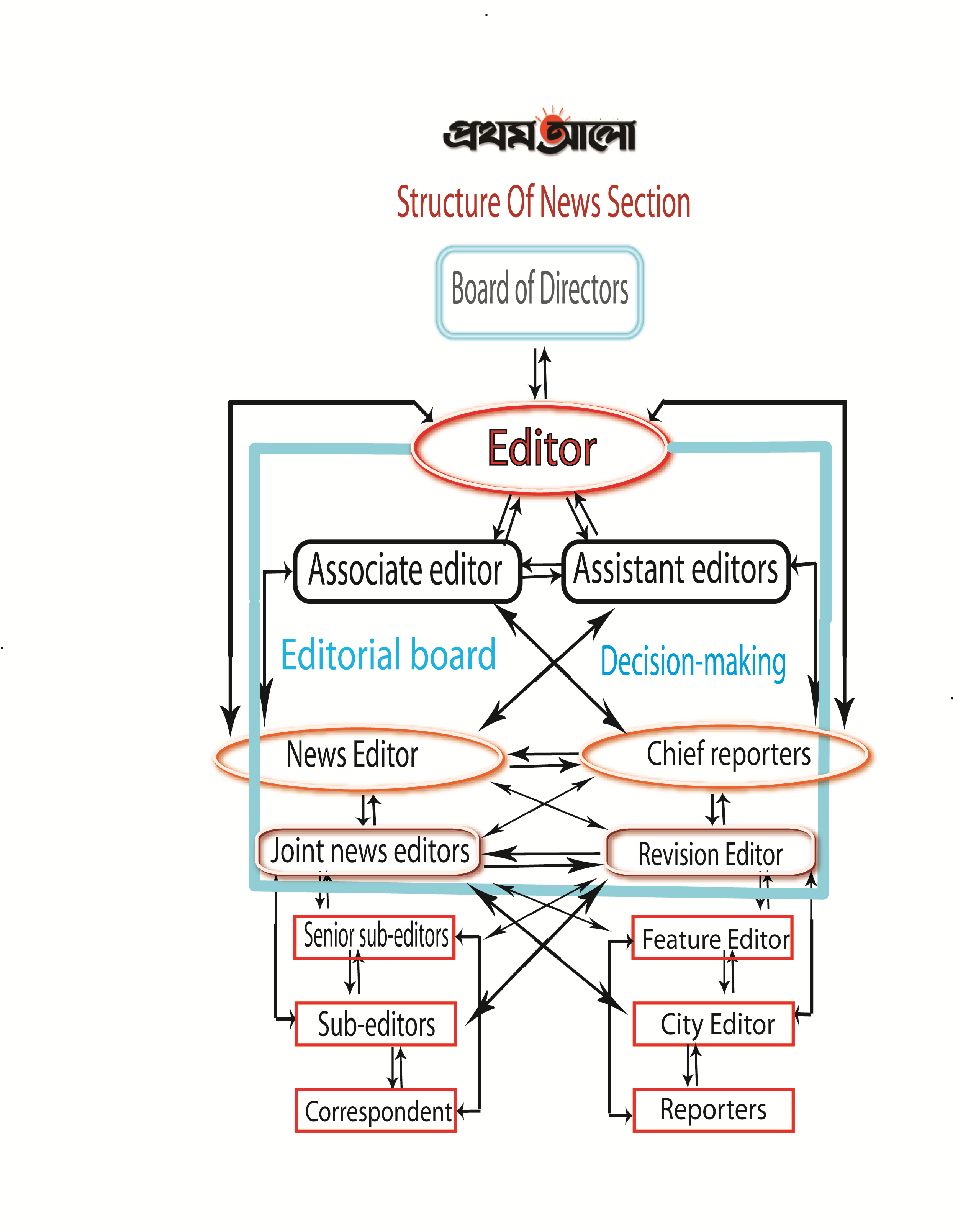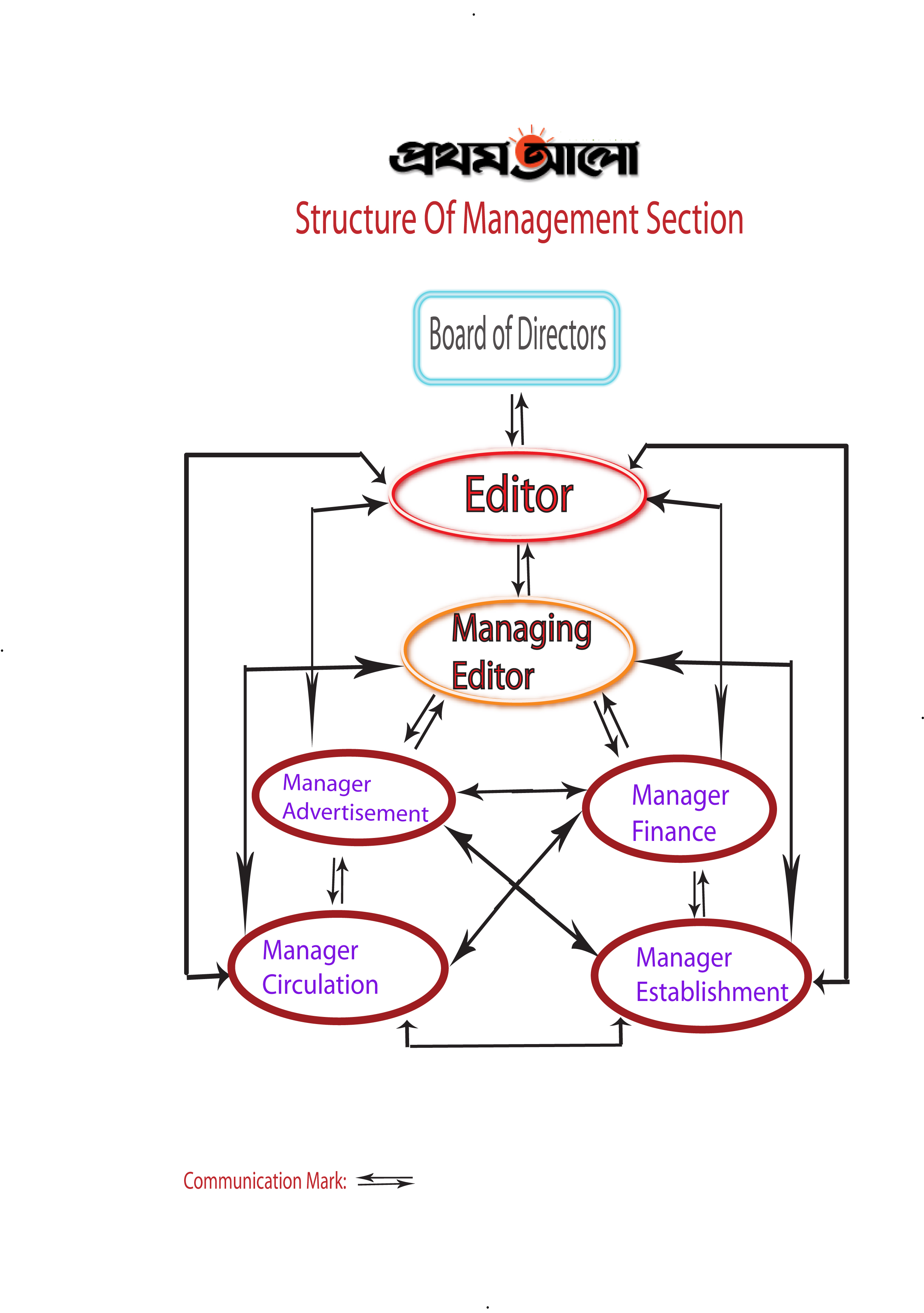 Values
The uniqueness of The Daily Prothom Alo lies in its non-partisan position, in the freedom it enjoys from any influence of political parties or vested groups. Its strength is in taking position of neutrality in conflicts between good and evil, justice and injustice, right and wrong, regardless of positions held by any group or alliance.
Social & Economic Commitment of the Organization
Being well aware of its social responsibilities and duties, the newspaper works to ensure human rights to all, remove gender discrimination, advocate rule of law, press freedom, transparency and accountability in the administration and in the world of trade and industry and above all to uphold national interests. While working for these ends, The Daily Prothom Alo always maintains utmost sincerity and accountability to serve the nation the way it is bound by its norms and values.
Besides running news reports on these issues, The Daily Prothom Alo carries special reports, human-interest stories, features, articles and essays written by its staffs and other professionals and talents from across the country and abroad.
During different national crises, the newspaper played an important role to solve those to stop people's sufferings. As it remains alert of its social duties, The Daily Prothom Alo frequently organizes roundtables, seminars and discussions on the issues. It also works closely with the civil society for this end.
To promote young talents, The Daily Prothom Alo organizes debates and different competitions at school and college-levels and awards those who show excellence in different fields.
Working environment in The Daily Prothom Alo was very nice, friendly and suitable for me. I had worked there as a Feature reporter. After joining the organization my supervisor Mr. Pallab Muhaimen assigned me to do some Assignments.
I visited various spot, offices to collect the assigning subject oriented information. In this work I achieved a good relationship with various private and Govt. Organizations which were relevant with my works.
Most of the working days of my internship I worked in different type of working field. I had been working for the press coverage, feature editing and event management also. During the collect information and my various kinds of my work, I have got a massive support from the people. Everybody was interested to inform me.
There were some exceptions who were not interested to talk with me. In fact they were very disturbed at my presence. I am also work in the desk in feature department some few days. After all these, I can say that the total working atmosphere was quite nice and supportive for me.
Most of the Prothom Alo employees are quite and calm. I was also attending to monthly meeting with all feature reporters. It is very helpful for me to attending any meeting for future situation.
All the members and staffs of the Daily Prothom Alo are educated, trained, experienced and skilled both field and management levels and were very much calm and quite. This is also very helpful for me.