The San Pedro Apostol Parish Church also called 'Saint Peter the Apostle Parish Church' (Spanish: Iglesia Parroquial de San Pedro Apóstol), commonly known as "Loboc Church", is the second oldest church in Bohol, Phillippines. It was originally constructed in 1602, but soon reduced to ashes; a stronger one was constructed in 1638. The new coral stone church was completed in 1734; it became the nucleus of the Jesuit mission in the Bohol region due to its strategic location. In 1768, the town was passed to the Augustinian Recollects upon the expulsion of the Jesuits. It has survived a number of floods situated along the river. Visitors will admire some remarkable, naive paintings on the ceiling inside the church. The church is designated by the National Historical Commission of the Philippines as a National Historic Landmark and by the National Museum of the Philippines as a National Cultural Treasure. It was badly damaged when Bohol and other parts of Central Visayas were hit on 15th October 2013 by a 7.2 magnitude earthquake. Approximately 100 meters from the church is the bell tower of Loboc. A three-storey convent, which now houses the Museo de Loboc on the third floor, is attached to the building. A few old statues of saints and some other ancient religious objects are kept in this museum. The church complex was a nominee in two different groups for the UNESCO World Heritage Sites of the Philippines.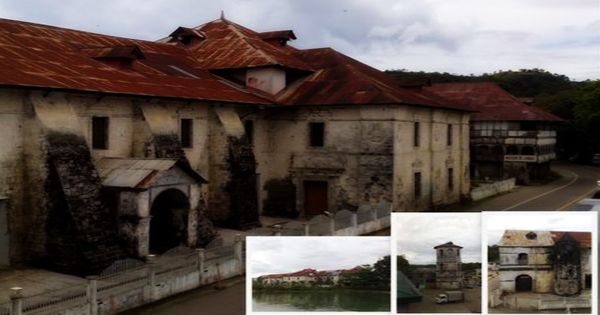 (Loboc Church, Phillippines)
The church of Loboc is adorned with carvings of cherubs, papal tiaras, and Jesuit emblems. It has two facades: the Baroque façade, designed by the Jesuits, adorned with unfinished medallions portraying saints, and the Recollects' Neoclassical portico. The church was founded along the banks of the Loboc River. A cruciform plan follows the coral stone church, with a sunken pyramidal roof on its crossing. As a church founded by the Jesuits, Jesuit insignia and icons of an angel's wing and head are on the outside walls of the church. Just outside the sacristy entrance, the rear wall of the church shows a San Ignacio relief flanked by women with feather headdresses, a motif found in colonial Latin American art. There is also a separate cantilevered organ loft in the church, housing a massive pipe organ that is believed to be related to Father Diego Cera, the Las Piñas Bamboo organ builder. On the third floor, Loboc has a small museum; there are gargoyle heads on the way to the museum, one of which is painted a deep blue.