GEB Cosmetic Company Limited has been operating in this region since 15 January 2009 in Bangladesh. It is entering its first year of operation. This company is providing 100% natural herbal extracts for its target consumers keeping in mind their need of the product. It will be selling its product to almost all the retail shops and accessories shop in the country. Market research indicates a specific and growing need of the beautification & fairness, which "F&B Care" will be providing the customers a new way without any side effects. Both man and women are becoming more and more beauty conscious now-a-days. For this reason, many cosmetics companies are emerging with their own products, thus resulting in the saturation of such markets. These products are not effective all the time because they are not providing their product, which is not based on medically skin-test. That's why this company is providing a high quality product with low & reasonable price of its consumers. "F&B Care" is effective on all kinds of skins. It is increasing fair within only three days. The major competitors of this company are Nature's Beauty Creations LTD, DISAPEAR COSMETIC LTD, UNILEVER LTD. And FINE FRAGRANCES AND COSMETIC LTD.  To give the customer a new face and body caring products depending on marketing research information of the customer, we are going to launch a new different and innovative face and body caring products that is called "F&B Care".

1.2 Objectives
Main object of this term paper is to know about "The marketing plan of the new launch product of the GEB Cosmetic Company Limited".
Capturing 70% of target market of the product.
1.Complete consumer satisfaction and loyalty.
2. GEB cosmetics target the urban, semi urban and rural markets focusing mainly on the consumers middle, middle lower and lower economic segments.
3. Promoting and increasing sales volume through branding and attractive advertisements.
4. Offering competitive and attractive price for most of its products.
5Consumer oriented promotions.
6. A larger market share.
7. Reasonable price within the competitive range.
8. Maintaining the best quality of its products.
9. Offer for attractive trade deals.
10. Expansion of product line.
11. Recognition as a leader in cosmetics technology and products innovation.
12. Contribution to the national economy of Bangladesh and also to life style and social welfares.
Continuous improvement of customer satisfaction, resource management and providing quality products in a reasonable price.
1.3 Source of data
All information of this term paper is collected from two sources.
These are given on the below.
First one is Primary Data (Directly communicated with some persons).
 And another is Secondary Data (from the book, name of this book is MARKETING MANAGEMENT by Philip Kotler and internet).
1.4 Methodology:
 We used both random sampling & cluster sampling.
1.5 Limitations:
This report is not out of some limitations. Throughout the report we have faced a lot of problems. Some of this are-
No such specific cost information
Lack of information on recent wind speed.
Lack of time frame.
Load shading causes hamper in our work.
Company's Mission:
''Tomorrows Beauty today''
We want to expand the company into trustful and beauty generation by providing quality product to the every customer without any harmful effect.
Company's Vision:
This company wants to provide high quality beauty product to the vast majority of rural & urban people of Bangladesh to build up a faithful and delighted nation.  
Chapter 2
2.1 Background of the company
GEB COSMETIC LTD is a new company in the competitive global market. This company was formed 15 January 2009 and started with 30 million taka capital and 100+ employees. F&B Care is the product of this company.  At the starting time to now, company is collecting maximum raw elements of the product from the country and some raw elements are collecting by importing.
At present our target market only in Bangladesh. Above sixteen ages both men and women are the target customers of this company. The firm is involved with production and distribution of 100% natural herbal beauty product from natural wind resources. Although this firm will operate its activities within the boundary of Bangladesh but it can extend its project anywhere suitable in any country.
 Infect, many competitors are stayed in the market. That's why it is hard to create or reach number one position at present market, but it is possible. For that cause, company wants to develop products elements. And also follow a different marketing plan.
2.2 Products of services of the company
This is a new company and entering its first year of operation with a new package product. In this package, a consumer founds two essential beatification products. One is "Hair-growing Gel" which gives consumer rapidly growing hair and stop falling hair instantly. Also it grows hair on baldy head.
Another one is our ultra fairness cream, which makes the skin fairer within only three days. No company has given this offer as we know. This is also can be used on any kind of skin without any side effect. It reduces dark spots, pimples. It also lift wrinkles and make you younger than now-a-days you look like.
Both of these products can found in mini, medium & family size packs. Everyone can buy this product after two months.
We have also skin care centers, where consumer can get special treatment by professionals and expertise. We have 23 skin care centers around the big cities in the country.
2.3 Performance of marketing of the company
This marketing plan is done through imagine. That's why we could not say that what is the actual performance of this marketing plan of this new product of GEB cosmetics Ltd. But it is true that if this product launch according to this plan then company will be gainer.
Anyway, the total marketing plan is continuing by six major groups. These groups are
Group one (Financial Department) works to manage the essential capital of the company by taking loan from the bank.
Group two (Marketing Department 1) works to purchase land & computerized machineries with high technological advancement by the agency.
Group three (R & D Department) works to change the packaging style of the product by creating modern design & level.
Group four (Marketing Department 2) works to increase the advertising of the product on TV, FM & Local Dish Channels in the country.
Group five (Production + HRM Department) works to increase the production of the product by providing extra opportunities to the production workers.
Group six (Marketing Department 3) works to build up an efficient distribution system.
And this group works also to ensure the proper selling of the product of the company by set-up showrooms of this product at the important place in the town of the country.
Chapter 3
3.1 SWOT analysis of this company
Provide customer demand based product with reasonable price.
High customer loyalty.
Strong relationships with Stakeholder.
Excellent, stable and trained staff for customer service.
F&B care makes your dream come true.
High technological advancement machineries & quality control.
Private limited company
Limited Cash
Too many existing competitors.
New in the market.
OpportunitiesThreats
Completely new fairness cream & hair gel in the market.
High growth rate in our target market.
Men are more conscious about their beauty.
90%  people are beauty conscious  in this country.
Increasing sales opportunities beyond whole country.
Economic, political and technological factors of the country may be threatening for our product.
New entry of similar white beauty cosmetic product Company.
3.2 Marketing analysis
Market Description                                       
We have more clear and specific information about the market and we are also aware of the customer demand and choices. Based on our Research and Development department we are strictly determined to serve our customer needs and wants with a totally new taste of beautification like "F & B CARE". We are going to launch our new product for both male & female.
Current Marketing Situations :
"F & B CARE" for both male & female, whose age is above sixteen years.
Factory monthly production is 1,00,000 unit.There are 4 kinds of sizes are available . Different size such as 5gm for Tk.8, 25gm for Tk.78, 35gm for Tk.93 and 65gm for Tk.175 are also available .
Dealer  number is 65 , Sub-dealer 490 , Wholesaler  2000 ,Retailer 50,000.
Considering the competitors market share "GEB Cosmetics Ltd. is now going to the market.
Now the major competitors in the existing market are :
Present market is changing day by day. For that it is hard to survive as a profitable product in this market. Competitors of the GEB Company include not only the other firms which market the same or similar products but also all those who compete for the discretionary income of the customers. Names of the major competitors of the GEB Company are given on the below shortly:
Product Name                                                Company Name
SANDUN LITE SCRUB                             Nature's Beauty Creations LTD.
OLAZ WHITE LOTION                             DISAPEAR COSMETIC LTD.
POND'S WHITE BEAUTY                        UNILEVER LTD.
FADE OUT SUN CREAM                          FINE FRAGRANCES AND COSMETIC LTD.
AGE MIRCLE                                    UNILEVER LTD.
Figure: The competitors of the GEB Cosmetic Ltd in the present market.
Above all company supply quality products .Their price level is Tk. 25-500+ .Their distribution channel is given below :
Company ……………   Dealer …………    Whole seller ……….. customer
For promotional activities they use Tv , Radios , Newspaper etc .
As , there are lots of  competitors in the current market are available so , distribution channel set up is very much important , because if distribution channel does not act properly then customers does not get the products in proper times .For quick distributions my company "GEB Cosmetic Ltd."  Set already huge distribution channel whole over the country.  "GEB Cosmetic Ltd." Marketing channels are given below :
Company ………  Dealer………..   Sub-dealer………….  Wholesaler   ………  Retailer ……Customers.
So from above we see that  my company's  marketing strategy is more strong than my competitors .
Market Segmentation
The market for our product "F & B CARE" consists of Geographic, Demographic, Psychographic and Behavioral factors.  
Geographic:
Our immediate geographic market will be Dhaka city with a population of around 10 million.
Our total targeted area population is estimated at .80 million.
Demographic:
Male & Female
Generation – Young and matured people (who are above sixteen years).
We know the following regarding the profile of the typical resident of DhakaCity
Ü     43% male
Ü     57% female
Psychographic:
Social class: Middle Class, Upper Middle Class, and Upper Class.
Life style: Achiever.
Behavioral:
Benefits : Quality
User status: Potential user, first-time user, and regular user.
Market Needs
Our Research and development department found that people preferring the new quality product
because they has need for fairness and hair growing because fairness and hair growing are two major problem, who are beauty conscious. That's why they would like to consume these products.
Product Review
We are going to introduce our new diversified tastes product "F & B CARE" initially in  5gm mini packets, 25gm, 35gm, and 65gm pots. It will be launched in glass pots and also will be launched in different packages like plastic mini packets, family, individual package. According to the survey the target market growth rate is increasing. Our company estimates that the future market will be satisfied with more diversified and segmented product. Our target to make new market segments according to customers needs and wants.
Objectives and issues :
The main objectives of the company "GEB Cosmetic Ltd " is to reach in grade 1 position within next 5 years . Which  steps  will take to achieve  goal are given below :
>Quality Product : We will use high quality materials to manufacturer this product as a valuable product.
>Price Level : We want to that everybody gets better product at a affordable cost from my competitors.
>Proper Distribution Channel : We control and continue a active channel distribution system that we also develop  so that ,our customer always get this product available in the market.
>Time Conscious : We must finish our all sectors work within a particular time that's why our customer gets product at proper time .
>Conscious : Market challengers are always ready to copy my product so, we must be conscious about the market challengers.
>Product Design :R &D department is working for product design and development.
>Advertising : More advertising ensure more sell. So for more advertising my company choose several kinds of commercial ads on the Radio, TV , Newspapers , Magazines, Leaflets etc. we also arrange a live TV show. This program will held two times in every month.
>Encourage : Encourage to use them who are non users.
>Motivate : The customer who use other companies product try to motive them as they use the company product.
>Variability : Variable use of the soap must be ensure.
 Marketing Strategy
Our marketing strategy is based on becoming the potential choice for consumers in the fairness and hair growing gel market. Our marketing strategy is based on superior performance in the following areas-
Product quality.
Product price.
Superior idea.
Target markets
Our target markets are separated into two segments. These segments are male and female.
Positioning
We are trying to position our product through image differentiation, cause related marketing, and product differentiation.
We will use logo and short advertisement so that people can consistently see the advertisement so the product will occupy a clear, distinctive, and desirable place in the mind of the consumer relative to competitors' product.
We will use USP (Unique Selling Proposition) for our product. To do brand differences that make a better differentiator that has the potential to create company costs as well as customer benefits. A difference is worth establishing to the extent that it satisfies the following criteria-
Important
Distinctive
Superior
Communicable
Affordable and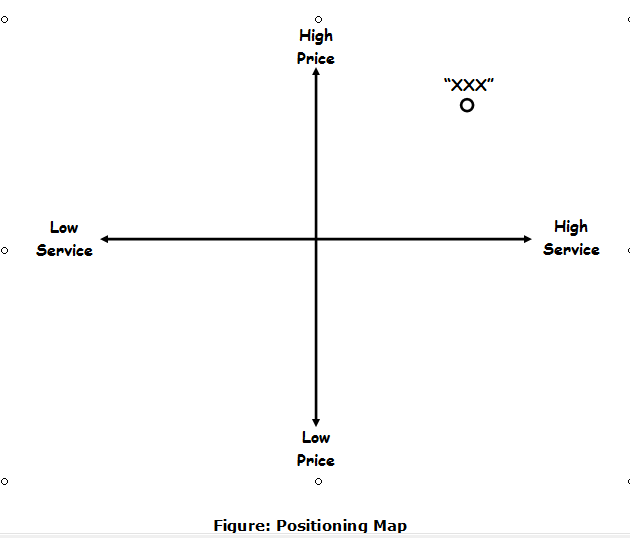 Strategies
The greatest objective is to establish our new brand in the industry. The marketing strategy will seek to first create customer awareness regarding the product and establishing connections with targeted markets and work toward building customer loyalty and referrals.
Our marketing strategies are-
Increase awareness and image.
Quality leadership.
Customer Service
Increase awareness and Image: Informing the consumers about our new product "F & B CARE". Through, advertisement, leaflets, events we can increase awareness of the product and establish image of our product.
Quality leadership: Our strategy is for being the quality leader in the market. We will offer the best quality product in the market which will make us quality leader in the market.
Customer Service: GEB Cosmetic Ltd. Is always concern about their customers? Company always research on what are their needs, what they want?  etc. – to happy the customer even at expense of short term profits. In long term, this investment will pay of with a fiercely loyal customer's base that is extremely vocal to their friends with referrals. 
Marketing Mix
Our marketing mix for the new product "F & B CARE" is as follows:
Pricing:
The Company established the price of its new product "F & B CARE" with the concept from cost plus pricing. According to our calculation the cost of our product is Tk.8, Tk.78, Tk.93 and we set Tk.175 for our product.
Distribution:
For better distribution GEB Cosmetics already appointed 65Dealers, 490 sub-    dealers, 2000 wholesaler, 55,000 Retailer, in whole over the country.
Advertising and Promotion:
The most successful advertising will be through NTV, Channel I, ATN Bangla , RTV, and CSB News which are the most popular television channels in the country. We will also use some bill-boards and leaflets and we will also arrange TV live show program for our customers to promote the product. In this program we make a model by selecting through lottery, if the purchaser purchase one of our product they will get a tin number and by sending the tin number through a sms they will get this chance.
Product marketing
Our product will enable our customers to have a different experience to fairness and hair growing gel. They will be able to differentiate our product in quality and performance which are unique in this present market.  They will not be able to feel the same way for the other related product in the market.
Quality leadership: We are the first producer of this different product. We will ensure the TQM (Total Quality Management) and by value delivery network so that we can be the leadership position in this market.
Mass distribution: We will also going for mass distribution of our product as the product is low involvement and people show habitual buying behavior. We want to distribute our product each and every corner of the country. Consumers will get this product where ever he of she visits.
Test Marketing : Company start marketing to target distributor as target customer can buy it.
Lots of advertising will be carrying on increasing sell.
Consumers are also survey.
Controlled Test Market :
By increasing billboard in the test market.
Special ads on dish channel.
Shop decorating.
Special discount.
Budget:
Budgeting is basically a systematic method for allocating the resource of our organization in ways that will most effectively help the organization to meet its goals. By concentrating on goals and programs in light of available resource, it stresses the desirability of assessing cost against benefits when selecting the best course toward accomplishing a program goal.
Variable Cost: –                                                          Taka

Direct Material
2.15
Direct Labor
0.85
Indirect Material
0.80
Indirect Labor
0.20

Fixed Cost

1.15

Manufacturing Cost

0.85

Sales & Promotion

1.20

Total Cost per unit (each 5gm)

7.20
Company expect to produce 500000 units in every month. Company will get Tk.0.80 profit on per unit (each 5gm).
What will be the Cost of product:
Cost Calculation:
Total Fixed Cost (Land , Equipment , Building )                               Tk.  115,00,000
Total Variable Cost (Labor  ,Raw- materials)                                     Tk.    25,00,000
Total Advertising Cost ( TV , FM, Leaflet, Newspaper )                    TK.   32,00,000
Product Development ,Distribution and Incentives                             Tk.    15,00,000
Tax                                                                                                        Tk.      300,000
Other Cost                                                                                           Tk.      1000,000
Total Cost                                                                                             Tk.   200,00,000
Break-even Analysis
The Break-even Analysis indicates $5714.30 or Tk.400000 will be need in monthly revenue to reach the break-even point.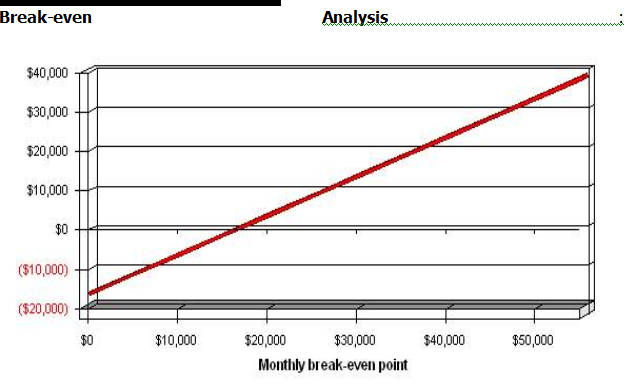 Figure :  Break-even Analysis
Break-even Analysis (imagine)  Monthly Revenue Break-even  Tk. 400000  Assumptions: Average Percent Variable Cost (on revenue)30%Estimated Monthly Fixed CostTk. 50,000
Product Life-Cycle
Introduction:
In this stage of our product's life cycle, sales are expected to be low. On the other hand cost per customer will be moderately high. So, in this stage, we will use cost-plus pricing. Profits will be negative until we reach the break-even quantity which is 5lacs units (per unit = 5gm of the product) of sale. We will offer the only brand "F & B CARE" in this stage. Distribution will be selective; The Company would primarily focus on promoting the Brand Force PCs in the capital city Dhaka. Unless the brand is well established in Dhaka, it would be pre-mature to increase overhead expenses in distant districts since most of the corporations, business establishments, located in Dhaka. For large institutional buyers, our company would open a representative office in Chittagong, the port city, to cater to the specific volume purchases. We will use heavy promotional activities; advertising, personal selling and try to build product awareness among early adopters.
Growth:
In this stage, both sales and profits of our product are expected to rise rapidly. To penetrate the market, we will use average cost per customer. Growing number of both customers and competitors are expected in this stage. We will try to maximize our market share by building intensive distribution. In this stage, we will reduce the promotional activities and will conduct market survey research to know consumer demand.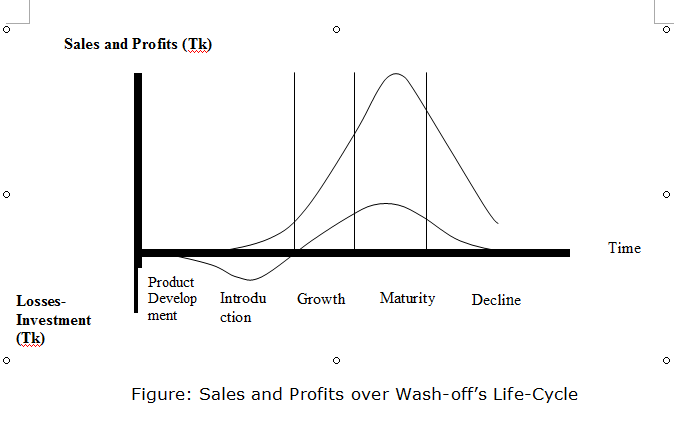 Maturity:
We expect to have our highest profit in this stage. Peak sales will occur as a result of low cost per customer. Majority of the target consumers are expected to use our PC in this stage. Our objective will be maximizing profits while defending market share. In this stage, we will start to introduce our other brand PCs with different features. We will set the price to match or beat competitors. Distribution strategy will be more intensive. Advertising activities will stress brand differences and benefits. Finally we will increase promotional activities to encourage brand switching.
Decline:
In this stage of our product life cycle, both sales and profits will be declining. Cost per customer will be low, as we will reduce our expenditures. We will also phase out weak items that are unprofitable. Price will be cut off and promotional activities will be reduced to a minimal level. In this stage, we will again go for selective distribution. Finally, advertising activities will be reduced to level needed to retain loyal customers.
4.1 Findings
Control:
All of our administrative members are planning to measures to closely monitor quality and customer service satisfaction to achieve our goals. This planning will enable us to very quickly in correcting any problems that may occur. Other early warning signals that will be monitored for sings of deviation from the plan include monthly sale and Monty expenses.
Marketing Organization:
Based on our organizational hierarchy we have constructed a framework that will help to manage and perform the activities of our new product.
Control System Framework:
First we will set our central office in Dhaka. From there we will keep contact with the local representative through mobile call, SMS and MMS. The responsibility of local representative will be to deal with the producers, send a copy of the deal to the head office and make sure that the producers are getting the right price. The payment of purchasing sugarcane will be cleared through banks, post offices and using several technologies.
We have two different ways to carry the product toward Dhaka office-
By Road
By Rail
Comparison and Contrast between Two Ways
| | | |
| --- | --- | --- |
| Characteristics | By Road | By Rail |
| Cost | High | Low |
| Time | Low | High |
Table 4.1 Comparisons and Contrast between by road and by rail
Whether we use By Road or By Rail we will use "Global Positioning System" (GPS). But in case of By Road we will maintain a contract with a specific petrol pump. We will receive the bill of petrol through fax, e-mail or SMS and the bill will be cleared by banks through "Electronic Data Interchange" (EDI).
The Dhaka office will contact with the warehouse through mobile. Though we are not using any distributor the retailer will collect carrot from our Dhaka office. So, we can say that the Dhaka office will be our "Point of Selling" (POS).
Action Programs (Final Result)
The new brands of "F & B CARE" will be introduced in July. We will make an action program for the next six months. And we believe that, if our six month action programs will run well, then we will achieve our goals easily. And we will continue our business according our cycle.
July:
As we know there is no alternative without advertising to reach the product to the customers mind. Therefore at the eve of month we will advertise to the newspapers about our new product. Our product is low involvement and buyers show habitual buying behavior therefore we will advertise on different TV channels so that we can develop unique position to the customers. Then we will collect their information of different dealers.
August:
At the beginning of the month will arrange a meeting for the suppliers, dealers and some specific customers. For advertising campaign we will go to different schools, Shopping malls, and parks to provide them free chips pack and we will provide them a leaflet through which they can write their opinion and they will get a coupon so that on their first time purchase they will get Tk. 2 discount and they will leave the leaflet to the retailer and we will collect it.
September:
Getting experience from the meet will apply some initiatives and at this month we will advertise of our new product in the Television, Radio, Bill Board, Banners, and in the Poster. Then we will launch our product in to the market. In the primary stage we will produce small, and medium.
October:
After doing our successful operations of three month, at the forth month we give extra benefits to the dealers and sellers to improve our sales. We will start TV show (Live program) and to add experience we the product will have a tin number by doing sms (short text message) the consumer can meet celebrity of this program and if he or she is selected through lottery then we will make him or her as a model as like as Nobel, Opi Karim etc, whom he/she likes. This experience will attract our potential customers.
November:
Observing the situations, at this stage we will produce large packet for the couple. And this month our product will be available in almost every shop within the country.
December:
Observing and analyzing we take necessary actions to develop product sales and increase our profit. We can easily understand the marketing position of our product. If we learn that our condition is suitable then we will make divisional dealers to distribute to the whole country. Side by side we take control over it in necessary. In this way we will continue our production and give a particular image to the mind of every customer.
After performing marketing plan company will reach this position, when it capturing about 60% market share.
Sales Forecast
:(imagine)
| | | | |
| --- | --- | --- | --- |
| Year | 2010 |   2011 | 2012 |
| | | | |
| | | | |
| | | | |
| Total Sales                 (Tk.) | 85,00,000 | 95,00,000 | 145,00,000 |
| | | | |
| Year | 2009 | 2010 | 2011 |
| Direct Cost of Sales  (Tk.) | 67,00,000 | 76,00,000 | 93,00,000 |
| | | | |
Finally, this company will develop its capital by distributing the share of this company.
4.2 Recommendation
In here it is only say that if this company continues its marketing through a proper way or plan with quality products and also working to develop for existing & new coming product then this company will be a famous as a world recognized cosmetics company in the world.
4.3 Conclusion
In conclusion we can see that, the product the company is going to launch has a bright future in its market. As the product is innovative, the consumers are going to appreciate it. And according to the R&D (Research and Development) department this product will be a strong product mix for our company. And once our "F & B CARE" will reach to the hand of our targeted customers we will be able to capture the market. That's why we can say that GEB Cosmetics Ltd will be a new generation company. That is coming soon in the market.