Snapchat revealed on Friday that it is launching a new buddy system-like function that would allow users to share their real-time location with a friend for 15 minutes or a few hours. The new worldwide function is designed to assist users in keeping track of their friends when they restart their social lives, return to university, or resume travel.
It may be used for everyday tasks such as ensuring that your friend arrives home safely at night. Users can only share their current location with a select group of pals. Users can't broadcast their real-time location data to all of their Snapchat pals for safety concerns, according to Snapchat.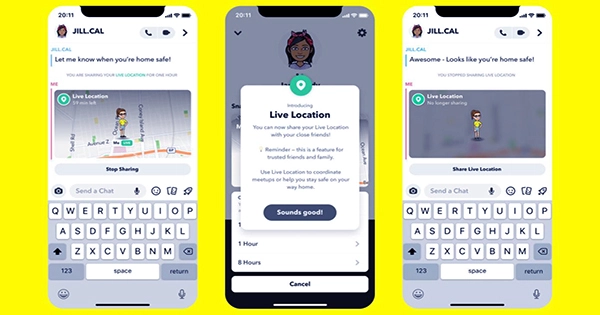 Before they may share their location, both parties must accept each other as friends on Snapchat, according to the business. When users choose to enable the function, they'll be reminded that it's exclusively for close friends and family. When using Snapchat, users have had the ability to broadcast their location with their friends on the Snap Map since 2017. Each month, 250 million people use the Map to communicate with their peers. According to the company, this new real-time functionality was developed in response to user input on how they were using Snap Map with their friends.
According to the report, 78 percent of Snapchat users in the United States say they aren't hesitant to publish their location on the Snap Map because they believe it is a safe way to remain in touch with others. The new tool is part of a larger relationship with its On Us, a national group dedicated to ending sexual assault on college campuses. In addition to the new feature, the app will release a new public service announcement (PSA) aimed at raising bystander awareness.
The new feature arrives only one day after Snapchat revealed that users will be allowed to alter their usernames beginning February 23rd. Users' buddy lists, Snap codes, Snap scores, memories, and other parts of their accounts will not be affected by the username change. You won't be able to choose from previously used usernames, and you'll only be able to change your username once a year.