Seychelles (/seɪˈʃɛlz/ ; French: sɛʃɛl or seʃɛl), officially the Republic of Seychelles (French: République des Seychelles; Creole: La Repiblik Sesel), an island republic in the western Indian Ocean, comprising about 115 islands, with lush tropical vegetation, beautiful beaches, and a wide variety of marine life. Situated between latitudes 4° and 11° S and longitudes 46° and 56° E, the major islands of Seychelles are located about 1,000 miles (1,600 km) east of Kenya and about 700 miles (1,100 km) northeast of Madagascar. The capital, Victoria, is situated on the island of Mahé.
The principal islands are Mahé (55 sq mi; 142 sq km), Praslin (15 sq mi; 38 sq km), and La Digue (4 sq mi; 10 sq km). The Aldabra, Farquhar, and Desroches groups are included in the territory of the republic.
Its capital and largest city, Victoria, lies 1,500 kilometres (932 mi) east of mainland Africa. Other nearby island countries and territories include Comoros, Mayotte (territory of France), Madagascar, Réunion (territory of France), and Mauritius to the south; as well as the Maldives and Chagos Archipelago to the east. With a population of roughly 94,367, it has the smallest population of any sovereign African country.
East of Kenya, this relatively unspoiled archipelago of 115 coral and granite islands feature UNESCO-listed jungles; thriving coral reefs; and palm-lined, powdery beaches flanked by giant boulders. Almost half the total land area of these equatorial isles is protected, and many of the islands lie within fish-rich marine sanctuaries with excellent diving and snorkeling. Seychelles also features some of the planet's richest fishing grounds, making this a top destination for anglers.
Seychelles, one of the world's smallest countries, is composed of two main island groups: the Mahé group of more than 40 central, mountainous granitic islands and a second group of more than 70 outer, flat, coralline islands. The islands of the Mahé group are rocky and typically have a narrow coastal strip and a central range of hills. The overall aspect of those islands, with their lush tropical vegetation, is that of high hanging gardens overlooking silver-white beaches and clear lagoons. The highest point in Seychelles, Morne Seychellois (2,969 feet (905 meters)), situated on Mahé, is located within this mountainous island group. The coralline islands, rising only a few feet above sea level, are flat with elevated coral reefs at different stages of formation. These islands are largely waterless, and very few have a resident population.
Seychelles was uninhabited prior to being encountered by Europeans in the 16th century. It faced competing for French and British interests until coming under full British control in the late 19th century. Since proclaiming independence from the United Kingdom in 1976, Seychelles has developed from a largely agricultural society to a market-based diversified economy, characterized by rapidly rising service, public sector, and tourism activities. From 1976 until 2015, nominal GDP grew nearly sevenfold, and purchasing power parity increased nearly sixteenfold. Since the late 2010s, the government has taken steps to encourage foreign investment.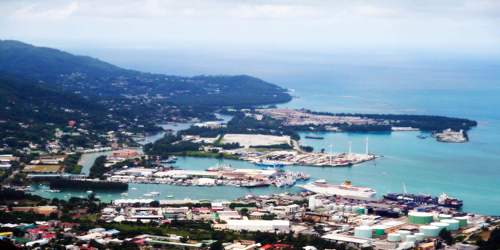 Languages: Seychellois Creole (official) 89.1%, English (official) 5.1%, French (official) 0.7%, other 3.8%, unspecified 1.4% (2010 est.)
Religions: Roman Catholic 76.2%, Protestant 10.6% (Anglican 6.1%, Pentecoastal Assembly 1.5%, Seventh-Day Adventist 1.2%, other Protestant 1.6), other Christian 2.4%, Hindu 2.4%, Muslim 1.6%, other non-Christian 1.1%, unspecified 4.8%, none 0.9% (2010 est.)
Literacy rate: 91.8% (2011 est.)
Economic summary: GDP/PPP (2013 est.): $2.404 billion; per capita $25,900.
Real growth rate: 3.3%. Inflation: 4.3%. Unemployment: 2% (2006 est.).
The most popular sport in Seychelles is basketball, which has particularly developed last decade. The country's national team qualified for the 2015 African Games, its greatest accomplishment to date. There, the team competed against some of the continent's largest countries such as Egypt.
Today, Seychelles boasts the highest nominal per capita GDP of any African nation. It is the first African country with an HDI score exceeding 0.800, and therefore the only country in the continent with a very high Human Development Index. It is the only country in Africa classified as a high-income economy by the World Bank. Despite its relative prosperity, poverty remains widespread, and the country has one of the highest levels of economic inequality and unequal wealth distribution, with the upper and ruling class commanding a vast proportion of the country's wealth.
The climate is tropical oceanic, with little temperature variation during the year. Daily temperatures rise to the mid-80s F (low 30s C) in the afternoon and fall to the low 70s F (low 20s C) at night. Precipitation levels vary greatly from island to island; on Mahé, annual precipitation ranges from 90 inches (2,300 mm) at sea level to 140 inches (3,560 mm) on the mountain slopes. Humidity is persistently high but is ameliorated somewhat in locations windward of the prevailing southeast trade winds.
Seychellois culture and society is an eclectic mix of French, British and African influences, with more recent infusions of Chinese and Indian elements. The country is a member of the United Nations, the African Union, the Southern African Development Community, and the Commonwealth of Nations.
The islands became self-governing in 1975 and independent on 29th June 1976. They have remained a member of the Commonwealth of Nations. The Seychelles president, who is head of state and head of government, is elected by popular vote for a five-year term of office. The cabinet is presided over and appointed by the president, subject to the approval of a majority of the legislature. The unicameral Seychellois parliament, the National Assembly or Assemblée Nationale, consists of 34 members, 25 of whom are elected directly by popular vote, while the remaining nine seats are appointed proportionally according to the percentage of votes received by each party. All members serve five-year terms.
Of the roughly 200 plant species found in Seychelles, some 80 are unique to the islands, including screw pines (see pandanus), several varieties of jellyfish trees, latanier palms, the bois rouge, the bois de fer, Wright's gardenia, and the most famous, the coco de mer. The coco de mer which is found on only two islands produces a fruit that is one of the largest and heaviest known and is valued by a number of Asian cultures for believed aphrodisiac, medicinal, mystic, and other properties. The Seychellois government closely monitors the quantity and status of the trees, and, although commerce is regulated to prevent overharvesting, poaching is a concern.
Seychelles is a member of the African Union (AU), the francophone Indian Ocean Commission (IOC), La Francophonie, the Southern African Development Community (SADC) and the Commonwealth. From 1979 to 1981, the United States was involved in the failed 1981 coup attempt. Under the Obama administration, the US began running drone operations out of Seychelles. In the Spring of 2013, members of the Special-Purpose Marine Air-Ground Task Force Africa mentored troops in Seychelles, along with a variety of other African nations.
Wildlife includes a remarkably diverse array of marine life, including more than 900 identified species of fish; green sea turtles and giant tortoises also inhabit the islands. Endemic species include birds such as Seychelles bulbuls and cave-dwelling Seychelles swiftlets; several species of local tree frogs, snails, and wormlike caecilians; Seychelles wolf snakes and house snakes; tiger chameleons; and others. Endemic mammals are few; both fruit bats (Pteropus seychellensis) and Seychelles sheath-tailed bats (Coleura seychellensis) are endemic to the islands. Indian mynahs, barn owls, and tenrecs (small shrewlike or hedgehoglike mammals introduced from Madagascar) are also found.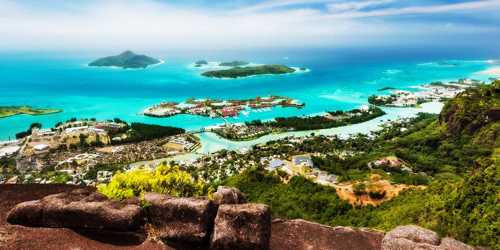 The climate is equable although quite humid, as the islands are small, classified by Köppen-Geiger system as tropical rain forest (Af). The temperature varies little throughout the year. Temperatures on Mahé vary from 24 to 30 °C (75 to 86 °F), and rainfall ranges from 2,900 mm (114 in) annually at Victoria to 3,600 mm (142 in) on the mountain slopes. Precipitation is somewhat less on the other islands.
During the coolest months, July and August, the average low is about 24 °C (75 °F). The southeast trade winds blow regularly from May to November, and this is the most pleasant time of the year. The hot months are from December to April, with higher humidity (80%). March and April are the hottest months, but the temperature seldom exceeds 31 °C (88 °F). Most of the islands lie outside the cyclone belt, so high winds are rare.
Considerable efforts have been made to preserve the islands' marked biodiversity. Seychelles' government has established several nature preserves and marine parks, including the Aldabra Islands and Vallée de Mai National Park, both UNESCO World Heritage Sites.
The Aldabra Islands, a large atoll, are the site of a preserve inhabited by tens of thousands of giant tortoises, the world's oldest living creatures, which government conservation efforts have helped rescue from the brink of extinction. Vallée de Mai National Park is the only place where all six of the palm species endemic to Seychelles, including the coco de mer, may be found together. Cousin Island is home to a sanctuary for land birds, many endemic to the islands, including the Seychelles sunbird (a type of hummingbird) and the Seychelles brush warbler. The nearby Cousine Island is part private resort and part nature preserve, noted for its sea turtles, giant tortoises, and assorted land birds. Bird Island is the breeding ground for millions of terns, turtle doves, shearwaters, frigate birds, and other seabirds that flock there each year.
Seychelles is a key participant in the fight against Indian Ocean piracy primarily committed by Somali pirates. Former President James Michel said that piracy costs between $7 million $12 million a year to the international community: "The pirates cost 4% of the Seychelles GDP, including direct and indirect costs for the loss of boats, fishing, and tourism, and the indirect investment for the maritime security." These are factors affecting local fishing one of the country's main national resources which had a 46% loss in 2008–2009. International contributions of patrol boats, planes or drones have been provided to help Seychelles combat sea piracy.
Information Sources: