3. Membership Affairs (M/A) Department
Department of Membership Affairs is one of the most important departments in Dhaka Stock Exchange Limited.  This department of DSE runs with the goal of providing possible assistance to all the DSE Member Companies in their smooth operation. In the year 2006 the total number of active DSE Member Companies was 120 with a few branch offices. But in the year 2009 the number of active DSE Member Companies has come to 285 with 500 Branch Offices (on October 2009 existing 381 and proposed 120) and the total number of Authorized Representatives has reached to 2475(on October 2009 existing 1692 and applied 525). As a result of such expansion and up gradation of DSE, the activities related to membership affairs increased by a considerable degree.
Manpower: 10
| | |
| --- | --- |
| AGM | 01 |
| Senior Executive | 01 |
| Executives | 02 |
| Jr. Executives | 01 |
| Sr. Office Assistant | 02 |
| Office Assistants | 01 |
| General Support Service | 02 |
3.1 Management of Membership Affairs Department
The overall activities of Membership Affairs Department of DSE is fully charged and controlled by the Chief Operating Officer (COO).This department is responsible of dealing with the DSE members issues. Specially, this department play vital role to meet some basic immediate needs. This department also execute some fundamental works of others department. Hierarchy of the department is given below: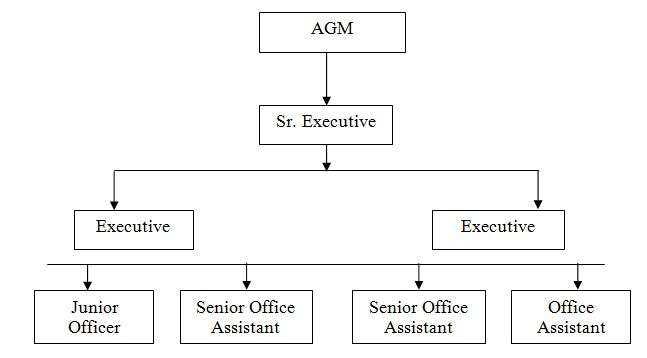 3.2 Contribution of the M/A Department
 The membership Affairs Department provides various assistances to the members to operate efficient transaction of Stock Exchange. The Membership affairs department contributes in following work –
 Registration of Stock broker and Stock Dealer.
Opening new Branch
Approval of the existing branch.
Approval of the extension branch office.
Authorize representative Appointment.
Withdrawal of the authorized representative.
Renewal of the authorized representative certificate.
Issuing stock broker and stock Dealer certificate.
Renewal of stock broker and stock Dealer certificate.
Issuing of trading work Station.
Miscellaneous members related works.
This department focuses on collecting necessary document and after sorting all the document, complete set of the document go to due authority for final approval. Complying Rules and regulation the department arrange document for final approval. The department always remains alert to fulfill DSE member's requirement.
3.3 Functions of M/A Department
 1. Registration of every DSE Broker/Dealer:
 Membership of DSE facilitates a person prospects to be a Trading members (Stock Brokers) of the Exchange through compliance of the regulatory Provisions of DSE and SEC. There are 238 members in DSE all of whom are corporate bodies.
The eligibility criteria for the membership according to Regulations, 2000 of SEC are as follows:
A corporate body with a minimum paid up capital of BDT 2.5 million.
Any partner or director thereof  as the case can not be
Less than 21 years old
A bankrupt announced by CIB of Bangladesh Bank
Person of unsound mind
A member of any Stock Exchange
Person convicted by a competent court of an office involving moral turpitude or any misconduct
A Merchant Banker , Portfolio manager, trusty of Mutual Fund
A person of insolvent by court. etc
If someone is eligible to be a member of DSE, he/she thereby may apply for the membership of DSE. The interested party must have to issue a forwarding letter and submit the necessary papers and documents to the DSE. The forwarding letter along with the name of all the documents is given in the following page.
After sorting the documents the department needs to send to the Securities and Exchange Commission for license. DSE announce the license through MOP's Announcement for starting of trading depicting the license number and other details. Then it needs to register the office or location where they want to start trading along with allocation of TWS applied for.
Dhaka Stock Exchange Ltd.
Stock Exchange Building
9/F, Motijheel C/A., Dhaka-1000
The Board of Directors                                                                             Date:……………….
Dhaka Stock Exchange Ltd.
9/F, Motijheel C/A,
Dhaka- 1000.
Gentlemen,
I on behalf of——————————————————————————- Ltd. desire to be a shareholder and member of the DSE Ltd. and I hereby agree, if selected for the same, to be bound by the Memorandum and Articles of Association of DSE along with all the laws, Bye-laws, and Regulations made or to be made hereafter for the Governance of the Exchange or the business thereof.
We herby apply for one share with particulars given below as required by DSE.
SL. No.
Yes (√)

No (×)

1
A.

B.

C.

2
3
4
5
6
7
8
9
10
11
12
13
14
15
16
17
18
19
20
For official
use only
A. Additional requirements FORM duly filled in & signed.
B. Terms & Conditions to be a member of DSE duly filled in & signed.
C. Recommendation for membership from two existing members duly signed.
Original Share Certificate # 000——— along with share transfer FORM 117 (duly filld in & signed) and Share transfer stamp of Tk. ———– duly cancelled by company's seal.
Memorandum and Articles of Association – 2 copies (Certified copies to be enclosed)
Certificate of Incorporation
Vendors Agreement – Original
SEC Registration Certificate
Board Resolution regarding application for membership representation and signing Authority
Form XII in original
Photocopy of Bank A/C Certificate
Photocopy of TIN Certificate
Photocopy of Trade License
BIO-DATA of each Director
Guarantee & Undertaking of each Director on Non-judicial stamp of Tk.150/=
Affidavit of each Director on Non-Judicial stamp of Tk. 50/= with notarized
Undertaking (From Ka) for CIB clearance duly filled & signed by each director-3sets
Declaration regarding subsidiary/ sister concern Loan
Audited Financial statement- 2 copies
Compliance Authority
Entrance fee 100,000= (one lac) paid vide Cheque # ———————Date————0f ————————–Bank ————————— Branch Dhaka
DSE Members Club Membership Fee of Tk.100,000 (one lac) paid Vide Cheque # ———– date ———————— of ————————————– Bank ———————————————- Branch Dhaka.
Thanking you,                                                                                      Received by———–
 2. Renewal of Registration Certificate of every Broker/Dealer (yearly): 
The licenses issued by the Commission are required to be renewed every year as per the Securities and Exchange Commission (Stock Dealer, Stock Broker & Authorized Representative) Rules 8(1), 2000 along with dully filled in Forms and Pay Orders in favor of the Commission. For renewal the Registration certificate, the member company has to submit the following documents to the DSE:
Renewal fee by way of PO/DD of Tk. 10,000/= in case of Stock Broker and Tk. 20,000/= in case of Stock Dealer & Broker in favor of SEC.
Original Registration Certificate
In case of Stock Dealer & Broker one set and in case of Stock Broker two sets of duly filled in Form 'Gha" and Form 'Chha' (enclosed).
Statement of Net Capital Balance of the year ending month.
According to sub-rule (2) of the above rule, the application along with documents must be reached to the SEC within one month before expiry date to avoid daily fine Tk. 500/= for any late submission.
3. Transfer of Membership of DSE:
Ownership of DSE membership may be transferred in many ways. The Department prepares documents in this regard and maintaining a database with every details of such transfer or any kind of change. The database provides the updated information from its birth. The documents that are used For Registration of Stock Broker/Dealer are also used for transferring the Membership of DSE.
 4. Conversion of proprietorship Member Company into Limited Member  Company:
As per SEC's requirement every DSE Member Company (Proprietorship Company) has to be converted into limited company. The Department has completed all arrangements for 150 proprietorship companies to convert into limited companies.
5. Appointment Authorized Representative for operating Trading Work Station:
DSE broker/dealer may appoint Authorized Representative who is registered with DSE and SEC to act as an agent for doing all the activities related to buy and sell securities through the stock exchange.
Relevant Documents for Application of Authorize Representative:
Forwarding letter regarding appointment of Authorize Representative.
Bio-Data of the Applicant mentioning permanent & present Address and detail Academic Qualification. (Two sets)
Photocopies of all Academic Qualification Certificates attested by the respective Member. (Two sets)
Four copies (Passport size) recent Color Photographs. N.B. Computerized photo is not allowed.
Appointment letter.
A Declaration of having SEC License under either DSE or CSE along with Job Record being authenticated by the Member Representative.
Applicant Declaration.
Convicted Clearance Certificate as per law of 2000, 4(2), (v), (VI) by SEC.
Guarantee & Undertaking on Non-Judicial Stamp of Tk. 150/=
Affidavit on Non-Judicial Stamp of Tk. 50/= with notarize.
A Deed of Agreement between the Member & Authorized Person on Non-Judicial Stamp Tk. 150/= (Both the parries should Sing in every page).
Form Kha should be filled in Bengali properly.
A cheque of Tk. 1600/= in favor of DSE Ltd.(Entrance fee Tk. 1000/= & Training fee Tk. 600/=).
A pay Order of Tk. 1000/= in favor of SEC as registration fee.
N.B.:
a)      Applicant's age should not be less than 21 years (As per S.S.C. Certificate).
b)     Minimum Qualification of Applicant is H.S.C.
c)      The name & father's name of the Applicant in every relevant document should be as per S.S.C. or Equivalent Certificate.
d)     If the applicant has SEC License, he has to submit the Original License along with the clearance from the previous Member Company (Release order).
DSE appoints the Authorized Representatives of the Membership Companies. It requires various tasks such as; after receiving the application sorting the documents, conducting Interviews, preparing list for the Training and sending the relevant documents for registration to the Commission. It goes through a number of stages. The procedure of the appointment of the authorized representative is in the following diagram
7. Submission of Audited Financial Reports of the DSE Membership Companies to the Commission:
As required under the SEC rules every DSE Membership Company has to submit:
Yearly Audited Financial Statement within four months of the year end.
Quarterly Un-audited financial statements within one month.
Discloser of price Sensitive Information.
These statements have to submit as per the Securities and Exchange Commission (Stock Dealer, Stock Broker & Authorized Representative) Rules, 2000. It is mandatory to follow preparation of the Financial Statements according to IFRS and ISA's as adopted in Bangladesh. The reports submitted by the companies have to be checked by the DSE experts and forwarded to the commission within the stipulated time.
8. Renewal of Authorized Representative's Certificate (yearly):
Licenses issued by the Commission to the Authorized representatives have to be renewed every year within the stipulated time frame with dully filled in SEC prescribed forms and pay orders. According to the Securities and Exchange Commission (Stock Dealer, Stock Broker & Authorized Representative) Rules 8(1), 2000 the Authorized Representative must be submit the following documents:
Renewal fee by way of PO/DD of Tk. 1000/= in favor of SEC.
Original Registration Certificate.
One set of duly filled in Form 'Gha" and Form 'Chha' (enclosed).
Statement of Net Capital Balance of the year ending month of the respective company.
According to sub-rule (2) of the above rule, the application along with documents must be reached to the SEC within one month before expiry date to avoid daily fine Tk. 100/= for any late submission.
9. Updating the information related to the DSE Member Companies and Authorized     Representatives in the DSE Central Database and Web sites:
All the related information of the DSE Member Companies and Authorized Representatives are given in the DSE central database and website. This information is modified time to time.
10. SEC approval for Branch Offices:
The approval of Members branch office is another important function of the M/A department. Because of rapid expansion of capital market in Bangladesh the Members of DSE has to expand their Stock Exchange operation and hence increase their branch office. To be eligible to open a new branch office the Member Company must have to meet the following criteria:
Office– The proposed branch office must have to be outside of the 500 yard distance from the Head office of Members.
The Member Company must have a Compliance Officer, A Branch Manager, and Two Authorized Representatives. It is to be noted that a compliance officer can be a branch manager, but can not be an authorized representative.
Paid up capital –
In case of Stock broker up to three branch offices – Tk. 2500,000/=
In case of Stock Broker and Dealer up to three branch offices – Tk. 50,00,000/=
More than three branches, per branch – Tk. 50,00,000/=
The branch offices of the DSE Member Companies require submitting to the commission for approval. Now the total number of branch offices has reached to 500 (existing and proposed) for the approval.
Prerequisites for opening a branch office or approval for branch office:
Respective DSE Member Company (applicant) should submit the following documents to DSE:
Forwarding letter to DSE for opening branch office.
Name of the Member Company (corporate profile).
Address of the head office and Branch office(s), if any.
Address & telephone no. of the proposed branch office.
Fax no. & email address of the proposed branch office.
One copy of latest audited financial report.
Paid up capital.
Net worth.
Number of TWS.
Number of Authorized.
Names, address and qualification (Detailed CV) along with appointment letters of the authorized representatives, branch manager & compliance officer being attested by the Representative of the Member Company.
Board resolution regarding opening the proposed branch office.
Photocopy of Deed of Agreement between the member company and the owner of the premises duly attested along with layout.
Evidence or proof of having connections of utilities, such as demand note, receipts from authorities from which connections were taken.
Bank account number of the proposed branch office and name of the bank.
A Certificate: (Dummy Copy Enclosed)
DSE issued a letter to the respective member company to confirm the approval of Branch Office. Two copies of the letter are also issued to IT and Monitoring department to take further necessary action for branch approval. Then DSE issued a letter to SEC to inform about the approval of branch office and also updating the Member Database and In-house information.
11. Preserving all documents of all Member files:
The files of the DSE member companies are preserved in the safe custody with updated information by weekly basis.
12. Compliance as SEC (Stock Broker/Dealer and Authorized Representative) Rules 2000.
13. To follow the orders of the Chief Operating Officer and Chief Executive Officer:
The department follows every order of the Chief Operating Officer and Chief Executive Officer at once. It needs to go with the Honorable Members when needed.
 14. Member Compliance related:
We are intending to look after whether the DSE Membership Companies are following different corporate formalities. Different formalities such as, employment of Auditors, arranging of EGM, AGM, Board Meetings timely, various formalities relating to the Office of the Registrar of Joint Stock Companies and Firms and some other related tasks.
15. Change of DSE Membership Representative:
The Member Representative of the Member Company is needed to be changed due to his/her death or desire of the member company. The member company has to submit the following documents for changing its membership representative:
Bio-data with passport size photograph of new Membership Representative.
Board Resolution regarding the appointment of new Membership Representative
Latest Form XII (Particulars of Directors) being certified by Registrar of joint stock companies and firms.
Photocopy of Appointment Letter of new Membership Representative.
Filled in Undertaking (Form Ka) as per CIB (Credit Information Bureau) prescribed format- 03 sets in original
Notarized Affidavit in original on Non-Judicial stamp of Tk. 50/= of new Membership Representative
Guarantee and Undertaking in original on Non-Judicial stamp of Tk. 150/= of new Membership Representative.
After sorting the documents DSE decides to change the Membership Representative of the respective member company.
16. Miscellaneous:
The department has to perform various related jobs likely;
Delivery of Share Certificate after completion of formalities,
To assist the Department of Board Affairs relating Board Meetings, DSE Annual Return,
To assist in arranging DSE Annual General Meeting,
Maintenance of Books of Board Minutes,
To perform as per the orders of the High Officials time to time.
3.4 Sections of Activities of M/A Department
The Activities of this department are divided into different sections that have to perform a lot of jobs with multi links. The sections are given in below:
Branch Office Section:
The DSE Member Companies have 381 branch offices in total. The Securities and Exchange Commission has circulated a Directory; SEC No. SEC/CMRRCD/2002-90/34 dated October, 2009. As such, we require sending various related documents for the compliance. The Circular has a time frame within which the said compliance should be fulfilled.
Authorized Representative This Section plays a good role in the capital market. It produces Authorized representatives who operate the workstations in their respective Brokerage Houses. It has various jobs of multi dimension in nature. The applicants applied with relevant documents are required to appear in the Interview Board. After doing positive they are required to have a Training jointly organized by SEC and DSE. Then the documents are sent to SEC for registration.
Member Compliance Section:
This section is new one. It will look after the compliances of the Stock Brokerage Companies regarding their corporate activities. In this regard it will monitor whether the companies are doing EGM, Board Meetings and other Joint Stocks and firms related jobs. This section also will look after the submission of audited Financial Reports for onward submission to SEC as per the SEC rules and regulations.
Daily Affairs Section:
This is an important section as well. It looks after the various daily affairs of the Member Companies such as, allocation of Trading work Stations, withdrawal of Authorized Representatives, different announcements, suspension of trading & TWS and various related jobs.
Back Office Section:
This section deals with data entry in the DSE's Central Database, websites and other related links. The changes of DSE Member Representative and other changes are given entries into the different links.
Renewal Section:
This section deals with renewal of Membership licenses, authorized Licenses along with application for new approval of License to SEC. As per the SEC rules and regulations the renewal processes have to be complied with defined time frame and specific charges.
Forms used in this department:
Form "Ka" and "Cha" – Registration for Stock Broker/Dealer.
Form "Kha" – Appointment of Authorized Representative.
Form "Ga" – Registration Certificate.
Form "Gha" and "Chha" – Renewal of Stock Broker/Dealer and Authorized Representative's Certificate.
3.5 Strengths and Weakness of M/A Department
STRENTHS

 

      Enthusiastic & Empowered workforce

Friendly work environment

Strong rules & regulations

Modern equipment technology. etc

Reputation

Easy activities

Better remuneration

Supportive work environment. etc

WEAKNESS

 

      Limited number of manpower

Lack of maintenance of Rules &

Regulations

Limited workspace

Nepotism. etc

Pressure of Stock Broker/Dealer

Increasing number of Member

Company

Violation of Rules & Regulations

In seriousness of employee
The Capital Market is becoming larger day by day with the increase of Member Companies as well as Branches in countrywide. So the activities of Membership Affairs department are increasing rapidly.
Mentionable Performance
| | |
| --- | --- |
|           Category of Work | Quantity |
| Conversion of limited companies | 70 |
| Registration of Authorized Representatives | 1692 |
| SEC approval of Branch Offices | 129 |
| Issuance of both Stock Dealer & Stock Broker | 120 |
 4.1  Financial Performance of DSE
During the year 2007-08, DSE earned a total revenue of Tk.42.410 crore as against Tk. 18.84 crore in the previous year and a total expenditure of Tk. 16.94 crore as against Tk. 11.01 crore in the previous year leaving an operating income of Tk. 25.48 crore as against of Tk. 7.33 crore in the previous year. In addition during the year 2007-08 DSE earned a net interest revenue of Tk. 1.57 crore in the previous year leaving a net profit of Tk. 35.84 crore as against Tk l8.89 crore in the previous year.
Dhaka Stock Exchange performance from March 2004 to February 2009 is shown below through the graph. On an average the stock market has been rising. Except in the year 2005, the market was booming. But from the year 2007 the marker is increasing. Investors are aware of their investment. They judge the potentiality of companies. From any time in the past the investors are more concern about their investment. Besides listing in the stock market for good companies including banks created a huge response from the investors. That also indicates that investors are ready to invest their money in good companies.
DSE has three major indices to reflect market behavior namely DSE All Share Price Index, DSE General Index, and DSE 20 Index. All share price index (DSI) is now the benchmark price barometer. The stock market barometer registered a downward trend during the period of November 2008 to October 2009 in the DSE General index. Though its go up during mid November, 2008, again it moves downward trend and fluctuate up to end of October 2009.
The DSE 20 index has the basis of 700 base-indexes. The DSE 20 index stood at 2200 points and DSI index stood at 2800 points.  On the other hand DSE GEN index stood at 3300 at the month of October, 2009. Then started to decline & continued few months & again increasing.
 Sector-wise performance October-2009
DSE Sectoral Performance – October 2009

Sector

Market Capitalization
in mn

% of
total
Mkt. Cap.

Turnover
Tk. in mn

% of
total
Turnover

October

September

October

September

Financial Sector
 
Banks

389,549.82

369,454.99

33.84

37,335.70

14,729.70

17.74

Insurance

64,757.80

66,688.13

5.63

6,729.83

4,614.66

3.20

Investment

68,370.59

62,378.84

5.94

13,590.53

8,883.81

6.46

Total

522,678.21

498,521.96

45.40

57,656.06

28,228.18

27.39

Manufacturing

 

Foods

29,339.35

27,200.45

2.55

5,930.01

2,390.86

2.82

Pharmaceuticals

129,061.75

125,203.48

11.21

18,529.23

7,136.36

8.80

Textile

45,568.95

35,997.25

3.96

22,992.76

7,048.67

10.92

Engineering

60,043.43

53,376.80

5.22

25,942.64

12,463.12

12.32

Ceramics

9,904.22

9,207.86

0.86

4,872.63

1,258.12

2.31

Tannery

11,611.17

10,877.08

1.01

2,408.87

1,167.22

1.14

Paper & Printing

1,514.32

2,016.99

0.13

126.35

54.39

0.06

Jute

699.92

797.58

0.06

15.91

12.17

0.01

Cement

43,329.78

43,110.39

3.76

3,652.13

1,899.78

1.73

Total

331,072.88

307,787.87

28.76

84,470.53

33,430.69

40.13

Service & Miscellaneous
Fuel & Power

195,708.75

173,139.22

17.00

40,371.17

10,486.27

19.18

Service & Real Estate

34,302.40

35,391.12

2.98

6,314.62

4,047.21

3.00

IT

5,097.84

3,948.94

0.44

7,527.06

1,483.26

3.58

Miscellaneous

59,594.16

50,144.17

5.18

14,066.70

4,936.25

6.68

Total

294,703.16

262,623.45

25.60

68,279.55

20,952.98

32.44

Corporate Bond

 

 

 

 

 

 

IBBL Mudaraba Perpetual Bond

2,730.00

2,719.50

0.24

99.79

51.86

0.05

Total

2,730.00

2,719.50

0.24

99.79

51.86

0.05

 

 

 

 

 

 

 

Grand Total

1151184.26

1071652.77

100

210505.92

82663.71

100
MARKET TRENDS
Year

2005

2006

2007

2008

2009

Turnover US$ (Bn)

0.97

0.94

4.71

9.71

16.15

General Index

1677.35

1609.51

3017.21

2795.34

3364.26

P/E Ratio

13.85

14.51

23.58

18.42

21.07

Average Dividend

25.33

24.29

18.91

21.57

32.21

Yield

4.02

3.58

2.08

2.48

1.76

Market Capitalization

US$ (Bn)

3.41

4.57

10.82

15.17

21.02
* Up to October 2009
Figure: Sectoral Turnover October 2009
Financial sector dominated the DSE turnover, accounting for a 27.39 percent of the total DSE turnover in October, 2009 with Bank stocks on the top while manufacturing sector contributed second highest turnover with Engineering sector contributed for 12.32 percent. In volume wise, Investment companies took the lead while Pharmaceuticals, Food and Textile sector followed the rally. In terms of value, Bank, Pharmaceuticals and Fuel & Power, Textile and Engineering Sector dominated the DSE turnover, accounting for 17.74 percent, 8.80 percent, 19.18 percent, 10.92 percent and 12.32 percent respectively.
Performance of DS 20 – October 2009

Sl. No.

Company

Mcap
Tk mn

% of
Mcap

Turnover
Tk mn

% of
Turnover

1

Islami Bank

32,030.86

2.78

812.11

0.39

2

NBL

13,457.00

1.17

772.77

0.37

3

Uttara Finance

3,564.00

0.31

503.35

0.24

4

Prime Bank

15,791.70

1.37

259.92

0.12

5

Southeast Bank

9,035.76

0.78

387.09

0.18

6

Dhaka Bank

7,430.92

0.65

227.33

0.11

7

Bangladesh Lamps

1,056.00

0.09

298.26

0.14

8

Singer Bangladesh

5,290.47

0.46

321.24

0.15

9

BATBC

17,436.00

1.51

1,691.97

0.80

10

AMCL (Pran)

1,192.20

0.10

525.05

0.25

11

BOC Bangladesh

5,954.91

0.52

1,236.92

0.59

12

Square Textile

6,839.59

0.59

1,793.04

0.85

13

Beximco Pharma

24,032.74

2.09

3,344.76

1.59

14

ACILimited.

8,531.94

0.74

1,665.22

0.79

15

Square Pharma

41,468.14

3.60

2,396.51

1.14

16

Meghna Cement

1,737.03

0.15

853.99

0.41

17

Apex Tannery

1,733.55

0.15

527.53

0.25

18

Bata Shoe

5,860.51

0.51

605.85

0.29

19

Monno Ceramic

1,113.08

0.10

137.98

0.07

20

GQ Ball Pen

995.16

0.09

600.34

0.29
                        MARKET TRENDS
Foreign Trade Turnover at DSE
Year

Indicators

2005

2006

2007

2008

2009

Buy (Tk mn)

93.15

1388.72

14397.6

5505.49

5167.94

Sell (Tk mn)

251.12

434.19

5507.0

8149.64

7588.32

Net (Tk mn)

-157.96

945.53

8809.6

-2644.15

-2420.36

Total (Tk mn)

344.27

1822.91

19904.6

13655.13

12756.26

Total (US$ mn)

5.13

26.41

290.24

198.22

184.58

% of Total Traded Value

0.53

2.80

6.16

2.04

1.14
* Up to October 2009
Key Market Indicators 2004-2008
Parameters/Year

2004

2005

2006

2007

2008

Listed Securities

256

286

310

350

412

DSE General Index
Opening

967.15

1999.71

1669.80

1583.08

3008.91

Closing

1971.31

1677.35

1609.51

3017.21

2795.34

% of Change

103.83

(16.12)

(3.61)

90.59

(7.10)

Highest (01.06.08)

1994.08

1999.71

1712.49

3093.54

3207.89

Lowest (27.11.08)

934.95

1434.65

1294.04

1574.97

2459.48

All Share Price Index
Opening

1500.50

1272.67

1297.99

2529.66

Closing

1275.05

1321.39

2535.96

2309.35

% of Change

(15.02)

3.83

95.38

(8.71)

Highest (01.06.08)

1500.50

1349.76

2612.46

2716.01

Lowest (27.11.08)

1099.07

1003.79

1289.02

2035.42

DSE 20 Index
Opening

1229.39

2177.40

1597.86

1389.54

2495.65

Closing

2158.66

1608.63

1406.35

2485.87

2328.71

% of Change

75.59

(26.12)

(11.99)

78.90

(6.69)

Highest (27.07.08)

2180.21

2214.17

1604.88

2485.87

2666.76

Lowest (17.12.08)

1182.67

1536.68

1261.70

1325.46

2064.88

Market Cap in bn Tk.
Opening

97.38

239.31

228.17

310.66

759.66

Closing

224.16

228.57

315.45

742.20

1043.80

% of Change

130.19

(4.49)

38.25

138.91

37.40

Highest (30.12.08)

281.97

239.57

315.96

757.75

1043.80

Lowest (06.01.08)

95.97

179.68

196.37

308.83

744.63

Turnover in mn Tk.
Total Turnover

53181.17

64863.64

65079.12

322867.07

667964.82

% of Change

177.67

21.97

0.33

396.11

106.89

Total Trading day

268

258

228

237

237

Daily average

198.44

251.40

285.43

1362.31

2818.42

Highest (12.10.08)

626.50

585.85

809.27

3168.34

5905.15

Lowest (07.01.08)

20.14

86.87

77.07

233.17

743.96

Volume
Total Volume

681375804

882807375

832715299

2831234625

4605378854

% of Change

11.20

23.56

5.67

240.00

62.66

Daily average

2542447

3421734

3652260

11946138

19431978

Highest (12.10.08)

11085338

10858566

16875187

31165616

46173445

Lowest (07.01.08)

648350

1029222

970723

3277784

3097205
These are the key market indicators of Dhaka Stock Exchange (DSE) for 2004 to 2008. During the said time, an increasing trend was appeared from the value stated in table. This scenario will be clearer through following graph. The numbers of listed securities of DSE in increasing at increasing rate over the year. In 2004, it was 256 and in 2008 it arrives at 412.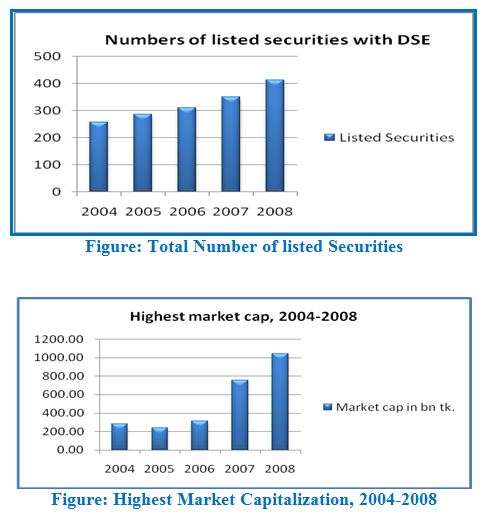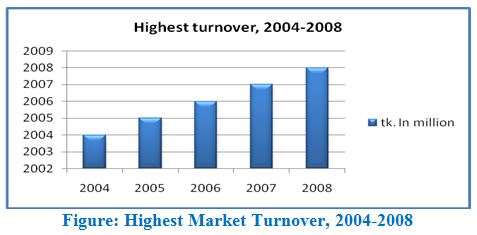 Figure: Highest Market Capitalization, 2004-2008
From the following graph (figur-2), we can see market capitalization has tremendiously increased in last two year. The highest market cap in 2006 was tk. 315 billion but it was tk. 758 billion and tk. 1044 billion in 2007 and 2008 respectively. Finally in recent time, at 19th March, 2009 DSE made the peak with turnover of tk 648 crore.
Sector Wise Price Earnings Ratio (P/E)
Sec./Year

2006

2007

2008

2009

(September)

Overall Market

14.51

23.58

18.42

18.21

Bank

15.49

24.97

16.62

12.73

Insurance

10.24

15.59

21.81

38.91

Investment

6.13

20.29

20.37

38.25

Engineering

14.34

28.57

30.24

13.32

Food

18.69

23.28

16.93

19.53

Jute

6.74

7.98

12.15

43.54

Textile

12.01

12.14

13.85

28.44

Pharmaceuticals

11.76

21.05

30.96

25.48

Paper and Printings

6.62

6.23

9.36

47.17

Cement

18.53

12.61

10.26

52.27

Tannery

8

15.38

16.43

19.35

Ceramic

14.88

29.85

47.8

74.46

Fuel & Power

18.87

35.95

15.83

13.12

Service & Real Estate

12.62

8.82

22.66

41.38

IT

11.12

15.25

46.52

26.95

Miscellaneous

11.05

14.43

34.43

24.14
Price – earnings ratio, which theoretically determines the time an investor, needs to get back the investible amount, reflect the price offer per taka against the earning of a company share. DSE generally calculates two types of P/E ratio.
 The above table contains weighted average Price-earnings ratio. The sector-wise P/E ratio of DSE shows that weighted average P/E ratio of banking sector fell to 12.73 in 2009 from 18.42 of 2008. Same trend was for insurance but rest shows inverse trend that means increasing trend.  This scenario will be clearer from following figure:
Dividend Status at DSE
A total of 128 companies and mutual funds have declared cash dividend in 2008 against 141 of 2007 during the year under consideration. The cash dividend status of the companies and find shows that 3 companies declared more than 100 percent dividend, 7 companies declared 51 to 100 per cent dividend, 4 companies between 31 to 50 per cent and 21 companies in 21 to 30 per cent, 58 companies in 11 to 20 per cent while 35 companies declared below 10 per cent.
Cash dividend status, 2008
| | |
| --- | --- |
| Cash dividend range | Number of companies |
| More than 100 % | 3 |
| 51% to 100% | 7 |
| 31% to 50% | 4 |
| 21% to 30% | 21 |
| 11% to 20% | 58 |
| Less than 10% | 35 |
Sector-wise average dividend distribution shows that 7 sector paid higher dividend in 2008 compared to in same period of December 2007, with the tannery sector 64.16% taking the lead while 9 sectors paid lower dividend during the year compared to the preceding one.
Sector Wise Dividend Performance
| | | | |
| --- | --- | --- | --- |
| Sec./Year | 2006 | 2007 | 2008 |
| Overall Market | 6.71 | 8.28 | 7.76 |
| Bank | 5.05 | 5.99 | 2.28 |
| Insurance | 5.7 | 8.87 | 4.31 |
| Investment | 12.84 | 17.11 | 10 |
| Engineering | 12.44 | 16.72 | 13.21 |
| Food | 8.22 | 8.79 | 18.15 |
| Jute | 2.89 | 6.01 | 10 |
| Textile | 6.38 | 5.36 | 4.77 |
| Pharmaceuticals | 25.49 | 24.67 | 23.61 |
| Paper and Printings | 2.16 | 3.29 | 4.46 |
| Cement | 1.56 | 2.32 | 3.29 |
| Tannery | 22.99 | 62.54 | 64.16 |
| Ceramic | 8.43 | 6.96 | 5.63 |
| Fuel & Power | 2.92 | 12.5 | 22.18 |
| Service & Real Estate | 3.19 | 3.83 | 9.79 |
| IT | 6.15 | 1.2 | 0.82 |
| Miscellaneous | 23.49 | 28.25 | 22.5 |
5.1 Concept of  Central Depository System
 Central Depository Bangladesh Limited was incorporated as a public limited company on 20th August 2000 to operate and maintain the Central Depository. It will provide following support to the stock market/investors.
Electronic Book Entry, recording and maintain securities accounts.
Registering transfer of securities: changing the ownership without any physical movement or endorsement of certificates.
Execution of transfer instruments, as well as various other investors services including facilitation of the secondary market trading of Treasury Bills and Government Bonds issued by the Bangladesh Bank.
A central depositor is like a bank for share instead of money. Instead of holding shares in the form of certificates, investors have accounts in the depository and are; able to move securities and settle stock exchange transactions by an electronic update of their accounts. Virtually all established markets have depositories including India, Japan, Malaysia, Pakistan, Sri Lanka, and Thailand, UK and USA
5.2  Function of Central Depository System
B/O Account:
To trade under CDS one should have an account. This account is known B/O account. It is like a bank account. The owner of the account will get an account number by which he/she can get his balance of shares at the office hours. The following materials required to open an account.
Bank statements,
2 Copies passport size photo
Application form
Copy of passport, if any
Power of authority, if required.
It is the process to convert physical shares into electronic shares. For this conversion electronic book entry is mandatory.
It is a form that acts as a cheque. Normally, the process of transferring shares from B/O account to clearing account is called pay in. When the B/O sell his shares then he signs in the pay in form.
The rocess of transferring shares from clearing account to B/O account is called pay out. It is a process to transfer shares to the purchaser account.
The clearing and settlement is same as physical shares.
The process of converting electronic shares to physical shares is called Rematerialization.
5.3 Merits of Central Depository System
There are some merits of CDS:
By converting physical certificate into electronic form will eliminate-the risks of damaged, lost, forget and duplicate of share certificate.
The core services of depository are the efficient delivery, settlement and transfer of securities through computerized book system.
Immediate transfer of ownership is possible through electronic book entry.
This system also helps lending organization to check collateral if it is shares.
It also helps parent organization to issue IPO's, bonus shares, and/or right shares quickly and conveniently.
It also saves expenditure of issuing company from printing physical share certificate.
5.4   Demerits of Central Depository System
Very costly technology is required.
Fully depends on power supply.
Full concentration is required always otherwise share may be transferred to other DP.
Easily can cell the share of any B/O by others, if anyone can copy the sign of any B/O.
Fully depends on computerized system that may crash any time.
5.5    Guidelines to Overcome Problems
To employ efficient manpower.
To use updated programs and software.
To use modern technology
To work with full concentration.
To provide uninterrupted power supply.
6.1 Reason of Crash
    The reason of crash are mention below
Information was not sufficient in Dhaka Stock Exchange.
Its trading activities was not sufficiently transparent and efficient.
It lacks breadth and depth.
Mafia made the hazard.
The unwillingness for providing the flow of information by the Dhaka Stock Exchange.
Insider trading and off-loading of shares by the directors of the company.
Influx of new and unsophisticated investors and speculators.
Impact of withdrawals of lock-in period causing a remittance of resources.
The jurisdictional roles of various regulatory agencies are not defined.
Code of ethics not being followed and dubious role-played by professionals Chartered Accounts in certifying financial statements along with the valuation of assets properties.
6.2  Involved Personal or Institutions
The worst stock market crash in the history of Bangladesh stock market occurred in December in 1996. Forming a committee in 1997 by Securities and Exchange Commission identified the involved persons or institutions. The involved persons or institutions are follows-
According to the investigations eight brokers were involved in the manipulation.
Some listed company were involved/
Some dealers were also involved.
The Bangladesh branch of Hong Kong.
Company was involved in the stock market manipulation.
6.3  Fault of The Capital Market                                    
 There were some faults of the capital market. The main fault are mentioned below-
The trading was not efficient.
In the period of trading activities were not transparent.
In that time it lacks breath and depth.
Its regulatory mechanism either self-discipline or by regulatory agencies were not very effective.
The jurisdictional roles of various regulatory agencies were not well defined.
6.4 Guidelines For Overcoming The Problems
The following guidelines are recommended to overcome the problems
 Ensure proper audit of the financial statements of the companies by the qualified Chartered Accountants.
Ensure full discloser of the4 financial information of the listed companies within frequent intervals.
Make financial transactions smooth efficient and prompt by computerization.
7.1  The Problem of Stock Market
Stock market is a composite term embracing buyers and sellers of securities and constituting all the agencies and institutions that assist the sale resale of the company's securities. The stock market has some problems. The problems are as follows-
Lack of market skillfulness.
 The general characteristics of the skill market do not exit here. The demand and its controlling management system of securities influence the skillfulness of market. But they are not very satisfactory.
Lack of confidence of the new investors.
The devastating fall down of share market in 1996 has shattered the confidence of the new investors. Thus, the challenges ahead for Bangladesh stock market are to revamp the share market by restoring confidence among investors.
Share prices rise inconsistently:
 The stock market bubbles up but such rises in the share prices are not consistent with the share market fundamentals.
Complexity of tax structure:
 The tax structure of our country is complex. Some times companies hide their real income because of sickness of industrial sector. As a result, the potential investors can't take appropriate investment decision because of hidden income.
The problems of product market:
 In our country the industrialists suffer a lot of problems. They lost their eagerness for the unequal market positions. As a result, the rolling of capital decreases.
Scarcity of foreign investment:
The flow of foreign investment in our country is not satisfactory. But foreign investment is essential for development of stock market.
The lack of entrepreneur:
The demand of capital is increases if the sufficient creative entrepreneur exists. But we have want of creative entrepreneur.
Lack of quality securities:
 For active stock market high quality of stock is essential. But most of the listed companies are in bad position.
7.2   Guidelines to Overcome The Problems of Stock Market
The following guidelines may be helpful to boost up the stock market in Bangladesh.
Set up training center for the newly investors in the share market to reduce the risk of the capital market.
To make the rule easy for paying the income tax.
Influence the foreign investors by proving the extra facility.
To make the market easy for product marketing.
To make the market active by marketing the industry strong.
To provide training for the present as well as potential entrepreneurs.
Strengthening the Securities and Exchange Commission.
To make the easy rule for the establishment of the industry to increase the rolling of capital market.
To make rule so that high quality securities are bound to come to stock market.
To provide tax benefit of the listed companies in order to encourage none listed companies to be listed with the stock exchange.
7.3  Vision of Future
Bringing securities under Central Depository System with in two years,
Enhancing bond market through bringing in government and municipal bonds beside the corporate bond.
Internet based trading creating provisions for investment from any where in the world,
Enhancing greater degree of transparency in financial discloser for better corporate governance.
Initiating the process of-creating derivative and future market.
Making the market competitive from regional securities market perspective through ensuring market friendly rules and regulatory framework.
7.4 Conclusion
The role of Dhaka Stock Exchange Limited has been remarkable in recent rears. It has gained the confidence of public and is able to attack more and more funds. At the end of the last decade what was impossible has now become possible and any company listed with Dhaka Stock Exchange can expect to raise sufficient funds through it.
The Dhaka Stock Exchange has been able to attract a sufficient volume of foreign funds and the number of foreign investors is growing day by day. If this trend continues Dhaka Stock Exchange market will be efficient one in the near future. at the end of the year 2010 Dhaka Stock Exchange is expected to become one of the major stock market in this region.
So far we have observed that Dhaka Stock Exchange has suffered from ups and downs and it can be attributed to the efficiency of the members and some of the consistent policies of the government with more experience. In the coming year in dealing with such busy capital market both the Dhaka Stock Exchange members and government policy makers are expected to be more consistent in their practices and policies. Their product role in the future will certainly be a major factor in the performance of Dhaka Stock Exchange.