Executive Summary
Sony Ericsson launched a new multimedia Smartphone- Xperia  x10  in a maturing market. Despite the Smartphone leaders i-Phone, HTC, O-2, NOKIA, Samsung Xperia x10  can compete because this product offers a unique combination of features at a value-added price. Sony Ericsson is targeting specific segments in the consumer and the business markets, taking advantage of opportunities indicated by higher demand for easy to use Smartphone with expanded communications, entertainment, softwares and storage facility. The primary marketing objective is to achieve good BD market share. The primary objectives are to achieve first year second highest market share in the Bangladesh smart phone market by increasing their sales. In second year objective is to decrease the difference with market leader Nokia.
Current Market Situation:
Mobile phone has become an indispensable part of Bangladesh's everyday-life and has made a "safe haven" in one of our pockets much like our wallet that we never want to leave at home while we head for our work! Thanks to the telecom-revolution and its relentless evolution that together have made it possible even in developing countries like Bangladesh. This is the dominant device that we now express ourselves through, get our work done and share our pains and pleasures with.
In tandem with the growing subscriber base, sales of mobile handsets has increased at a phenomenal pace. However, nearly 70% of mobile handsets available in the local market have been entering through informal channels, depriving the Government and importers of a huge amount of revenue each year. According to BIS Shrapnel research, Bangladesh's mobile handset market is dominated by first-time users (nearly 85%), as the country is still in its infancy in terms of mobile phone usage. Further, 80% of the handset market is dominated by ultra-low to low-end handsets, available for less than US$68; due to the country's low per capita income levels. As with many other Asia-Pacific countries, the Bangladesh Smartphone handset market is predominantly captured by global handset giant Nokia (approximately 48% market share).
Market Description:
Google's Android operating system captured 52.5 percent of the smartphone market during the third quarter, more than doubling its share from the same time period last year, according to data from Gartner."Android benefited from more mass-market offerings, a weaker competitive environment and the lack of exciting new products on alternative operating systems such as Windows Phone 7 and RIM, Symbian captured the second place spot with 16.9 percent of the global market, but that was down from 36.3 percent last year. Apple's iOS rounded out the top three with 15 percent, down slightly from 16.6 percent."Apple's iOS market share suffered from delayed purchases as consumers waited for the new iPhone. Among handset makers, and while Nokia was the leader in mobile phone device sales, Samsung was the world's number one smartphone maker. Samsung sales reached 24 million and Apple was number four.
Product Review:
Sony Ericsson have worked on the X10 for quite a long time, taking the utmost care to make sure its software offers the best user experience possible. They wanted their first adroid to be perfect and perfection requires time. That's right – the XPERIA X10 is the first Android to roll off the Sony Ericsson assembly line, hard as it might be to believe. But it certainly is not the kind of the phone to quietly disappear in the crowd of first-generation androids. Androids just keep coming and a look at our front page will tell you any newcomer will need big ideas to make a splash. The popularity of Google's mobile OS is reaching unprecedented levels and the handsets adopting Android grow in number every day. And while Microsoft will try to unify their Windows Phone 7 and limit customization, Google favor the opposite approach. Sony Ericsson immediately took on board the possibilities offered by customization and really ran with it. Their blue-themed interpretation breathes new life into the familiar Android OS and tries to give the user a whole new experience. But they didn't stop there. The unique Timescape and Mediascape interfaces are supposed to give the XPERIA X10 a much-needed edge in the high-end class. Trying to compete with the HTC Sense is a tough job, but Sony Ericsson have managed to offer something completely different – giving media and communications a central place in their UI.XPERIA X10 comes with top-notch hardware to meet its software demands. Here is the impressive specs sheet along with some potential drawbacks.
Key features
4″ capacitive touchscreen of WVGA (480 x 854 pixel) resolution and scratch-resistant surface
Android OS v1.6 with complete Sony Ericsson UI customization
Excellent social networking integration and Great audio quality
Qualcomm QSD8250 Snapdragon 1 GHz CPU, OpenGL ES 2.0 support; 384 MB of RAM
8 MP autofocus camera with LED flash, touch focus, image stabilization, geotagging, face and smile detection
Wi-Fi and GPS with A-GPS
Accelerometer and proximity sensor
Document viewer
Segments Needs and Corresponding Feature for Xperia X10:
Targeted Segment

Customer need

Benefits

Professional
Stay in touch conveniently and securely while on the go

Perform many functions hands free without carrying multiple gadgets

Smooth Operating System without any interruption

Built in cell phone and push to talk communicate anywhere at any time, wireless email/web access from anywhere.

Voice activated applications are convenient, GPS function, High quality camera

High Powered CPU (1 GHz), OpenGL ES 2.0 support; 384 MB of RAM

Students
Perform many functions hands free without carrying multiple gadgets

Express style and individually

Smooth Social networking facilities

 

Voice activated applications are convenient, GPS function, High quality camera

Its looks stylish with big screen to use

Excellent social networking integration

Entrepreneurs
Organize and access contacts, schedule details, business and financial files

Get in touch fast

No hands, wireless access to calendar, address book, information files for checking appointments and data connecting with contacts.

Built in cell phone and push to talk communicate anywhere at any time, wireless email/web access from anywhere.
Competitive Review:
Nokia:
Nokia is the market leader in smart phone market. Nokia offers wide range of products for consumers and professionals. They mainly offer symbian operating system smart phone head set and made it into a separate foundation dedicated to improving and promoting this mobile software platform. Although Nokia still in market leader position but their market is going down dramatically last two years.
Samsung:
Samsung is the second leading position in smart phone market. Samsung's market share is growing at a good rate and mainly reason of growing popularity because of  using Android OS in smart phone market. Samsung also offers wide range of products for consumers and professionals like Nokia. In global market, Samsung became the worldwide number one for the first time, selling 24 million smart phones, three times as many as it sold during the third quarter last year and this statistics shows how fastly Samsung growing their market share in the market.
Apple:
The iPhone 4S was announced on October 4, 2011, improving upon the iPhone 4 with a dual core A5 processor, an 8 megapixel camera capable of recording 1080p video at 30 frames per second, World phone capability allowing it to work on both GSM & CDMA networks. Despite the iPhone 4S failing to impress some critics at the announcement due to their expectations of an "iPhone 5" with rumored drastic changes compared to the iPhone 4 such as a new case design and larger screen. Along with the iPhone 4S Apple also released iOS 5 and iCloud, untethering iOS devices from Macintosh or Windows PCs for device activation, backup, and synchronization, along with additional new and improved features. There are about 35 percent of market share in global market and in Bangladesh also iphone's popularity increasing day by day due to comparatively lower price than previous year and market availability.
Research in Motion (Black Berry):
Research in motion makes the light weight blackberry wireless multifunction products that are especially popular among corporate users. Research in motion's continuous innovation and solid customer service support clearly strengthen its competitive standing as its introduces smart phone with enhanced features and communication capabilities. Researches in Motion's newer smart phones come equipped with the Blackberry OS.
SWOT Analysis: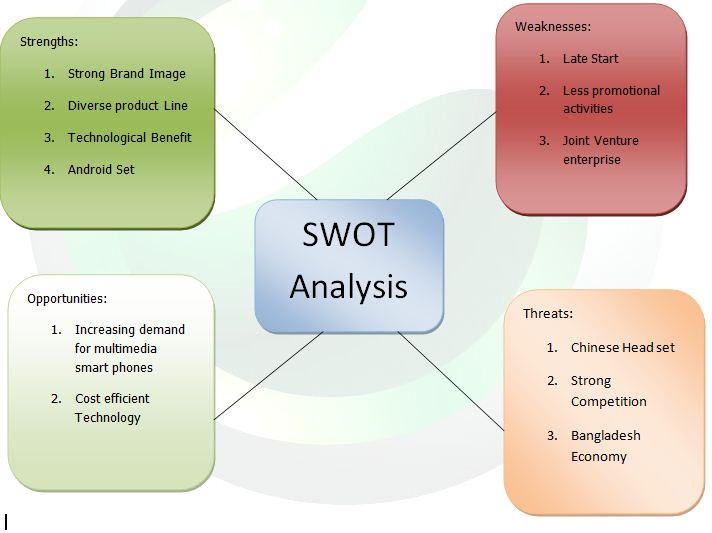 Strengths:
Strong Brand Image:
Sony Ericsson has become one of the world's most appealing mobile communications brands in the world. Especially among young generation Sony Ericsson is the most popular brand for their walkman, cyber shot series. The company, which is 50:50 joint venture between Sony and Ericsson, was created in October 2001 combining the talents of Sony and Ericsson has enabled us to create a world class portfolio of products and services which differentiate them in the market.
Diverse product Line:
Sony Ericsson offers diversified products to their customers. They offer various categories mobile head set such as walkman series, cybershot etc. Each category of product has different types of target customers. Music lovers are the main target customer for walkman series where they use high bass surround sound system. On the other hand, who wants to use touch phone with high resolution camera Xperia X10 head set is made for them. Its not only phone it's a more than a phone.    
Technological Benefits:
Mobile handset giant Sony Ericsson showcased a number of new and emerging technologies, designed to improve productivity for mobile corporate users, allow developers to create more compelling applications and give firms new ways to reach out to customers. They use recent advances in mobile technology, including increased processor power, improved connectivity and convergence of devices.It is now possible to have Skype in a mobile phone … CPU will increase by almost 10 times by 2012. One of the new technologies to be demonstrated was Sony Ericsson's Capuchin project, which bridges Java ME and Flash Lite technologies to allow developers from both communities to create more compelling applications more quickly.
Android Set:
Xperia X10 is the first android hand set made by Sony Ericsson. Now a days Smartphone market is flooded it is very difficult to buy perfect phone that fits consumers requirement, this year android phones have created new revolution in Smartphone market, now people want some extra in Smartphone, its become great experience using different application in Smartphone. Here are some of the figures that indicate the booming demand of android phones, in this year android phones shipment reach close to 52% of the Smartphone OS market share. And 52 million new android phones have been added in to the stores user base. If the scenario will continue the same then android definitely reach top. This popularity of android OS is one of the most important strength for Sony Ericsson.
Weaknesses:
Late Start:
Sony Ericcsson comparatively late starter of new technology of Android OS than its competitors Samsung. Due to joint venture most of the cases they need much time to take any decision. Such problem most of the time tends them to adopt any new technology lately than their competitors and that sometimes one of the main causes of failure in the market.
Less Interest on Promotional activities:
Sales promotion is one of the four aspects of promotional mix. (The other three parts of the promotional mix are advertising, personal selling, and publicity/public relations.) Media and non-media marketing communication are employed for a pre-determined, limited time to increase consumer demand, stimulate market demand or improve product availability. In today's competitive market promotional activities like advertising, personal selling, and publicity/public relations plays an important role in sales. However, Sony Ericsson has less interest on promotional activities and that sometimes hamper on their sales due to unawareness of the new model handsets.
Joint Venture Enterprise:
The stated reason for the venture Sony and Ericsson is to combine Sony's consumer electronics expertise with Ericsson's technological leadership in the communications sector. Initially, the company did well with its Walkman branded mobile phones, but has been hit by the rise of music phones from other manufacturers, including the ever present iPhone and also from a weak portfolio of low-end handsets for developing markets. In addition to, due to joint venture most of the cases they need much time to take any decision.
 Opportunities:
Increasing demand for multimedia smart phones
15 years ago, mobile phone considered as just a phone for calling but now these days has gone. Now People thinks a mobile phone more than a phone they want various multimedia applications for entertainment. Smartphones represent the fastest-growing and most lucrative segment of the global cellphone business. Because of this, the smartphone has become the central focus for mobile handset makers.With only so many hours in the day, time is of the essence. Although the studies are essentially just statistics, they highlight the American consumer's value for efficiency. Internet accessibility means less time needs to be spent waiting at a computer. Instead, people can find information on the go. Texting gives people the ability to send a quick and concise message, especially in situations where answering a phone call might not be easy. The growing connections between smart phones and social media means people can stay connected to their friends and family wherever they go. Considering the great strides our mobile industry has taken, from large clunky phones created for the sole purpose of making a call, to the sleek phones we see today, one can only imagine what's coming next for this industry.
Cost Efficient Technology:
Better Technology is now available at a lower cost than ever before. Thus, Sonic can incorporate advanced features at a value added price that allows for reasonable profits.
Threats:
Chinese Mobile Hand sets:
Chinese hand sets are one of the biggest threat for renowned brand like Sony Ericsson in Bangladesh. In small economic countries like Bangladesh, numbers of mobile phone user are increasing day by day. Now a days people thinks a mobile phone more than a phone they want various multimedia applications for entertainment. Due to economic problem these people are buying cheap Chinese branded sets which are offering various multimedia applications at a very cheap rate.
Strong Competition in the market:
Today Smart phone market is one of the most lucrative markets for mobile hand set manufacturers. Now consumers want a phone that can perform many functions hands free without carrying multiple gadgets. As a result demand of smart phone now increasing and the market competition as well. All most all of the manufacturers are trying to introduce new innovative and stylish hand sets in the competitive market. Nokia N9, Samsung Galaxy SII are the examples of them. So that, to compete well in the market Sony Ericsson need to introduce stylish with new technology hand sets frequently otherwise it will be vey though to survive in competitive market.
Bangladesh Economy:
Global economic crisis is now a common buzzword in today's business world. As like many others developed countries Bangladesh economy also affected for this. That's why now consumers buying power is not so high that they can buy a smart phone that worth more than 20 thousands. Now people want to buy multiple function phone but at a lower price. Due to less buying power many of Bangladeshi people look price of the product more than a brand name.
Marketing Strategy:
The marketing mix refers to the combination of elements within a companies marketing strategy, these are designed to give the customer what they want and in the long term are designed to maximize profits. The marketing mix is based around the idea of the 4 P's:
Product Strategy :
The product is the centre of the marketing mix and the other three P's are based around it. Consumers purchase goods and services for a variety of individual reasons and a company must be aware of all of these when selling a product (that is why they conduct market research).Strong brand image Sony Ericsson is an advantages and for this branding image they can easily create a innovative and most reliable product for Xperia X10 campaign. As like other competitors Nokia, Samsung they should sold it with a 1- year warranty.
Price Strategy
It is a key factor in the selling of a product, and is usually the one that is open to the most change based on different pricing strategies. For example competitor based penetration or skimming. The three main factors affecting the amount charged for a product or service, are; the cost of production, customer demand and competition. For Xperia X10, Sony Ericsson can follow market penetration pricing strategy. They should set an initial price in order to penetrate the market quickly and deeply to attract large number of buyers quickly and win large market share.  Moreover, because of its relatively high price they can offer 0% interest free credit payment system through credit card.
Place Strategy -This refers to the chosen outlets for a product or service, for a product to be very successful it must be easy to access, Mobile phones are very easy to access nowadays, they are sold in supermarkets, specialized outlets (either by network or brand) and all major department stores. Sony Ericsson can use following distribution channels for Xperia X10
Mobile Phone retail Store: various mobile phone retail store especially in metropolitan city
Cellular Service Provide: Cellular service provider's outlet can use for selling their smart phone.
Electronic specially Store: They can use electronic specially store like MK Electronics.

Promotion Strategy -This involves providing information to the customer over a variety of media platforms, using radio, television and print advertising as well as using other promotional tools.