1.0 Introduction
1.1 Background of the Study
Global Beverage Company Limited (GBCL) is the one of the stabilized beverage company in Bangladesh. They provide soft drinks with a brand name "Virgin" which an exclusive franchise agreement with Virgin Enterprise Limited of United Kingdom. GBCL started their business in Bangladesh December in 1999. Gazipur is our only production zone and main office at Mirpur, Dhaka. GBCL produced soft drinks with different flavors and sizes (can and bottle).  Cola, Orange, Lemon-lime, Passion fruit, Grape fruit, Tutti-frutti these are all flavors of Virgin. Beside these, Diet cola is exclusive.  Its competitors are Tabani Beverage, Bangladesh Beverage, National Beverage, Globe Beverage and Partex Beverage Limited. Its target market is teenager at the age of 13 to 19. It offers good taste with various products, maintaining international standard quality level. Product design and packaging is distinctive rather than the others. It takes better positioning in consumers mind from starting period flavored drinks. GBCL also introduced Mango juice flavor with brand name Cheers. In BCG matrix Virgin cola stays in Dogs but have a better chance to move from Dogs to Cash Cow. GBCL is continuing 13% of total market growth share. Its core benefit is removing the thirst of consumer. It uses aluminum container can, and plastic
Container for pet bottle. Virgin drinks have proved their standard quality level by Bangladesh Standard Tasting Institute (BSTI). GBCL delivers its product through factory warehouse to distributors, distributors to retailers, retailers to consumers. They deliver product factory to distributor by their own cost. It has 102 distributors in all over the Bangladesh. It follows primary and secondary packaging. GBCL contributes good quality product with affordable price. They are following cost-plus pricing policy. Also provides quality advertisement for influencing consumer by TV, Newspaper, Magazine, Radio, and others.
GBCL takes short-term sales promotional programs such as discount, coupon, special advertising items, and premium for increasing sales among the consumers, retailers, dealers and business markets. Now they are exporting Virgin product in Bhutan and trying to export their product in India.  GBCL has mentioned its product oriented mission statement is, "We are providing international quality drinks with world famous brand name at an affordable price."  It follows mission dialog, "It's Your Life, Color It." Their strong side is quality with brand name, marketing and distribution. GBCL has a big opportunity to create market demand by introducing fountain pack and 250 ml with plastic container in future.
1.2 Objective of the Study
The major objective of the study was to determine to the initial success of Virgin drinks in the Bangladesh Market and why the demand brand has fallen to its percent level. The objective of this study covers a vast area on the mentioned dimension.
A. Broad  Objective: To device the overall  marketing programs of the company and to discover the findings  of  company's  strategic lacking that can  helpful for the company  to take specific marketing decisions. The special trend  line for broad objectives are-
General (consumer)
Brand awareness and source of awareness
Consumption habits with regard to CSDs
Reasons for drinking CSDs
Brand preferences and consumer likes and dislikes
Brand switching and the reasons for the same
Identified attributes associated with different brands
Place of consumption of CSDs
Preference of pack by place of consumption
Consumer
to determine brand awareness
to evaluate brand image (mage mapping )
to determine consumption habits and pattern (frequency ,quantity, time, etc,)
to evaluate brand flavor and pack size preference
to understand brand switching tendencies/patterns
to assess price sensitivities
to determine consumer profile by income, age , education , profession  and media habit.
1.3 Scope of the Report
We use questionnaire survey on the 3 areas of Dhaka city those are Dhanmondi, Mohammedpur, and Khilgaon. In this section we achieve a lot of knowledge about customers buying behavior. Earn very remarkable information about present market condition on Virgin from resellers, retailers and also business markets. The Study focused both  on consumers of CSDs to understand the pull effect and on retailers who stock CSDs to understand the push effect with regrind to the promotion and distribution of the product .
 1.4 Methodology
At first we collect the primary and secondary data from various source of information.
These data will be following by several steps in given below-
Questionnaire Survey: We survey the following age group: 6-12, 13-19, 20-26, 27-33, 34-40, 41 and above. We also survey on dealers, retailers, and business market.  We find out their performance for soft drinks. It helps us to collect information on what customer think about soft drinks, is it reasonable price for them and so many things.          
Interviews Collection from Management: We cover-up the face-to-face interview among the marketing management for getting the vital information.
Conversation to the Others: We have done the conversation among each other in the group and senior students, and also discuss with our course instructor to institute the formation of report.
1.5 Sources of Data Collection
Data is gathered from information, which is the foundation of research. The search for answers to research questions call for collection of data the data collection beings after a research problem has been identified and research design/plan chalked out while decaling about the method of data collection to be used for the study data are facts, figures and other relevant materials past and present serving as bases for study and analysis.
Two types of data should be kept in mind in case of collection. They are as follows:
A) Primary data.
B) Secondary data.
A) Primary data: Primary data are generated when a particular problem at hand is investigated by the researchers employing mail questionnaires, telephone surveys, personal interviews, observations and experiment.
B) Secondary Data: The secondary data's are this which are already repaired or collected for some purpose other than the currant investigation.
This study mainly based on quantitative rather than qualitative. Data provided by the respondents is the findings of this study.
1.6 Data Processing & Analysis
After scrutiny of all the questionnaire, data were coded by an experienced coding team under the guidance of the Field Coordinator. After codes had been transferred, data were entered, processed and analyzed electronically using, Quantum 5.3 and SPSS.
1.7 Activity Schedule
Topic

Duration

Design research instrument

5

Days

Collection of primary data

15

Days

Collection of secondary data

5

Days

Analyzing & processing of data

10

Days

Preparation & submission of Internship Repot

5

Days
1.8 Potential Problem Statement
Lack of adequate information
Restriction of using Internet
We can not exist Dhaka city
We can not choose more than 3 areas for our survey
Secondary data is not absolute correct to provide valuable information.
Unwilling to give company's sophisticate information
 Lack of financial support for collecting information in this report
Have to collect the information from the branch office of Dhaka not the Gazipur producing zone
2.0 Portrait of the Company `
2.1 Virgin in International Market      
Virgin is a well-known brand name over the world. Virgin Trading Company Limited (VTCL) was found in November 1994 in the UK to market a range of FMCG goods under the virgin brand name in a 50/50 deal with COTT of Canada. Now they are operating business with a lot of products such as-
Travel: Virgin trains, Virgin Holiday Travel programs, Virgin Flights, virgin travel guide
Life Style: Virgin Food & Drinks, Virgin Health & Beauty, Virgin     Wines.
Entertainment: Virgin Music, Virgin Movies, Virgin Books, and Virgin Website.
Mobile: Virgin Telephone, Virgin Mobile.
Home Service: Virgin Internet Service Provider, Virgin Gas & Electricity     Service Provider, and Virgin Telephone Service Provider.
Motoring: Virgin Bikes, Virgin Motorcars.
Financing: Virgin Credit card & life insurance provider by Internet and      Mortgage, Virgin Business guide.
Virgin Trading Company Ltd. (VTCL) purchased COTT's share of the Virgin Cola Company in January 1998. And they are taking over the full control of sales, marketing, logistics and distribution. Virgin drinks operated its business in 14 countries of the world those are given below-
United Kingdom (UK)
Sweden
Croatia
France
Switzerland
Tunisia
Algeria
Bangladesh
South Africa
Italy
Singapore
Taiwan
Russia
Japan
From this following chart Virgin launches their business in 14 countries world wide. South Africa captured the 1st position, Bangladesh took the 2nd position and United Kingdom placed the 3rd position by the context of selling of Virgin soft drinks
2.2 Virgin Soft Drinks in Bangladesh Context
Brand Name
Flavor
Size
Packaging
Virgin Red
Cola
250 ml, 500 ml,

1 liter & 1.5 liter

Can for 250 ml& Pet bottle for 1 & 1.5 liter
Virgin Orange
Orange
250 ml & 500 ml
Can for 250 ml& Pet bottle for 500 ml
Virgin Blue
Lime-Lemon
250 ml, 500 ml,

1 liter & 1.5 liter

Can for 250 ml& Pet bottle for 1 & 1.5 liter
Virgin White
Diet Cola
250 ml, 500 ml,

1 liter & 1.5 liter

Can for 250 ml& Pet bottle for 1 & 1.5 liter
Virgin Pink
Grape Fruit
500 ml
Pet bottle for 500 ml
Virgin Yellow
Passion Fruit
500 ml
Pet bottle for 500 ml
Virgin Cool Blue
Tutti-frutti
500 ml
Pet bottle for 500 ml
In 1984, the Youth Group started their garments industry largely. Now they are continuing their business. Global Beverage Company Limited (GBCL) is the sister concern of Youth Group. GBCL has introduce the Virgin soft drinks on 3rd December in 1999 for the first time in Bangladesh with an exclusive franchise agreement of Virgin Enterprise Limited of United Kingdom for manufacturing and marketing its beverage brands "Virgin" within Bangladesh territory. Now Virgin brand of soft drinks one of the country's fastest growing carbonate beverages.
Cola Red
Lemon-Lime
Orange
Cola Diet
2.3 Production Zone
Virgin drinks started their business since 1999. Its production zone located at Gazipur and starting production from the beginning. This zone covered more than three acors of land. GBCL has a future plan about expansion of production area.
2.4 Raw Materials
The raw materials for Virgin cola are divided into two categories
Imported raw materials:     
Aluminum can
Pet resin for pet bottle making
LDPE resin for pet bottle cap making
Activated carbon
Sodium citrate, Citric acid, Ascorbic acid, sodium benzoate, Phosphoric acid, caffeine.
Local raw materials:
Carbon dioxide gas (From Bangladesh Oxygen Company)
Sugar
Color
Labeling
Corrugated box carton
2.5 Manufacturing
Global Beverage Company Limited (GBCL) manufacturing process is more modernized and hygienic than the others in beverage industry. They are producing their product according to market demand for the actual and potential customer. In processing level they follow international standard quality and attractive packaging.
2.6 Production Flow Chart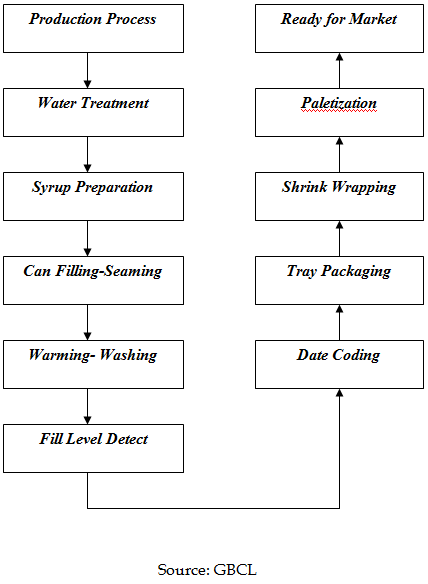 2.7 Company's Future Plan:
Global Beverage Company Limited (GBCL) has a future plan to introduce snacks-food as a new Virgin product in Bangladesh and also introduce fountain pack. Now they are trying to launch 250 ml with a plastic container. Management hopes that it will increase their sales.
3.0 Situational Analysisg
3.1 SWOT Analysis
SWOT analysis defines that company's own strength, weakness, opportunity, and threat. It is most needed things for a company that determines its current situation in the market.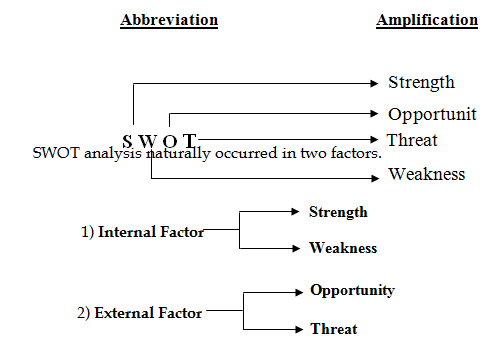 3.2 Industry Analysis
There is pure competition market in beverage industries. Global Beverage Company Limited (GBCL) operated their business along with the competitors. There are 6 companies in beverage industry stated in below-
Tabani Beverage Limited
Bangladesh Beverage Limited
Partex Beverage Limited
Global Beverage Company Limited
Globe Soft Drinks Limited
National Beverage Limited
3.3 Overall Market Share of Soft Drinks Company:
The overall market share of different types of soft drinks companies are stated in the following figure-
| | | |
| --- | --- | --- |
| Position | Beverage Company | Market Share |
| 1st | Tabani Beverage Limited | 45% |
| 2nd | Bangladesh Beverage Limited | 30% |
| 3rd | Partex Beverage Limited | 12% |
| 4th | Global Beverage Company Limited | 10% |
| 5th | Globe Soft Drinks Limited | 2% |
| 6th | National Beverage Limited | 1% |
Data source: GBCL
Pie chart of Market Share Distribution
Here we can see that Tabani Beverage Limited captured 45% of total market share, Bangladesh Beverage Limited hold 30%, Partex Beverage Limited hold 12%, Global Beverage Company Limited captured 10%, Globe Soft Drinks Limited hold 2% and National Beverage Limited hold 1% of total market share.
Tabani Beverage Limited takes the leading position, Bangladesh Beverage Limited is the second highest position captured. Global Beverage Company Limited takes the 4th position..
3.4 BCG Matrix:
Boston Consulting Group (BCG) approach classified of Global Beverage Company ltd separate objectives according to growth share matrix. In the following figure vertical axis shows Virgin's market growth rate, which provides a measure of market attractiveness. Similarly in the horizontal axis shows Virgin's market share serves as a measure of company strength in the beverage market. Virgin has 13%of the total market growth rate.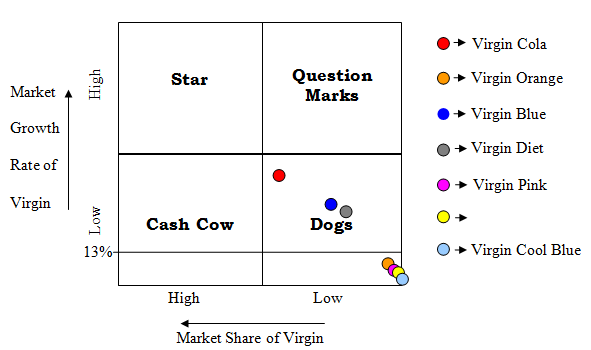 Virgin cola regular drinks have covered about maximum market share in Global Beverage Company Limited. In BCG matrix we located all flavors of Virgin in Dogs position. Virgin cola now placed in Dogs but it runs positively. It has a better chance to improve its position from Dogs to Cash Cow. Virgin Blue and Diet takes approximately the middle position in Dogs. And other flavors respectively placed in the very lower position in Dogs.
GBCL should take some essential steps to improve their present conditions. The steps should be investment as much as needed, short-term sales promotional programs, advertising by using various types of media.
3.5 Competitors:
Soft drinks is a verity seeking product. Global Beverage Company Limited (GBCL) introduces virgin drinks for the first time on 3rd December 1999 in Bangladesh. Beverage industries of Bangladesh face pure competition. The main principle of pure competition is to survive in the market at any cost. Pure competition influences to maintain better quality level, modernized advertisement, nice looking design and packaging, pricing, attractive sales promotional program among the beverage industry.
GBCL face pure competition in Bangladesh market. GBCL operated their business along with the other competitors. The competitors name are given below-
| | |
| --- | --- |
| Beverage Company | Market Share |
| Tabani Beverage Limited | 45% |
| Bangladesh Beverage Limited | 30% |
| Partex Beverage Limited | 12% |
| Global Beverage Company Limited | 10% |
| Globe Soft Drinks Limited | 2% |
| National Beverage Limited | 1% |
Coca cola is the market leader company of beverage industries. The competitor is Pepsi and the followers are Virgin cola & RC cola. Sun Crest cola & Uro cola are market nicher.
3.6 Consumer Analysis:
Consumer analysis is one of the major factors for determining company's own position in consumers mind. It is helpful for understanding the competitor's position.
We get consumers percentage of virgin cola which is divided by age are given below-
| | |
| --- | --- |
| Age Group | Percentage (%) |
| 6-12 | 9.75 |
| 13-19 | 50.25 |
| 20-26 | 22.00 |
| 27-33 | 11.20 |
| 34-40 | 4.50 |
| 41 & above | 2.30 |
The table shows that 50.25% consumers are from 13-19 age group takes the leading position of the survey. The following percentage is 22.00 at the age of 20-26.
The main targeted market is the teenager and the young generation. But now a day we are also focusing our child generation.
 4.0 Market Product Focusg
We are covering target market analysis, point of difference relative to the competitors and market positioning in consumers mind stated in the below-
4.1 Target Market:
Every Company must have a specific target market for its product. If any company doesn't have target market they cannot achieve their main objective and not survive in the market longer period. In survey we found GBCL's market divided based on age level, which is given below-
| | |
| --- | --- |
| Age Group | Percentage (%) |
| 6-12 | 9.75 |
| 13-19 | 50.25 |
| 20-26 | 22.00 |
| 27-33 | 11.20 |
| 34-40 | 4.50 |
| 41 & above | 2.30 |
The table shows that 50.25% consumers are from 13-19 age group takes the leading position of the survey. The following percentage is 22.00 at the age of 20-26.
The main targeted market is the teenager and the young generation. But now a day we are also focusing our child generation.
4.2 Point of Difference
GBCL started their business in 1999. In that time they captured market share very quickly by introducing quality advertisement, well distribution policy, attractive packaging, satisfied testing quality level etc. It also has sophisticate quality control equipment. Now a day, they are continuing their contingency level and also contribute to make a better position in the consumers mind.
Now we are going to point out the distinctive characteristics relative to the competitors-
  Maintaining standard quality level.
  Convenience to carry and easy to open its cork.
  More hygienic than the others.
  Tasty with various products.
  It does not harmful for environment.
  Its can and bottle can be recyclable.
  No deposit for bottle and can.
  Smart looking can and pet bottle.
  Need not to return from the very beginning.
  Virgin offer at an affordable price to the customer.
  It maintains standard quality advertisement.
  They provide smooth distribution.
  Expiry date, ingredients and nutritional information are also available in product level.
  Virgin can express the image of modernism.
4.3 Positioning
There are so many drinks company in the Bangladesh market. These companies operated their business with world famous brand names. In the below we are showing market positioning of all kinds of cola flavor soft drinks:
SL. No.

Brand Name

(Cola flavor)

Percentage (%)

Position

1

Uro cola

1%

6th

2

Sun Crest cola

3%

5th

3

RC cola

           29%

2nd

4

Virgin cola

10%

4th

5

Pepsi cola

24%

3rd

6

Coca cola

43%

1st
The table state that the leading position captured by the Coca cola at 43%, 24% captured by the Pepsi cola and Virgin cola takes 10%. The following are respectively 29% of RC cola, 3% of Sun Crest cola and 1% of Uro cola.
So we can say that the Coca takes the first position in the consumer mind. Pepsi is the second and Virgin cola is in third position. GBCL has taken some new
steps to increase their position in consumer mind. GBCL has recently released nice looking 500 ml size with 6 different flavors is priced at Tk.20. GBCL trying to introduce new product 250 ml sizes at Tk.10 with plastic bottle and fountain pack at Tk.12.
5.1 Product
5.1.1 Product Mix: Product Line Length and Product Mix Width shown for Global Beverage Company Limited (GBCL).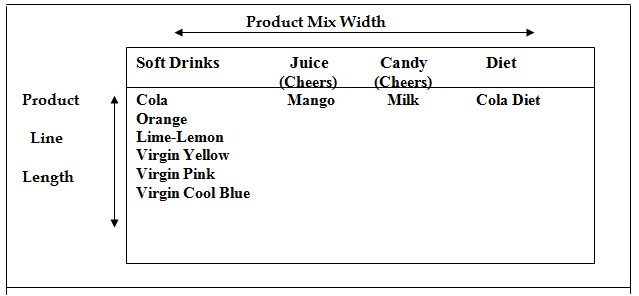 5.1.2 Product Level: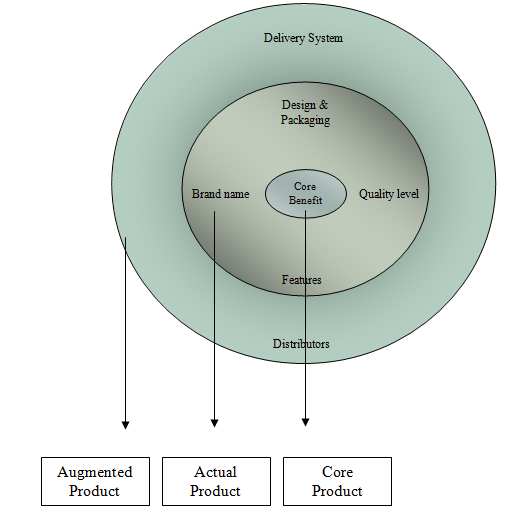 Core Product:
Virgin cola removes the need of thirst to the customer.
Actual Product:
Brand Name: In Bangladesh context there are several types of product accelerate their business with the prominent world wide brand name:                   
 Virgin Red, which signified cola flavor.
 Virgin Orange, which signified orange flavor.
 Virgin Blue, which signified lime-lemon flavor.
 Virgin White which signified diet flavor.
 Virgin Pink which signified grape fruit flavor.
 Virgin Yellow which signified passion fruit flavor.
 Virgin Cool Blue, which signified tutti-frutti flavor.
 Cheers which signified mango flavor.
Design and Packaging: Virgin has designed its product through various types of packaging:
Can 250 ml (Aluminum)
Small Pet 500 ml (Plastic)
Medium Pet 1 liter (Plastic)
Large Pet 1.5 liter (Plastic)
In this packaging we are providing some extra benefits such as-
1)      Easily portable.
2)      Need not to return.
3)      Consumer can serve money to buy pet bottle.
4)      New generation like to show their image by holding a can.
5)      Consumer can use plastic bottle for various purposes after consuming soft drink.
6)      Consumer can buy without deposit.
Features:
Less chance of leakage: Virgin has less chance of leakage rather than other drinks packaging.
Benefit of reusing virgin can: Virgin can make by non-finishing aluminum. Virgin can does not hamper our environment and we can reuse it later on.
             Quality Level: Virgin drinks have proved their standard quality level by Bangladesh Standard Testing Institution (BSTI).
Augmented Product:
Structure of delivery system: Virgin Company's structure of delivery system is following
Factory Warehouse
Distributor
Retailers
Consumers
Company to distributor: Company's own cost they distribute their product to the distributor.
Distributor to retailers: Distributor's own cost they deliver the product to the retailer using their vehicles.
                 Distributors: There are 102 distributors of GBCL spread over their business in Bangladesh. The distribution areas are stated below-
5.1.3 Packaging:
Packaging involves designing and producing the container or wrapper for a product.
We can classify packaging in to two stages as follows-
1)      Primary packaging: Plastic container, aluminum container for can.
2) Secondary packaging: We package certain product through out the 1 (one) dozen any quantity of product with a case.