Main objective of this report is to analysis Customer Service in Robi Axiata Limited. The other objectives of this report are to understand the reasons behind the preferences of subscribers for using Connection of Robi and identify the spending patterns of Robi customers. Report also focus on market position of Robi and customer satisfaction level of this company.
Objectives:
The general objectives of this study are to provide an overview of learning of an Intern during the Internship Program and fulfill the Internship requirement. Beside the general objective, this report can be categorized into main objective and specific objectives. The objectives behind this report are mentioned below:
Main Objective:
The main objective of this study is to prepare an Internship report on the specified topic working within an organization and implementing the knowledge that has been gathered during the Internship Program.
Specific Objectives:
The specific objectives of this report are as follows:
To understand the reasons behind the preferences of subscribers for using Connection of Robi.
To identify the spending patterns of Robi customers.
Introduction
Mobile phone means a device that transmits voice or data, using radio waves to communicate with radio antennas placed within adjacent geographic areas called cells. It is a very common source of communication in these days. Most of the people are using mobile phone in the city and the urban areas. Telecommunication linked with satellites. It brings about revolutionary changes in communication. New STD (Standard) and ISD (International System for Dialog) facilities have made communication an instantaneous process. The world appears to have contracted or been squeezed into a small room in which, given certain facilities, it is possible to communicate with anyone in any part of the world.
Technologies Used in Mobile Phone:
Based on the technology mobile is divided into two types-
GSM: GSM stands for "Global System for Mobile". GSM is mostly a European system and is largely unused in the US. GSM is interesting in that it uses a modified and far more efficient version of TDMA (Time Division Multiple Access) and FDMA (Frequency Division Multiple Access). GSM is the combination of TDMA and FDMA. GSM keeps the idea of timeslots and frequency channels, but corrects several major shortcomings
CDMA: CDMA stands for "Code Division Multiple Access" and is both the most interesting and the hardest to implement multiplexing method. CDMA has been likened to a party: When everyone talks at once, no one can be understood, however, if everyone speaks a different language, then they can be understood. CDMA systems have no channels, but instead encode each call as a coded sequence across the entire frequency spectrum. Each conversation is modulated, in the digital domain, with a unique code (called a pseudo-noise code) that makes it distinguishable from the other calls in the frequency spectrum. Using a correlation calculation and the code the call was encoded with, the digital audio signal can be extracted from the other signals being broadcast by other phones on the network. From the perspective of one call, upon extracting the signal, everything else appears to be low-level noise. As long as there is sufficient separation between the codes (said to be mutually orthogonal), the noise level will be low enough to recover the digital signal. Each signal is not, in fact, spread across the whole spectrum (12.5 MHz for traditional cellular or 60 MHz in PCS cellular), but is spread across 1.25 MHz "pass-bands." CDMA systems are the latest technology on the market and are already eclipsing TDMA in terms of cost and call quality. Since CDMA offers far greater capacity and variable data rates depending on the audio activity, many more users can be fit into a given frequency spectrum and higher audio quality can be provide.
A Technical Comparison between GSM and CDMA Technology:
Advantages of GSM:
GSM is already used worldwide with over 450 million subscribers.
It offers international roaming facility to the subscribers.
GSM is matured enough; it started in the mid-80s. It means a more stable network with strong features.
GSM's maturity means engineers cut their teeth on the technology, creating an unconscious preference.
The availability of Subscriber Identity Modules (SIM).
Disadvantages of GSM:
Lack of access to rapidly increasing US market.
Advantages of CDMA include:
Increased cellular communications security.
Immediate conversations, less call drops, strong network.
Low power requirements and a little cell-to-cell coordination needed by operators.
Extended reach – beneficial to rural users situated far from cells.
Disadvantages of CDMA include:
Due to its proprietary nature, all of CDMA's flaws are not known to the engineering community for solving.
CDMA is relatively new, and the network is not as mature as GSM.
CDMA cannot offer International Roaming, a large GSM advantage.
From the above discussion we can say that GSM technology based on the combination of TDMA and FDMA being better in today's mobile communication.
c. Telecommunication Cycle:
The transmission of the sender's ideas to the receiver and the receiver's feedback or reaction to the sender constitute the telecommunication cycle. The main steps of this cycle is as follows-
Input: – the information or ideas the sender wants to send to the receiver.
Channel: – fax, phone call, electronic mail, etc.
Massage: – the actual massage that is send.
Output: – the information the receiver gets.
Feedback: – the receiver's response (or non-response) to the massage.
Brain drain: – the possibility of misunderstanding at any step.
Methodology:
This report is a descriptive one, which is administered by collecting primary and secondary data. Descriptive research has an important objective-gives description of something-marketing characteristics of function and also the description of phenomenon or characteristic associated with an object population (who, what, when, where and how of a topic). The report tried to evaluate other customer preference on Robi connection, why the customers use this connection. Before going in to the deep study, conceptual structure visualized under which the whole study was conducted.
In preparing this report about the customers preference on Robi is a difficult and complicated task and no single method is appropriate for preparing the report. For this reason, a number of procedures have been followed to prepare a meaningful report. The methodology of the task can be depicted as follows.
Sources of Data:
This study covered two types of data, which are: Primary data and Secondary data
Primary Data:
Primary data has been collected through a structured questionnaire, constructed specially for this report.
To collect the primary data, the following steps have been followed to obtain the research objective:
Sending questionnaires to all subscribers.
Data is collected from web site.
Taking interviews of subscribers over Phone.
Taking face-to-face interviews of subscribers.
Interview of key informant that is the senior official of Robi in order to   collect information about the services.
Collecting filled up Questionnaires from different sales outlets throughout the   country.
Secondary Data:
Going through different documents and papers, news letter (for internal purpose only), developed by the company personnel, different books, journals, newspapers, brochures, website also was used to collect the secondary data.
Collection Procedure of Data:
Personal interview technique was the primary tool used in collecting information.   Interview with the Customer have done through questionnaire in order to discuss about the related matters before preparing the report. Managers and officers of Robi from different divisions were the main sources of secondary data.
Analysis of Data:
Collected data are analyzed by using percentages, graphs to draw the conclusion. All the data have shown in tabular form.
Sampling Plan and Sample Size:
Study Population:
The first step of the sampling design is to define the study population. Due to time restriction and other limitations, the survey will only focus into subscribers of Robi. The sample area has been selected on the basis of organization's interest.
Sampling Method:
To investigate the factors for customer's preference, Non-probability Sampling Procedure has been used.  The sampling unit was selected through Convenience Sampling: where the selection of the sampling unit is left primarily on the interviewer. The reason behind choosing Convenience Sampling is many but here most importantly, there is no appropriate structure or framework that can aid to select the sample.  Farther, these procedures are both time saving and inexpensive.
Data Gathering Method:
Close-ended question has been used to collect the data from the respondent. The respondent has responded under each attribute into different viewpoint related with "Strongly agree" resulting to a higher degree of satisfaction and with "Strongly disagree" resulting to a lower degree of satisfaction. Some demographic and spending pattern question will be in the questionnaire for more in-depth interpretation of the respondent.
Pre-testing:
The originally develop questionnaire has pre-tested in order with few dummy respondent to ensure the quality of the questionnaire in terms of preciseness, conciseness, objectivity and understandability of the questions.
Coding, Tabulation and Analysis Procedure:
The response of the respondent being entered into the computer for tabulation and analysis.  Microsoft Excel has been used to analyze the data.
ROBY an Overview
Introduction
Axiata (Bangladesh) Limited  is a dynamic and leading countrywide GSM communication solution provider. It is a joint venture company between Axiata Group Berhad, Malaysia and NTT DOCOMO INC, Japan. Axiata (Bangladesh) Limited, formerly known as Telekom Malaysia International (Bangladesh), commenced its operation in 1997 under the brand name Aktel among the pioneer GSM mobile telecommunications service providers in Bangladesh. Later, on 28th March, 2010 the company started its new journey with the brand name Robi.
Robi is truly a people-oriented brand of Bangladesh. Robi, the people's champion, is there for the people of Bangladesh, where they want and the way they want. Having the local tradition at its core, Robi marches ahead with innovation and creativity.
To ensure leading-edge technology, Robi has the international expertise of Axiata and NTT DOCOMO INC. It supports 2G voice, CAMEL Phase II & III and GPRS/EDGE service with high speed internet connectivity. Its GSM service is based on a robust network architecture and cutting edge technology such as Intelligent Network (IN), which provides peace-of-mind solutions in terms of voice clarity, extensive nationwide network coverage and multiple global partners for international roaming. It has the widest International Roaming coverage in Bangladesh connecting 550 operators across 205 countries.  Its  customer centric solution includes value added services (VAS), quality customer care, easy access call centers, digital network security and flexible tariff rates.
With its strengths and competencies developed over the years, Robi  aims to provide the best quality service experience in terms of coverage and connectivity to its customers all over Bangladesh. Together with its unique ability to develop local insights, Robi creates distinct services with  local flavor to remain close to the hearts of its customers.
TMIB, a joint venture between Telekom Malaysia Berhad and A.K.Khan & Co. Ltd, was established in 1996. The company launched its cellular services in November 15, 1997 under the brand name Aktel
Telekom Malaysia (TM), the majority shareholder with 70 percent, is financially strong and internationally renowned for its successful venture, the market leader in the telecom industry of Srilanka. TM has a global presence in 11 countries with staff strength 30,000 group wide. TM has a 27.3 % stake in Pakistan, Indonesia's third largest mobile operator, and a 47.7 % stake in Idea cellular of India. Chittagong based A.K. Khan Group is one of the oldest industry house of Bangladesh. During the Pakistan period, it was renowned as one of the twenty-two business dynasties of Pakistan.
The Vision
To be the most preferred GSM cellular service provider in Bangladesh.
The Mission
To provide total customer satisfaction the company strives to become the most preferred GSM cellular service provider in Bangladesh. AXIATA will achieve this through developing people, products, and services of the highest quality and meeting the needs of its customers, employees, shareholders, society and the nation.
Theme:  "Customer First".
The Robi Slogan – "Jole Uthun Apon Shaktite"
The whole is the sum of parts and when the best come together; the results can be truly spectacular. AXIATA brings Robi Mobile phone service, a digital cellular phone service, which will prepare better for life in the fast lane. Robi GSM always keeps so near, even when so far.
Marketing Policy
Customer Segmentation
Individual businessman, entrepreneur professionals and established organizations are the main customers of AXIATA. They have also a target to take students and low-income groups with their introduction of Robi simple rate  Pre-Paid services. They target high class people by the post-paid service.  To serve the market more accurately their target market will be further segmented based on psychographics and business size.
Marketing Strategies
TMIB always wants to achieve desired sales growth and customer base. AXITA wants to encourage existing customers to use more and more of their services.
Their newly introduced package named "Eid Double Bonus" is one of their successful initiatives for the exiting customer It has a concept of "Customer gets Customer"
Product Positioning
Initially their target was to reach the top. But others are targeting to the grass root level, and increasing their customer. AXIATA wants to be the leader with good quality and is designing products for the middle class range also.
Marketing Product Mix
Product-
Continuous improvement of quality.
Reposition of slow moving products to different target markets.
Always branding Robi with all packages with a GSM service
Price-
Necessary changes in tariff structure, and changes in terms and conditions.
Penetration pricing in the face of competition.
Skimming policy where possible.
Place-
Make effective use of distribution.
Make product and service delivery system more effective and less time consuming.
Wider distributing network to make service more accessible.
Promotion-
Brochures with all necessary information, Press advertisements, Television, Radio, Commercials and Billboards.
SWOT Analysis:
Strength-
GSM technology.
Better reputation.
Effective human resources.
Quality of-Management.
Quality billing system.
Quality customers care system.
 Expertise and experience of parent company.
Better liaison with foreign GSM operators.
Long range strategic planning.
Market research unit.
Strong Dealer network.
Good reputation.
Weakness-
Poorer coverage than the competitor.
Not enough channels with BTTB.
Absence of human-resources policy.
Shortage of human resource in the Help-line.
Package – pricing are more expensive and less attractive.
Higher call rate than its competitors.
Opportunities-
Public sector unable to meet demand.
Product with very long life cycle.
New technology.
Growing middle class population.
Main competitor has a congested network because of its unplanned customer growth.
Threat-
Unstable political culture.
Recession in the economy.
Non-cooperative telecommunication regulatory body.
Possible health risk for using mobile phone.
Market Development
Robi GSM are trying to convert non-users to mobile phone users, stressing the benefit of GSM services, and with the service benefit of Robi that will make their life easier. To serve the market more accurately their target market will be further segmented based on psychographics and business size.
Product Development
The strive to develop a better product will be a continuous process. Conducting of market research will be in every three months. They will use the input to develop new product based on data they will get from survey. Thus the product will be designed to meet the customers' need.
Robi Beliefs:
Robi strongly believes that subscribers are the most valuable assets. The company has a strong Customer Service. To always be with customer, Robi "Help Line' is there.
Robi has successfully migrated to a new switch with higher capacities in terms of accommodating higher customer base and as well as to let them use all the basic and supplementary services under GSM technology. It introduced the both-way national roaming all through its network coverage. The Pre-paid services with enhanced features have been commercially commenced successfully and now the company taking some projects to accumulated more advanced technological features in network.
In terms of network quality, the company will ensure the equipment of world-class standard but more importantly its size or capacity is catered to the right dimensioning of customer base, in order to overcome the drop calls problem or call congestion. All these are done through proper planning, control and schedule maintenance program.
The company maintains the benchmark for providing the quality services. It monitors these through generating regular report and on site survey. If any weak signal or drop call comes to notice, skilled engineers are providing services round the clock and resolve the problem instantly.
The most important key resource factor at AXIATA is its efficient human resource. Moreover, its decisions are based on facts from market research and coverage survey. Furthermore, the entire thing can only be achieved through the right people. Robi  has put its sharp eye in developing its employees through proper training, as it believes that the most important asset for AXIATA is its staff members. The company is trying its best to ensure the quality services by quality people. It has the plan to give opportunity to every household to use cellular service in the country at the competitive price providing unparalleled quality service and customer care. In achieving this goal, the company can't wait for more interconnection facilities with the fixed network. The company is planning to enforce strong efforts to create its own independent network. It has already started Dhaka-Chittagong Robi backbone.
Strategic Analysis:
After finishing the findings part it was found that the customer's feedback is quite interesting. Now the researcher is trying to analyze the findings and these are follows:
Among the respondents a few number of customer's profession are house wife and businessman. The majority of prepaid subscribers are service holder and student. They mainly use this connection to keep in touch with their family and for official use. Majority subscribers' ages are from 20 to 35 years.
People who have high incomes do not prefer Robi prepaid connection that much. They prefer regular or post paid connection. Persons who have limited and low income are the main user of prepaid connection. That's why the number of respondents of low monthly income is high.
People uses Tk. 50 scratch card the most and usually waits for the full expiry of the scratch card before refilling a new card.
Mainly for the budget constraint customers wait for the valid date for the scratch card and this percentage is quite high. Some are buying cards monthly because they have an allowance for the mobile phone cards in that duration.
There are many reasons for using mobile phone, the service holders use cell phone for official use, housewives and students to communicate with their family and friends. The respondent's reason for using mobile phone varies on their profession. Although a high percentage of respondents responded that they mainly use the mobile to keep in touch with their family.
Earlier it was mentioned that the second part of the survey will give a clear picture, why the customer prefer the Robi Prepaid connection. To know the customer's view about the product the researcher asked the respondents about quality, recognition, facility, commitment, promotion and packing.
First segment is quality where the researcher asked about the low startup cost and network coverage. The customers agreed with the startup cost of the connection. On the other hand the customers have an objection about the network coverage of Robi. They said Robi's network is going to be effective in Bangladesh.
In the second part, which is recognition, concedes market reputation, image of the company etc. Robi has a good reputation in the market after launching the Easy prepaid connection, with their expansion of network, clear sound, attractive phone set etc, they were able to get a firm grip on the market.
Customers prefer or choose one product or service when a company provides good facilities to it. Here Robi does the same; they offer good facilities to their customer and try to satisfy them. The subscribers agree that Robi provides new technology often. Providing new technology and related service means SMS, GPRS, Voicemail, and Infotainment Service etc. Some customers face problems because sometimes they do not know how to operate these services.  These respondents are not familiar with the technology and services because they do not know how to active these options. The number of respondents who agree with the off peak hour system are high. They like the idea of low call rate system for a specific period of time. But people who disagree with it have complained about the timing of the facility. Some respondent argue that the number of people to which they can select this option should be at least 3.
The commitment segment contains duration of scratch card; low call charge per minute, taking prompt action against dissatisfaction with the services etc. Customers are not too satisfied with the duration of the scratch card. The present duration of the Tk. 300 scratch card is 30 days and 45 days for Tk. 600 scratch card. Subscribers strongly think that the duration of the Tk. 300 scratch card is effective in 30 days. It would be very convenient for them. Because then they can buy cards monthly. Some subscribers suggested that at least they should have the opportunity to receive incoming call for 30 days. Subscribers are clearly dissatisfied with the call rate per minute. They think although Robi's network coverage is good enough, they should lower their call charge. They think it is too high. The other companies are charging less than them.
Reasons for Introducing such Kind of Connection:
When Robi introduced itself as a mobile phone company, they did not have prepaid connection in their product list. Before launching this connection, their market was not expanded. After launching this, the market of Robi had boomed within couple of years and became popular to the customer. Robi authority thought on the people of Bangladesh, most of them are middle class who cannot afford the postpaid connection because of monthly connection charge. As a result the consumer chooses pre-paid connection. The researcher was interested to find out the reasons that influenced Robi to come up with this pre-paid connection. It was found that mainly two reasons were behind introduction of such category of connection.
To Expand the Business:
After introducing prepaid connection in the market, Robi expanded their market all over the country promptly.  Robi launched prepaid connection after Grameen Phone (a popular telecom company), City Cell, Bangla Link and It captured market very quickly in the prepaid connection subscriber in the whole telecom sector. It is very clear that the prepaid connection helped them to expand their market.
To Capture the Market:
Among the cell phone companies in Bangladesh, Robi deserves much popularity in the pre-paid connection in this country and hence captured the mobile phone market effectively. As a new company Robi invested hugely and expands their network coverage all over the country and got the result promptly. They took huge risk in their business operation. Thus Robi takes the challenge to be the next Market Leader of the cell phone industry by the help of easy prepaid connection.
Why the People Prefer Robi:
There are lots of reasons behind the customer for preferring Robi connection. These are as follows:
A service holder or Student who has limited income, prefer this connection where it is convenient for them to use a connection with no monthly bill. If they have some finance problem they can go on by not using mobile for few days.
Customer's monthly income affects the type of mobile connection they use to communicate with others. In my survey it was found large number of respondent's income level is between Tk.10, 000-15,000, and it is easy for them to use the Robi's prepaid connection. Because they do not have to pay monthly charge for using post-paid connection.
Subscribers are satisfied with their network coverage that captures almost the whole area in Bangladesh. They said it is the main strength of Robi over its competitors.
Subscribers are not too happy about the scratch card duration the company provides currently. But it has some other facilities than other prepaid connection. It has 30 seconds pulse from the first minute and so people prefer Robi Pre-paid connection than others.
Subscribers prefer Robi because of their market reputation also. It has succeeded to create strong market reputation over the years.
Another reason is off peak hour system for which the respondents prefer this connection, which gives the half rate from the peak hour. By which a customer talk with others more than half rate.
People are not too happy with the customer service they provide in case of any dissatisfaction with the service. They said if they complain about anything it took some time for them to take action against it. They also have to wait in a long queue when they want to meet customer service centers officials for any reason.
The standard connection (Mobile Standard) is another reason people prefer Robi Pre-paid connection because of they could use both way (T&T incoming and outgoing). Here they select the standard packages as they can talk with their homes, offices, or anywhere by using scratch card. This option is very popular with the customers.
Robi's advertisements are more attractive than others. It has big, nice looking billboards, TV advertisements, and sponsors regular TV news headline in popular channels.
Preference Pyramid of Robi Connection: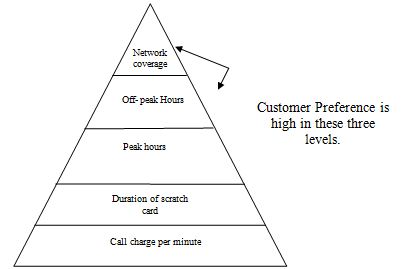 This pyramid represents the customer's preference towards Robi Pre-paid connection. The bottom two levels represents areas where the preference level is low and the first three levels shows the main reasons the subscribers are using this connection.
When a customer buys a cell phone connection then they compare their connection with the other connections in the market. Here the researcher is trying to find out the preference level of the customer. The bottom preference level represents less customer preference to Robi Pre-paid connection.
Call charge per minute: Subscribers think Robi's call rate per minute is competitive and customers are mostly satisfied.
Duration of scratch card: Here also the preference level is high. Subscribers are satisfied with the availability of the scratch card they are currently providing- the duration of 365 days for Tk.300 and 30 days for Tk.100 scratch card.
Network coverage: Robi has wide network coverage in the country than any other cell phone company's network and the fifth level contains this preference level. Most of the respondents are happy with the network coverage of Robi. Mainly for this reason the customer can pay more call charge per minute. Wherever they go they find Robi's network. The customer's preference level is high here and their preferences to Robi  mainly exist between these first three levels. For a mobile phone connection the network plays a vital role and which attracts the customer. Robi going to reshuffle its network solution to catch the customer first across the country
After analyzing my findings I found the customer preference level exists between the first two levels, which are network coverage and off peak hour system in the pre-paid options provided by Robi.
Recommendation:
The recommendations given below are not decisions; rather they are only suggestions to improve the customer service in order to fulfill the customer satisfaction so that subscribers give more preference to Robi Pre-paid connection. The recommendations are made on the basis of survey findings and analysis and these are:
Recently the customers are facing some network problem with Robi's network, AKTEL should be more careful about it. Robi's network is not as good as like Grameen Phone (GP).  In response to customer's objections of the Robi'S (comparatively) low powered network coverage and its frequency, it should make concentration seriously on its network coverage and frequency.
They have to remember that their main advantage to catch the customer first all over the country. So they should improve the network coverage and at the same time network solution.
Although Robi provides new technology and services, they should make it more clearly to the customer. Because it has been noticed that many customers are ignorant about how to use some value added services and may not well informed about the recent packages.
Robi can emphasize in newsletter or advertisement on how the customer can use these services.
The off peak hour system should be extended, because according to the findings and analysis, the respondents have objection about the timing of it.
There is dissatisfaction among the respondents about the call charge per minute. The respondents said that Robi should reduce call charge per minute again.
Presently Robi is doing very nice by offering people scratch card Tk.300 for 180 days and Tk.600 for 365 days in their business. This is a dynamic offer in the Pre-paid connection service for the first time in Bangladesh. They have subscribers over 2 million but they don't have huge number of subscriber as like Grameen Phone (GP). To stay ahead in such competitive market Robi's authority should realize the customer's needs and wants and provide facilities to them according to that.  The suggested recommendation may help Robi to increase their number of subscribers and increase the satisfaction of the current subscribers.
Robi should offer the special hour as my time to motivate the Pre-paid customer.
Conclusion:
The present study has attempted to describe the customer response on Robi connection in perspective of different area. More specifically in this study customer's view regarding the suitable Pre-paid connections offered by Robi has been discussed. The company successfully active in the three Pre-paid packages like Standard (BTTB incoming and outgoing), Mobile plus (BTTB incoming), and Mobile link (Mobile to mobile) and with different services.   The intention of this study was to find out the customer satisfaction by using these three prepaid options offered by Robi. Selecting the right package is very much important for communication. People need to communicate effectively. So, it is very important to select different packages and from the survey it was found that the customers consider standard as the most suitable option in Robi. Here the customer could easily communicate with the BTTB by using Pre-paid card suddenly. It was also found that people prefer Pre-paid option for the duration of 180 days for Tk.300 and 365 days for Tk.600 scratch card, also the e-fill system.
In some cases, customers make objections seriously for the Robi'S comparatively low powered network coverage and its frequency.
Now, A Robi has more than 2 million customers and 90% of it is a Pre-paid customer, so Robi should take more care for its Pre-paid customers for the company's better satisfaction.
We know that mobile call rate of Bangladesh is higher than from rest of the world. So Robi as a mobile company of this country it should take step to minimize the call rate.
However, I hope this study may help to identify the reaction of the current position on Robi Pre-paid customer and their satisfaction at the extreme level. I hope the findings and analysis, recommendations that are suggested in the report will help Robi to fulfill the demand of the customer precisely.