Origin of the report:
The Internship report is prepared for making a study on "Recruitment and Selection Process at The ACME Laboratories Ltd." It is required to perform internship project for completing of BBA program at BRAC University.
Aim and objective of the report:
The major aim of the report is to recognize and identify how theories and concepts discussed in the BBA program can be applied in the aspect of Recruitment and Selection process at an organization in Bangladesh.
The objectives of the report is:
1. Describe the organization and explain the scope of work in recruitment and selection Process.
2. To experience different recruitment and selection activities which are followed by The ACME Laboratories Ltd.
3. Recognize and identify how theories and concepts that covered in BBA program are applied in recruitment and selection process.
4. Propose suggestions and recommendations for the practitioners the can help management further to apply best practices in human resource management in the organization.
Methodology
The report is prepared based on using primary and secondary data resources. Primary data was collected by observing organization's recruitment and selection process, interviewing employees while working as intern in Human Resource Division at The ACME Laboratories Ltd. The duration of internship was 1st September 2013 to 28th Secondary data was collected by Organization employee hand book, website, and relevant books.
About The Organization
Introduction
In Bangladesh, The pharmaceuticals industry is one of the most successful regions within country's economy. In 2000, there were 210 licensed allopathic drug-manufacturing units in the country, out of which only 173 were in active production. Others were either closed down because of their own reason or panelized by the licensing authority for drugs due to non compliance to good manufacturing practices or not practicing drug laws. About 5600 Brands were manufactured by this industry. There were 1,495 wholesale drug license holders and about 37,700 retail drug license holders in Bangladesh.  Recent development of this sector, now the industry is exporting medicines to the European market as well as global markets. This sector is also giving 97% of the total medicine need of the home market. Several of the companies produce insulin, hormones, and anticancer drugs, which were not previously produced in Bangladesh. Leading pharmaceutical companies are expanding their business with the aim to expand into the export market.
Organization history
The ACME Laboratories Ltd is the one of the largest manufacturer and exporter of human, herbal and animal health. The journey of The ACME Laboratories Ltd. started from 1954. This organization was conceived to produce ethical drugs. It began with producing a few oral liquid products. Late Hamidur Rahman Sinha was the founder of the organization. He was main the main visionary of the organization since its beginning.
The ACME Laboratories ltd is a private Ltd company duly registered with the register of joint stock companies and firms of the Government of People's of Bangladesh. ACME was founded in 1954 as a sole proprietorship business and subsequently converted into a private Ltd company in the year 1976. End of 1983, commercial operation at the new plant was ready with sophisticated and advanced facilities at Dhamrai. Many problems and challenges were faced and overcome successfully to turn the organization form a small unit to enormous size.
ACME constantly seeks to enlarge its production facilities, add employees and boost it sales and marketing efforts. It has also endeavored to strengthen its network of international marketing operation to export it products abroad. At present, ACME's product lines contain three categories. These are allopathic, herbal and animal health. Each category contains various products. The main activities of ACME are to contract manufacturing, sales and distribution. It's headquarter is at Kallyanpur Dhaka. Its plant is located at Dhamrai, about 40km N.W. of Dhaka. Now it is exporting medicine to 16 countries including Sri Lanka, Nepal, Myanmar, Philippine, Afghanistan, Hong Kong. The ACME Laborites Ltd is one of the largest exporters of human, herbal and animal health pharmaceuticals products in Bangladesh. The ACME Laborites Ltd has achieved an average growth rate of 25 percent compared to 13 percent registered by the pharmaceuticals sector of the country.
Brief about the division of The ACME Laboratories Ltd:
Marketing Division:
There are two parts in marketing division. These are
1) Human
2) Veterinary
There are 400 medicines about human. Marketing division (Human) operates in the market armed with 1800 (approximately) highly skilled employees with a vision of taking hold of the major market share. It also began the production of medicine about animal health in 1999 and since then veterinary section of The Acme Laboratories Ltd is relentless to meet the rapidly growing market demand.
International Business Division:
The success in domestic market promoted The ACME Laboratories Ltd to explore the international market with quality products.
PPIC Division:
PPIC stands for planning, procurement, inventory and controlling. This division plays vital role in planning, developing and implementing procurement policies and strategies and manages inventory of the products by analyzing marketing demand and production requirement.
Accounts and Finance Division:
Accounts and finance division controls all accounting practices such as budgeting, treasury financial reports, tax and VAT functions and so on. Most importantly, it develops and maintains system of internal controls to safeguard all financial assets of The ACME Laboratories Ltd.
HR Division:
HR division handles the process and procedure about employees. Through this division, it gathers appropriate employees, trains them to adjust with employees and puts them into right places. It also handles legal aspects of employees about The ACME Laboratories Ltd.
Internal Audit Division:
Internal Audit division implements internal audit process throughout the organization based on yearly audit plan also carry out other audit assignments to evaluate the compliance and internal control system.
IT Division:
IT Division at The ACME Laboratories Ltd is working together with all functions of the company and its sister concerns since 1992 to assist all units in achieving their day to day deliverables using.
QMS Division
QMS stands for quality management system. This division contributes in successfully leading and operating the organization and its processes through managing in a systemic and visible manner as per international standard.
Production Division (Human)
Tablet, Capsule, Injections, Liquid, Dry Syrup, Cream and Ointment, Inhaler, Eye/Ear Nozzle Drops, Suppository and Packing Department comprise ACME's production division.
Some products name of The ACME Laboratories Ltd
• Neotrax (Tablet and Syrup)
• Gintonic (Capsule)
• Menotox (Liquid)
• Genta (Injection)
• Mariment (Ointment)
• Megafil 10 MG (Tablet)
• Tracid Vet 10 ML (Injection)
• Norfloxacin (Liquid)
• Ciprofloxacin (Liquid/Bolus/Injection)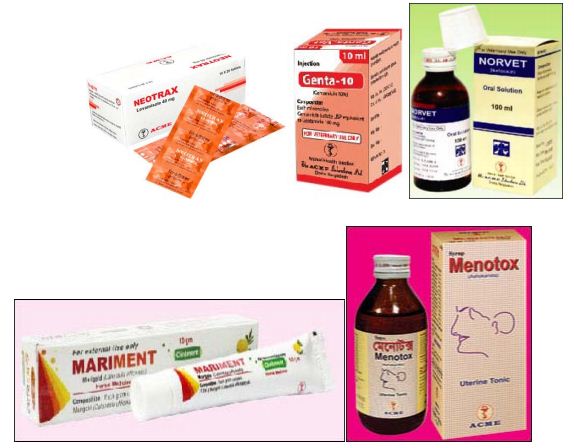 Other strategic business units of ACME
• The ACME Agrovet and Beverages Ltd
• Sinha Printers
• Mars Aviation Ltd
• ACME IT Ltd
• ACME Clearing Ltd
• ACMUNIO International Ltd
• Sinha Fabrics And Wool Wear Jeans
• ACME Distribution Ltd

Organizational structure of The ACME Laboratories Ltd.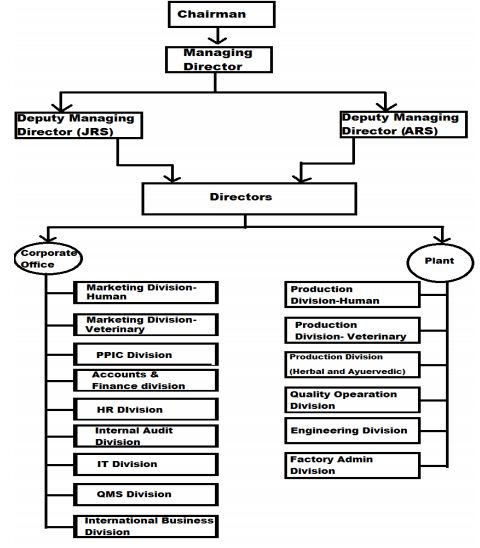 Observation:
Through my internship period at The ACME Laboratories Ltd, I have observed some issues which are:
Limited workforce: Recruitment and talent management department of HR division performs their responsibilities with a limited workforce. Sometimes, it makes so stressful working environment for existence employees.
Recruitment and selection process done continuously: In The ACME Laboratories Ltd, recruitment and selection is a continuous process. Almost every week, HR division has done recruitment and selection task and these tasks have done chronologically.
Lots of paper work: Recruitment and talent management department of The ACME Laboratories Ltd has used lots of paper work. From requisition form to publishing final result, Paper is used in every aspect. As a result, they waste many papers and do not recycle this paper most of the times.
Proper use of internal sources of recruitment: Recruitment and talent management department maintains good eyes on its internal sources. When there is any recruitment process, HR division posted recruitment advertisement on every notice of every branch. They also publish this advertisement on their intranet. So, staff from this organization can see the advertisement. HR division also maintains contact with other divisions'
employees so that they can recommend other people to apply here. But they do not post any advertisement in their official website.
Using HRIS and internal server: Recruitment and talent management department only uses HRIS software to input final result. Other soft copies of recruitment and selection process are kept in their internal server.
Totally new environment for internee: The ACME Laboratories Ltd has no training for internee. They put internee directly on process. As a result, there are many mistakes at starting moment.
Recruitment process and academic learned: I think The ACME Laboratories Ltd's recruitment process is ideal process. It is matched what I have leaned in the book. More or less, they are same So, I did not find any mismatch between them.

Recruitment and Selection Process of The ACME Laboratories Ltd.
Human Resource Division of The ACME Laboratories Ltd:
The ACME Laboratories Ltd considers that success depends on the collective effort of entire work force. Human resource division of The ACME Laboratories Ltd has comprehensive policy and procedure that practices best approaches with legal and ethical consideration. The major purpose of human resource division is to introduce organizational policy and related to employees of The ACME Laboratories Ltd. It gives specific guidelines of operation of human resource division with a vision to maintain the expected standards that are maintained. It also provides specific direction regarding the assessment, evaluation, reward system and long term benefits of employees of The ACME Laboratories Ltd. It sends a clear picture about expected standards. The employees get idea of their present status, growth and value addition process in the organization. The human resource division is a central reference of employee relations and policies. Each policy is a guideline to be used with discretion, understanding and management in the spirit in which the policy is written.
HR functions:
• Recruitment and Selection
• Training and Development
• HR Transaction
Transport Management
Compensations and Benefits
Performance Management
General policies and procedures
• Legal
The structure of HR division: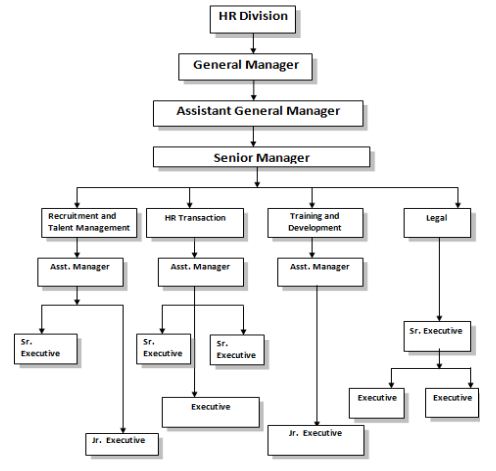 Recruitment and selection process of The ACME Laboratories Ltd:
Recruitment and Selection process is one of the important tasks of The ACME Laboratories Ltd. Through these tasks, The ACME Laboratories Ltd attracts people and brings employees.
Purpose:
The purpose of recruitment and selection of The ACME Laboratories Ltd is to ensure right candidate on right time to meet the human resources demand across the organization.
Standard of procedures of recruitment and selection process:
There is a guideline for recruitment and selection process of The ACME Laboratories Ltd. That is called "Standard of Procedures". There is Standard of Procedures for every HR tasks of The ACME Laboratories Ltd. There are the steps of Standard of Procedures about recruitment and selection process of The ACME Laboratories Ltd:
1. All divisional/departmental head will raise personnel requisition with proper justification if any vacancy arises and send it to HRD. All divisional/departmental head will assist the HR division in the recruitment and selection process.
2. Concerned division/department will fill out requisition form if any job vacancy arises in any division/department stating job description and job specification to head of HR for taking necessary action.
3. HR division will examine and inspect the manpower requisition form and obtain management approval for onward processing.
4. Recruitment and Talent management will collect profiles of potential candidates through a number of sources like internal job announcements, CV bank of unsolicited applicants, employee and management referrals, university/institution, direct contact, advertisement in local newspaper and online job posting as applicable.
5. HR division will sort out the applicants in consultation with concerned division/ department.
6. Next, HR Division will invite the prospective candidates after preliminary short-listing of the candidates for written test and/or interview and/or practical test.
7. It will conduct written tests and/or interview and/or practical test as required on the appointed date in combination with HRD and concerned divisional/departmental head representatives nominated by concerned division/department.
8. The performance of candidates will be checked under a set standard and HR division will complete recruitment and selection process in a define system with the approval of management.
9. HR division will inform the finally selected candidates about their selection and needed ask to report to HR Division for salary negotiation.
10. HR Division will provide all papers/forms to the candidates on acceptance of offer pertaining to recruitment formalities to be filled out and returned to HRD by a precise date.
11. After that, HR Division will offer issue letter of appointment the candidates on competition of selection formalities and send received copy to HR division as means of acceptance.
12. HR division will give an opportunity to tender/sign a joining letter which will have to be returned to HR division.
13. HR division will check references, original certificates of the candidates and all relevant papers while working out on submission and verify photocopiers of all academic certificates which will be kept in the personal file of the candidates.
14. HR division will put the selected candidates on probation for a period, length of which will be decided by management
Flowchart of recruitment and selection process of The ACME Laboratories Ltd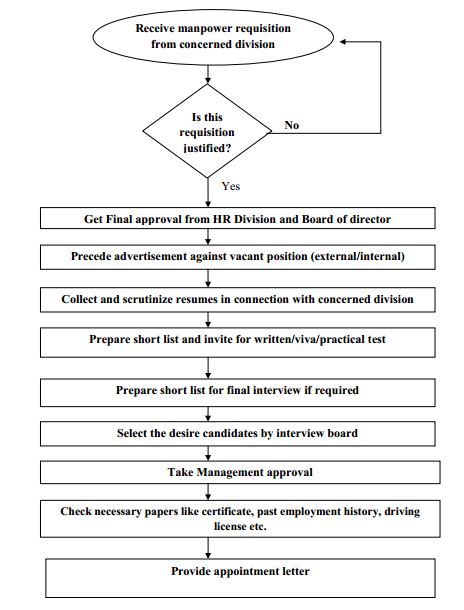 Receiving manpower requisition form:
At first, concerned division/department must fill the manpower requisition form. In requisition form, there are some aspects. These are:
1) Position details: Here, manger from concerned division/department will write down the position name, department, division, type of vacancy, number of employee needed, date by which personnel is required to join. There are two types of vacancy.
These are:
i) Replacement
ii) New position
If vacancy is against replacement, managers must mention previous employee's name and resigning date. If the vacancy is against new position, then managers must show the judgment. This judgment is about why new position is raised. This judgment must be approved by Human resource Division and board of director.
2) Job description: In job description, managers mention about task of vacant job. If job description is same as their job description book, manager will write "as role play"
3) Job specification: In job specification, manager will point out skills that need to perform. Here, he will portray about educational qualification, experience, and age limit. If experience is not needed, manager will write that experience is not mandatory but preferable." Manager can add other points like employee must active,
stress free mind etc.
4) Approval: This box is just about taking signature. Here, manager, raised requisition, will sign. Divisional Head, Head of HR and Deputy Managing director will sign also. After singing divisional head, manager will send it to HR division. Then HR division will examine it and HR Head will sign. Then it will go for deputy managing director's
sign.
CV Bank:
HR Division of The ACME Laboratories Ltd always maintains CV bank. In CV bank, there are two parts. First one is unsolicited CVs. Applicants send their CVs. Some send in their carrier service mail. Then HR Division keeps
these CVs if they are suitable for The ACME Laboratories Ltd. Another one is rejected CVs from different selection process. Excellent rejected CVs are kept in file. So when HR division needs job holder, they pick some CVs from these files.
Sort out applicants:
After Collecting Resumes, HR division of The ACME Laboratories starts it selection process. Resumes are chosen in two approaches. At first, HR division selects applicants' resumes. Next, they decorate resumes and send these resumes to concerned division/department. After that, concerned department does the final selection and gives back to HR division.
Make call list and informing candidates
Next work is to inform applicants for attending exam. For this, HR division makes call list. This call list includes applicants' name, father's name, and mobile number and remarks. HR division calls applicants through two ways. If applicants' number is little, HR Division calls them by themselves. If applicants' number is large, they send call list to PBX section. PBX section contacts with candidates. PBX section maintains relationship with inside and outside
organization. PBX section will write down note weather applicants are available or not.
Preparing candidates profile summary:
Now HR Division will ready for preparing itself. They will make candidates profile summary. Most of the candidates profile summary is prepared after written exam. This candidate's profile summary contains applicants' name, father's names, last education, education institution, date of birth, experience, reference. This will help interviewee to understand applicants in a moment.
Preparing Attendance Sheet:
Before written/viva/practical exam, HR division will prepare attendance sheet. This attendance sheet includes applicants' name, father name, mobile number and signature box. After preparing it, it will be sent to reception. So when candidates will come, they will sign there.
Written/Viva/Practical exam
For selecting final employee, HR division arranges some examinations where candidates will give test. In written test, applicants must have to get 30 percent number. Written exam is divided on some categories. There are question about English, Math, General knowledge and job related. Candidates must answer the job related question otherwise. Otherwise they will not be passed. Then HR division checks the exam paper and attaches with resumes. Followed by, they publishes written exam with the authorization of board of director. After passing written exam, HR Division organizes viva. This viva board consists of three types of people. Some are from HR Division, some are from concerned department. Another interviewer is from other department.
Before starting interview, Recruitment and Talent Manager will give some overview about the vacant job and question. Then he provides candidates profile summary, particular job advertisement and resumes who pass in written exam. In viva, interviewer asks about applicants' study and job related question. They want to know about job responsibilities from candidates. Interviewers give some situation to know that how candidates will response in given situation.
They also ask candidates about expected salary. If applicants have job experience, they also ask about job condition and reason of leaving that organization. Interviewers basically evaluate some aspects from candidates. These aspects are:
Job understanding
Communication skill
Leadership
Decision making abilities
Judgment abilities
Technical skill
All interviewers will mark candidates. They will average all interviewers' mark and select final person. They also select additional two or three applicants. If first choice applicant is not 37available, they can go for second and third best candidate. If practical test is not needed, HR Division will done final result. Only for "Medical Representative" and "Sales and Promotional Representative" position, HR division will publish final result. If practical test is required, candidates must attend and pass the exam. If any candidate passes written test and viva but he/she fails in practical exam, he/she will not be allowed to be finally selected.
Call the finally selected candidates:
After final result, HR division ensures that finally first choice candidate will attended their organization. If first choice does not expect their condition, HR division will go for second best or third best choice. Then HR division calls finally selected on fixed date to bring necessaries papers.
Employment Check List for new joiner:
New joiner has to handover some important documents. These documents are:
Updated resume: New joiner will give away two resumes in English and Bengali.
Employee Information form: Employment form is another version of new joiners resume. Here, new joiner will give information about his/ her name, permanent and present address, phone number, email address, academic description, prior work experiences, emergency contact etc
Certificate and Transcript: New joiner will give all original and photocopy of all certificates. The photocopies must be attested. After one year, employee can get back all certificates. That's time he/she has to apply for certificates to HR division.
Release order: If new joiner has previous job experience, he/she must get back release order from previous organization. Otherwise, he will not be able to join here. 7 copy passport size photograph: New joiner will give seven copy passport size colored photographs with his/her name and signature at the back. All photographs must be attested by first class government officer.
National ID card photocopy: New joiner will give two photocopies of his/her Identity Card. He will also give one photocopy of nominees' Identity Card. All photocopies of Identity Card are attested by first class government officer.
Nationality certificate: New joiner will provide national certificate which is issued by union chairman/ward commission.
Joining letter: HR Division will provide joining letter. In joining letter, there will be terms and conditions about job and organization. Here, new joiner will sign below the joining letter.
Nominee form: In nominee form, new joiner will mention not more than three persons who will get benefits if employee dies.
Three hundred taka non-judicial stamp paper: In Three hundred taka Non-Judicial Stamp paper, new joiner will promise about given information that are true, future job duties. The stamp paper must be authorized by first class executive majested officer.
Security bond: In security bond, a person who is relative or familiar with new joiner will give security. It would be on Two Hundred taka Non-Judicial Stamp paper approved by first class executive majested officer. This is only applicable for SPR and MR new joiner.
Medical certificate: New joiner will submit medical certificate from any government medical officer or civil surgeon.
Recruitment and selection process of SPR and MR:
For The ACME Laboratories Ltd, SPR and MR is one of the important positions. The employees of these positions bring the money. SPR means "Sales and Promotional Representative" and MR means Medical Representative. Every month, The ACME Laboratories Ltd recruits huge number of employees. The recruitment and selection process of SPR and MR is little bit different than other recruitment and selection process. Here is the recruitment and selection process of SPR and MR:
1. Requisition form: As usual, marketing division raises their employees' demand through requisition form. HR division will justify and take authorization from "Board of Director".
2. Attract and invite applicants: Every month, The ACME Laboratories Ltd recruits SPR and MR in huge amount. That's why they try to reach highest number of applicant. HR Division will publish its recruitment advertisement in national newspaper. Generally, they want to publish this advertisement at Friday. In advertisement, there are some important points. These are:
Job responsibilities for MR:
• Maintain Constant liaison with doctors and health care professional.
• Promote company products and create brand awareness.
• Achieve sales target assigned by the company.
• Provide updated products information to the doctors and chemists on a regular basis.
Job specifications for MR:
• Applicants must complete Bachelor degree or honors or masters from general education.
• Applicants should have ability to work under pressure to meet work deadline.
• This position requires extensive tours and applicants should have willingness to ride motorcycle.
• Candidate must be unmarried. The age limit is 30 years. Job responsibilities for SPR:
• Ensure on time delivery of medicine to the chemist as per requirement.
• Manage the cash after collection to ensure safely deposit of the cash to the concern deport.
• Promote company products in potential market. Job specification for SPR:
• Applicants at least complete graduation from National University.
• The age limit is 30 years.
• Applicant's unmarried status is preferable but not mandatory.
Workplace can be anywhere in Bangladesh. Only male are allowed for SPR. If organization needs female MR, they mention in advertisement. They also make good use of internal sources for SPR and MR.
3. Collect resumes, selected applicants, taking examination, publish final result:
Through publishing advertisement, they invite candidates for participating exam. The process will run on whole day. There are description of that whole day
• Collecting Resumes and selected candidates for written exam: In exam hall, all applicants sit for exam. At 9.30 am, employees from recruitment and talent management department will come. They will clear brief about job specification of both position.
After that they provide top sheet to applicants. There are some information on top sheet.
These are:
Name
Father's name
Date of Birth
Permanent address
Mobile number
National ID card Number
Last Education
Name of University
After filling up top sheet, applicants staple this top sheet with their resumes. Then HR division will collect these resumes and immediately select these resumes. HR Division will check the educational certificates very carefully. The number of applicants is huge. That's why it takes time. After selected resumes, HR Division will write unique roll number on the top sheet. Failed resumes are sent back to applicants and they will leave the exam room immediately. After that selected applicants will get the resumes.
• Taking exam and preparing Candidates Profile Summary: After sending backresumes, examiners will arrange applicants' seat. Then, they will distribute question paper. In the question, there are four parts. Applicants must answer the job related questions. Otherwise, he will not able to pass the written exam. The duration of the exam is 30 minutes. The total marks are 25. The pass mark is 7.5. Candidates' Profile Summary will be made during script checking. After checking written script, written exam number will be input on CPS. Then written exam will be published with authorization of HR Division. Two copies of written exam will be sent to Reception. Receptionist will hang the written exam result on notice board.
• Viva and final result: Next, The applicants who pass in written exam, will attended the viva session on same day. HR Division will make 4-5 viva board based on applicants' number. Every viva board will get CPS and applicants' written scripts. Viva board consists of each employee from HR and Marketing Division. In viva, interviewers give  brief about job. Then they ask questions. Their question is about subjective and 42 situational. For example, Applicant's major concentrate is Islamic History. Then Interviewers will ask about Islamic history. Interviewers will give the situation and ask interviewee what he will do. If both interviewers give yes, candidate will be finally
selected. There is an interview comment on CPS where interviewer will write down about interviewees. After completing viva, HR division will input viva number in their internal server, make a final result publish it on notice board. Next day, HR division will get authorization from board of director. At last, HR Division will maintain these
documents like written exam result, candidate profile summary and final result under a file.
4. Acceptance joining letter: Finally new joiner provide necessary papers to HR Division and new joiner will get the joining letter.
Recruitment and selection process of SPR and MR in flowchart: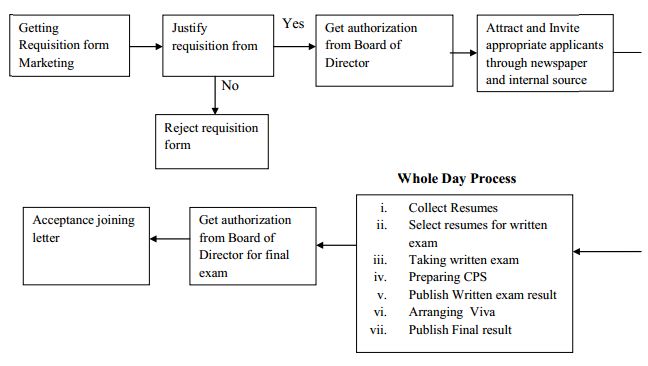 Finding and Analysis:
During my internship program at The ACME Laboratories Ltd, I have come across different practices of recruitment and selection which lead me to analyze.
SWOT analysis
Strengths:
• The ACME Laboratories Ltd has been serving the country since 1954. So it has gathered huge experience in the pharmaceutical market which is now acting as strength for the company.
• More than three billion tablet manufacturing tablet manufacturing facility per year considering single shift.
• It designed the facility to meeting the requirements of ISO and WHO cGMP.
• Environment controlled and monitored by integrated building management system through zoning concept in all manufacturing areas.
• In recruitment and selection process, they involve concern division's manager like CV screening, preparing questions, checking written scripts etc.
• In their management, they follow participative management style.
• It has independent microbiology department to perform microbiology tests.
• The organization has adopted ISO 9001 certificate.
• In HR Division, the data is contained through HRIS.
• It has environment friendly solid and liquid waste disposal system. 45 Weaknesses
• The chain of command ACME is elongated. If there is a situation to take immediate decision and deputy directors are not available, that's time they face problem. The decision will be hanging up until deputy directors are available.
• Online base advertisement is proper cannot get right candidate.
• Their sales centers are not enough to cover whole country.
• It cannot hold its medical representative and sales and promotional representatives for the long time. For this problem, it recruits heavy amount of MR and SPR. It makes huge cost.
Opportunities:
• People are getting consciousness about healthy and cure life. If they feel sick, they take medicine. So user of medicine is increasing.
• Existing demand in the neighboring country's pharmaceutical market is really big opportunity for it.
• More and more hospitals and clinics are being established. So the opportunity is getting high for The ACME Laboratories Ltd.
• Globalization allows ACME to enter global market by diversifying its business by utilizing the company image
Threats
• Aggressive promotional actions and movement by the rivals can affect The ACME laboratories LTD's market.
• Exchange rate fluctuation can be reason of increasing price high.
• Likely entry of potent new competitors due to attractive industry profitability.
• Modern technology are coming to obsolete the existing technology. This will cause huge capital loss for the production process.
• The unstable political condition is a big threat for The ACME Laboratories Ltd. Hartal or blockage may result in the delay of distribution of products. It also hampers the regular official work.
• The ACME laboratories LTD cannot promote its products through TV and Radio46
Major findings of the study:
In my internship at The ACME Laboratories Ltd, I have observed and found different issues.
These are:
1. Managing Director is the sole authority approve finally for any business or functional decision. Only after receiving approval from the Managing Director, HR Division starts all their functioning as per method.
2. Modern Human resource management always talks to involve line manager in HR Practices. The ACME Laborites Ltd engages both HR manager and line managers in their recruitment and selection process.
3. The ACME Laborites Ltd has no online requisition process. For example, sales manager of Savar sales centre raises a requisition form. He must send this requisition form through their internal mail service. If there is any strike or hartal, this day internal mail service will not work. As a result, recruitment process is going to delay.
4. HR division The ACME Laborites Ltd does not maintain CV banks properly. Often they lost resumes. They keep failed and passed resumes in same spaces.
5. In their Recruitment and Talent management, there are only two employees. Only two employees have done all the recruitment and selection process. So when work pressure is really high, number of these employees is not enough.
6. HR Division of The ACME Laboratories Ltd does not contact with those candidates who failed in their recruitment and selection process.
7. They do not publish recruitment advertisement on own website.
8. HR division does not arrange physical examination for final applicants.
9. The company always tries to maintain good working environment, health & safety procedure which is certified internationally.
Differences between Recruitment and Selection process of "SPR and MR" and others:
The basic processes of recruitment and selection of "SPR and MR" and others are same. Within these processes, there are some differences. These differences are: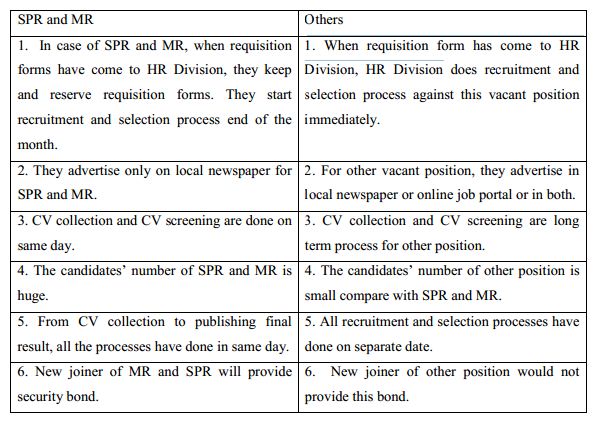 Recommendation And Conclusion
Suggestion for improvement:
After completing internship program, I have come up with some recommendation which The ACME Laboratories Ltd for their improvement. These are:
1. HR Division should introduce online requisition system. As a result, HR division will get requisition form immediately and it will make faster its process.
2. HR Division already exercises their internal network properly for recruitment advertisement. Now they can post recruitment advertisement on their website. So, interested applicants can get information to visit their website.
3. HR Division needs enough space to maintain CV bank. It will employees to find resumes easily.
4. In written, viva or practical exam, there should not be any unfairness. Otherwise The ACME Laboratories will lose appropriate candidates.
5. HR division should also communicate with failed candidates. At least, they can send an email on applicants' account.
6. HR division can also minimize using paper on its recruitment and selection process.
7. There is no training for the new internee in The ACME Laboratories Ltd. But if they provide any training program for internees then it will be easier for them to adjust new environment.
8. The recruitment and selection process' activities of MR and SPR could be done separate days. So it will release extra pressure from employees and they can find more appropriate employees.
9. HR division should be also more focus on management assessment centers in its selection process. It will help them to judge applicants according to perform realistic job.
10. The ACME Laboratories Ltd should start training its managers on better interviewing 50
Conclusion:
The ACME Laboratories Ltd, the pharmaceutical and flagship company of ACME group, is a manufacture and global exporter of human, herbal and veterinary pharmaceutical products. From the very beginning, the company had faced many challenges and defeat successfully to convert the company. From a very small unit, it is a giant organization today. Human resource division at The ACME Laboratories Ltd is vast and elaborative which compromises the overall management process. Strong recruitment and selection process and teamwork is the secrets ACME's success.
Since its setting up in 1954, ACME Laboratories Ltd has been working relentlessly with a vision to ensure Health, Vigor and Happiness for all and they are truly focused on it with optimism about perpetual growth and success with time.