Most of us want to do something to reduce our greenhouse gas emissions, which are the primary cause of climate change, but don't know where to begin. The good news is that people can reduce their greenhouse gas emissions and save money on their utility bills without sacrificing comfort and convenience in their homes.
The concrete industry is just one of many that are looking into new manufacturing methods to reduce its carbon footprint. These efforts are critical to meeting the Paris Agreement's goal of achieving a net-zero carbon economy by 2050. However, a new study conducted by researchers in Japan and Belgium and focusing solely on Japan concludes that improved manufacturing technologies will only get the industry to eighty percent of its goal.
According to the study, using a dynamic material flows analysis model, the remaining 20% will have to come from changes in how concrete is consumed and managed, putting expectations on both the buyer and the seller.
The concept of a zero-carbon home may conjure up images of a tiny, off-grid adobe house buried in the woods. While that housing option may appeal to some, zero-carbon dwellings can also be grid-connected, conventionally designed homes. Zero-carbon homes are built with two main goals in mind.
We discovered that supply-side efforts can only achieve about 80% of the required reductions. Our research has shown that in order to achieve net-zero emissions, both supply-side and demand-side strategies are required.

Dr. Takuma Watari
Electric cars, fluorescent lights, water-saving shower heads, these are all examples of efforts to lower our carbon footprint. However, the energy savings are made from the supply side, with companies developing new technologies that reduce the amount of energy consumed for the same amount of use. Notably, they put little demand on the user, who can use the product no differently than before.
The same is true for concrete, the most widely used man-made material on the planet. Many studies have shown that esoteric efforts such as "clinker-to-cement ratio reduction," "cement substitution with alternative binders," and "carbon capture and utilization" have the potential to make the concrete industry more energy efficient. Dr. Takuma Watari, a researcher at the Japan National Institute for Environmental Studies and the study's lead author, explains that supply-side efforts alone will not suffice if nations are serious about achieving net-zero carbon emissions.
"We discovered that supply-side efforts can only achieve about 80% of the required reductions. Our research has shown that in order to achieve net-zero emissions, both supply-side and demand-side strategies are required" He stated.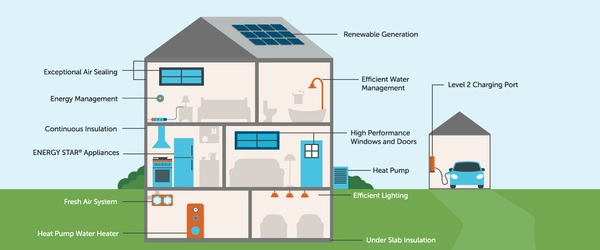 That conclusion was reached after exhausting all supply-side options. After examining the cement and concrete cycle in Japan from 1950 to today, Watari and his colleagues realized that the concrete industry has already implemented effective technologies to reduce its carbon footprint to the point where it cannot be expected to bear sole responsibility.
"We must change not only how concrete is made, but also how it is used," he said.
Extending the service life of buildings and infrastructure through new design and improving their multi-purpose use will reduce concrete demand. The authors argue that concrete consumers should approach their consumption with the same recycle, reuse, and reduce mindset that they do with household waste.
They went on to say that obvious targets include not only homes but also infrastructure for medical care, transportation, schools, and stores. Policies are required to persuade these consumers to alter their behavior. When making purchases, societies must embrace "material efficiency," which is influenced by design and use, in the same way that "energy efficiency" has.
The irony, notes Watari, is that the concrete industry, while incentivized to reduce carbon consumption on the supply side, has little motivation in changing habits on the demand side. "Current profits are directly related to the volume sold. This gives little reason for the industry to promote efficient material use. The change needs to come from policy," he said.
According to the study, by making appropriate changes on the demand side, not only will the concrete and cement cycle become more environmentally friendly and the goal of net-zero carbon by 2050 be realized, but there will also be benefits for the use of scarce resources such as water.
"Our study's most important finding is that there is no "silver bullet" solution. Everyone must contribute. There is currently an overemphasis on supply-side strategies. To achieve net-zero emissions, architects, urban planners, and general consumers must all play a role" Watari stated.