Main principle of this assignment is to analysis Practices of Financial Management in Business Organization. here focus on Reneta Limited is a listed public limited company in Dhaka Stock Exchange (DSE). Financial management is among the core departments in the business organization mindset. A good business corporation needs strong financial supervision department for achieving presently there mission and objective.
Introduction
Financial Management: Can be defined as the process of acquiring and using funds to accomplish a financial objective. The name of Financial Management is Managerial finance or corporate finance.
Activities of Financial management in Business Organization
The role of a corporation's management is to increase the value of the firm to its shareholders while observing applicable laws and responsibilities. Corporate finance deals with the strategic financial issues associated with achieving this goal, such as how the corporation should raise and manage its capital, what investments the firm should make, what portion of profits should be returned to shareholders in the form of dividends, and whether it makes sense to merge with or acquire another firm.
1) Preparation of Balance Sheet Approach to Valuation
A simple way of valuing the equity of a company is simply to take its balance sheet and subtract liabilities from assets to arrive at the equity value. However, this book value has little resemblance to the real value of the company. First, the assets are recorded at historical costs, which may be much greater than or much less their present market values. Second, assets such as patents, trademarks, loyal customers, and talented managers do not appear on the balance sheet but may have a significant impact on the firm's ability to generate future profits
2) Measurement of Cash vs. Profits
Another way to value the firm is to consider the future flow of cash. Since cash today is worth more than the same amount of cash tomorrow, a valuation model based on cash flow can discount the value of cash received in future years, thus providing a more accurate picture of the true impact of financial decisions
3) Measurement of Cash Cycle:
The duration of the cash cycle is the time between the date the inventory (or raw materials) is paid for and the date the cash is collected from the sale of the inventory. A company's cash cycle is important because it affects the need for financing. The cash cycle is calculated as:
Days in inventory + Days in receivables – Days in payables
4) Calculating Revenue, Expenses, and Inventory:
A firm's income is calculated by subtracting its expenses from its revenue. However, not all costs are considered expenses; accounting standards and tax laws prohibit the expensing of costs incurred in the production of inventory. Rather, these costs must be allocated to inventory accounts and appear as assets on the balance sheet. Once the finished goods are drawn from inventory and sold, these costs are reported on the income statement as the cost of goods sold (COGS). If one wishes to know how much product the firm actually produced, the cost of goods produced in an accounting period is determined by adding the change in inventory to the COGS.
5) Assessment of Financial Ratios
A firm's performance can be evaluated using various financial ratios. Ratios are used to measure leverage, margins, turnover rates, return on assets, return on equity, and liquidity. Additional insight can be gained by comparing ratios among firms in the industry.
6) Decision making Bank Loans
Bank loans can be classified according to their durations. There are short-term loans (one year or less), long-term loans (also known as term loans), and revolving loans that allow one to borrow up to a specified credit level at any time over the duration of the loan. Some revolving loans automatically renew at maturity; these loans are said to be "evergreen."
7) Find the Sources and Uses of Cash
There are two sources of cash: reducing assets or increasing liabilities or equity. Similarly, a company uses cash either by increasing assets or decreasing liabilities or equity.
8) Ensure Sustainable Growth
A company's sustainable growth rate is calculated by multiplying the ROE by the earnings retention rate.
9) Measurement of Firm Value, Equity Value, and Debt Value
10) Assessment of organizational Capital Structure
11) Organizational Risk Management
Business risk
Financial risk
Total corporate risk
12) Assessment of Cost of Capital
13) Free Cash Flows
14) Decision Making in Cash Flows to Debt and Equity
15) Decision Making in Hurdle Price
16) Debt Assessment
17) Investment Decision
18) Optimal Capital Structure
19) Share exchange
20) Mergers and Acquisitions
Methodology
For this assignment I went to Dhaka stock exchange to buy the financial report. And also personally visit the Renata Ltd Head office to collect necessary information. Visit www.renata-ltd.com for other information.
Objectives
First of all it should be mention that making an assignment is always challenging. For completing assignment on "The practices of Financial Management in Business Organization" needs time and hard work. I found lots of work for individual area but. But not too much work in full Financial Management practices. After working on this assignment I get lots of information about Financial Management practices which I believe some thing were unaware in past. Here is the summary of our objectives-
It helps me to get the basic knowledge about Financing in organization.
As a student of Business Studies I get lots of information about organizational practices.
Practical knowledge in financial management.
It helps me to find the how total financial activities are going on in the organization.
Limitation of the Work
While I working on this assignment I had face some problem. Problems are-
Problem in getting information about total Financial Management structure.
Lack of primary data made this work little bit dry.
Not enough journal & magazines.
Lack of primary data
Sometimes non-cooperative people.
Lack of time is another big problem while I working on this assignment.
Company Profile 
Historical High-Lights:
Renata Limited is one of leading Pharmaceutical company in Bangladesh. Founded in 1972 as a subsidiary of Pfizer Inc. Ownership transferred from Pfizer Inc. to local institutions and the general public in 1993. Company name subsequently changed from Pfizer Laboratories (Bangladesh) Limited to Renata Limited
Type of Company :   Listed Public Limited (Dhaka Stock Exchange)
Turnover:                   US $21.0 Million
Retained Earnings:  US $5.0 Million
Net Asset Value:        US $11.0 Million
Main Business:
Manufacture and Marketing of Human Pharmaceuticals.
Manufacture and Marketing of Animal Therapeutics of Nutrition products (No. 1 in Market in terms of Sales.)
Renata 120,000 Square Feet (11,150 m2) Plant is located in Dhaka on 12 Acres of Land.
Quality Recognition: ISO9001 (DNV)
No. of Employees:     1267
Trade Mark Acquisition:
Trademarks for three Hoechst Marion Roussel (HMR) products perpetually assigned to Renata. These products are
Bactamox (Amoxicillin Tablet and Dry Syrup)
Alsporin (Cephalexin Tablet and Dry Syrup)
Pyralgin (Paracetamol Tablet and Suspension)
This acquisition was made following a three-year relationship with HMR. From 1997-2000, Renata manufactured 19 Penicillin and Cephalosporin formulations on behalf of HMR.
Export : Human Pharmaceuticals to Myanmar, Nepal and SriLanka
Distributors and Affiliations:
Distributor for Chiron Vaccines (Rabipur)
Distributor for BASF (Animal Nutrition Products)
Distributor Evans Vanodine (disinfectant)
Distributor for Schering-Plough Animal Health (Vaccines)
Distributor for Pfizer, India (Animal Health)
Distributor for Zinpro, USA (Metal Amino Acid Complexes)
Distributor for Biomin Laboratories, Singapore (Mycotoxin Binders and Nutraceuticals)
Licensing Arrangement :
Providing technical assistance to Deurali Janata Pharmaceuticals Private Limited (Nepal)
Contract Manufacturing :Contract manufacturing Oral Dehydration Salt formulation
Investment :
100% Shareholding in Renata Agro Industries Limited (One of largest poultry breeding and hatching operation in Bangladesh).
Financial Analysis
For the year 2005
In my personal finding, collect the annual report of 2005 & searching website of Renata Ltd, the financial department  of Renata Ltd doing all over the activities of Preparation of Balance Sheet Approach to Valuation, Measurement of Cash vs. Profits, Measurement of Cash Cycle, Calculating Revenue, Expenses, and Inventory, Assessment of Financial Ratios, Decision making Bank Loans, Find the Sources and Uses of Cash, Ensure Sustainable Growth, Measurement of Firm Value, Equity Value, and Debt Value, Assessment of organizational Capital Structure, Organizational Risk Management, Decision Making in Cash Flows to Debt and Equity etc. Renata ltd is a Public Limited (Dhaka Stock Exchange) company, So Financial Management play an important role in proper distribution for each share holder.
In following I discuss some financial Statement of year 2005 of Renata Ltd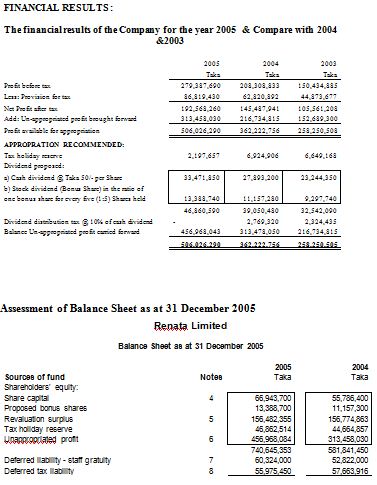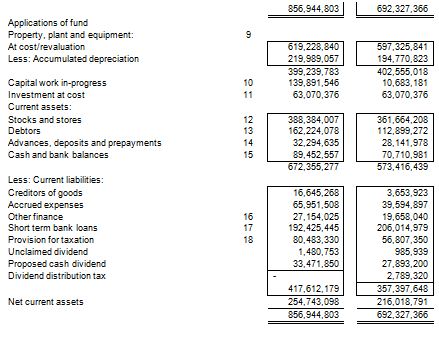 Beside This  Renata Ltd Management Practices following financial measurement & activities
Property, plant and equipment.
Capital work in-progress
Investment at cost
Stocks and stores
Debtors
Trade debtors
Advances, deposits and prepayments
Cash and bank balances
Workers' profit participation fund
Short term bank loans
Provision for taxation
Turnover
Cost of goods sold
Cost of goods manufactured
Cost of raw materials consumed
Purchases, issues and stocks of raw materials
Summarized quantity of purchases, issues and stocks of raw materials
Administrative, selling and distribution expenses & other expenses
Basic earnings per share (EPS)
Cash and cash equivalents
Payments to directors and officers
Capacity utilization – single shift basis
Outstanding letters of credit
Cash flows from operating activities:
Cash flows from investing activities:
Cash flows from financing activities:
Recommendation
While I researching in this assignment, there are some lacking. I feel that Reneta Ltd can improve them a lot. So I have some suggestion & this are-
Improving the infrastructure financial management.
Need more publications & proper explanation.
Improving the facility & trained professional.
Improving productivity the training facility should be increasing.
For costs minimize financial management suggest product bench marking & product value chain system.
Need to be developing according to the global needs.
Raw materials of the Reneta products are comparatively very high. So it needs new supplier.
Financial department need to give attention in EPS.
Decision making should be properly for new launch (Product & Technology).
Accounting system should be full computerized.
Conclusion
After going through all the financial analysis of the company I think the company is in a good position. Although some analyses are falling gradually yet if the company pays a little attention to the related matters which can improve, they will do much better in later.
Finally, I would like to say that financial management is one of the core departments in the business organization point of view. A good business organization needs strong financial management department for achieving there mission & objective.