Definition –
Obsidian is an igneous rock occurring as a natural glass formed by the rapid cooling of viscous lava from volcanoes. It is produced when felsic lava extruded from a volcano cools rapidly with minimal crystal growth. It is commonly found within the margins of rhyolitic lava flows known as obsidian flows, where the chemical composition (high silica content) causes a high viscosity, which, upon rapid cooling, results in a natural glass-forming from the lava. The inhibition of atomic diffusion through this highly viscous lava explains the lack of crystal growth.
Obsidian is hard, brittle, and amorphous; it, therefore, fractures with sharp edges. In the past, it was used to manufacture cutting and piercing tools, and it has been used experimentally as surgical scalpel blades. It is an amorphous material known as a "mineraloid." The result is a volcanic glass with a smooth uniform texture that breaks with a conchoidal fracture.
Obsidian is extremely rich in silica (about 65 to 80 percent), is low in water, and has a chemical composition similar to rhyolite. Obsidian has a glassy lustre and is slightly harder than window glass. Though obsidian is typically jet-black in color, the presence of hematite (iron oxide) produces red and brown varieties, and the inclusion of tiny gas bubbles may create a golden sheen. Other types with dark bands or mottling in gray, green, or yellow are also known.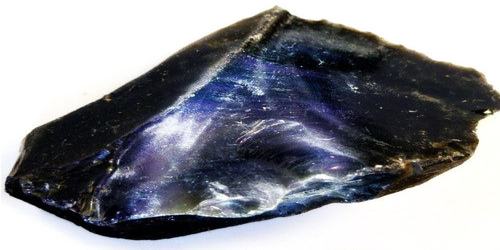 Occurrence and Properties of Obsidian –
Obsidian is found in many locations worldwide. It is confined to areas of geologically recent volcanic activity. Obsidian older than a few million years is rare because the glassy rock is rapidly destroyed or altered by weathering, heat, or other processes.
It can be found in Argentina, Armenia, Azerbaijan, Australia, Canada, Chile, Georgia, El Salvador, Greece, Guatemala, Iceland, Italy, Japan, Kenya, Mexico, New Zealand, Papua New Guinea, Peru, Scotland, Turkey, and the United States. Obsidian flows which may be hiked on are found within the calderas of Newberry Volcano and Medicine Lake Volcano in the Cascade Range of western North America, and at Inyo Craters east of the Sierra Nevada in California. Yellowstone National Park has a mountainside containing obsidian located between Mammoth Hot Springs and the Norris Geyser Basin, and deposits can be found in many other western U.S. states including Arizona, Colorado, New Mexico, Texas, Utah, and Washington, Oregon, and Idaho. Obsidian can also be found in the eastern U.S. states of Virginia, Pennsylvania, and North Carolina.
Obsidian is usually an extrusive rock one that solidifies above Earth's surface. However, it can form in a variety of cooling environments:
along the edges of a lava flow (extrusive)
along the edges of a volcanic dome (extrusive)
around the edges of a sill or a dike (intrusive)
where lava contacts water (extrusive)
where lava cools while airborne (extrusive)
There are only four major deposit areas in the central Mediterranean: Lipari, Pantelleria, Palmarola and Monte Arci. Ancient sources in the Aegean were Milos and Gyali.
Acıgöl town and the Göllü Dağ volcano were the most important sources in central Anatolia, one of the more important source areas in the prehistoric Near East.
The Obsidian crystal stone meaning can be traced back to Paleolithic times where it was used to make arrowheads and other tools. Cherished for its deep, glossy sheen, Obsidian is often called volcanic glass because it is formed from molten lava that has cooled very quickly. Obsidian's hardness of 5.5 makes it relatively easy to carve. Artists have used obsidian to make masks, small sculptures, and figurines for thousands of years.
Though obsidian is usually dark in color, similar to mafic rocks such as basalt, obsidian's composition is extremely felsic. Obsidian consists mainly of SiO2 (silicon dioxide), usually 70% or more. Crystalline rocks with a similar composition include granite and rhyolite. Because obsidian is metastable at the Earth's surface (over time the glass becomes fine-grained mineral crystals), no obsidian has been found that is older than the Cretaceous period. This transformation of obsidian is accelerated by the presence of water.
Obsidian generally contains less than 1 percent water by weight. Under high pressure at depth, rhyolitic lavas may contain up to 10 percent water, which helps to keep them fluid even at a low temperature. Eruption to the surface, where pressure is low, permits rapid escape of this volatile water and increases the viscosity of the melt. Increased viscosity impedes crystallization, and the lava solidifies as a glass.
Obsidian may contain patterns of gas bubbles remaining from the lava flow, aligned along layers created as the molten rock was flowing before being cooled. These bubbles can produce interesting effects such as a golden sheen (sheen obsidian). An iridescent, rainbow-like sheen (fire obsidian) is caused by inclusions of magnetite nanoparticles creating thin-film interference. Colorful, striped obsidian (rainbow obsidian) from Mexico contains oriented nanorods of hedenbergite, which cause the rainbow striping effects by thin-film interference.
Compositions of Obsidian –
Different obsidians are composed of a variety of crystalline materials. Their abundant, closely spaced crystallites (microscopic embryonic crystal growths) are so numerous that the glass is opaque except on thin edges. Many samples of obsidian contain spherical clusters of radially arranged, needlelike crystals called spherulites. Microlites (tiny polarizing crystals) of feldspar and phenocrysts (large, well-formed crystals) of quartz may also be present.
Most obsidians have a composition similar to rhyolite and granite. Granites and rhyolites can form from the same magma as obsidian and are often geographically associated with the obsidian. The obsidians of Mount Hekla in Iceland, the Eolie Islands off the coast of Italy, and Obsidian Cliff in Yellowstone National Park, Wyoming, U.S., are all well-known occurrences.
Rarely, volcanic glasses are found with a composition similar to basalt and gabbro. These glassy rocks are named "tachylyte."
Uses and Benefits of Obsidian –
Obsidian was used by Native Americans and many other primitive peoples for weapons, implements, tools, and ornaments and by the ancient Aztec and ancient Greek civilizations for mirrors. Because of its conchoidal fracture (smooth curved surfaces and sharp edges), the sharpest stone artifacts were fashioned from obsidian. Some of these, mostly arrowheads, have been dated by means of the hydration rinds that form on their exposed surfaces through time. Obsidian in attractive and variegated colors is sometimes used as a semiprecious stone.
Although using a rock as a cutting tool might sound like "stone age equipment," obsidian continues to play an important role in modern surgery. Obsidian can be used to produce a cutting edge that is thinner and sharper than the best surgical steel. Today, thin blades of obsidian are placed in surgical scalpels used for some of the most precise surgery. In controlled studies, the performance of obsidian blades was equal to or superior to the performance of surgical steel.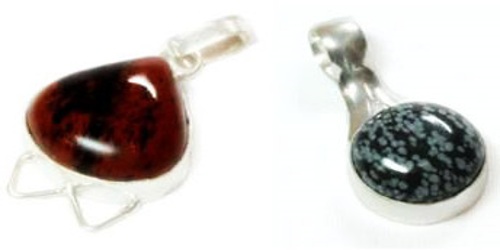 Obsidian is also used for ornamental purposes and as a gemstone. It presents a different appearance depending on how it is cut: in one direction it is jet black, while in another it is glistening gray. "Apache tears" are small rounded obsidian nuggets often embedded within a grayish-white perlite matrix.
Obsidian is also used in making opal doublets and opal triplets. Thin slices or chips of opal are glued to a thin slice of obsidian to make a composite stone. The black obsidian provides an inexpensive and color-contrasting background that makes opal's colorful fire much more obvious. It also adds mass and stability to the opal that facilitates cutting it into a gem.
Obsidian is truth-enhancing.  A strongly protective stone, it forms a shield against negativity.  It blocks psychic attacks and absorbs negative energies from the environment.  Obsidian draws out mental stress and tension.  It stimulates growth on all levels, urging exploration of the unknown and opening new horizons.  Brings clarity to the mind and clears confusion.  It helps people to know who they truly are.  Obsidian dissolves emotional blockages and ancient traumas.  Promotes qualities of compassion and strength.
Information Sources: