Nokia 3310 Relaunch (2017)
Originally revealed 17 years ago, Nokia has resurrected the classic mobile phone at MWC 2017, with a handful of modern tweaks. The new version of the handset is clearly a direct descendant of the 2000 version, but one that's been treated to a makeover that should please all but the most hardcore of 3310 fans.
It looks fresher and slicker than its predecessor, with its enlarged, 2.4-inch 320 x 240 colour screen and significantly slimmer frame particularly welcome changes.
On 14 February 2017, it was reported that a modernised version of the 3310 would be unveiled at the 2017 Mobile World Congress in Barcelona by HMD Global Oy, a Finnish manufacturer with rights to market phones under the Nokia brand, with the price point of 59 euros. On 26 February 2017, the modernised version of the 3310 was relaunched at a price of €49.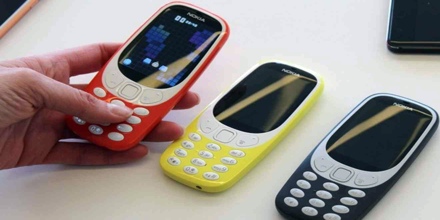 The Nokia 3310 has been reported to only run on 2.5G networks at the time of launch, which has subjected the phone to criticism, and means that it will not initially be released in many countries, including Australia and Singapore, which are in the process of phasing out their 2G networks.
Features and Design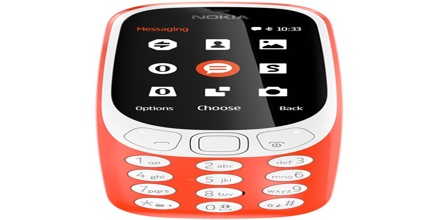 The phone features basic functions like an FM radio, a basic web browser which is limited in functionality, and a voice recorder. It also features a 2 MP camera for photos and video recording. The original Snake game has been replaced by Gameloft's "Snake Xenzia" which has updated modes and graphics. The design of the phone heavily mimics its predecessor both in design and form factor. It comes in two glossy colors, red and yellow, as well as two matte colors similar to the original Nokia 3310: dark blue and grey.
Nokia has altered the phone's main keys too. The large blue button has been ditched, along with the 'C' and arrows buttons. Replacing these is a square-shaped central keypad, flanked by large 'call' and 'end call' buttons. Around the back is a basic 2-megapixel camera capable of capturing grainy shots, as well as an LED flash that can be used as a torch.
Nokia has improved its battery life too, with the new 3310 offering 22 hours of talk-time and a month of standby time between charges.
Old Version of Nokia 3310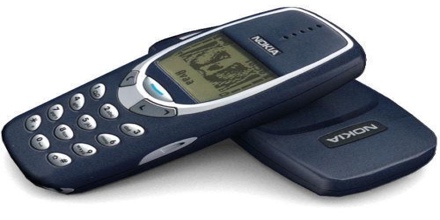 The Nokia 3310 is a GSM mobile phone announced on September 1, 2000, and released in the fourth quarter of the year, replacing the popular Nokia 3210. It sold very well, being one of the most successful phones with 126 million units sold worldwide. The phone is still widely acclaimed and has gained a cult status due to its durability. It is one of Nokia's most iconic devices as it is deemed as being indestructible.
Design and Features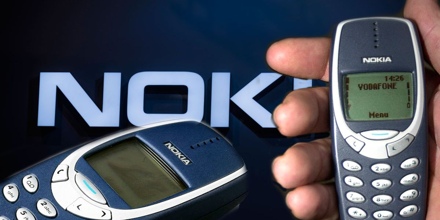 The Nokia 3310 was developed at the Copenhagen Nokia site in Denmark. It is a compact and sturdy phone featuring an 84 × 48 pixel pure monochrome display. It has a lighter 115 g battery variant which has fewer features; for example the 133 g battery version has the start-up image of two hands touching while the 115 g version does not. It is a slightly rounded rectangular unit that is typically held in the palm of a hand, with the buttons operated with the thumb. The blue button is the main button for selecting options, with "C" button as a "backspace", "back" or "undo" button. Up and down buttons are used for navigation purposes. The on/off/profile button is a stiff black button located on the top of the phone.
The Nokia 3310 is known for having many features that were rare for the time. These include many utilities, such as a calculator, Nokia network monitor, stop watch and a reminder function. It has four games: Pairs II, Space Impact, Bantumi, and the hugely popular Snake II. The Snake series of games had been popular on Nokia handsets since the late 1990s. It was popular for SMS text messaging because it allowed long messages three times the size of a standard SMS text message, at 459 characters. It also featured threaded SMS writing and SMS Chat. The phone also has voice dialing for the quick dialing of selected numbers.