Marketing strategies of GlaxoSmithKline Bangladesh Limited
A Study on Stiefel skin products
GlaxoSmithKline (GSK) is the world leading research-based pharmaceutical company with a powerful combination of skills and resources to provide a platform for delivering strong growth in today's rapidly changing health care environment. GSK is the product of a number of mergers and acquisitions. The merger made GSK the world's number one pharmaceutical company.
GlaxoSmithKline have different type of products. Stiefel, a GSK company, is improving the quality of life for those affected by skin conditions around the world. Stiefel has both prescription and consumer products. Under consumer or non-prescription products they have Acne-Aid-Bar, Oilatum, SpectraBan, Lacticare, Sustid Bar etc. GSK is trying to reach the products towards consumer. Till now the consumers only buy these products when it is doctor prescribed otherwise they don't buy this. These products are very high quality and expensive products. It can be used by any general consumers who are facing acne, sunscreen or dry-skin problem. Hence, in this report I tried to analyze the market demand of customers for Stiefel products. Most of the people are not aware about these products. And if they don't know about the products how could they buy. However, awareness should be created to make people know about the usefulness of these Skin products. The Stiefel products are very much effective and a person can use this daily basis and get rid from the problems. Stiefel products have been launched in the market many years ago but as the products are nonprescription consumer products GSK trying to make the consumer aware about the products. So, this report is prepared to develop the marketing strategy for this product. Proper steps should be taken to market the product so that it can grab the consumer attention and hold a strong position in the market. To get idea about the consumers' feedback regarding this product a survey was conducted in pharmacies and some other places also. Most of the respondents become aware and are willing to accept such a product which will take care of their skins.
Introduction
Pharmaceutical Industry is one of the highly sophisticated industries in Bangladesh which has been uncovered to rapid change and made a revolution in Bangladesh by maintaining high technology and a world class standard in quality. These industries have a major commitment to the society than any other industries as it is involved with the manufacturing of life saving drugs.
GlaxoSmithKline Bangladesh Limited is a fast growing, trusted, and emerging pharmaceutical that develops, manufacture, markets and distributes quality assured best in class pharmaceutical products in Bangladesh. GSK try to be improving the quality of human life by enabling people to do more, feel better, live longer. The company's principal activities include secondary manufacture of pharmaceutical products and marketing of vaccines, pharmaceutical healthcare products and health food drinks.
GlaxoSmithKline is one of the leading multinational companies in the world. Their marketing and promotional activities are different from others. Stiefel, a GSK company, have prescription and non-prescription products. However, GSK trying to make different promotional activities to make the consumer more aware about the non-prescription skin products. Their promotional activities spread on three categories, For Doctor, Chemist and for final consumer.GSK taken different policy for consumer awareness.
Objective of the Study
General Objective
The general objective of this section is to gain knowledge about the company and its current functions and also discussing about some problem issued faced by the company.
Specific Objective
More specifically, this study entails the following aspects:
To have a consumer opinion about the GSK products.
To identify the promotional strategy for different level of consumer.
To find out the satisfaction level of middle level consumers (chemist)
Marketing Promotional strategies of GSK-Stiefel products.
Doing survey and find out the consumer demand of the products
Make Awareness among consumer about the products.
Methodology
The methodology of the report includes direct observation, visiting beauty parlors, pharmacies, super shops, designing leaflets, literature, stickers, and oral communication of the employees of the marketing department and studying files and practical experience. This is on job practical tactic.
Data Collection
To carry out the study both primary and secondary data were used.
Primary Sources
Open ended questionnaire to chemists and consumer.
Face to face interview with employees.
Personal discussions with employees.
Expert opinion.
Personal observation.
Secondary Sources
Desk report of related department.
GSK website.
Annual report
Stiefel
The Stiefel story began with an unrelenting passion for skin health, and it's what continues to drive our development of the world's most advanced skin care products.
Established in 1847, Stiefel, now a GSK company, emerged in a time of great scientific discovery. As the 19th century progressed, so did a focus on bacteria (germs) and skin health, and dermatology soon evolved into a separate medical specialty. J.D.
Stiefel has built a trusted reputation with dermatologists and other skin health professionals around the world. In addition, Stiefel consumers have provided us with insight and understanding by sharing their dermatology and skin health needs and experiences. This relationship with dermatologists and consumers has helped Stiefel create a unique dermatology and skin health experience.
Product Profile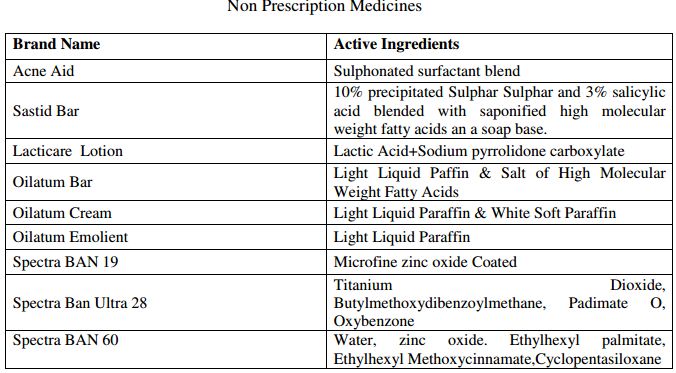 There are basically three parts in consumer products. They are:
1) Products for Acne (Acne Aid Bar, Sastid Bar)
2) Products for Dry Skin (Oilatum)
3) Products for Sun Protection (Spectra BAN)
Acne-Aid Bar
Gently decreases oily condition and acne without excessive drying.
Forms ideal skin surface for applying acne control medications.
Acne-Aid bar is a balanced blend of gentle degreasing agent and an effective cleanser that helps cleanse the skin gently and thoroughly, due to its highly effective cleansing power.
Directions of use
Use on the face or other affected areas. Repeat if skin is very oily and use 2/3 times daily.
Antiseptic action of salicylic acid and the germicidal action of sulphar control the growth of microorganisms associated with acne and fungas.
Antibacterial action: It also exhibits anti bacterial action and also plays an important role in maintenance therapy of acne.
Directions of use
Cleanse the affected area 2/3 times daily.
SpectraBan 60
Benefits
Regular use may help protect against
Premature skin aging
Appearance of wrinkles and pigmentation
Sunburn
Long-term use can
Improve quality of skin
Leave the skin supple and healthy
Directions of use
Apply on the areas exposed to sunlight (such as face, neck and body) at least 30 minutes before exposure.
Oilatum
Oilatum Bar
Always use with water or in wet skin and massage gently
Contains 7.5% Mineral Oil. And Pack size 100g bar.
Benefits
In a Soap Formulation for everyday hygienic needs, gives soft smooth and supply skin.
Cleanses gently without drying
Provide effective and long lasting moisturizetion
Leaving thin layer of oil on the skin surface e, keep hydrated
Minimize skin irritation
Can Use Pregnant and lactating mother can use this product, Children and old people can use this product
Can Not Use
The people who have Acne or other greasy skin condition cannot use Oilatum bar
Oilatum Cream/ Emollient
It is suitable for adults, children and the elderly.
It is safe to use in newborn babies and during pregnancy.
Oilatum Emollient is particularly suitable for infant bathing.
Pack size Tube of 40g cream (cream), 150g (Emollient).
Benefits
Smoothens and rehydrates
Suitable for use on stubborn dry parcels.
Convenient to carry and use whenever your skin feels irritated
For
Itching
Irritating
Dry Skin Condition
Benefits
Smoothes , softer and rehydrates
Relives itching
Benefited after washing (CALL BREEZING-before using cream you can wash your face by Bar)
Fragrance and color free
Segmentation
A company needs to identify the market segments it can serve effectively. A market segment consists of a group of customers who share a similar set of wants. The marketer does not create the segments, the marketer's task is to identify the segments and decide which ones to target.
Segment marketing offers several benefits over mass marketing. We are offering several benefits to the people. The company can create a more fine tuned service offering. The company can more easily select the best distribution and communications channels. Segmentation is dividing the market into segments based on geographical, demographical, psychological or behavioral variations. Through segmentation we also try to capture a place in the market which is different from other. Market segmentation for Stiefel products is discussed below:
Demographic Segmentation
Income is an important factor in terms of a niche market product like Acen Aid Bar, Oilatum and SpectraBan. As we have targeted the upper middle and upper class people, the market can be divided based on the income levels of people.
Psychographic Segmentation
People of different social class have different needs. Usually upper and upper middle class people are more concerned about their Skin, health than other classes. Stiefel skin products require both consciousness and ability.
Target Customer
Primary Target : Adult female (above 18 years) in the upper & middle class.
Secondary Target : New consumer who wants to get the benefit of beautiful skin.
Students : Female / Male (University Students).
Mothers : Working mothers, house wife's age range – 25 to 51.
Acne Aid Bar used by those people who have acne problem. It can be teenager, adults or old people.
Oilatum Bar, Emollient and Cream can be used by babies and children. There is no restriction of use of oilatum during pregnancy or lactation.
SpectraBan mostly used by teenager and adults.
Positioning:
Positioning is process by which marketers try to create an image or identity in the minds of their target market for its product. We want to position Stiefel non prescription products as a product which helps to make the skin beautiful, glowing and smooth. To create the Brand Position we have to develop the awareness of people regarding their skin.
Product Strategy
The Stiefel products are specialized product which helps to prevent skin from acne, dryness and sunburn. It aims at developing healthy skin. It is a very beneficiary product for the customers who are conscious about all these problems.
There are three levels of a product which we need to keep in mind while launching the product. These levels are discussed below from Stiefel products perspective:
The core benefit of this product is it helps to prevent skin from acne, dryness and sunburn. So, people are not only buying a skin product, they are mainly purchasing a good healthy skin.
It is a high quality product. It is specially developed to recover skin decay. So, it is not the same like other skin products.
The additional non-tangible benefits are meant by augmented product. In this case, consumers will have the opportunity to get cash back or replacement if any faulty product is delivered, as per the company policy.
Pricing Strategy
Pricing is one of the most important elements of the marketing mix, as it is the only mix, which generates a turnover for the organization. Pricing of Stiefel non-prescription skin products are based on its attributes. As the target customer is upper and upper middle class people, the price is kept higher compared to other products. The added value of Stiefel products is another reason for charging high price. So we would be following premium pricing strategy. The current price of of Stiefel non-prescription skin products are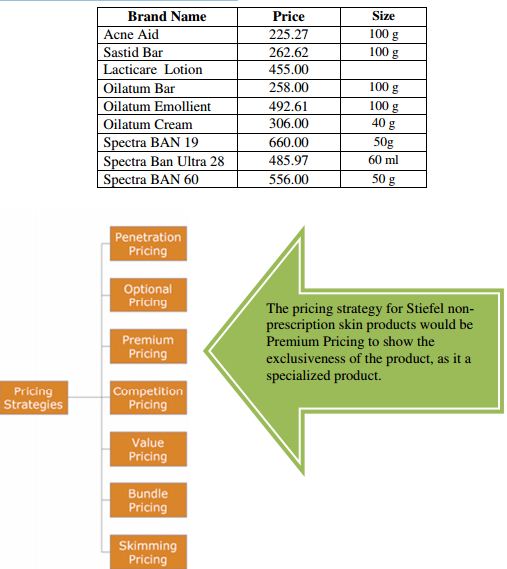 Place Strategy
In the maturity stage generally marketers follow a selective distribution strategy and we are also following that. As we have targeted the upper middle class and upper class, we will distribute our product in some selective outlets to ensure the correct place for the early adopters. Initially we will follow this strategy and distribute our products only in key accounts (Super Stores, beauty parlors, shops). However, we are promoting our non prescription product towards consumer so our main target is to make the consumer aware about the product. For which the product have to be available in the selected areas.
Promotion Strategy
Stiefel non-prescription skin products are available in Bangladesh market from long time ago but it was only doctor prescribed product. Now, by effective promotional strategies, GSK is trying to aware the consumer about the product. We need to do mass informative promotional activities. In this vision we have to do mass advertising through different media to make people aware of the product. We can also promote our product by giving free samples or by doing some awareness programs. To do so, we will be following the pull strategy.
A pull strategy is based around the manufacturer promoting their product amongst the target market to create demand. Once the awareness among the consumers is created, they will create a demand for the product and pull it through the distribution channel forcing the wholesaler and retailer to stock it.
BCG Matrix Analysis
A Boston Consultancy Group (BCG Matrix) model is a simple conceptual framework for resource allocation within a firm. It suggests that organizations should have a healthy balance of products within their range. This product portfolio matrix classifies product lines into four categories. The Boston Consultancy Group classified these products as following: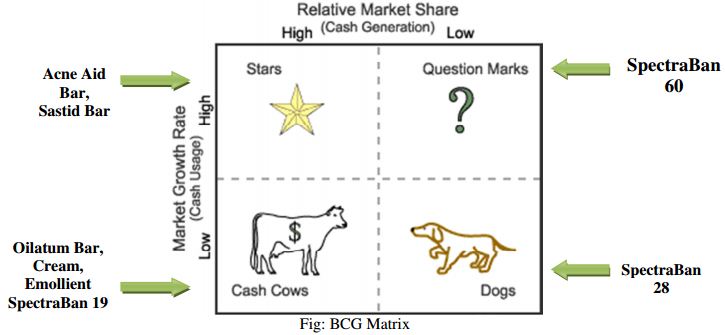 The idea behind the growth share matrix is that the amount of cash that a product uses is proportional to the rate of growth of that product in the market, and the generation of cash is a function of market share for that product. Money generated from high-market-share/low-growth products is used to develop high-market-share/high-growth products, and low-marketshare/high growth products.
Under the BCG matrix, products are classified into four business types. The classification is described below from the perspective of GSK products:
Stars are leaders in high growth markets. Stars grow rapidly and therefore use large amounts of cash. Stars also have a high market share and therefore generate large amounts of cash.
Our brand Acne Aid Bar and Sastid Bar under this class as it is the most popular brand and also generates the maximum revenue.
Cash Cows are highly profitable, and require low investment. Growth is slow and therefore cash use is low, and market share is high and therefore cash generation is high Oilatum Bar, Cream, Emollient, SpectraBan 19 falls under this class as it generates the maximum revenue with lower business growth.
Question Marks grow rapidly and therefore use large amounts of cash. SpectraBan 60 falls under this class as these are new products and have lower market share. But there is high possibility of their higher market growth.
Dogs generate very little cash because of their low market share in a low growth market. SpectraBan 19 falls under this class. It generates lower revenue and has a low business growth.
Porter's fives forces model analysis
Porter's fives forces model is an excellent model to use to analyze a particular environment of an industry. In this model five factors are analyzed to get idea about the industry environment.
These factors are:
Competitor rivalry
Bargaining Power of suppliers
Bargaining Power of buyers
Threats of substitute products or services
Threat of new entrants
The above five main factors are key factors that influence industry performance. These factors are discussed below from the perspective of GlaxoSmithKline: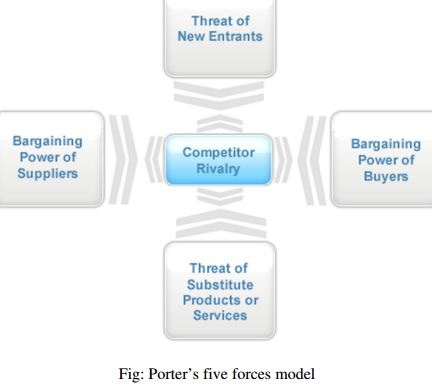 Competitor rivalry
There are other existing companies serving pharmaceutical products which cause competition to GlaxoSmithKline. GlaxoSmithKline's foremost competitors are Novartis Bangladesh limited, Incepta pharmaceuticals limited.
Bargaining Power of suppliers
Here the bargaining power of supplier is very high as all the products are imported from different countries like Singapore, Philippine, Indonesia and they are the sole suppliers.
So, the risk is higher for the company.
Bargaining Power of buyers
There are different skin products available in the market. So, the buyers bargain power is also higher. If buyers do not like our product they can easily move to another brand.
Threats of substitute products
There are threats from other substitute products like Neutrogena cleanser, Olay cleanser etc. These are also skin products.
New companies entering in this industry can cause threat to the company. Many companies are expanding their product line and introducing skin products which can be GSK's future competitor.
SWOT Analysis
The following SWOT analysis will tell the overall picture of how the company is performing, and what its future potential maybe. The trick is actually to find a way to turn weaknesses into strengths and threats into opportunities.
Strength:
There is no doubt that Stiefel has made its name worldwide in the field of dermatology. This gives it privilege among its customers. People could actually expect good and effective products from them. So the name of the Stiefel is actually strength to capture potential customers and keep up with its brand loyalist. Stiefel as well uses effective marketing to promote its products. That helps it not missing customers but keep up with its customers. Marketing is one of the reasons Stiefel is known worldwide.
Weaknesses:
Because of less competent people around here they lack exposure and good production practices even though the company tries its best to train its employee's. The company faces production faults sometime like problem or defect in one of the manufacturing products or incomplete packaging; the company also faces some problem if they buy raw materials because of the quality or rates because of so much uncertainty in the country. Because Stiefel is only in the field of dermatology the company has a lot of competitors around and they have to produce good to achieve their goals.
Opportunities:
Stiefel is a name that is being used around the world it's a reason people buy its share and is being operated by individual management in each country, and because of brand name it's easy to find and make new contacts around easily. It has a good will in the global market.
Threats:
The company faces threats in case of security and strategy copying because of other competitors in the market. It overestimating potential can also prove to be a threat to the company itself because the company lights up because of its successes so far.
Findings:
Promotional Activities of GlaxoSmithKline:
Sales promotion system is the main part of any companies marketing system. Without promotion marketing system is not a possible.GSK promotional activity is mainly three steps.
Promotional Activities for Doctor.
Promotional activities for Chemist.
Promotion activities for ultimate consumer.
Promotional Activities for Doctor:
Wet tissue.
Pen
Folder
Hand wash/soap/sanitizer
Nail brush
Paper towel
Pen drive
Text book
Medical Equipment:
Medical journal
Stethoscope protector
BP machine
Nasal destroyer
Needle destroyer
Tongue depressor
Anatomical chart
Patient dairy
Disposable mask/gown/gloves
Magnifying glass
Thermo meter
Promotional activities for Chemist:
Company offer 16% permanent discount for all medicines.
If medicine price is 100 taka, chemist sells 116 taka. And government vat is 17 taka. So total price would be 133 taka.
Promotional Activities for ultimate consumer:
Advertising
Personal selling
Public relation
Direct marketing
CSR project:
Ymphatic Filariasis elimination program.
Village transformation project.
Save the children.
Free primary school
Stiefel Non-Prescription skin products through Doctor Prescribed:
After analysis of the chemist visit, it has been found that chemist satisfaction is very high, customer satisfaction is high, customer getting benefits after using products and they are buying the products again and again. In all pharmacies these products are available. As doctors are fully aware about the GSK Stiefel products so they are prescribing the products to patients. So doctor awareness is high. GSK have a very efficient and effective field force. They give their best effort for awareness. So in this perspective doctor recommendation of Stiefel product and consumer satisfaction is high. Moreover, sales growth is high.
Stiefel Non-Prescription skin products consumption through consumer:
Acne Aid Bar, Oilatum, SpectraBan they are acne, dry skin and sun screen products. These products are found in pharmacies but till now they are not found in super-shops and normal markets. Moreover, in Almas super shop these products are available. General consumers are not aware about these non-prescription skin products because there are no advertisements for these products. So now GSK is trying to make the customers aware about the product, providing them full details through leaflets, campaigning and also by awareness program. Soon GSK will make the stiefel products available in all super shops. After that the sales growth will be higher.
Although it can be said that Stiefel have a big opportunity. The products are very much high quality and expensive product. Comparing with other brands the products have a good impact in market. Stiefel skin products are prescribed my millions of dermatologists in more than 140 countries. Moreover, the products already created a strong position in market and when the people will be more aware about the product then market will be more expend.
Recommendation
Focus more on consumer awareness.
Promotional activities for consumer should increase more.
Educating consumer about the skin products.
Awareness amongst the beauty parlor experts
Super market promotion
To make the consumer aware about the Stiefel products and for increasing sale these strategies might be very much effective.
Conclusion
GlaxoSmithKline carries good branding image all over the world. Their promotional strategy is more clear & different from the other Pharmaceutical Company. To enhance the market share & reaching the market leader company should develop their promotional strategy. And if the company becomes able to make a good impression into the mind of customer then easily go to top level of the completion market.
The quality of product must be ensured and promotional policy must be modifying day by day. If company can develop its customer relation management polices then it can easily extend its market and target sales.