Executive Summary
In Bangladesh, among the industries that have shown potential growth prospects are the RMG sector in the late 80s and the IT industry in the late 90s. The Personal Computer or PC market has been one of the fastest growing industries, yet today the market has become fragm­ented, unstructured, and saturated. For any international brand PC, to enter this market requires the use of a local partner. Examples of such are Dell, IBM, Compaq, and HP. A new entrant trying to sell a Brand PC faces formidable marketing challenges under such market conditions. To be successful, one must have a sound business and marketing plan. This report provides insights into the prevailing PC market as well as strategy for a new entrant selling an internationally acclaimed brand PC called "GForce". Using first hand infor­mation from existing brand dealers and locally assembled PC dealers, supported with secondary data from journals and reports, the article analyzes the PC market and the competitive factors influencing its growth. A marketing strategy is also formulated for a new Brand "GForce" entering the market. One of the key findings of the study is that inspite of fierce competition in the PC market, there is still much scope for value addition by offering customers integrated system solutions as opposed to mere sales of hardware.
1.0 Situation Analysis
NFPS Technology is a company heading into its sixth year of operation and we have already achieved the goodwill by selling LHPC (low price high performance), different types of laptops, and other accessories. Now it's the high time to think about a new segment, which is gamer. Depending on marketing research information of the customer and to give gamers a new experience, it first time launching brand "GFORCE". There is an estimated market of 20,000pcs brand PC with a yearly growth of 14%.NFPS Technology must put spotlight on specific market segments in order to accomplish market share in this environment.
1.1 Market Summary
As this is our sixth year in the PC market, we have adequate information about this sector and we know a great deal about the common attributes of our consumers. To our knowledge, PC users, who are crazy gamers are becoming tired by with no or repeated as well as hackneyed excitement and in current market no one provider is offering such a gaming PC which can lead them towards a super-highway of excitement. So, to fulfill their needs and demands our company is going to introduce a brand gaming PC GFORCE. And we will launch our new product for one group of people, they are only gamers.
1.1.1 Market Demographics
The market for our product "GFORCE" consists of Geographic, Demographic, ands Psychographic.
Geographic:
• Our immediate geographic market will be Dhaka city, Chittagong city and Sylhet city and for our total market share Dhaka will cover 50%, Chittagong will cover 25% and Sylhet will cover 25%.
• Our total targeted area population is estimated at 9.5 Lac.
Demographic:
• Gender – Male & Female.
• Age – 15-20, 20-25, 25-30
So, our target consumers are male and female who are young and mature. In them-
• 60% male
• 40% female
And in age segmentation –
• 15-20 will 45%
• 20-25 will 35% and
• 25-30 will 20%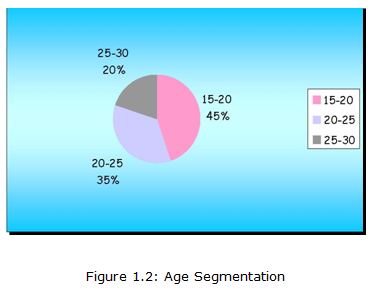 Psychographic:
Social class: Middle Class, Upper Middle Class, and Upper Class.
Life style: Achiever, sensation-seekers.
1.1.2 Market Needs
Our marketing research department found the opportunity to provide our customers a new gaming PC. Every company is providing PC for working or for home use only. Gamers are using their home PC as their gaming PC. So, the PC market need a gaming PC and brand "GFORCE" will fulfill their need. This market also need –
• Service: PC users are seeking the best services from the provider. And a gaming PC will need the best service because we have to add many extra features in it.
• Own design and feature: PC users always want to shape own design in their PC like a good looking casing, a cool monitor, huge speaker etc.
• Low price: In every product every consumer wants the lowest price. PC is not out of them. The users of it also want their desirable PC at low price.
1.1.3 Market Trends
In early 90s when Bangladeshi people started getting introduced with PCs, their focal concern of using computer was nothing other than a huge source of entertainment; the main use of computer at that time was confined in watching movies and listening to music or playing the default games. Later, in mid 90s when a great number of users were accustomed with PC using, they start knowing different uses of computer and a little about internet. Then finally in the dawn of 20th century, there prevail a large number of PC-Holics and they started relishing the real flavor of games. The emerging trend of gaming was quite in hike but the orgasm soon turned into satiety due to monotony and uniformity of the games. There fore we are drastically optimistic about the triumph of our prospective product, which can really shake the dormant hunger in the crestfallen minds of the ravenous gamers.
1.1.4Market Growth
Recent there is no PC as brand "GFORCE". So, the real market of it can not be measured but we can take an idea from the growth rate of other PC. At August 2004 there were 300 different types of computer vendors in the market but in August 2006 there were 850 vendors in the market. Then from June 2003 to June 2004 about 3,980 PCs were sold in Bangladesh monthly and from June 2005 to June 2006 about 4,850 PCs were sold monthly. Bangladesh is likely to enjoy a moderate growth of about 10% in 2004-05 and 25% in 2005-06. So, no need to say that the PC market is growing so rapidly in Bangladesh.
1.2  SWOT Analysis
Brand "GFORCE" has several powerful strengths but still it has some weakness too. The major opportunity is growing demand and market growth of PCs and the major threat is the open entrance for the competitors. There are some others strengths, weakness, opportunities and threats which has described below –
1.2.1 Strengths
Huge capital: We will launch our brand "GFORCE" with Tk. 11,00,00,000 as starting capital.
Innovative idea: Our product is going to become the one of this kind in the current PC market.
Goodwill: Our Company has already achieved a good reputation in the market which will work as strength for us for our new product.
Service: We will provide 24 hours service. We will help the users online, over telephone or by convenient home service and through providing this type of services we will able to satisfy the current customers and to attract new customers.
Relationship: Good relationship with company's suppliers, partners and customers.
1.2.2 Weakness
More features can be a trouble for us because it will cost more for giving best service.
As we will add some extra features it will cost more which can be unaffordable for many customer.
Less product classification
1.2.3  Opportunities
Icon of Potency: We dream of being not only the most demanded PC provider in the market but also being the emblem of robustness.
Integration: Along with the gamers, people having inclination in graphics designing, animation, architecture, video editing, music composition and so forth can extract the sweet juice of our product.
It's a new product or PC for the market and also for the users.
In recent there is no competitor for this type of PC.
The numbers of gamer is increasing day by day.
Existing channels of our existing product can be used.
1.2.4  Threats
Entrance for the new competitors is open with such kind of gaming PC.
Our concentration in gaming may exert an adverse effect on the mind of the parents and guardians who are basically the financers.
1.3  Competition
In the matter of competition, we will get the advantage, because in this time none of the brand PCs or the locally assembled PCs are providing such type of gaming PC. But still there are some companies who can give us competition in future such as DELL, IBM, HP, Daffodil, Flora Ltd., PC mart, Global etc. Here is a scenario of market of brand PCs in Bangladesh –
Brand

Dealers

Sales in Units

(Aug 2004)

IBM

IBM World Trade Corporation.

4500

Major Business Partners
Flora Ltd.
Beximco Computers Ltd.
Computer Network Systems Ltd.
Stamford Computers Pvt. Ltd.
NSSPvt.Ltd.
Infinity Technology Int'l Ltd.
Computer Solutions Ltd.
Graphics Information System Ltd.
South Tech Ltd.
Spectra Solutions

HP

Flora Ltd.

8900

Multilink Int'l Co. Ltd.
Techvalley Computers Ltd.

DELL

Information Solutions Ltd.

7800

1500

Total

 

25000
| | |
| --- | --- |
|   | Strengths |
| Daffodil | Large outlets, reputation, higher corporate sales |
| Spectrum | Reputation for after sales service |
| Flora Ltd. | Large set-up, huge investment, reputation, wide geographical coverage, large and qualified workforce. |
| Computer Source | Wider geographical coverage |
| Index | Higher number of technicians |
| Global | Lower price |
| RM Systems | Quality service |
| Foresight | Strong marketing foresight |
| ComValley | Reputed and good service |
| PC Mart | Upcoming and aggressive approach to selling |
We have another advantage, that we know the strengths of our competitors. So, we can make us strong by following their strengths too. Here are some major locally assembled PC vendors and their strengths –
1.3.1 Product Offering
Our offerings to the customer through our product are –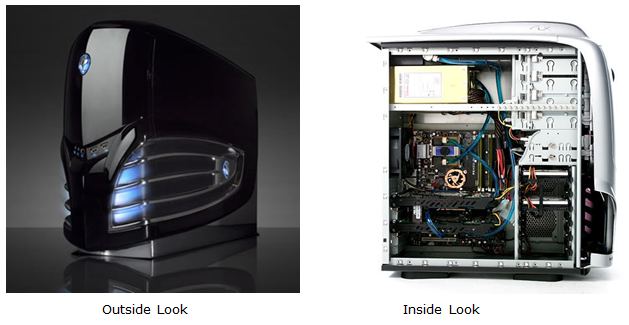 A PC that revises the conventional mindset of PC-look.
A powerful AGP/PCI express card. (Nvidia 7900GT/ ATI X1900XT)
Smart cooling system.
AMD processor (FX60) 2.8 GHZ, 4200+ overclock.
ASUS Crosshair motherboard.
Performance RAM, (1 GB and 667 BUS) with thermal greez.
Monitor with three options Text, Game, and Movie.
Power supply Genuine 450 W with cooler and heat sink.
Three (3) years warranty for all products or for the PC.
Three (3) years free servicing.
Availability.
1.3.2Keys to Success
The key to success of this product are-
Online advertisement and selling.
Proper Customer Relationship Management.
We are very aware about our brand GFORCE because by this we want to create a new brand image.
First year we want to sell 12,200 PC in the market and in the second year we want to increase the number up to 14,800.
Our promotional activities (advertisement, camping, etc) also a key to success for us.
1.3.3Objective and Issues
2.6.1 First Year Objective: During the first year we are aiming 5% of brand PC market which is 1000 units.
2.6.2 Second Year Objective: Our second year objective is to achieve 8% brand PC share and we will touch break-even point right after selling 1400 units within first quarter of this year.
2.6.3 We are going to enter a niche market with a new PC. So, it's a big opportunity for us but still there are some critical issues which can come as a barrier to us. Some of them are –
Though there is a very small growth our target sales might look a bit tougher but still attainable.
If this PC fails to perform then a bad impression will come for our other products from the customers.
1.3.4Microenvironment
Micro environment consists of Company's customers, suppliers, competitors, Marketing intermediaries, employees, public, and partners exert great influence in success of any product. So, the company will have to maintain a good relation with the customer through Customer Relationship Management, aiming to maintain a good contact with the local vendors and resellers, and control SCM (Supply Chain Management) and KM (Knowledge Management) effectively.
1.3.5 Macroenvironment
Macro environment consists of – demographic, economic, natural, technological, political, and cultural forces will have effect on the success of "GFORCE".
Economic: Economic environment consists of factors that affect consumer's purchasing power and spending patterns such as income. If the customer think they will not spend their money for playing games then this environment will badly impact on our product.
Political: If the government looses their rules and regulation such as imposing less tax on the PC parts then our "GFORCE" can easily generate profit and can serve more customers. Besides, political situation may have a bad impact on the product, if the situation is not in a fair position.
Technological: We are working with technology. If the technology can reduce the cost of PC parts then we will be able to sell our PC in low price. This will help us to sell more and to earn more revenue.
2.0  Marketing Strategy
Our marketing strategy is based on becoming the brand icon for the gamers. Our marketing strategy is based on superior performance in the following areas-
• Customer service.
• Product Availability.
• Product quality.
2.1.1Mission
Our mission is to satisfy the customers by our service and our product quality. Our company's mission statement is "Where you can shift your nightmare about your PC, to US." We will try to continue our business with the statement and our brand GFORCE will also follow the statement. For this gaming PC we will say "Brand GFORCE will not Let you Down."
2.1.2 Target Markets
For our gaming PC GFORCE we have chosen only one segment in our target market and that is gamers. The segment details are as follows-
Gamers: For PC market gamers are becoming an important segment day by day. In many countries many companies are making PC parts in considering this segment. But in Bangladesh there is no company who can say we have a segment for gamers. They like different style and performance and we are going to fulfill their need through our brand GFORCE.
2.1.3 Positioning
We are having an endeavor to introduce a PC that redefines PC image. We are vowed to serve the best gaming PC in lowest possible price. As we said before, GFORCE is going to be the second to none PC for gaming in the market. Therefore, we can estimate a position at our own will. In case of positioning our GFORCE PC, we will select two criteria. One is price and another one is service.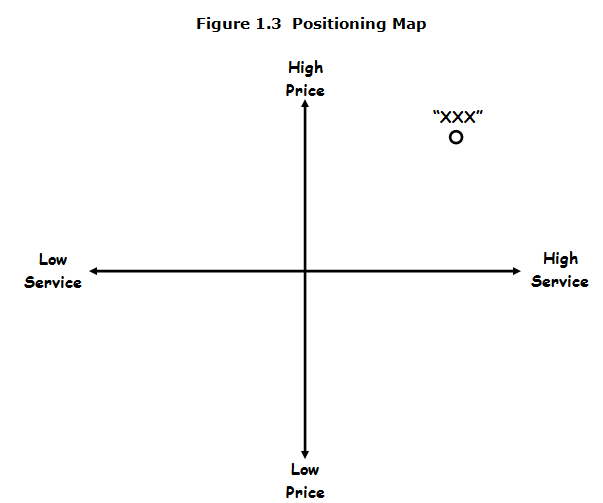 2.1.4Sales and Distribution Strategies
Geographical or Market Coverage
The company would primarily focus on promoting the Brand GForce PCs in the capital city Dhaka and Chittagong, the port city. Unless the brand is well established in Dhaka and Chittagong, it would be pre-mature to increase overhead expenses in distant districts since most of the corporations, business establishments, and government offices have their head offices located in Dhaka. For large institutional buyers, the company would open a representative office in Chittagong, the port city, to cater to the specific volume purchases.
Sales Channel
In addition to direct purchases, the customers will have the option to buy from authorized dealers of the company. The dealers would be appointed in both the IDS Bhaban and the New Elephant Road market – two locations representing highest concentration of retail outlets. The company will also appoint selected dealers to provide adequate geographic coverage to the Dhaka market. For example, there will be at least one dealer for places like Guishan, Dhanmondi, Motijheel etc. to ensure availability of Brand GForce PCs in places where the concentration of potential household and corporate market is significant.
Advertising Campaign
Distributors of existing brands in the market – IBM. Dell, Compaq and Acer etc. – have long been supported by their principal companies in advertising their respective brands in the market. To establish its brand name, Brand GForce has to undertake an aggressive advertising campaign on the basis of sound knowledge of the local market to make such a campaign cost-effective.
Print Media: Given the expensiveness of electronic media, print media has to be relied more to advertise Brand GForce PCs. At least 4 exposures in 4 major dailies (2 Bengali and 2 English) on the weekend issues per month would be needed. Without these exposures, it would be difficult to imprint the name of Brand GForce as a Brand PC in the mind of consumers.
IT Journals: Since different constituents of the IT market are readers of these journals – buyers, retailers, IT professionals, distributors, dealers etc. – advertisement in these journals is an effective means to make the presence of Brand GForce PCs more pronounced in the market.
Billboard: Billboard at selected locations of the city helps create an impression in the minds of city dwellers that represent potential customers of Brand PCs.
Direct Mailing: Major portion of Brand PC buyers are corporate and government institutions. Direct mailing of product catalogues/ brochures to these organizations leads to the development of brand awareness and product knowledge among these potential customers.
Posters: Big and attractive posters of Brand GForce PCs in IDB Bhaban, university campus, retail outlets, IT training institutions, fast food outlets etc.
Stickers: Stickers with catchy design and slogan and pasted on cars and public transports raises the visibility of the brand name Brand GForce PC to people on the road.
2.1.5Marketing Organization
NFPS's chief marketing officer, Md. Nayem-Ul-Islam Khan holds the overall responsibility and decision. Figure 1.4 shows the six persons organization. NFPS has hired nationwide marketing to handle sales campaigns, trade and consumers sales promotions, and public relations efforts.

Action Programs
The GFORCE 66 Pro will be introduced in July following are summaries of the action programs which we will use during the first six months to achieve our stated objectives.
June:
We will initiate a Tk. 10,00,000 sales promotion campaign to educate dealers and generate excitement for the product launch in July. We will exhibit at the major consumer electronics trade shows and fairs like BCS Computer Fair, or Navo Theater Shows and provide live gaming competition with our PCs, reviews to interested consumers. Our training staff will work with sales personnel at major retail chains to explain the GForce 66 Pro's features, benefits, and competitive advantages.
July:
We will start a live gaming campaign targeting professionals and consumers. The campaign will show how efficiently our PC users can accomplish tasks using our powerful processor, RAM, Cooling system. The targeted consumers can get our limited edition from this campaign.
August:
We will hold a trade sales contest offering prizes for the salesperson and retail organization that sells the most GForce PCs during the 4-week period.
September:
We plan to roll out a new national advertising campaign this month. The campaign will held among different districts through out the country. And the print ads will show Cricket celebrities like Ashraful enjoying our PC expeience.
Product Marketing
The facts that offer us a huge comparative advantage over the rivals are cited below-
Fancy casing: watching the traditional PCs around us in our day to day life for hundreds of time, it is so normal to get tired of the morose look of them. In this regard our product is going to add a new dimension in PC image; it won't just be a PC but also be a piece, used to uplift aesthetic state of mind.
Customized Cooling System: Computers, used in highly graphical staffs are usually lacking in efficiency owing to poor or no cooling system. As our R&D department added a specially functioning cooling mechanism for the entire inside, the gamers don't have to be concerned of using it in A.C. Our stupendous cooling system is sure to eliminate the hardware malfunctions resulted from heat generations.
Modified Power Supply: Additional features mean additional demand for power. Likewise, for our more powerful graphics card and improved cooling system, we had to go for second thought of supplying extra load and there fore we have included a 450 W power supply instead of traditional 350 ones.
Performance RAM: The usual RAMs do not encompass any heat sink that keeps them cool to ensure high performance. Targeting high performance, that is missing in the value RAMs, we have installed performance RAMs with heat sink to make our distinction blatant.
2.1.9   Pricing Strategy
The retail price for GFoerce66 Pro has been set at Tk. 40000, when the wholesale price has been set at Tk. 37000. On the other hand, for GForce99 XT both the retail and wholesale price will be charged higher due to higher performance. They are Tk. 50000 and Tk.45000 respectively. This pricing strategy is to ensure loyal channel partners and increase market share.
2.1.10  Promotion
Build consumer awareness of the brand though product displays and road shows.
Once every quarter, day-long BRAND GForce products exhibition in an attractive location would be held. These exhibitions are successful in generating people's interest in the brand and by offering special discount prices during the exhibition, considerable on the spot sales can be achieved. Free gifts, raffle draws, media conference, product briefings, celebrity appearance etc. are made part of the show to make it attractive and exciting.
Through an agreement with the bank, the entrant will arrange availability of consumer credit on easy terms for the buyers of BRAND GForce PC.
To offer special discounted price for peripherals to the customers of BRAND GForce, the entrant intends to form strategic alliance with other leading players of the IT industry. For example, anyone buying Brand GForce PC will enjoy a specially discounted price with distributors of Brand "Y" printers. Similarly buyers of these printers would enjoy price discounts with purchase of Brand GForce PCs.
For the corporate market, the company would make on-site product demonstration and briefing of Brand GForce to educate potential customers of the value added benefit they would receive when they purchase Brand GForce PCs. Such forays are needed in view of the dominant position of IBM, and Dell in the corporate market which has been built over years through aggressive marketing and promotion by these companies.
The company intends to encourage clients to take advantage of Brand GForce's on-line help desk By using on­line support services, the customer would be able to directly access solutions and the response time can be significantly reduced and this is definitely a value added efficient option to exercise.
2.1.11  Support & Service
Service and Support Structure of the company
The company's System Support Team should be headed by a Chief Systems Engineer who is to be supported by two Systems Engineers and two Assistant Systems Engineers. Every member must have experience in system configuration, system installation and support, networking, troubleshooting, and database administration. To support its strategy of providing value added total solution to customers, the company must also have a team of software engineers who have in the past developed basic software packages like – accounts management, inventory control, payroll management, sales record update system etc. The company's team should be strong enough to extend after sales services to the marketing team of Brand GForce PCs. With exposure to the BRAND GForce PCs, the team would become more adept in providing efficient technical support services to the customers of Brand GForce PCs.
3.0    Financials
This section will offer a financial overview four company as it relates to our marketing activities. We have shown break-even information
3.1  Break-even Analysis
Variable Cost: –                                                                   29000

Direct Material

26000

Direct Labor

1000

Indirect Material

3000

Indirect Labor

1000

Fixed Cost

1,40,00,000

Expected Unit Sales

2000

Manufacturing Cost

37000
Cost Structure for making 1 GEFORCE PC
Our first year objective will be selling 2000 unit during our first year.
Manufacturing Cost          =Variable Cost + (Fixed Costs/Unit Sales)
                                       =30000+7000
                                        = 37000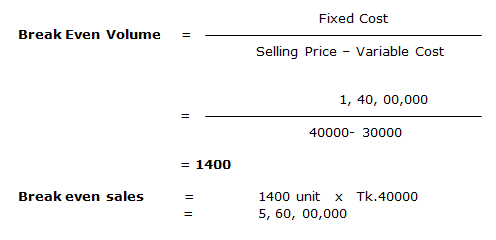 Product Life-Cycle
Introduction:
In this stage of our product's life cycle, sales are expected to be low. On the other hand cost per customer will be moderately high. So, in this stage, we will use cost-plus pricing. Profits will be negative until we reach the break-even quantity which is 1400 units of sale. We will offer the only brand "GFORCE 66 Pro" in this stage. Distribution will be selective; The company would primarily focus on promoting the Brand GForce PCs in the capital city Dhaka and Chittagong, the port city. Unless the brand is well established in Dhaka and Chittagong, it would be pre-mature to increase overhead expenses in distant districts since most of the corporations, business establishments, located in Dhaka. For large institutional buyers, our company would open a representative office in Chittagong, the port city, to cater to the specific volume purchases. We will use heavy promotional activities; advertising, personal selling and try to build product awareness among early adopters.
Growth:
In this stage, both sales and profits of our product are expected to rise rapidly. To penetrate the market, we will use average cost per customer. Growing number of both customers and competitors are expected in this stage. We will try to maximize our market share by building intensive distribution. In this stage, we will reduce the promotional activities and will conduct market survey research to know consumer demand.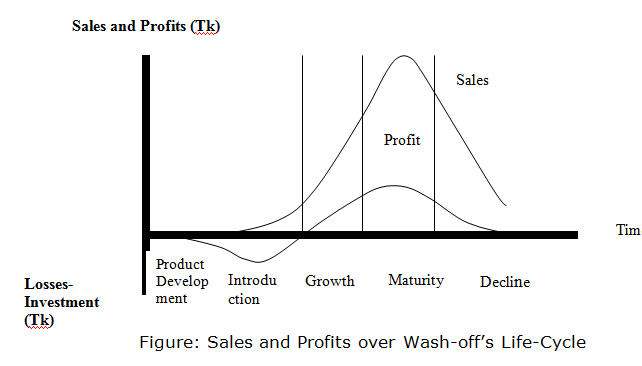 Maturity:
We expect to have our highest profit in this stage. Peak sales will occur as a result of low cost per customer. Majority of the target consumers are expected to use our PC in this stage. Our objective will be maximizing profits while defending market share. In this stage, we will start to introduce our other brand PCs with different features. We will set the price to match or beat competitors. Distribution strategy will be more intensive. Advertising activities will stress brand differences and benefits. Finally we will increase promotional activities to encourage brand switching.
Decline:
In this stage of our product life cycle, both sales and profits will be declining. Cost per customer will be low, as we will reduce our expenditures. We will also phase out weak items that are unprofitable. Price will be cut off and promotional activities will be reduced to a minimal level. In this stage, we will again go for selective distribution. Finally, advertising activities will be reduced to level needed to retain loyal customers.