Kantanagar Temple: It is near Dinajpur town was built by Maharaja Pran Nath of Dinajpur in 1752. It was originally a nava-ratna (nine-towered) temple, crowned with richly ornamented towers. Unfortunately, these ornate towers collapsed during an earthquake at the end of 19th century. In spite of this, the monument claims to be the finest extant example of its type in brick and terracotta built by Bengali artisans. Every inch of wall surface both inside and outside of the temple is profusely decorated with exquisite terracotta plaques, representing flora, fauna, geometric motifs and figures.
Address: Kantanagar, Kaharole, 5200, Bangladesh
Architectural styles: Nava-ratna
District: Dinajpur
Date built: 1722 CE
Important festivals: Rash mela
Creator: Raja Ramnath
Kantanagar Temple, commonly known as Kantaji Temple or Kantajew Temple at Kantanagar,is a late-medieval Hindu temple in Dinajpur,Bangladesh. The Kantajew Temple is one of the most magnificent religious edifices belonging to the 18th century. The temple belongs to the popular Hindu Kanta or Krishna and this is most popular with the Radha-Krishna cult (assemble of memorable love) in Bengal. This beautiful temple is dedicated to Krishna and his wife Rukmini. Built by Maharaja Pran Nath.This temple is also very famous among Hindu community.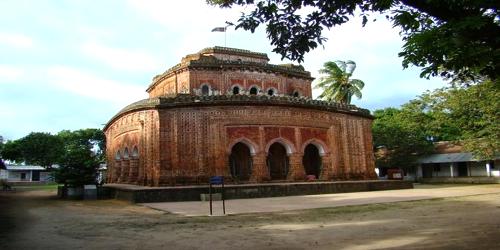 History:
The confusion about the date of its construction can be settled from the record of a chronogram in the Sanskrit stone inscription, fixed on the northeast corner plinth of the temple. It records that Maharaja Prannath of Dinajpur began its construction about 1722.
His adopted son Maharaja Ramnath completed it, in Shaka era 1674 (1752 AD) in order to propitiate the consort of Rukmini in fulfillment of his father's wish. However, in the early 20th century Maharaja Girijanath Bahadur restored it substantially, except for the missing nine spires.
This magnificent pyramidal temple rose in three receding terraces and was crowned with nine ornamental spires or ratnas (jewels) on the corner of the three terraces which imparted to it an appearance of a huge ratha or an ornate chariot resting on a high plinth. It was provided with arched openings on all four sides in order to enable devotees to see the deity enshrined inside from all directions.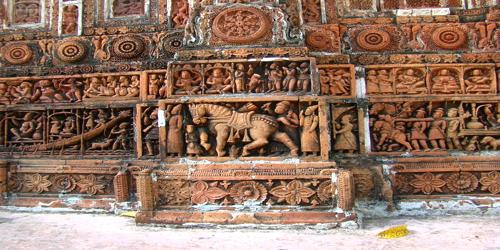 Structure:
The 15.84 sq km temple stands in the centre of an oblong court (73.15m ' 36.57m) enclosed by a pilgrim shed with a corrugated tin roof. Its main fabric pivots around a nuclear square cell (3.04m), shooting up to a height of about 15.24m above its 1.005 m high plinth of stone, believed to have been quarried from the ancient ruins of Bannagar near Gangarampur in Dinajpur.
The curved cornice of the ground floor, sharply drooping at the corners, rise in the middle to a height of 7.62 m from the plinth, while that of the first floor rises to 4.56m and that of the second floor to 1.83 m. There are small square cells at each of the four corners of the ground and first floors for supporting the heavy load of the ornate octagonal corner towers above.
The temple accommodates four rectangular corridors on the ground floor around the prayer chamber measuring 9.17 m × 1.53 m and 4.57 m×1.22 m. On the ground floor, there are three multi- cusped arched entrances on each side, each separated by two richly decorated brick pillars. The number of arched doorways in the ground floor disposed in its four shells is 21; that of the first floor is 27. The reduced second floor has only three entrance doors and three windows. A narrow strip of staircase, merely 0.70m wide, built into the western second corridor, winds up through its dark passage to the first, second, and third stories.
Information Source: