Motivation is the reason for people's actions, desires, and needs. Motivation is one of the essential aspects of HRM which is concerned with the process of inducing, inspiring, organizing, and stimulating employees to do the better job in the organization. The term is generally used for humans but, theoretically, it can also be used to describe the causes of animal behavior as well. Motivation activates people for better job performance and high productivity.
Hertzberg's Two-Factor Theory of Motivation
The Two-Factor Theory of motivation (otherwise known as the dual-factor theory or motivation-hygiene theory) was developed by psychologist Frederick Herzberg in the 1950s. This theory states that there are certain factors in the workplace that cause job satisfaction, while a separate set of factors cause dissatisfaction.
Analysing the responses of 200 accountants and engineers who were asked about their positive and negative feelings about their work, Herzberg found 2 factors that influence employee motivation and satisfaction…
Motivator factors – According to Herzberg, the hygiene factors cannot be regarded as motivators. The motivational factors yield positive satisfaction.Simply put, these are factors that lead to satisfaction and motivate employees to work harder. Examples might include enjoying your work, feeling recognized and career progression.
Hygiene factors – Hygiene factors are those job factors which are essential for the existence of motivation in the workplace. These factors can lead to dissatisfaction and a lack of motivation if they are absent. Examples include salary, company policies, benefits, relationships with managers and co-workers.
While motivator factors increased employee satisfaction and motivation, the absence of these factors didn't necessarily cause dissatisfaction. Likewise, the presence of hygiene factors didn't appear to increase satisfaction and motivation but their absence caused an increase in dissatisfaction.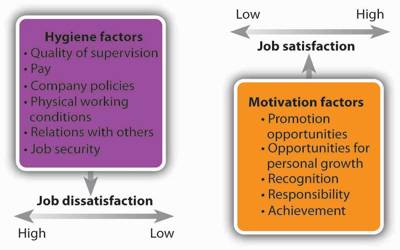 How to apply it to the workplace
This theory implies that for the happiest and most productive workforce, you need to work on improving both motivator and hygiene factors.
To help motivate your employees, make sure they feel appreciated and supported. Give plenty of feedback and make sure your employees understand how they can grow and progress through the company.
To prevent job dissatisfaction, make sure that your employees feel that they are treated right by offering them the best possible working conditions and fair pay. Make sure you pay attention to your team and form supportive relationships with them.
Key summary for Herzberg:
Workers motivated to work harder by motivators e.g. more responsibility, more interesting work, more praise for good work
Workers can become de-motivated if hygiene factors are not met e.g. pay, working conditions, relationships with colleagues
Information Source: