Tourism in Bangladesh is a slowly developing foreign currency earner. The country has much to attract international and domestic tourists.
Bangladesh's tourist attractions include archaeological sites, historical mosques and monuments, resorts, beaches, picnic spots, forests and tribal people, wildlife of various species. Bangladesh offers ample opportunities to tourists for angling, water skiing, river cruising, hiking, rowing, yachting, sea bathing as well as bringing one in close touch with pristine nature. Lonely Planet ranked Bangladesh as the best value destination for the year 2011.
In the northern part, comprising the Rajshahi division, there are archaeological sites, including the temple city Puthia in Rajshahi; the largest and most ancient archaeological site, Mahasthangarh in Bogra; the single largest Buddhist monastery, Paharpur in Naogaon; the most ornamental terracota Hindu temple in Bangladesh Kantaji Temple, and many rajbaris or palaces of old zamindars.
In the south-western part, mainly the Khulna Division, there is the Sundarbans, the largest mangrove forest of the world with Royal Bengal Tiger and spotted deer. The historically and architecturally important sixty domed mosque in Bagerhat is a notable site.
In the south-eastern part, which is the Chittagong division, there are natural and hilly areas like Chittagong Hill Tracts, along with sandy sea beaches. The most notable beach, in Cox's Bazaar, is a contender for the title of longest unbroken sandy sea beach in the world.
In the north-eastern part, Sylhet division, there is a green carpet of tea plants on small hillocks. Natural reserved forests are great attractions. Migratory birds in winter, particularly in the haor areas, are also very attractive in this area.
In 2004, the US Department of State estimated the daily cost of staying in Dhaka at $191. Expenses in other areas can be much lower.
Activities
Pohela Boishakh

: Bangla New Year [Bangla: বাংলা নববর্ষ Bangla Nôbobôrsho] or Pohela/Poyela Boishakh [পহেলা বৈশাখ Pôhela Boishakh or পয়লা বৈশাখ Pôhela Boishakh] marks the first day of the Bangla Calendar. Poyela Boishakh is celebrated with great fervor in the South Asian region of Bengal.In Bangladesh, it is a national holiday celebrated around 14 April.Pohela Boishakh is a Public festival [সার্বজনীন উৎসব] of the Bengalis; it is celebrated among all Bengalis- irrespective of religious and regional differences.

Language Movement Day

, commemorate protests and sacrifices to protect Bangla as a national language. Correspondingly, February 21 is a national holiday in Bangladesh.

Ekushey Book Fair

, Fair that take place throughout the February month.
Natural
Cox's Bazar

, Miles of golden sands, towering cliffs, surfing waves, rare conch shells, colorful pagodas, Buddhist temples and tribes, delightful seafood—this is Cox's Bazar, the tourist capital of Bangladesh, Having the world's longest (120 kilometers.) beach sloping gently down to the blue waters of the Bay of Bengal, Cox's Bazar is one of the popular tourist spots in the country. With a beach that is one of the contenders for the world's longest (120 kilometers), sloping gently down to the blue waters of the Bay of Bengal. In the east lie the hilly and forested regions of Tripura, Myanmar.
There are other tourist places and destinations in Bangladesh, like Srimangal, Mainamati, Mahasthangarh, Paharpur, Rangamati, and Kaptai for sight seeing, and the Sundarbans. Cox's Bazar and its adjoin areas have a lot of things to see and places deserve visit by the tourists: Himchari, Inani, Maheskhali, Ramu, SonadiaIsland, The Aggameda Khyang.
Kuakata

, Kuakata is one of the rarest places which has the unique beauty of offering the full view of the rising and setting of crimson sun in the water of the Bay of Bengal in a calm environment. That perhaps makes Kuakata one of the world's unique beaches. It is 70 km from Patuakhali district headquarters and 320 km from Dhaka.

Sundarbans

, The Sundarbans delta, at the mouth of the Ganges river, is the largest mangrove forest in the world, spreading across parts of Bangladesh and West Bengal, India. The Sundarbans features a complex network of tidal waterways, mudflats and small islands of salt-tolerant mangrove forests. The area is known for its wide range of fauna, with the Royal Bengal tiger being the most famous, but also including many birds, spotted deer, crocodiles and snakes.

St. Martin's Island

, This small coral island about 10 km (6 mi) south-west of the southern tip of the mainland is a tropical cliché, with beaches fringed with coconut palms and bountiful marine life.

Lawachara National Park

, a tropical forest resident of tropical animals

Nafa-khum

largest water fall of the country.

Nijhum Dwip

Nijhum Dweep located in the Bay of Bengal under the jurisdiction of the Noakhali District of Bangladesh, was designated in 2001 as the NijhumDweepNational Park. The park is rich in plant and animal life, as well as being home to plentiful bird-life, while hosting numerous migratory birds.
Religious
Shrine of Hazrat Shah Jalal(Rh)

Hazrat Shah Jalal was buried in Sylhet.The Shrine of Hazrat Shah Jalal has become a place of pilgrimage for hundreds of devotees who come to the shrine in their droves from all over the country. Not far from the Shrine of Hazrat Shah Jalal, is the Shrine of Hazrat Shah Paran, who is believed to be Hazrat Shah Jalal's nephew.

Mosque City of Bagerhat

, The Mosque City of Bagerhat is a formerly lost city, located in the suburbs of Bagerhat city in Bagerhat District, in the Khulna Division .The historic city, listed by Forbes as one of the 15 lost cities of the world, has more than 50 Islamic monuments.

Kantojiu Temple

, built between 1702 and 1752, a

nava-ratna

(nine-spired) style

hindu

temple

.

Dhakeshwari Temple

, built in 12th century, a

hindu

temple

.

Hoseni Dalan

, a Shia shrine built in the 17th century.
Ancient Ruins
Wari-Bateshwar ruins

, built in 450 BC, 2500 years old ancient fort city

Somapura Mahavihara

,Somapura Mahavira (Great Monastery) is a Buddhist monastery situated in the Rajshahi District in the north of Bangladesh.Covering almost 27 acres of land, Somapura Mahavira is one of the largest monasteries south of the Himalayas. The design is considered to be greatly influenced by Buddhist architecture found in Java and Cambodia.

Mainamati

Mainamati an isolated ridge of low hills in the eastern margins of deltaic Bangladesh, about 8 km to the west of Comilla town is a very familiar name in BAngladesh's cultural heritage. A landmark of our ancient history, it represents a small mass of quasi-lateritic old alluvium.The ridge, set in the vast expanse of the fertile lower Meghna basin, extends for about 17 km north-south from Mainamati village on the Gumti River to Chandi Mura near the Lalmai railway station.
The oldest archaeological site in Bangladesh is outside Bogra, at Mahasthangarh.
Middle Age
Sonargaon

,Sonargaon (Bengali: সোনারগাঁও; also transcribed as Sunārgāon[1]) was the administrative center of medieval Muslim rulers in East Bengal.

Lalbagh Fort

Lalbagh Fort or FortAurangabad, an incomplete Mughal palace fortress at Dhaka on the river Buriganga in the southwestern part of the old city.The fort was considered to be a combination of three buildings (the mosque, the tomb of Bibi Pari and the Diwan-i-Aam), two gateways and a portion of the partly damaged fortification wall.

Ahsan Manzil

, Ahsan Manzil was previously the official palace of the Dhaka Nawab family and is currently a museum preserving the culture and history of the area.Ahsan Manzil is considered to be one of the most noteworthy architectural monuments in Bangladesh.

Bara Katra

, Bara Katra an architectural relic of Dhaka city. It is situated to the south of Chawk Bazar close to the bank of the river buriganga.The Katra enclosed a quadrangular courtyard with 22 rooms on all of its four sides.
Geographical Location of Bangladesh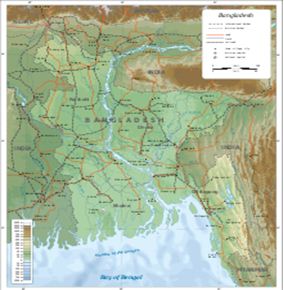 Bangladesh is a low-lying, riverine country located in South Asia with a largely marshy jungle coastline of 710 km (441 mi) on the northern littoral of the Bay of Bengal. Formed by a delta plain at the confluence of the Ganges (Padma), Brahmaputra (Jamuna), and Meghna Rivers and their tributaries, Bangladesh's alluvial soil is highly fertile, but vulnerable to flood and drought. Hills rise above the plain only in the Chittagong Hill Tracts in the far southeast and the Sylhet division in the northeast. Straddling the Tropic of Cancer, Bangladesh has a tropical monsoon climate characterized by heavy seasonal rainfall, high temperatures, and high humidity. Natural disasters, such as floods, tornadoes, and tidal bores affect the country yearly. Bangladesh also is affected by major cyclones, on average 16 times a decade. A cyclone struck the southeastern coast in May 1991, killing 136,000 people. Cyclone Sidr struck the southwestern coast on November 15, 2007, affecting not only the coastal districts of the administrative division Khulna but also about half of the tropical forest Sundarbans.
The physical geography of Bangladesh is varied and has an area characterized by two distinctive features: a broad deltaic plain subject to frequent flooding, and a small hilly region crossed by swiftly flowing rivers.The country has an area of 147,570 square kilometers and extends 820 kilometers north to south and 600 kilometers east to west. Bangladesh is bordered on the west, north, and east by a 4,095-kilometer land frontier with India and, in the southeast, by a short land and water frontier (193 km) with Burma (Myanmar). On the south is a highly irregular deltaic coastline of about 580 kilometers, fissured by many rivers and streams flowing into the Bay of Bengal. The territorial waters of Bangladesh extend 12 nautical miles (22 km), and the exclusive economic zone of the country is 200 nautical miles (370 km).
Roughly 80% of the landmass is made up of fertile alluvial lowland called the Bangladesh Plain. The plain is part of the larger Plain of Bengal, which is sometimes called the Lower Gangetic Plain. Although altitudes up to 105 meters above sea level occur in the northern part of the plain, most elevations are less than 10 meters above sea level; elevations decrease in the coastal south, where the terrain is generally at sea level. With such low elevations and numerous rivers, water—and concomitant flooding—is a predominant physical feature. About 10,000 square kilometers of the total area of Bangladesh is covered with water, and larger areas are routinely flooded during the monsoon season.
Human geography
Urbanization is proceeding rapidly, and it is estimated that only 30% of the population entering the labor force in the future will be absorbed into agriculture, although many will likely find other kinds of work in rural areas. The areas around Dhaka and Comilla are the most densely settled. The Sundarbans, an area of coastal tropical jungle in the southwest and last wild home of the Bengal Tiger, and the Chittagong Hill Tracts on the southeastern border with Burma and India, are the least densely populated.
Climate
Bangladesh has a tropical monsoon climate characterized by wide seasonal variations in rainfall, high temperatures, and high humidity. Regional climatic differences in this flat country are minor. Three seasons are generally recognized: a hot, muggy summer from March to June; a hot, humid and rainy monsoon season from June to November; and a warm-hot, dry winter from December to February. In general, maximum summer temperatures range between 38 and 41 °C (100.4 and 105.8 °F). April is the hottest month in most parts of the country. January is the coolest month, when the average temperature for most of the country is 16–20 °C (61–68 °F) during the day and around 10 °C (50 °F) at night. .
Winds are mostly from the north and northwest in the winter, blowing gently at 1 to 3 kilometers per hour (0.6 to 1.9 mph) in northern and central areas and 3 to 6 kilometers per hour (1.9 to 3.7 mph) near the coast. From March to May, violent thunderstorms, called northwesters by local English speakers, produce winds of up to 60 kilometers per hour (37.3 mph). During the intense storms of the early summer and late monsoon season, southerly winds of more than 160 kilometers per hour (99.4 mph) cause waves to crest as high as 6 meters (19.7 ft) in the Bay of Bengal, which brings disastrous flooding to coastal areas.
Heavy rainfall is characteristic of Bangladesh causing it to flood every year. With the exception of the relatively dry western region of Rajshahi, where the annual rainfall is about 1,600 mm (63.0 in), most parts of the country receive at least 2,300 mm (90.6 in) of rainfall per year. Because of its location just south of the foothills of the Himalayas, where monsoon winds turn west and northwest, the region of Sylhet in northeastern Bangladesh receives the greatest average precipitation. From 1977 to 1986, annual rainfall in that region ranged between 3,280 and 4,780 mm (129.1 and 188.2 in) per year. Average daily humidity ranged from March lows of between 55 and 81% to July highs of between 94 and 100%, based on readings taken at selected stations nationwide in 1986.
About 80% of Bangladesh's rain falls during the monsoon season. The monsoons result from the contrasts between low and high air pressure areas that result from differential heating of land and water. During the hot months of April and May hot air rises over the Indian subcontinent, creating low-pressure areas into which rush cooler, moisture-bearing winds from the Indian Ocean. This is the southwest monsoon, commencing in June and usually lasting through September. Dividing against the Indian landmass, the monsoon flows in two branches, one of which strikes western India. The other travels up the Bay of Bengal and over eastern India and Bangladesh, crossing the plain to the north and northeast before being turned to the west and northwest by the foothills of the Himalayas.
Natural calamities, such as floods, tropical cyclones, tornadoes, and tidal bores—destructive waves or floods caused by flood tides rushing up estuaries—ravage the country, particularly the coastal belt, almost every year. Between 1947 and 1988, 13 severe cyclones hit Bangladesh, causing enormous loss of life and property. In May 1985, for example, a severe cyclonic storm packing 154-kilometre-per-hour (95.7 mph) winds and waves 4 meters (13.1 ft) high swept into southeastern and southern Bangladesh, killing more than 11,000 persons, damaging more than 94,000 houses, killing some 135,000 head of livestock, and damaging nearly 400 kilometers (248.5 mi) of critically needed embankments.
Annual monsoon flooding results in the loss of human life, damage to property and communication systems, and a shortage of drinking water, which leads to the spread of disease. For example, in 1988 two-thirds of Bangladesh's 64 districts experienced extensive flood damage in the wake of unusually heavy rains that flooded the river systems. Millions were left homeless and without potable water. Half of Dhaka, including the runway at the ShahjalalInternationalAirport—an important transit point for disaster relief supplies—was flooded. About 2,000,000 tonnes (2,204,623 short tons; 1,968,413 long tons) of crops were reported destroyed, and relief work was rendered even more challenging than usual because the flood made transportation of any kind exceedingly difficult. A tornado in April 1989 killed more than 600 people, possibly many more.
There are no precautions against cyclones and tidal bores except giving advance warning and providing safe public buildings where people may take shelter. Adequate infrastructure and air transport facilities that would ease the sufferings of the affected people had not been established by the late 1980s. Efforts by the government under the Third Five-Year Plan (1985–90) were directed toward accurate and timely forecast capability through agrometeorology, marine meteorology, oceanography, hydrometeorology, and seismology. Necessary expert services, equipment, and training facilities were expected to be developed under the United Nations Development Programme.
River Systems
The rivers of Bangladesh mark both the physiography of the nation and the life of the people. About 700 in number, these rivers generally flow south. The larger rivers serve as the main source of water for cultivation and as the principal arteries of commercial transportation. Rivers also provide fish, an important source of protein. Flooding of the rivers during the monsoon season causes enormous hardship and hinders development, but fresh deposits of rich silt replenish the fertile but overworked soil. The rivers also drain excess monsoon rainfall into the Bay of Bengal. Thus, the great river system is at the same time the country's principal resource and its greatest hazard.
The profusion of rivers can be divided into five major networks. The Jamuna-Brahmaputra is 292 kilometers long and extends from northern Bangladesh to its confluence with the Padma. Originating as the Yarlung Tsangpo River in China's Xizang Autonomous Region (Tibet) and flowing through India's state of Arunachal Pradesh, where it becomes known as the Brahmaputra ("Son of Brahma"), it receives waters from five major tributaries that total some 740 kilometers in length. At the point where the Brahmaputra meets the TistaRiver in Bangladesh, it becomes known as the Jamuna. The Jamuna is notorious for its shifting subchannels and for the formation of fertile silt islands (chars). No permanent settlements can exist along its banks.
The second system is the Padma-Ganges, which is divided into two sections: a 258-kilometer segment, the Ganges, which extends from the western border with India to its confluence with the Jamuna some 72 kilometers west of Dhaka, and a 126-kilometer segment, the Padma, which runs from the Ganges-Jamuna confluence to where it joins the MeghnaRiver at Chandpur. The Padma-Ganges is the central part of a deltaic river system with hundreds of rivers and streams—some 2,100 kilometers in length—flowing generally east or west into the Padma.
The third network is the Surma-Meghna River System, which courses from the northeastern border with India to Chandpur, where it joins the Padma. The Surma-Meghna, at 669 kilometers by itself the longest river in Bangladesh, is formed by the union of six lesser rivers. Below the city of Kalipur it is known as the Meghna. When the Padma and Meghna join together, they form the fourth river system—the Padma-Meghna—which flows 145 kilometers to the Bay of Bengal.
This mighty network of four river systems flowing through the Bangladesh Plain drains an area of some 1.5 million square kilometers. The numerous channels of the Padma-Meghna, its distributaries, and smaller parallel rivers that flow into the Bay of Bengal are referred to as the Mouths of the Ganges. Like the Jamuna, the Padma-Meghna and other estuaries on the Bay of Bengal are also known for their many chars.
A fifth river system, unconnected to the other four, is the Karnaphuli. Flowing through the region of Chittagong and the Chittagong Hills, it cuts across the hills and runs rapidly downhill to the west and southwest and then to the sea. The Feni, Karnaphuli, Sangu, and Matamuhari—an aggregate of some 420 kilometers—are the main rivers in the region. The port of Chittagong is situated on the banks of the Karnaphuli. The Karnaphuli Reservoir and Karnaphuli Dam are located in this area. The dam impounds the KarnaphuliRiver's waters in the reservoir for the generation of hydroelectric power.
During the annual monsoon period, the rivers of Bangladesh flow at about 140,000 cubic meters per second, but during the dry period they diminish to 7,000 cubic meters per second. Because water is so vital to agriculture, more than 60% of the net arable land, some 91,000 km², is cultivated in the rainy season despite the possibility of severe flooding, and nearly 40% of the land is cultivated during the dry winter months. Water resources development has responded to this "dual water regime" by providing flood protection, drainage to prevent overflooding and waterlogging, and irrigation facilities for the expansion of winter cultivation. Major water control projects have been developed by the national government to provide irrigation, flood control, drainage facilities, aids to river navigation and road construction, and hydroelectric power. In addition, thousands of tube wells and electric pumps are used for local irrigation. Despite severe resource constraints, the government of Bangladesh has made it a policy to try to bring additional areas under irrigation without salinity intrusion.
Area and boundaries
Area:
total: 147,570 km²
country comparison to the world: 94
land: 133,910 km²
water: 10,090 km²
Area comparative:
Australia

comparative: 1.5 times larger than

Tasmania

Canada

comparative: twice the size of

New Brunswick

United Kingdom

comparative: larger than

England

United States

comparative: slightly larger than

Iowa
Land boundaries:
total: 4,246 km
border countries:Myanmar 193 km, India 4,053 km
Coastline: 580 km
Maritime claims:
contiguous zone: 18 nmi (33.3 km; 20.7 mi)
continental shelf: up to the outer limits of the continental margin
exclusive economic zone: 200 nmi (370.4 km; 230.2 mi)
territorial sea: 12 nmi (22.2 km; 13.8 mi)
Elevation extremes:
lowest point: Indian Ocean 0 m
highest point: In the Mowdok range at 1052 m (at N 21°47'12" E 92°36'36"), NOT Keokradong (883 m not 1,230 m) or Tajingdong (985 m not 1,280 m as sometimes reported)
Resources and land use
Natural resources: natural gas, arable land, timber, coal
Land use:
Arable land: 55.39%
Permanent crops: 3.08%
other: 41.53% (2005)
Irrigated land: 47,250 km² (2003)
Total renewable water resources: 1,210.6 km³ (1999)
Freshwater withdrawal (domestic/industrial/agricultural):
total: 79.4 km³/yr (3%/1%/96%)
per capita: 560 m³/yr (2000)
Purpose of Tourism
Tourism is also defined as a set of activities of a person traveling to a place out side his or her usual environment for less than a year and whose purpose of travel is other than the exercise of an activity renumerated from the place visited.
According to leiper's model, tourism can be thought of as a wide range of individuals', businesses, organizations and places that combine in some way to the deliver a travel experience.
Tourism is defined as the activities of persons travelling to and staying in places outside their usual environment for not more than one consecutive year for leisure, business and other purposes not related to the exercise of an activity remunerated from within the place visited.
The use of this broad concept makes it possible to identify tourism between countries as well as tourism within a country. "Tourism" refers to all activities of visitors, including both "tourists (overnight visitors)" and "same-day visitors". (World Tourism Organisation-WTO)
Leisure however is from a Latin word "Licere" which means "to be permitted" or "to be free". The French word "Loisir" means "Free time", and the English words "License" and "Liberty".
George Tokildsen (1992) also defines leisure as freedom from constraint, opportunity to choose time left over work or other free time after obligatory social duties have been met.
Leisure is defined as free time spent doing what a person enjoys when not working or studying. Parker (1976) sees leisure as encompassing of activities that are characterized by feeling of cooperative freedom.
Tourism is a complex trade covering all movements of people outside their own community for all purposes except migration or regular daily work. The growth of tourism and leisure to a large industry has led to tourism becoming increasingly sophisticated. Therefore there is need for investment of both private and public sectors in the economy. Tourism and leisure is completely dependent on government and its agencies, to provide infrastructure, like roads, airports, facilities and incentives for growth and development.
PUBLIC SECTOR MANAGEMENT OF TOURISM AND LEISURE DEVELOPMENT
The public sector is that part of economic and administrative life that deals with the delivery of goods and services by and for the government, whether national, regional or local/municipal.
The government of Uganda is committed to developing the economic, social and cultural sectors of Uganda. The government took over many abandoned or formerly expropriated companies in 1986 and formed new parastatal enterprises. In an effort to bring development, the government has attracted foreign assistance and is rebuilding the economic and social infrastructure. The public sector in tourism is concerned with national benefits presented through politics, which can embrace economic factors like balance of payments and employment.
Tourism is subject to direct and indirect government intervention primarily because of its employment and income producing possibilities. There have been increasing demands from conservative national governments and economic rationalists for greater Industry self-sufficiency in tourism marketing and promotion. (Jeffries 1989).
Tourism has become an integral part of the machinery of many modern governments, and of many government programmes in both developed and lesser-developed countries. (Lea 1988, Pearce 1992, Richter1989).
Tourism and leisure are an essential part of the economic development strategies of the local state. The development of urban corporations and enterprises rejuvenates the growth of inner city leisure spaces, festival market places, casino's, conference centres, sports stadia, botanical gardens and golf courses. These developments attract tourists and new investments, thus promoting themselves as attractive places to live, work, invest and play (Tourism and public policy-colin Micheal Hall and John M. Jenkins).
Government is the focus of demands articulated through a variety of structures and channels including significant individuals, institutions, and the media (Tourism and public policy- Collin Michael Hall).
Diagram of the public administration.This diagram shows the elements of public administration and their relations to each other. These sectors of Administration are responsible for supervising operations, putting them into practice (e.g. taxation and employment), and responsibility at the operational level (e.g. education, health care).
ROLE / DUTIES OF PUBLIC DEPARTMENTS, ORGANISATIONS AND PERSONALITIES IN THE PROVISION OF LEISURE AND TOURISM
The Government shall continue to make a concerted effort to strengthen the protected areas through further financial support. Government, donors and Non-governmental organisations (NGOs) will be supported to enhance the capabilities on the local level of protecting and developing valuable natural and cultural resources shall provide support to the districts for sustainable tourism growth (Uganda Tourism Policy 1991-Ministry of Tourism Trade and Industry)
The Brazilian Ministry of Labour, with funds from the Worker Assistance Fund (FAT)
established the National Professional Tourism Education Programme. Over the past three years the programme has been used to provide a large body of professionals in various tourism-related activities and is expected to lead to greater numbers of local people being engaged in employment in national parks and reserves. (C. Jonsson: General developments in the ecotourism sector – Focusing on Brazil, Paper produced for the ILO, 2000)
The role of Public Sector in Nepal has been limited to policy making, guidance, monitoring of tourism industry except Royal Nepal Airlines unlike in other countries where Public Sector itself involved in operating hotels, travel agencies and airlines. As in 2003, Nepal had 966 good hotels registered with government, which provide 20,063 rooms and 38,270 beds respectively. Similarly, there are 788 travel agencies, 645 trekking agencies and 90 rafting agencies in Nepal. (Employee development in tourism hospitality-a comparative study of hotel employment and employee development; Leonardo da Vinci Programme, 2000.)
The Santa Ana National Wildlife Refuge on the Rio GrandeRiver in the southwestern part of the country attracts 100,000 visitors annually and contributes around US$14 million to the local economy each year. (H. Youth: "Watching vs. taking", in World Watch, Washington; May/June 2000)
In Bangladesh, the Bangladesh Parjatan Corporation (BPC)-the National Tourism Organization (NTO) was created in 1972 with duel responsibility-creation of infrastructure and development and operation of tours as a public sector. (Bangladesh report on Review of Tourism: 1992)
The Kenya Wildlife Service's mission is to work with others to sustainably conserve, protect and manage Kenya's invaluable bio-diversity for the benefit of the locals and as a world heritage. This is a task it has taken to serve on the tourism front. (Protecting Kenya's Bio-diversity for the Tourism Sector; Journal for the Hospitality Industry)
Public sector Role in management of tourism and Leisure
Uganda is competing on the World market and to penetrate this market it is necessary to offer good quality products at a competitive price but most of all to offer unique products with a Ugandan approach. It is, however, not enough just to have the right product; Government must support the tourism sector, provide security and provide a conducive environment. The government, in its leadership role, has always been known to spearhead and pioneer tourism development, by laying the infrastructural foundation, providing the legislative, physical, fiscal, social and environmental framework. Regulating, facilitating, policy making, definition and formulation of policy, implementation, coordination, evaluation and planning in development, promotion and sustainability of tourism and Leisure. The Ugandan government has traditionally done this through several measures.
The Government of Uganda through the implementation of policies like the Poverty Eradication Action Plan (PEAP) has developed leisure and tourism. Through guiding the formulation of government policy, the public sector is eradicating poor health and limited education. In 1992 nearly 56 percent of Ugandans were below the poverty line, there was wide spread poaching in National parks and low levels of skilled labour. By 1996 this figure had fallen to 46 percent. The sharpest fall was in the central and western regions, while the eastern and northern regions experienced more modest declines in poverty. (Uganda Human Development report 2005) DanieL Kalinaki a reporter of the Monitor Newspaper said that the absolute number of people living in absolute poverty reduced marginally, from 9.3 million to 9 million over the period of 1992 to 2003. Government through the Ministry of finance and Economic development is using organizations like Uganda community Tourism association (UCOTA) to involve the local community in tourism development and increasing household incomes. The theme for this year's budget (2006/2007) is 'Enhancing Economic Growth and Households Incomes through Increased Production and Productivity' as read by Minister of Finance, planning and Economic Development Dr. Ezra Suruma. People earn income through entertainment like Ndeere troupe, markets, community campsites and crafts like the craft village, therefore increasing the involvement of local communities in tourism related activities, Selective training is encouraged for local communities in business development and in partnership development with UWA, UFA and other organisations. (Poverty Eradication Action Plan-2004/5-2007/8) These government organisations conserve and sustainably manage the wildlife and protected areas of Uganda in partnership with neighborhood communities and other stakeholders for the benefit of the people of Uganda and the global community, which enhances tourism and leisure development.
NGO's of Bangladesh
Non-governmental organizations (NGOs) are legally constituted organizations created by natural or legal people that operate independently from any form of government. The term originated from the United Nations, and normally refers to organizations that are not a part of a government and are not conventional for-profit businesses. In the cases in which NGOs are funded totally or partially by governments, the NGO maintains its non-governmental status by excluding government representatives from membership in the organization. The term is usually applied only to organizations that pursue wider social aims that have political aspects, but are not openly political organizations such as political parties.
The number of NGOs operating in the United States is estimated at 1.5 million.Russia has 277,000 NGOs. India is estimated to have had around 3.3 million NGOs in 2009, just over one NGO per 400 Indians, and many times the number of primary schools and primary health centres in India.
NGO'S of Bangladesh
Non-Government Organization (NGOs) started in this country in a limited scale as relief provides following the devastating cyclone in 1970, which claimed colossal human lives and properties in the coastal belt and the off-shore islands. Devastations caused by the War of Liberation in 1971 prompted other foreign and newly established local NGOs to mount relief and rehabilitation Programs.
Recognizing the need for development for alleviating endemic poverty in the country, NGOs began to shift their emphasis from relief to socio-economic development and to pursue –initially rather haphazardly Programs aiming at health care, family planning, income generation and self-reliance for the disadvantaged and the poor. As poverty continued to deepen and encompass ever larger numbers of people, more foreign NGOs came to work in this country and at the same time, the members of local NGOs grew fast.           
1) Grameen Bank
2) Bangladesh Rural Advancement Committee (BRAC)
3) ASA
4) Proshika
Total loan disbursement (cumulative) by these four kinds of institutions till December 2010 was taka 434.55 billion; of which disbursement under Government program was taka 37.77 billion (8.69%), Grameen Bank disbursed taka 154.11 billion (35.46%), other Banks and MF-NGOs disbursed taka 78.41 billion (18%) and taka 164.26 billion (37.80%) respectively (figure-1). Recovery rate of all these organizations excluding formal banks and government sponsored programs stood at 95 percent.
Bangladesh Rural Advancement Committee (BRAC)
BRAC, an international development organization based in Bangladesh, is the largest non-governmental development organization in the world, measured by the number of employees and the number of people it has helped, as of November 2012. Established by Sir Fazle Hasan Abed in 1972 soon after the independence of Bangladesh, BRAC is present in all 64 districts of Bangladesh as well as in Afghanistan, Pakistan, Sri Lanka, Uganda, Tanzania, South Sudan, Sierra Leone, Liberia, Haiti and The Philippines as of 2012.
BRAC employs over 100,000 people, roughly 70 percent of whom are women, reaching more than 126 million people. The organization is 70-80% self-funded through a number of commercial enterprises that include a dairy and food project and a chain of retail handicraft stores called Aarong. BRAC maintains offices in 14 countries throughout the world, including BRAC USA and BRAC UK.
BRAC has organized the isolated poor and learned to understand their needs by finding practical ways to increase their access to resources, support their entrepreneurship and empower them to become agents of change. Women and girls have been the focus of BRAC's anti-poverty approach; BRAC recognizes both their vulnerabilities and thirst for change.
Economic development
BRAC's Economic Development programme includes microcredit. It provides collateral-free credit using a solidarity lending methodology, as well as obligatory savings schemes through its Village Organisations. Reaching nearly 4 million borrowers, Village Organizations provide loans to poverty groups. BRAC has reached out to those who, due to extreme poverty, cannot access microfinance. BRAC defines such people suffering from extreme poverty as the 'ultra poor', and has designed a programme customized for this group that combines subsidy with enterprise development training, healthcare, social development and asset transfer, eventually pulling the ultra poor into its mainstream microfinance programme.
Jaminder-Ginni dolls made by village artisans. Handicrafts like these are sold by Aarong, BRAC's handicrafts store.
In addition to microfinance, BRAC provides enterprise training and support to its member borrowers in poultry and livestock, fisheries, social forestry, agriculture and sericulture. It provides inputs essential for some enterprises through its 'Programme Support Enterprises' that include Poultry farm and disease diagnostic laboratory, Bull Station, Feed Mill, Broiler Production and Marketing, Seed Production, Processing, Marketing and Soil Testing, BRAC Nursery, and Fish and Prawn Hatchery. BRAC's Vegetable Export programme started in 1998 is a venture that is aimed at bridging the gap between local producers and international markets.BRAC also focuses on the problem of youth employment, providing assistance for young men and especially women to join the workforce, for example, with programs like the Adolescent Development Program. BRAC also has a number of commercial programmes that contribute to the sustainability of BRAC's development programmes since returns from the commercial programmes are channeled back into BRAC's development activities. These programmes include Aarong, a retail handicraft chain, BRAC Dairy and Food Project, and BRAC Salt.
Education
BRAC's Non-Formal Primary Education programme provides five-year primary education course in four years to poor, rural, disadvantaged children and drop-outs who cannot access formal schooling. These one-room schools are for children between eight and fourteen years of age. Each school typically consists of 33 students and one teacher. Core subjects include Mathematics, Social Studies and English. The schools also offer extracurricular activities. As of June 2008, 37,500 Primary Schools and 24,750 Pre-Primary schools have been established by BRAC enrolling nearly 3 million children, 65% of whom are girls. The schools have a drop-out rate of less than 5%.
BRAC has set up centres for adolescents called Kishori Kendra that provide reading material and serve as a gathering place for adolescents where they are educated about issues sensitive to the Bangladeshi society like reproductive health, early marriage, women's legal rights etc. BRAC has also set up community libraries 185 out of 964 of which are equipped with computers.
Public health
BRAC started providing public healthcare in 1972 with an initial focus on curative care through paramedics and a self-financing health insurance scheme. The programme went on to offer integrated health care services, its key achievements including the reduction of child mortality rates through campaign for oral rehydration in the 80s and taking immunization from 2% to 70% in Bangladesh. BRAC currently provides a range of services that reach an estimated 31 million rural poor and include services for mothers in reproductive health care and infants.In Bangladesh, 78% of births occur in the home. BRAC has implemented a program in which midwives are trained to work in the homes of women to ensure that births are as risk-free as possible. As of December 2007, 70,000 community health volunteers and 18,000 health workers have been trained and mobilized by BRAC to deliver door-to-door health care services to the rural poor. It has established 37 static health centres and a Limb and Brace Fitting Centre that provides low cost devices and services for the physically disabled.
Social development
In 1996, BRAC started a programme in collaboration with the Ain O Shalish Kendra (ASK) and Bangladesh National Women Leader's Association (BNWLA) to empower women to protect themselves from social discrimination and exploitation of which dowry, rape, acid throwing, polygamy, domestic violence and oral divorce are common in rural Bangladeshi communities and to encourage and assist them to take action when their rights are infringed. The programme has two components: the Social Development component and the Human Rights and Legal Services component.
The Social Development component focuses on building human and socio-political assets of the poor – especially women – through institution building, awareness raising, training and collective social mobilizationThe Human Rights and Legal Services component seeks to empower the poor by increasing their awareness of their rights (legal, human and social) and entitlements through participation in activities like the Popular Theatre and through Human Rights and Legal Education (HRLE) classes arranged by BRAC for its Village Organisation members. BRAC also offers external services such as access to lawyers or the police either through legal aid clinics, by helping women report cases at the local police station or when seeking medical care in the case of acid victims. At the end of June 2006, 124,748 HRLE classes were held and 1,332 acid victim cases and 1,735 rape victim cases were reported. brac
Disaster relief
BRAC conducted one of the largest NGO responses to Cyclone Sidr which hit vast areas of the south-western coast in Bangladesh in mid-November 2007. BRAC distributed emergency relief materials, including food and clothing, to over 900,000 survivors, provided medical care to over 60,000 victims and secured safe supplies of drinking water. BRAC is now focusing on long-term rehabilitation, which will include agriculture support, infrastructure reconstruction and livelihood regeneration.
ICT development
Established in 1996 as BRAC's IT/ISP wing, BRAC Net Limited is Bangladesh's one-stop ICT (Information and Communication Technology) solution provider. BRAC Net Limited later formed a Joint Venture Company with US investors gNet/DEFTA Partners in 2005 and KDDI Corporation – the second largest cellular operator and Wireless ISP in Japan in 2009.
BRAC Net has built its nationwide network utilizing its licensed spectrum. Its network today is based on WiMax and fiber optics technology to serve hundreds of large corporations and thousands of Small and Medium Enterprises (SME) and Educational institutions throughout the country. It serves tens of thousands of residential customers directly or indirectly (through resellers) and rural people through its cybercafé franchises, called "e-hut". For the first time in Bangladesh, the perennially poor can now avail the services available online to improve their quality of life. BRAC Net's core mission is to create a knowledge based society in Bangladesh. As the sister concern of BRAC, BRAC Net Limited also believes that profit alone should not be the steering factor in this field. With BRACs knowledge of how rural communities function and by realizing the need to create entrepreneurship among young people, BRAC Net has evolved a business model called e-hut.
BRAC Net is committed to establish such interconnected e-huts all over Bangladesh using its fixed WiMAX and optical fibre network. More than 70 e-huts are operating in rural Bangladesh. Services provided by e-hut include internet browsing, broadband connectivity, basic computer and IT training, web cam and digital camera srvice, computer compose and printing, computer servicing, graphics designing, and photocopying amenities to the rural community. e-hut hopes to introduce digital services like IP phoning, e-commerce, video conferencing, money transfer and courier services in the future.
Grameen Bank
The Grameen Bank (Bengali: গ্রামীণ বাংক) is a Nobel Peace Prize winning microfinance organization and community development bank started in Bangladesh that makes small loans (known as microcredit or "grameencredit") to the impoverished without requiring collateral. The name Grameen is derived from the word gram which means "rural" or "village" in the Bengali language.

The system of this bank is based on the idea that the poor have skills that are under-utilized. A group-based credit approach is applied which utilizes the peer-pressure within the group to ensure the borrowers follow through and use caution in conducting their financial affairs with strict discipline, ensuring repayment eventually and allowing the borrowers to develop good credit standing. The bank also accepts deposits, provides other services, and runs several development-oriented businesses including fabric, telephone and energy companies. Another distinctive feature of the bank's credit program is that the overwhelming majority (98%) of its borrowers are women.
The origin of Grameen Bank can be traced back to 1976 when Professor Muhammad Yunus, a Fulbright scholar at Vanderbilt University and Professor at University of Chittagong, launched a research project to examine the possibility of designing a credit delivery system to provide banking services targeted to the rural poor. In October 1983, the Grameen Bank Project was transformed into an independent bank by government legislation. The organization and its founder, Muhammad Yunus, were jointly awarded the Nobel Peace Prize in 2006; the organization's Low-cost Housing Program won a World Habitat Award in 1998. In 2011, the founder Muhammad Yunus was forced out of the Grameen Bank by the Bangladesh Government.

Asha (aša) is the Avestan language term (corresponding to Vedic language ṛta) for a concept of cardinal importance to Zoroastrian theology and doctrine. In the moral sphere, aša/arta represents what has been called "the decisive confessional concept of Zoroastrianism." The opposite of Avestan aša is druj, "lie."
The significance of the term is complex, with a highly nuanced range of meaning. It is commonly summarized in accord with its contextual implications of 'truth' and 'right(eousness)', 'order' and 'right working'. For other connotations, see meaning below.
Its Old Persian equivalent is arta-. In Middle Iranian languages the term appears as ard-.
The word is also the proper name of the divinity Asha, the Amesha Spenta that is the hypostasis or "genius" of "Truth" or "Righteousness". In the Younger Avesta, this figure is more commonly referred to as Asha Vahishta (Aša Vahišta, Arta Vahišta), "Best Truth".The Middle Persian descendant is Ashawahist or Ardwahisht; New Persian Ardibehesht or Ordibehesht. In the Gathas, the oldest texts of Zoroastrianism and thought to have been composed by the prophet himself, it is seldom possible to distinguish between moral principle and the divinity. Later texts consistently use the 'Best' epithet when speaking of the Amesha Spenta, only once in the Gathas is 'best' an adjective of aša/arta.
Proshika
About
The name 'PROSHIKA' is an acronym of three Bangla words, which stands for training, education, and action.
Mission
PROSHIKA's mission is to conduct an extensive, intensive, and participatory process of sustainable development through empowering of the poor.
Vision
PROSHIKA envisages a society which is economically productive and equitable, socially just, environmentally sound, and genuinely democratic.
Description
It has been more than three decades since PROSHIKA, now one of the largest NGOs in Bangladesh, took its first step. Although the PROSHIKA development process started in a few villages of Dhaka and Comilla districts in 1975, the organization formally emerged in October, 1976.
PROSHIKA has successfully completed one more year of its extended period of Phase VI. A constant analysis of the magnitude of poverty and its trends, the strategies effective for its reduction and eventual elimination, and their meticulous implementation has brought PROSHIKA where it is today. The central ethos, however, all the while remained the same human development and empowerment of the poor who gradually stand tall to achieve freedom from poverty by themselves. Empowerment means that the poor are united and organized, become aware of the real causes of their impoverishment, develop leadership among themselves, mobilize their material resources, increase income and employment, develop capacities to cope with natural disasters, become functionally literate, take better care of their health, become engaged in environmental protection and regeneration, get elected in local government bodies and community institutions, and have better access to public and common property resources.
Objectives
PROSHIKA's objectives are:
i)Structural poverty alleviation.
ii)Environmental protection and regeneration.
iii)Improvement in women's status.
iv)Increasing people's participation in public institutions.
v)Increasing people's capacity to gain and exercise democratic and human rights.
These objectives are achieved through a broad range of programmes in education and training leading to income and employment generation, health education, building of health infrastructure, and environmental protection and regeneration. The programmes are supported by research activities and advocacy campaigns which increasingly call for cooperation with like-minded development partners at the national and international levels. Thus the network of activities in which PROSHIKA is involved links the poorest of the poor with like-minded development actors worldwide.
SOWT Analysis:
A tool that identifies the strengths, weaknesses, opportunities and threats of an organization. Specifically, SWOT is a basic, straightforward model that assesses what an organization can and cannot do as well as its potential opportunities and threats. The method of SWOT analysis is to take the information from an environmental analysis and separate it into internal (strengths and weaknesses) and external issues (opportunities and threats). Once this is completed, SWOT analysis determines what may assist the firm in accomplishing its objectives, and what obstacles must be overcome or minimized to achieve desired results.
Strengths:
Variation of publishing books.

Convenient location.

Have own website.

Online purchase facility.

Environment friendly.
Weaknesses:
Analyze after printing.

Cannot fulfill customer demand.

Do not work on customer psychology

A few books on Juvenile literature
Opportunities:
Increasing education rate.

Easy transportation system

 Purchasing a lot of books every year by the Government.
Threats:
Political  threats

Printing problem

Load shedding problem

Increasing paper price

Lack of low materials.
Recommendation
Considering the above analyses and discussions the present study attempts to outline the following suggestions for The betterment of the tourism industry in Bangladesh:
Positive image of our tourism industry must be expressed by our diplomats, ambassadors, consular representing Bangladesh in different countries of the world. Bangladeshi representatives abroad can act as overseas office for the wholesale tour operators who conduct inbound tours.
Billboard, leaflets, brochure, magazines and other promotional materials can be displayed in different places in home and abroad.
Local people have to be informed about the attractions rich in history, culture, and heritage.
Different beaches, rivers and other wetlands have to be converted with various establishment activities like river cruise, boating, beach volleyball, waterskiing, fishing, etc. along with boatel based food and accommodation specially in Sundarbans area.
There is lack of security and safety on travels and in the parks and tourists destinations in Bangladesh. Therefore, the adequate safety and security of the tourists should be ensured to remove negative image.
Tourism facilities and services like accommodation, food and beverage, entertainments, travel agents, tour operations, shopping malls, supermarkets, transporters have to be established in good number in international standard in different tourist areas by public and private sectors.
Unexplored area like Parkirchar, Cheradip, Sandeed, and Hatia must be taken into consideration to explored properly and established all tourist facilities there for the sake of the development of tourism.
Ecological balance must be maintained by preserving forests, wildlife flora and fauna. It is also to be ensured that illegal fishing, hunting, smuggling trees and animal bodies must be prohibited in those areas.
The present legal formalities to come in Bangladesh for the foreigners are strict and rigid. Therefore, the existing formalities are to be made easy so that, the foreigners get interests to visit in Bangladesh.
Tourist fair can be arranged in an adequate number in home and abroad to inform the latest updates of our tourism products, services and overall tourism industry to attract the tourist.
Government can formulate long term and short term master plan for the overall tourism development by growing interest to the investors and commercial organizations.
The largest portion of tourists visiting Bangladesh uses airways only international airport, Dhaka. Expansion in also needed for tourist charters not only in Dhaka but also in Chittagong, Sylhet, Barisal, Rajshahi, Comilla and Dinajpur.
NGOs should support community based tourism initiatives to form associations and collectively assess the markets; provide legal assistance; advice on community based resource management programs; gender awareness training; assistance with administrative arrangements; scientific assistance in feasibility studies using participatory and action research methods; improve the links between groups.
NGOs should build up their capacity as facilitators and trainers of participatory processes, tourism planning and as social entrepreneurs within the tourist industry.
NGOs at all levels should effectively participate in sharing with all stakeholders experience and knowledge about successful strategies, obstacles and how to overcome them.
Conclusion 
At present world tourism industry appeared as competitive and promising sector. It is not only that tourism sector earns foreign currency but also that tourism creates image of the country and cultural diversification. The country, having tourism potential, must be conscious in developing market offering and marketing mix. Bangladesh has sheer lacking in this regard which need to be overcome through proper marketing planning. Natural, ecological, historical, cultural and other form of tourism based tourism industry of Bangladesh has huge potentials to develop due to its kind. The country has its potential to differentiate its product for its uniqueness. Therefore, tourism industry of Bangladesh must arrange its marketing mix elements such a way that give its better satisfaction to its customers. Tourism market should be segmented on the basis of income level not only for foreigners but also domestic tourists. On the other hand upper class people of the country who tours abroad can be inspired to tour within the income group and lower income group of people of the country, tourism facility should be created within their purchasing power capability. As tourism is mostly service oriented business professional people is very much essential here. Bangladesh Parjatan Corporation, though, offers short term and vocational courses but highly educated and well known persons are very essential. Recently University of Dhaka and some other private universities opened
Department of Tourism and Hospitality. This will definitely encourage creating skilled manpower in the tourism sector and as a result new generation may use innovative ideas to capacity building and opportunities to attract tourists in the country. Government should extend these types of opportunities. Government of Bangladesh, different
concerned ministries and the industry itself should take necessary measures. They should concentrated their efforts on the development of peripheral products, relocation of necessary facilities, improvement of domestic transport networks, development of professionally skilled human resources, arrangement of necessary securities measures,
creation of good image of the country. If all these measures, marketing strategies along with policy measures are coordinated, tourism sector in Bangladesh would yield a positive result.