Executive Summary
My report covers almost all relevant activities of general banking transaction. I have also examined relevant officials and other published & unpublished data and Annual Reports of Sonali Bank Limited in order to prepare this report.
My study covers the history of SBL. It tells about its Strategic objectives, background, and Historical background, Core values, The structure of SBL, Board of Directors, Board of committee, Executive committee, Policy committee. Here I also included the contact information of SBL, Management hierarchy, Information about the branches of SBL. Product and services of SBL. In my report, I have told elaborately about, Its operation opening and its retirement. It also presents the activities of Collection and Clearing, Cash selection, Remittance section, and Account selection activities of SBL.
This report is composed of four chapters, which are divided into different parts. In the First chapter Introduction, Organizational History, Objective of the study, Scope, Importance of the study, Methodology and Limitations have been highlighted. The overview of Sonali Bank Ltd is presented in chapter two. Chapter three has presented with emphasis on General activities of SBL. Its included with, Account opening to account closing activities, Collection and Clearing activities, Procedure of outward bills for collection, Procedure of inward bills for collection and Clearing of cheque, and Cash selection, Remittance section's activities, Foreign remittance services all over the world, and working procedure of Pay order, Demand deposit, working procedure of Telegraphic Transfer, Account selection activities, Daily and Periodical task
Deposit mobilization activities have been discussed in chapter three. We have discussed about various types of loans and advances, Factors affecting deposit Loan disbursement procedure, Loan recovery system. Competitive analysis of SBL, SWOT analysis. Chapter four Findings of the report, Conclusion and recommendation. I have tried to give recommendations. Some of the recommendations are as follows:
•    SBL should increase skilled manpower to do its financial activities more efficiently. So that many of the employees do not have to do extra work.
•     The Bank should go aggressive advertising and promotional activities to get a broad geographic coverage.
•     The authority of SBL should introduce more innovative and modern customer service.
•        The synergy of dedicated manpower, technology and market opportunity can lead the organization to achieve the goal; a bank must establish and adhere to adequate of loan provision and reserve.
•     To create efficiency & effectiveness within the bank in using its assets & other resources & protecting the bank from losses. Senior management & other personnel throughout the bank should work in a straightforward manner as per regulatory norms of bank.
Origin of the Report:
This report on "Overview of General Banking system of Sonali Bank Limited (A_Case Study of Ramna Corporate Branch. Dhaka)" was initiated as a part of the Internship Program which is a BBA Degree requirement of the Department of BBA World University of Bangladesh, Dhaka . A 90-Days internship at the Sonali Bank Limited, Ramna Corporate Branch, Dhaka preceded the preparation of the report under the supervision of Moushumi Dhar Lecturer, Department of BBA, and was submitted to the Chairman, Internship Placement Committee.
Objectives of the Study:                 
The objective of the internship report was to familiarize with  the real life Banking and compare it with the books that we have learnt in our class, the main objectives of the report are as follows:
The primary objective of the study is:
To fulfill the requirement of the BBA degree.
Specific objectives of the study are:
To analyze the loan and advance policies of Sonali Bank limited.
To find out problems faced by Sonali Bank during providing loan.
To provide some suggestions and recommendations on the basis of findings.
Methodology of the Study:
To make the report more meaningful and presentable, two types of information have been used. Those are
Primary data
Secondary data
The primary sources of data:
Face to face interview with the bank officer and staffs.
Face to face conversation with clients visited the branch.
Secondary sources of data:
Annual report of the Sonali Bank Ltd.
Different voucher of the Sonali Bank Ltd.
Scope of the Report:
The scope of the report is limited to facilities provided by Ramna Corporate Branch of Sonali Bank Limited. Sonali Bank provides a wide range of facilities to its customers. Employees are very much caring to their customers. But the scope of the report can be described in terms of two grounds like-
Orsanizational Scope: I have worked in all the desks of general banking division of Sonali Bank Limited. I could not get the opportunity to work in Foreign Exchange Department, Credit Department and Cash Department.
Periodical Scope: Practical Orientation in bank has started from the 5 January 2012 and the duration of this internship was 90 days.
The report is confined to explain the detailed explanation of other Department, such as, credit department foreign exchange department, card division, cash department. Credit related to foreign exchange transactions (L/C, LTR, etc.) were excluded. Consumer Credit or retail credit facilities and Credit provided against Share have also been excluded from the scope of this report. Various types of credit provided to the staffs of Sonali Bank has also been ignored, as they are special types of credit provided as a motivating tool for the employees with special terms and conditions.
Limitation:
During my internship I was able to learn a lot of things but it was not enough. There were some limitation that I can not ignore, the main limitation are:
Time Constraint: First of all the duration of our orientation was not enough to cover all aspect of banking.
Information: Some time officer of the Bank can not provide all the information which is required for my report.
Business Secrecy: Some time required data are not available because of secrecy and business policy.
Introduction:
In the backdrop of economic liberalization and financial sector reforms, a group of highly successful local entrepreneurs conceived an idea of floating a commercial bank with different outlook. For them, it was competence, excellence and consistent delivery of reliable service with superior value products. Accordingly, The sponsors are reputed personalities in the field of trade and commerce and their stake ranges from shipping to textile and finance to energy etc.
As a fully licensed commercial bank, Sonali Bank Ltd. is being managed by a highly professional and dedicated team with long experience in banking. They constantly focus on understanding and anticipating customer needs. As the banking scenario undergoes changes so is the bank and it repositions itself in the changed market condition.
Background:
Sonali Bank Limited (SBL) started its operation on 17th April 1995 with an Authorized Capital of TK. 1000 million and Paid-up capital of TK. 200 million. Its Paid-up Capital was raised at Tk.700 million as on December 31, 2003. SBL is a fourth generation commercial bank in the banking arena of Bangladesh. The Bank was promoted by a group of highly successful entrepreneurs from various fields of economic activities such as shipping, finance, petroleum, textile and insurance. The Bank has made significant progress within a very short period due to its highly competent Board of Directors, dynamic Management and introduction of various innovative and customer friendly Deposit and Loan Schemes.
PBL was incorporated under the Companies Act, 1994 on February 12, 1995 and on that day, filed a duly verified declaration in the prescribed form that the condition of section 150(l)(a) to (d) of the said Act, have been compiled with, is entitled to commence business as a public limited company.
Prime Bank Ltd. being a banking company has been registered under the Companies Act 1913 with its registered office at 5, Rajuk Avenue, Motijheel commercial area, Dhaka 1000. Later it was shifted to Adamjee Court Annex building, 119-120, Motijheel Commercial Area, Dhaka-1000.
The bank operates as a scheduled bank under banking license issued by Bangladesh Bank, the central bank of the country on April 17, 1995 through the opening of its Motijheel Branch at AdamjeeCourtAnnexBuilding, Motijheel commercial area, Dhaka-1000. The bank is having an authorized capital of Tk. 1000 million and paid up capital Tk.700 million sponsored by 22 members of board of directors.
Mission, Vision, Strategic Priorities and Objective of Sonali Bank Limited
Vision:
To be the best Private Commercial Bank in Bangladesh in terms of efficiency, Capital adequacy, Asset quality, Sound management and profitability having strong liquidity.
Mission:
To build Prime Bank Limited into an efficient, market driven, customer focused
Institution with good corporate governance structure.
Cost reduction through integration of technology at all level.
Strategic Priorities:
To have sustained growth, broaden and improve range of products and services.
Objective:
Prime Bank Limited is designed to provide commercial and investment banking services to all types of customers ranging from small entrepreneurs to big business firms. In this regard it emphasizes on the priority sectors of the economy like agriculture, industry, housing and self-employment. Besides the bank aims to provide different customer friendly deposit and loan products in the field of personal banking to fulfill the banking needs of individual customers.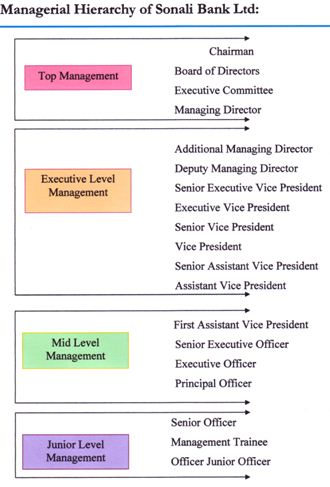 Interest Rate:
Sonali Bank diversified its rate of interest on loan and advances in compliance with the interest rate policy declared by the government in 2005. To encourage the agricultural sector the rate of interest fixed to 2.0-16.0 percent and to increase the rate of industrial production and services industry, the rate of interest rate is fixed to 9.0-11.0 percent and 13.0 percent. Rate of interest of Sonali Bank is given below:
Table : Interest rate of Sonali Bank.
deposit
Loan and advance
Year
Savings account
Short term deposit account
Fixed deposit account
Weighted average
Agricultural sector
Industrial sector
Service sector
Weighted average
2004
3.50
2.00
5.25-6.25
5.12
8.00-9.00
9.00-11.00
12.00
9.89
2005
4.00
2.50
5.25-6.25
4.75
2.00-16.00
9.00-11.00
13.00
10.40
2006
5.00
3.50
6.25-7.25
5.38
2.00-16.00
9.00-12.00
13.00
10.61
2007
5.00
3.50
6.25-7.25
5.35
2.00-16.00
9.00-12.00
13.00
10.58
2008
5.00
3.65
7.25-8.25
5.46
2-10
12-13
13.00
8.16
2009
5.00
3.65
7.25-8.25
5.46
2-10
12-13
13.00
8.16
[Source: Annual Report of Sonali bank on 2004-2009]
SWOT Analysis of Sonali Bank: SWOT Analysis:
Each &  every organization should be  aware of their strengths,  weaknesses,
opportunities and threats. This analysis is known as SWOT analysis. The central purpose of the SWOT analysis is to identity strategies that align, fit or match a company's resources and capabilities to the demands of the environment in which the company operates. To put it another way, the purpose of the strategic alternatives generated by a SWOT analysis should be to build on company strengths in order to exploit opportunities and counter threats and to correct company weakens.
SWOT analysis explains in two broad ways on viewed of organizations environment. These are;
A). Internal Environment Analysis: It includes
Strength
Weakness
B). External Environment Analysis:
It includes
Opportunity and
Threats
SWOT Analysis -Sonali bank view:
During my internship period in Sonali bank I have found some aspects relating to the Bank's strength, opportunity, weakness and threats, which are more or less. I think affecting the Bank's performance in total which are given below:
Strengths:
As a largest bank, it has qualified, professional and experienced manpower. Structural set-up & business location is Strategic.
Sonali bank assets position is quite satisfactory & now there is no fund crisis.
Sonali bank has requisite strength and opportunity to sustain the challenge of the market economy.
Being a nationalized banking organization, it always get govt. support in all of
its operations and new projects if is viable.
Weaknesses:
In Sonali bank, arises problem of manpower because of there is no new
recruitment for a long period.
Bureaucracy official process hampered the daily internal workflow.
Lack of motivation for the workers & low salary structure.
Management – employee relation is not good in some cases.
Rules and regulations of govt. sometimes make problem for the bank.
Opportunities:
Expansion of new area of investment.
Scope for automation will open a big door of opportunity.
All out efforts for deposit mobilization.
In case of fund crisis Sonali Bank gets govt support as it is a govt. owned concern.
Gear-up recovery through setting up of pragmatic recovery targets.
Undertake need-based training programme & full computerization of bank's activities.
Threats:
Newly developed privatized & foreign banks.
Facing a great competition with other commercial banks and financial institutions.
Loan recovery systems are very weak & policies are not practices properly in some cases.
Introduction of certain harder banking rules and regulation.
Customer Service:
To ensure qualified customer service Sonali Bank has started in addition to computerization corporate client service and one stop service. To facilitate the foreign exchange activities Sonali Bank has launched SWIFT (Society for Worldwide Inter bank Finance and Telecommunication) system in its 12 branches. The bank has punched Website, Reuter service, Internet service, and Ready cash service. The bank has taken a plan to launch shared ATM system in various important places. Already, it has given work order for this.
Computerization:
Sonali bank starts its computerization process at December, 1989. After that it expands its computerization process by establishing RISE System (RS 16000) OS/2, LAN etc. Up to this time 113 branches are under computerized system. Besides this 'One Stop' is being given in its 56 branches. Moreover, Sonali Bank is serving to the customers in the following ways:
Foreign exchange business and standard of customer services is being increased and speed up of information flow by using the computerization system LAN (Local Area Network) and WAN (Wide Area Network).
It has established 7 subsidiary companies in United States named Sonali Exchange Company Incorporated (SECI) and 5 offices of Sonali Bank, UK Ltd. establish with 49% share with govt. in UK so that the Non-Resident Bangladeshi can send their money to Bangladesh through a valid channel as fast as possible.
Recently SECI established a Web based Remittance Software in United States. Sonali Bank Wage Earners Corporate Branch established electronic link with its branch in Middle East Branch through which remittance is to be sent. Besides this 5 electronic link is in implementation process in Oman, Qatar and Bahrain.
IFRMS (Instant Financial Reconciliation and Messaging System) has enabled the bank to remit fund by DD, XT, Inter branch Debit/Credit advice. This has been started as an experimental but this system will be started among 300 branches soon.
Rural Credit
Bangladesh is primarily an agricultural country. A major portion of the population ( about 85%) live in the rural areas. About 75% of the active rural population depend on agriculture as the main source of their livelihood. Agriculture contribute about 22% to the GDP. Majority of the farmers are either small or marginal. So credit plays a paramount role to augment the capital base to support agriculture production. With this end in view. Sonali Bank Limited the largest state owned commercial bank has been playing a vital role in the socio-economic development & poverty alleviation since 1973. Keeping in view that Credit is one of the many inputs that complete the cycle of agricultural production Sonali Bank extending rural credit through 1179 branches over the country. Sonali Bank Limited introduced indirect rural credit in 1973 through the then IRDP.
Ready Cash
Features:
Sonali Bank Ltd. Ready Cash Card is a Debit Card.
Cardholder can easily pay utility bills like – Water, Telephone, Gas etc.
It is easy to remit funds among the participating branches of the Bank.
Transaction beyond working hours.
It is a riskless Cash Carrying facility.
Cashless purchase can be made form specific merchandise points.
Only computerized Branches of Dhaka City will deal Ready Cash Card.
Branches of other Cities and Towns will introduce Sonali Bank Ltd. Ready Cash Card in due course
Ancillary Services
Sonali Bank Limited offers multiple special services with its network of branches throughout the country in addition to its normal banking operations.
Collection:
Gas bills.
Electricity bills.
Telephone bills,
Water/Sewerage bills.
Telephone Bill
Municipal holding Tax.
Passport fees, visa fees and Travel tax.
Customs & Excise duties,
Source tax and VAT.
Jakat fund.
Hajj deposit.
Land development tax.
Payment:
Pension of employees of Government and other Corporate Bodies.
Bangladesh Bank employees pension.
Army pension.
British pension.
Students' stipend/scholarship.
Govt. & Non-Govt. Teachers' salary.
Food procurement bill on behalf of the Govt.
Social Services:
Old age allowances.
Widows, divorcees and destitute women allowances.
Freedom Fighters' allowances.
Rehabilitation allowances for acid survival women.
Maternal allowances for poor women.
Disability allowances.
Sale & Encashment/Purchase:
Savings Certificates.
ICB Unit Certificates,
Prize Bonds.
Wage Earner's Development Bonds.
US Dollar Premium & Investment Bond.
Lottery tickets of different Semi-Govt. and Autonomous Bodies.
Sanchaypatra.
Public Service Commission's application form.
Judicial Service Commission's application form.
Exchange of soiled / torn notes.
General Banking Department usually performs a lot of important banking activities. General banking department is that department which is mostly exposed to the maximum number of bank customers. It is the introductory department of the bank to its customers. The Ramna Corporate Branch of Sonali Bank ltd. has all the required sections of general banking and these sections are run by manpower with high quality banking knowledge. Hence, a touch of rich customer service is prevailing in the branch.
COLLECTION OF DEPOSIT:
Deposits are life-blood of a commercial bank. Without deposits there are no businesses for the commercial banks of any nature (NCBs, PCBs or FCBs). Accepting deposits is one of the two classic functions of commercial banks. Bank deposits can be broadly classified as follows –
(1) Demand Deposits; and
(2) Time Deposits
PROCEDURES FOR OPENING OF ACCOUNTS:
Before opening of a current or savings account, the following formalities must be
completed by the customer –
1) Application on the prescribed form (for Savings A/C: F-100 & for Current A/C: F-58)
2) Furnishing photographs (two copies)
3) Introduction by an account holder
4) Putting three specimen signature in the "Specimen Signature Card"
5) Mandate (if necessary)
6) Voter ID card Number
After doing the above formalities, the branch provides the customer a pay-in-slip and a cheque-book. The cheque-book may be off 10-page, 25-page, 50-page or 100-page depending on the type of account the customer has opened. To complete the issuing of cheque-book, a customer has to fill-up the 'Requisition Slip' for cheque-book. Then a new cheque-book will be filled-up by the account number of the customer and name of the branch in each page of the cheque-book. The name and account number of the customer are then registered in the "Cheque-book Issue Register". The requisition slips are maintained and recorded as vouchers. The serial number of the cheque-book is also entered in the computer for the proper maintenance of records and to prevent any attempt of forgery,
APPLICATION FORM FOR CURRENT AND SAVINGS A/C:
Folio wings are the contents of the application form for opening Savings or Current A/C in Ramna Corporate Branch –
1) Name of the Applicant(s)
2) Father's/Husband's Name
3) Nationality
4), Occupation
5) Date of Birth
6)  Address: Present and Permanent
7) Introducer's Information
8) Information about the Nominee
9) Special instruction for operation of the A/C (if any)
10) Initial Deposit
11) Specimen signature(s) of the Applicant
12) Voter ID Number
FIXED DEPOSIT RECEIPT (FDR):
Fixed deposits are the deposits in which an amount of cash is deposited in bank for a fixed period specified in advance. Hence, these deposits are time deposits or time liabilities. Normally, the money on a fixed deposit is not repayable before the expiry of a fixed period. At the time of opening the deposit account, the banker issues a receipt acknowledging the receipt of money on deposit account. It is popularly known as FDR (Fixed Deposit Receipt). Necessary documents for opening a FDR A/C in Ramna Corporate Branch are as follows –
FDR Form (F-425)
FDRCard
Photo of the Nominee(s) attested by the A/C Holder
The "Fixed Deposit A/C Opening Form" contains the following headings –
(a) Amount in figures
(b) Period
(c) Rate of interest
(d) Beneficiary's name and address
(e) Special instruction in case of joint A/C
(f) Information about nominee(s)
(g) Address of the applicant(s)
(h) Specimen signature(s)
(i) FOR no.
After opening a FDR A/C, it is usually recorded in the "FOR Register". In case of Fixed Deposit Accounts, the bank needs not hold a cash reserve to repay money to the customers. The payment will be made after the completion of a certain period. Hence, Sonali Bank ltd. offers a high interest rate in Fixed Deposit Account. The interest rates followed by Sonali Bank ltd. for Fixed 'Deposit Account are –
| | |
| --- | --- |
| Period | Interest Rate |
| For 3 months to >6 months | @ 7.25% |
| For 6 months to >1 year | @ 7.50% |
| For 1 year to >2 years | @ 8.00% |
| For 2 years to >3 years | @ 8.25%Source: website |
SHORT TERM DEPOSIT (STD):
In Short Term Deposit (STD) Account, the deposit should be kept for at least seven
days to get interest. The interest offered for STD is less than that of savings deposit. In Ramna Corporate Branch, Government Departments like BIWTC, Jiban Bima Corporation, Bangladesh Biman and other private organizations and individuals keep money in STD accounts. For this type A/C, frequent withdrawal is discouraged and requires prior notice. STD is also called "Seven-Day-Notice" Current A/C.
| | |
| --- | --- |
| STD | Interest rate |
| Up to l0 Crore Above 10 Crore | 3.50% 3.60% |
In Ramna Corporate Branch, usually customers give an instruction that their current accounts will be debited whenever the deposited amount crosses a certain limit and this amount will be transferred to the STD account. The Branch follows this instruction by giving the following entries –
Customer's Current A/C————————Dr.
Customer's STD A/C——————————Cr,
DEPOSIT PENSION SCHEME (DPS):
According to this system, a person of minimum 18 years old can open any "Deposit Pension Scheme" (DPS) A/C by depositing at least Tk.100 or maximum Tk.500 in each month for 10 or 20 years term. After maturity of the term, the depositor can withdraw the total deposited amount with interest or can withdraw by monthly installment. The depositor has to deposit the specified amount for him/her by 8th day of each month either in cash.or in cheque. In respect of DPS A/C, the depositor can select more than one nominee for claiming the deposited money after his/her death. No joint account is allowed in this scheme.
For SDPS, the payment systems in case of maturity of an A/C are as follows-
| | | | |
| --- | --- | --- | --- |
| Amount of monthly installment | Period | Payment in case of maturity of the period | Total payment (Principal+Interest) |
| 100 | 5 (Five) Years | Tk.7,722 | Tk.(500+7,722) = Tk.8,222 |
| 200 | Do | Tk. 15,444 | Tk.(l,000+ 15,444)= Tk. 16,444 |
| 300 | Do | Tk.23,166 | Tk.(l,500+23s166) = Tk.24,666 |
| 400 | Do | Tk.30,888 | Tk.(2,000+30,888) = Tk.32,888 |
| 500 | Do | Tk.38,610 | Tk.(2,500+38,610> Tk.41,110 |
| 100 | 10 (Ten) Years | Tk.22,427 | Tk.(l, 000+22,427) -Tk.23,427 |
| 200 | Do | Tk.44,854 | Tk.(2,000+44,854) -Tk.46,854 |
| 300 | Do | Tk.67,261 | Tk.(3,000+67,261) = Tk.70,281 |
| 400 | Do | Tk.89,708 | Tk.(4,000+89,708) = Tk.93,708 |
| 500 | Do | Tk.1,12,135 | Tk.(5,000+ls12,135) -Tk.l, 17,135 |
 (Source: General Banking Department, Ramna Corporate Branch)
DEMAND DRAFT (DD):
Demand Draft (DD) is an instruction payable on demand. It is a negotiable instrument issued by the branch of a bank containing an order to another branch of the same bank to pay a fixed sum of money to a certain person or order on demand. This instrument can be purchased by a customer from a particular bank branch for himself or for beneficiary and can be handed over to the purchaser for delivery to the beneficiary. The payee or beneficiary will claim the amount of money in the instrument by producing the same to the concerned paying branch. Demand Draft may be paid in cash to the payee on proper identification or the amount may be credited to his account (in case of A/C holder of the bank). Banks issue drafts for a nominal commission. The commission depends upon the amount to be transmitted. The purchaser of the DD needs not to be a customer or account holder of the bank.
MAIL TRANSFER (MT):
The facility of sending money by mail is available to customers having some sort of an account with the bank. The remitter deposits the amount to be transferred with a small commission with the remitting branch. An Advice issued by a branch to another branch for crediting the specified amount to the account of the payee maintained with them. It is a non-negotiable instrument and generally is not handed over to the customer rather sent through Post Office to the concerned branch. Remittance of money by Mail Transfer is relatively cheaper, quite safer and more convenient. Mail Transfer is effective not only for remittances within the country but also for
international remittances. For local MT (say, within the area of Dhaka) a special "MT Register Book" is maintained as in the case like DD.MT normally issued from branch to branch of the same Bank. Normally the Mail Charge is TK.25 for the amount of Tk.50, 000 and above. Below Tk.50, 000 there is such mail charge.
PAYMENT ORDER (PO):
Payment Order (PO) is an instrument that contains an order for payment to the payee only in case of local payment whether on behalf of the bank or its constituents. In the beginning stage, PO was issued only to effect local payments of bank's own obligations. But, at present, it is also issued to the customers, which they can purchase to deposit as security money or earnest money. Payment Order is in the form of receipts and issued by joint signatures of two officials. It ensures payment to the payee as the money deposited by the purchaser of PO is kept in the bank's own A/C named "Payment Order A/C". Payment of this instrument is made from the branch it has been issued. It is not transferable and, therefore, it can only be paid to –
The payee on identification.
The payee's banker, who should certify that the amount would be credited to the payee's A/C.
A person holding the letter of authority from the payee whose signature must be authenticated by the payee.
STOPPED CHEQUES:
In case of stopped cheques, the following formalities are done –
The Accountant keeps the Stopped-Cheques Register' and reserved the pertinent documents.
Immediately on receiving a letter or telegram to stop payment of a cheque, the time of its receipt is noted down in the register under the initial of the Accountant.
The ledger-keeper concerned and the passing officials are also informed immediately.
A "STOP" marking is given in the computerized cash system against the stopped cheque by the computer operator concerned.
OF CHEQUES:
In Ramna Corporate Branch, cheques of its customers are received for collection from other banks. In case of receiving cheques, following points are checked very carefully –
The cheque should not carry a date older than the receiving date for more than 6 months. In that case it will be a 'stale cheque' and it will not be allowed for collection. Again the date of the cheque should not be more than 1 day's forward than the receiving date.
The amount in figures and words in both sides of the pay-in-slip should be same and it should also be same with the amount mentioned in figures and words in the cheque.
The name mentioned in the cheque should be same in both sides of the pay-in-slip and it should be the same with the name mentioned in the cheque.
The cheque must be crossed.
The collection procedure of Sonali Bank ltd. Ramna Corp. Branch can be divided into

three (03)

sections –
CLEARING:
Sonali Bank ltd. is a scheduled Bank. According to the Article 37(2) of the Bangladesh Bank Order, 1972, the banks that are members of the Clearing House are called as "Scheduled Banks". The scheduled banks clear the cheques drawn upon one another through the Clearing House. This is an arrangement by the Central Bank where everyday the representatives of the member banks gather to clear the cheques. The place where the banks meet and settle their dues is called the "Clearing House". The Clearing House sits for two times in a working day.
Ramna Corporate Branch of Sonali Bank ltd. clears its cheques as well as the cheques of other branches, because it is only permitted. The other branches send the instruments through SC (Short Credit Ramna Corporate Branch acts as an agent in this case. On clearing of the cheques, the branch (Dil. Corp. Br.) sends a TRA (Transfer Responding Advice) to the other branches.
CLEAN CASH BOOK:
The Clean Cash Book is the abstract of each day's transactions classified under the General Ledger headings. Clean Cash Book is written to –
Test the arithmetical accuracy of one day's transaction.
Consolidate one day's transaction.
Help position in the General Ledger.
Test the closing cash balance of the branch. The procedures for writing the Clean Cash Book are as follows –
The Clean Cash Book writer must see before taking the total in the clean cash book from the subsidiary books/day books that the books duly checked and authenticated by the authorized officials.
The Clean Cash Book should be checked daily from the subsidiary registers/day books by an authorized supervising official who will agree the entries under each head with the respective registers/day books.
Each morning the Manager will scrutinize the whole of the previous days vouchers.
After the daily balance all vouchers should be collected by the clean cash book writer and handed over to a supervising official who will lock them up over night, under protection from fire, together with all current records
THE GENERAL LEDGER:
After successful completion of the entry in clean cash book, all the balances of the account heads are transferred to the General Ledger which is the final and the most crucial part of accounting system of the branch. The debit side of clean cash book is again transferred to the credit side in the general ledger book and the credit side of clean cash book is again transferred to the debit side in the general ledger. In general ledger, debit figure is written in red colored pen and credit side is written with black colored pen.
A weekly/monthly statement is prepared in F-12 form by the branch and is sent to the Head Office. The figures of F-12 form are collected from General Ledger. The A/Cs kept in the branch's General Ledger are as under –
Sonali Bank ltd. General Account (SBG A/C)
Fixed Deposit Account
Short Term Deposit Account
Savings Bank Account
Call Deposit Account
Current Account
Pay Order Account
Drafts Payable Account
Drafts Payable Ex-advice Account
Demand Loan Account
Cash Credit Account
Foreign Bill Purchase & Negotiable Account
Bills for Collection Account
Forced Loan Against Back to Back L/C Account
Advance Against Merchandise Account
Discount Account
Interest Account
Exchange Account
Commission Account
Charges Account
Profit & Loss Account
Stationery Account