Origin of the report
All over the world the dimension of banking has been altering rapidly due to deregulation, technological modernism and globalization. Now bank must complete the market place both with local institution as well as foreign ones. To survive in this competitive banking world banks entail to develop appropriate financial structure, enlarge professionalism in the sense of developing appropriate manpower structure and expertise and experience.
The internship program is the integrated part of RMBA program of Northern UniversityBangladesh. The student is sent to various organizations where they are assigned to one or more task. The whole course design is not limited within the theoretical boundary but it also extends to the practical exposure through the internship program. During the internship the supervisor guide student from the university.
Masters of Business Administration (RMBA) course requires an internship program of three months attachment with an organization followed by writing a report. I have gotten an opportunity to do my internship program in UTTARA Bank Ltd. Mitford Branch.
 This report will also prove the essential information's how the private commercial banks of the country contribute for the economic development of the country. I have tried my best to utilize the opportunity to enrich my knowledge on banking system and incorporate it with the theoretical course.
Objectives of the Study
The objective of the report is to have a real life exposure in the banking sector. It will help to develop my knowledge in banking sector. The following are the objectives of the practical orientation in bank.
The main objectives of the study are:
To find out the reality in the practical life.
To fulfill the requirement for the completion of postgraduate (MBA) program.
The secondary objectives of this report are
To find out the position of Uttara Bank Ltd. in the banking sector
To analyze the general banking activities of Uttara bank ltd. At Mitford Branch.
Scope of the study
Uttara Bank Limited (UBL) is now well growing and it's containing 211 Branches in Dhaka and outside of the Dhaka. The scope of the study will be limited to the organizational setup, function and operation of the UBL in the Bangladesh. This report mainly encompasses the performance of Uttara Bank Limited in comparison the General Banking. For the purpose of my internship program, I was assigned at Mitford Branch under UBL and this paved me the way to get myself familiarized with banking environment for the first time indeed. I have an opportunity to gather experience by working in different departments of the Branch.
Limitations of the study
This internship report is my first assignment outside our course curriculum in the practical life. I am the student of "The Department of Master of Business Administration" just have completed our formal education stage. After completing the institutional experience, practical performances in the formal stages become difficult. So, in performing this report our lack of proper knowledge greatly influenced in this performance. Besides above, have to face some other limitations are:
Three months time is not enough for such an extensive study. It is very difficult to collect all the required information in such a short period.
Lack of availability of data.
Improper combination among various departments.
Time is a limitation that would mostly with stands a comprehensive on the topic selected.
Up-to-date in formations were not available.
Don't give the data from their source document.
Unwilling to give information more because of extra harassment without their responsibility.
The banker is very busy with their jobs, which lead a little time to consult with.
They are employee so have no eagerness to supply more because of extra hardness.
Due to some legal obligation and business secrecy banks are reluctant to provide data. For this reason, the study limits only on the available published data and certain degree of formal and informal interview.
Category wise export, import, guarantee business, amount and percentage of classified loan originated from the international trade are missing in the report for their restriction.
Methodology of the study
During my study I followed some methodology to find out fact and features of the bank and I also used qualitative and quantitative method which contains some past and present features of Uttara Bank Ltd. Mitford Branch. The information of this report has been collected two sources:
Primary sources of data:
Personal observation.
Face to face conversation of the officers.
Face to face conversation of the client.
Working at different desks of the bank.
Secondary sources of data:
File study.
Annual report of Uttara Bank Limited-2009-2010
Statement of affairs.
Bank rate sheet.
Internet.
Progress report of the Bank.
BANK'S OVERVIEW
Generally by the word "Bank" we can easily understand that the financial institution deals with money. But there are different types of banks such as; Central Banks, Commercial Banks, Savings Banks, Investment Banks, Industrial Banks, Co-operative Banks etc. But when we use the term "Bank" without any prefix, or qualification, it refers to the 'Commercial banks'. Commercial banks are the primary contributors to the economy of a country. So we can say Commercial banks are a profit-making institution that holds the deposits of individuals & business in checking & savings accounts and then uses these funds to make loans. Both general public and the government are dependent on the services of banks as the financial intermediary. As, banks are profit-earning concern; they collect deposit at the lowest possible cost and provide loans and advances at higher cost. The differences between two are the profit for the bank.
Banks play an important role in the business sector and industrialization of a country. Basically bank take deposit from the customers against interest and lend it to the borrower's interest for a certain period. Under this sphere, the bank offers different interest notes and other options to their customers to remit and deposit their money. Most of the common between the banks, only the customer service and other facilities vary.
A Significant growth in the GDP with lower inflation level was attained during the past few years despite a host of adverse external sector developments like south-east Asian crisis and recent global recession and various domestic adversities including devastating floods.
In the background of liberalization of the economic policies in Bangladesh, there are many government banks, semi government banks, private and foreign bank. Uttara Bank Ltd is one of the large and leading private commercial sector banks in Bangladesh.
Development of banking in Bangladesh
Bank system was practical in the Indian subcontinent from the ancient period. In Indian subcontinent merchants, goldsmith moneylenders were the primary bankers. During the Moghel period banking and credit business was enchanted rapidly. Then the agency house of Jagth Seth was similar to the merchant house of Lombardy Street. In 1700 AD "Hindustan Bank" was established as the first joint stock bank. In 1784 "Bengal Bank" and in 1786 General bank of India was lunched. Then both the bank absolved respectively in 1793 and 1832.
During the early period of nineteenth century in 1806 "Bank of Bangla" in 1840 "bank of Bombay" and in 1843 "Bank of Madras" was established. These Banks were called presidency Bank. Then in 1920 these three banks merged to "Imperial Bank of India". In 1947 after the separation bank business in our country faced a severe disaster as non Muslim Bank left to India. Then 'Reserve bank of India" acted as the 'Central Bank of Pakistan" in 1948 to rebuild the Bank Business "State Bank of Pakistan" was established as central bank of Pakistan.
In 1971 Bangladesh become independent. After liberation "Bangladesh Bank" was automated with the assets and liabilities of former "State Bank of Pakistan". It is the central bank of Bangladesh. During Pakistan period in our country there were 1090 branches of 12 commercial bank. Three foreign banks were also active with 14 branch offices. Before liberation 80% of banking activities of our country was controlled by Pakistan. Consequently Bangladesh traders and industrialists didn't get notable help from the Commercial bank. After liberation reformed the destroyed economy on 26th March 1972 the banking sector of Bangladesh was nationalized. After nationalization government of Bangladesh changed the entire bank to six banks which are Sonali bank, Rupali Bank, Janata bank, Agrani bank, Pubali bank,& Uttara Bank. But the last two banks have been handed over two private sectors. From 1983 lot of private banks are establish and they playing their role in development of trade and commerce of Bangladesh as well as in the development of country.
Banking structure in Bangladesh
Banking system of Bangladesh comprises of different types of banks and financial institutions. The name of our central bank is "Bangladesh Bank" it is the director and regulator of banking system of Bangladesh. Banking structure in Bangladesh is briefly described below.
Bangladesh Bank is the central bank of Bangladesh. It is director of money market in Bangladesh. It regulates the activities of other banks Bangladesh through credit control, exchange control etc
Commercial bank both the public and private sectors of commercial bank are active in Bangladesh. There are 4 nationalization commercial bank- Sonali Bank, Rupali Bank, Janata bank, Agrani bank.
In 1983 priority gives on private sector of banking business. As a result to nationalize bank was handed over to private sector, which are Pubali and Uttara bank and now Rupali bank is supposed to hand over in the private sector.
Now in our country a large number of private banks are doing banking Business.
Vision, Mission & Strategies
Vision of the Uttara bank Ltd.
The Uttara Bank Ltd vision is strived to achieve superior financial performance in Bangladesh. Other vision are:-
To contribute the socioeconomic development of the country.
Try to encourage savings in the form of direct investment.
To establish and maintain the modern banking techniques, to ensure the soundness and development of the financial system.
To ensure optimum utilization of all available resources.
To establish relationship banking and improve service quality through development of strategies marketing plans.
Mission: To build Uttara bank limited into an efficient, market driven, customer focused institution with good corporate governance structure. Continuous improvement in our business policies and procedures, cost reductions through interaction of technology at all levels. To encourage socio-economic uplift and financial services to the low income community particularly in the rural areas in Bangladesh.
To manage and operate the Bank in the most efficient manner to enhance financial performance and to control cost of fund
To strive for customer satisfaction through quality control and delivery of timely services
To identify customers' credit and other banking needs and monitor their perception towards our performance in meeting those requirements.
To review and update policies, procedures and practices to enhance the ability to extend better service to customers.
To train and develop all employees and provide them adequate resources so that customers' needs can be reasonably addressed.
To promote organizational effectiveness by openly communicating company plans, policies, practices and procedures to employees in a timely fashion
To cultivate a working environment that fosters positive motivation for improved performance
To diversify portfolio both in the retail and wholesale market
To increase direct contact with customers in order to cultivate a closer relationship between the bank and its customers.
UTTARA BANK HEAD OFFICE
Graph 01: Hierarchy of Uttara Bank Head Office

Zones of Uttara Bank Ltd.
Graph no 03: Zones of Uttara Bank Ltd.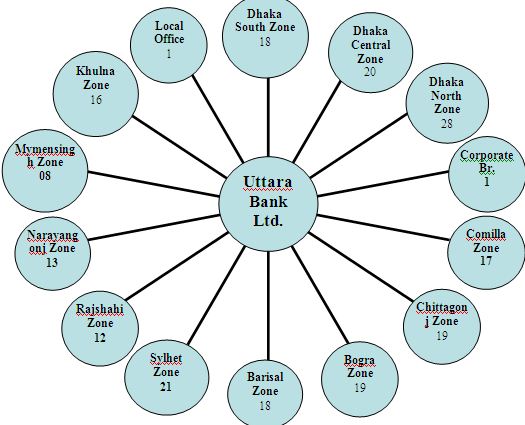 Highlights on the overall activities of UBL
UTTARA BANK LIMITED
      Highlights on the overall activities of the Bank for the year  ended 2010 and 2009

 
 
 
 
 
 

Sl.

Particulars 

2010

2009

Change in

No.

Taka

Taka

%

1

Paid-up-Capital

          2,395,977,600

     1,597,318,400

50

2

Total Capital (Teir -I+II)

          7,920,588,892

     5,829,047,757

36

3

Capital surplus/(Deficit)

          1,633,188,892

     2,140,806,757

-24

4

Total Assets

        81,451,822,803

    71,945,998,489

13

5

Total Deposits

        65,868,030,947

    59,387,263,182

11

6

Total Loans & Advances

        48,672,687,127

    39,451,355,571

23

7

Total Contingent Liabilities

          9,377,588,319

     8,560,482,934

10

8

Advance/ Deposit Ratio

0.74:1

0.66:1

12

9

Percentage of Classified Loans against total Loans & Advances

5.50%

7.20%

-24

10

Profit after tax & provision

          1,551,880,726

     1,105,226,569

40

11

Amount of classified loan during current year

             925,300,000

     1,038,900,000

-11

12

Provision kept against classified loans

             391,983,437

        475,526,169

-18

13

Provision surplus /(deficit)

               28,072,927

          20,443,169

37

14

Cost of Fund (%)

4.74%

4.94%

-4

15

Interest earning Assets

        65,036,584,230

    59,741,714,627

9

16

Non-interest earning Assets

        16,415,238,573

 

    12,204,283,862

35

17

Return on Investment (ROI) %

11.87%

 

8.18%

45

18

Return on Assets (ROA)%

1.91%

1.54%

24

19

Income from Investment

          2,206,593,581

     1,840,039,983

20

20.a

Earning per Share (before split)

                       64.77

                  69.19

-6

20.b

Earning per Share (after split)

6.48

4.61

41

21

Net income per Share (after split)

6.48

4.61

41

22

Market value per share (before split)

1660.75

1450.25

15

23

Price Earning Ratio (Times)

25.64

20.96

22

24

Net Assets value per share (after split)

35.94

38.86

-8
Performance Analysis of UBL
Directors of the UBL expressed its satisfaction in the 27th Annual report of the Bank for the year ended on December 31, 2009. The overall achievement attained by the Bank in a competitive socio-economic has been reflected in the report. Despite intense competition among the local and foreign Banks and Non-Banking Financial Institutions for cash flow
And increasing highly profitable assets, Uttara Bank Ltd. succeeded in closing the year 2009 with remarkable progress in every sphere of its activities. The Bank earned ever-highest operating profit during the year 2009 through significant improvement in all areas of its operation which among others includes deposit mobilization. Credit management, investment, remittance and foreign trade business. The bank earned an operating profit of TK 200.62 Core during the year 2009.
Asset
Total asset of the bank stood at Tk.52, 860.3 million at the end of year 2009. It is showing an increase of 16.9 percent as against that of 2008. Because in 2008, total asset was 45,217.0 million. The increase in asset was mainly driven by significant growth of loans and advances, investment and balance with Bangladesh Bank.
Deposit
The deposit of the Bank registered an increase of 10.74 percent during the year under review. At the close of 2009 total deposits stood at Tk 43,586.4 million against Tk 39,360.2 million in the previous year. The deposit mix comprised Tk 11,977.9 million as demand and Tk 31,608.5 million as time deposit. Average deposit per Branch stood at Tk 210.6 million at the end of the year 2009 as compared to Tk 195.8 million in the previous year.
Investment
The investment of the Bank stood at Tk.14, 455.8 million at the close of the year 2009 showing an increase of 51.44 percent in comparison to that of the previous year. The bank as a primary is to purchase the unsold Bond/Bill which is put to auction in order to keep underwriting commitment. As a result the investment in Bond and Treasury bill increased. Besides one of the investment activities of the bank maintenance of Statutory Liquidity Reserve (SLR) which mainly comprises Government Treasury Bond and Treasury Bill (HTM) of different terms, National prize Bond, Government approved Debenture and ICB shares. The investment total Tk.14, 381.9 million in Government securities in 2009.
Corporate social Responsibility of UBL
Uttara Bank limited embraces a culture of continues involvement to fulfill our corporate social responsibility. We have a deep commitment, loyalty and a high sense of responsibility to our nation and its people. Uttara bank limited conforms to all the stringent regulations issued by the Government and the Bangladesh Bank. As part of our corporate social responsibility bank contributes greatly to the nourishment of the country's all types of calamities, arts, culture, and sport. As part of its strong commitment to upholding corporate social responsibility, bank donated TK.10 Million to Chief Advisor's Relief Fund to help the massively distressed People who were affected by flood & devastating cyclone "Sidre" in 2007
Introduction of UBL, Mitford Branch
Uttara Bank Limited, Mitford Branch is situated at Mitford area. The Mitford Branch was established in 1983 September 15. The bank is designed second floors. It has been providing banking service for the customer of Mitford area.
Objective:
To provide Banking service to the people within the commanding area.
To keep position in the competitive market
To contribute in profitability of UBL.
Department of the Branch:
Account opening department.
General Banking department.
Cash department.
Investment department.
Foreign trade department.
Clearing department.
Product of UBL, Mitford Branch
Deposit Modes:
Fixed Deposit
Double Benefit deposit Scheme
Double Pension Scheme
Monthly Deposit Scheme
Bearer Certificate of Deposit
Short Term Deposit
Saving Bank Deposit
Current Account
Foreign Currency Deposit
Remittance:
Pay Order
Demand Draft
Telegraphic Transfer
Mail Transfer
Foreign Exchange Service:
Express Money
Money Gram
Instant Cash
SWIFT Service
International Money Order
Investment Modes:
Demand Loan (House Building/Apartment)
HouseBuilding General
HouseBuilding Commercial
Agricultural Loan (Production)
Lone to primary Procurers
Lone for Tea Crop Production
Term Loan
Small Industries
Medium Industries
Large Industries
Export Financing
Ready Made garments/others
Jute production and others
Commercial Loan
Financing toward the Agro based Businessman
Loan to Agricultural Inputs Traders
Fertilizer Dealers/Distributors
Jute trading
Others Loan
Lone against FDR
Lone against DPS
Other Loans and Lease service:
Over Draft
Micro Credit
Export Credit
Import Credit
Bills Purchases
Loan on Security
Loan on Secured Mortgage
Payment Against Document
Loan Against Imported Merchandise
Export Development loan
Foreign Exchange Modes:
Export Development Loan
Foreign Exchange Modes:
FCAD Account (Foreign Currency Account Deposit)
NFCD Account (Non Foreign Currency Account Deposit)
RFCD Account (Residential Foreign Currency Account Deposit)
Account opening Section
I have started my internship work with responsibility of Customer Service Officer. I was assigned to work with account opening department. In a whole day I had to open 5 accounts. Customer account opening is a lengthy process. If the customers have the documents that she/he is needed to open that particular; he or she must fill an account correctly. If there is any problem found in the fulfillment of the form is wrongly filled, the form will be return on next day. So the form must be filled correctly. If all the things are right, the CSM give the permission to open the account. They have to fill up a KYC (Know Your Customer) Form to have more idea about the customer. The main purpose of this form is to give all necessary information regarding the account, like the charges, benefits and if any specific inquiry the customer ideas. I also open FDR account, DPS, different type of account like-
Short Notice deposit Account
Saving Account
Current account
Other Deposit Scheme Accounts
Clearing Section
I have worked total more than 15 days in this section. The main responsibilities was received several cheques from their clients. I also attached in the front side of the cheque clearing seal and at the back side endorsement seal. My responsibility to ensure account number, account holder name, which bank's cheque etc. After confirming this I sent this cheque to my boss. He was responsible for completing the other tasks.
Provide Information of All type of Customer Query
I also provided information to all type of customer queries. Each day many people come to the branch with various types of problems. I tried my best to give them the proper information and try to solve their problem. Some of the information like account opening requirements, DPS & FDR related information, give instruction for address change, signature change and mandate instruction, nominee change and account closing information, DPS closing information, FDR closing formalities, pay order, document issue and all type of queries.
Verification of Signature in Different Issue
Verification of signature is very important for banking transaction. Because one of the important proves to be an account holder is the signature. It was also a risky issue. I used to verify signature for different issues like for balance inquiry, stop payment instruction, address change, nominee change, signature change, cheque book delivery etc.
Payment Order Issue
Pay Order is an instrument, which is used to remit money with in a city through banking channel the instruments is generally safe as most of them are crossed. I issued more then 5 to 6 pay order in each day. At first customer is supplied with PO form. After filling the form the customer pays the money in cash or by cheque. The concerned officer then issues PO on its specific block. This block has three parts, one for bank and other two for the customer. 'A/C Payee' crossing is sealed on all pay orders issued by the bank with authorized officer's signature in the block. At the end PO is provided to customer.
Demand Draft Issue
The Demand Draft is a written order by one branch of a bank upon another branch of the same bank to pay a certain sum of money to or to the order of a specified person. This is an order instrument in which the issuing branch gives instruction to the payee branch to pay certain amount of money to the order of certain person/firm/ organization. I issued more than 5 to 6 demand draft in each day. At first Customer is supplied with DD form. After filling the form the customer pays the money in cash. Then I give entry in the DD register book.
Telegraphic Transfer Issue
It is an instruction duly tested sent by telex/telegram/telephone/express mail etc. to the drawer branch for paying a certain sum of money to a specific person. This mode of transfer of fund may be affected at the written request an account holder of the branch and against value received from him. It is preferable to obtain a confirmatory cheque from the customer. I issued more than 5 to 6 telegraphic transfers. At first Customer is supplied with TT form. After filling the form the customer pays the money in cash. Then I give entry TT registry.
Receiving & Sending Letter
I received different types of letter from different organization like other banks which I records in inward book. I also send different types of letter to the different organization which I record in the outward book.       
General Banking Activities
General Banking Department usually performs a lot of important banking activities.
General banking department is that department which is mostly exposed to the maximum number of bank customers. It is the introductory department of the bank to its customers. All business concerns earn a profit through selling either a product or a service. A bank does not produce any tangible product to sell but dose offer a variety of financial services to its customers Mitford Road Branch of UBL has all the required sections of general banking and these sections are run by manpower with high quality banking knowledge. Hence, a touch of rich customer service is prevailing in the branch.
The overview of Mitford Road Branch given below:
Table no 07: Overview of Mitford Branch
Particulars
Description
Date of Opening
15/09/1983
Opened by
Managing Director of UBL
Total Deposit as on 31.12.2010
188484000 TK
Total Loans and Advances as on 31.12.2010
207381000 TK
Total Operating Income as on 31.12.2010
27924530 TK
Total No. of Deposit A/C. As on 06.06.2011
Current Account-1332
Savings Account-1051
DPS-2682651Total no. of Employee (Officers and Staffs, as on 06.06.2010)11
Ref : 07 Overview of Mitford branch
   In UBL the following departments are under general banking section:
Account opening department.
Local remittance department.
Cash department.
Clearing department.
Collection department
Loan and advances.
In the following chapters brief discussion on the above departments are presented respectively.
Aims and Objectives of Mitford Branch
The basic objectives of Mitford Branch, UBL bank Ltd. can be stated below:
To contribute in achieving the ultimate goal of Uttara Bank Ltd.
To conduct their activities at lower interest in market.
To make investment through different modes permitted under Bangladesh Bank.
To establish the banking on debtor-creditor relationship.
To   establish a welfare-oriented banking system.
To extend co-operation to the poor, the helpless and the lower-income group for their economic enlistment.
To contribute towards balanced growth and development of the country through investment operations particularly in the less developed areas.
 Target Customers of Mitford Branch
Due to the predecessor Company's involvement investment financing sector of the country the bank inherited its top corporate customers. Moreover the bank is involved in import trade financing. Bulk importers of consumer durable, food gains industrial raw materials are its customers. The bank has financed in textile and apparels sectors. The bank has first class customers in the construction sectors involved in high-rise building, heavy construction and roads and high way construction.
Like other branch of UBL, this branch has some target customer and they are:
Individual Person.
Sole Proprietorship firm.
Partnership firm.
Private Limited Company.
Public Limited Company.
Government and Semi Government Organization.
Bank Employee.
Account Opening Department
 The relationship between a banker and his customer begins with the opening of an account by the former in the name of the latter. Initially all the accounts are opened with a deposit of money by the customer and hence these accounts are called deposits accounts. Banker solicits deposit from the member of the public belonging to different walks of life, engaged in numerous economic activities and having different financial status. There is one officer performing various functions this department.
The following are the main functions performed by the department:
 Accepting of Deposit
Opening of Account
Cheek Book Issue
Transfer of an Account
Closing of Account
Account Transfer
Accepting of Deposit
Deposit are life- blood of a commercial bank. Without deposits there are no businesses for the commercial bank of any nature (NCBs , PCBs or FCBs). In this branch the various types of accounts are offered to various customers, which are grouped into:
Demand deposit account.
Time deposit account.
Fixed deposit account.
     The amount in accounts are payable on demand so it is called demand deposit account. The following accounts are under demand deposit accounts;
Current account.
Savings account.
Special Notice  Deposit (SND)
1. Current account
   This types of account is opened by both individuals and business concerns. Frequent transactions (deposit as well withdrawal) are allowed in this type of account a / c holder can draw cheques on his account for any amount for any numbers of times in a day as the balance in his account permits. This account provides no interest. The minimum balance to be maintained is Tk.2000. No new account can be opened with a cheque.
Savings Account
     Individuals for savings purposes open this type of account. Current Interest rate of these accounts is 4.50 % per amount. A minimum balance of Tk. 1000 is required to be maintained in a SB account interest on SB account is calculated and accrued monthly, and credited to the account half yearly. Interest calculation is made for each month on the basis of the lowest balance at credit of an account in that month. A depositor can withdraw from his SB account not more then twice a week up to an amount not exceeding 25 % of the balance in the account.
Opening Procedure
     For opening such A / C, application in the prescribed form along with a set of specimen signature duly verified by a reputable bank of any other person known to the bank. In case of persons, already maintain any F.C A/C or N.F.C.D A/C with them, reference to that F.C A/C will serve, the purpose of introduction, the branch may verity the signature from the specimen signature and already available with them. Only one such F.C A/C can be maintained and the balance in the A/C should not exceed $30.000/- or equivalent pound sterling at any one time. The A/C holder is also required to submit photocopies of passport, visa, and work permit / contract. As this is a current account no Internet is paid to the A/C holder.
Time Deposit Account
The amount in this a/c is payable only after stipulated time. The following a/c's are under time deposit a/c:
Fixed Deposit which are repayable after the expiry of fixed period and are negotiable. Bearer Certificate of deposits (BCD), which are repayable after expiry of fixed period but are negotiable. These are not renewable. Nonresident Foreign Currency deposits are term deposit maturing after 1 month, 3 month, 6 month and 1 year. This a/c's can be opened either in U.S. dollar or pound sterling. No interest is paid in case of premature encashment.
→ These are deposit, which are made with the bank for a fixed period specified in advance. The band need not maintain each reserve against these deposits and therefore, bank gives high rate of interest on such deposits. A FDR is issued to the depositor acknowledging receipt of the sum of money mentioned therein. It also contains the rate of interest and the date on which the deposit will fall due for payment.
Opening of Account
It includes the following stages:
Account opening procedure
Classification of customer
   1.Account opening procedure
Persons over 18 years (except some restricted persons)
Commissioner Certificate / ID. Card / Pass port Copy / Voter  ID. Card
Two Copies A/C opening person's Photo
Nominee's Photo one copy (Major / Major)
Introducer
Valid Signature
KYC (Know Your Customer)
TP (Transaction Profile)
Money Laundering Paper's Signature
TIN certificate
Resolution Copy (For Company A/C)
Current Account:
Application Form F-1
Specimen signature card F-12 A
Two (2) copy of passport size photograph.
Letter of Authority F-10 (In case of operation by third party)
Current account survivorship form F-7
Either or survivorship agreement F-8
Photocopy of passport/certificate of employer/certificate of chairman or commissioner.
TIN certificate if available
Partnership Firm:
Application Form F-2
Specification signature card F-12A
Letter of authority /mandate in case of operation by other than proprietor /partner F-10
Up to date Trade license
Partnerships letter F-9/partnership deed (registered/unregistered)
Power of attorney in case operation of account by manager or agent
Photographs of the operator
Firm seal.
Limited Company:
 Application Form F-3
Specification signature card F-12A
Memorandum of association
Certificate true copy of articles of association
True copy of certificate of incorporation.(gives the prove of the existence of the Co.)
Prospectus (if possible)
Certificate of commencement of business
Resolution of the company
List of existing director and recent in formations of  A/C operators as stated under sl no-4A
Balance sheet
List of 1st Director and changes of directors
Seal of the company
Copy of charter of the statutory body/corporation
Photographs of the operator
Classification of customers
    It includes the following:
Proprietorship (Sole traders)
Partnership firms (Registered or Unregistered)
Joint stock Companies ( Private Limited companies/ Public Ltd.)
Public sector Corporations
Clubs / Societies / Associations / School / Collages / Universities etc.
Executors / Administrators
Trustees
Illiterate persons
Constituted Attorney
Wage Earners.
Issue of Chequebook
Fresh chequebook is issued to the account holder only against requisition on the prescribed slip attached with the chequebook issued earlier, after proper verification of the signature of the account holder personally or to his duly authorized representative against proper acknowledgment.
Issue of Duplicate Chequebook
Duplicate chequebook in lieu of lost one should be issued only when an A/C holder personally approaches the Bank with an application Letter of Indemnity in the prescribed perform agreeing to indemnify the Bank for the lost chequebook. Fresh cheque Book in lieu of lost one should be issued after verification of the signature of the Account holder from the specimen signature card and on realization of required Excise duty only with prior
Approval of manager of the branch. Cheque series number of the new chequebook should be recorded in ledger card signature card as usual. Series number of lost chequebook should be recorded in the stop payment register and caution should be exercised to guard against fraudulent payment. Account Transfer.
The customer submits an application mentioning the name of the branch to which he wants the account to be transferred. His signature cards, advice of new account and all relevant documents are sent to that branch through registered post with acknowledgment the balance standing at credit in customers account is sent to the other branch through Inter Branch Credit Advice (IBCA).
Closing of Account
The following circumstances are usually considered in case of closing an account or justifying the stoppage of the operation of the operation of an account: Notice given by the customer himself or if the customer is desirous to close the account.
Death of the customer.
Customer's insanity and insolvency.
Self.
Account Transfer        
 Customer has to submit an application mentioning that he / she wants to transfer his / her A/C to his desired Branch and the officer will verity the signature, Customer has to be certified by different department of Bank that he / she has no liabilities to the bank. Then total particulars of A/C holder will prepare and sent to the Customer's desired branch. Liability of recognizer is secondary and account holder is primary.
Local Remittance Department
UBL has its branches spread throughout the country and therefore, it serves as best mediums for remittance of funds from one place to another. This service is available to both customers and non- customers of the bank. The department, which provides the facility, is known as local remittance department.
The following are the local Remittance Department. The following are the main functions performed by the credit department:
Issuing & Payment of Demand Draft.
All related correspondence with other Branches & Banks
Compliance of Audit & Inspection
Balance of D.D. payable & D.D. Paid advice
Attached to Sanchaya  patra and Wage Earners Development Bonds.
payment of Incoming TT.
Issuing, encashment of pay Order and maintenance of record and
Proof sheet.
All related statement % correspondences with Bangladesh bank and other branches.
Issuance of Local drafts
issuing and encashment of BCD.
All related correspondences.
Issuing of Outgoing TT.
Issuing of Local Drafts.
Issuing of T.T  ICA. IBCA & IBDA.
Transaction Types
1) Collection of Cheque
       Up to Tk. 25,000 @. 15%, minimum Tk.25 plus vat.
       Above  Tk.25,000-1, 00,000, @ 15% Minimum Tk.100 plus vat.
       Above 1,00,000-5,00,000 @ 10% Minimum Tk. 200 plus vat.
       Above 5,00,000 @ .10%, Minimum Tk.750 Plus vat-Maximum TK 1500 plus vat
2) Demand Draft (D.D)
Local Draft is an instrument containing an order of the Issuing branch upon another branch branch known as drawee branch, for payment of a certain sum of money to the payee or to his order on demand by the beneficiary presenting the draft itself.
By DD any person can send money from one branch to another branch of NCCBL. To send the money he/she must fill up the NCCBL's prescribed form of DD and paid charge/ commission and receives DD block. The following information is included in the DD block:
Name of the sender branch.
Name and account of the party who receives the money.
For security purpose a confidential test number are included in the DD block.
Amount of money to be transferred.
Name of receiver branch.
The sender sends this block to the receiver branch of DD. When this DD block is received by the receiver branch, the authorized officer of the receiver branch tests the DD confidential number and if the test number is proofed then he/she gives the money to the payee.
Telegraphic Transfer
Telegraphic Transfer is the most repaid and convenient but expensive method. There are different modes of telegraphic transfer such as Fax, Mobile, Telephone Telex, and Telegram.
If an applicant wants to transfer money quickly to the pay in another city or district he/she may request the banker to send it by TT.
The Process of Telegraphic Transfer (TT):
To send money urgently UBL may be requested for TT on payment of a nominal charge and telegram charge.
Any person urgently sends money from one branch to another branch within UBL through TT.
When a message of TT sends through phone from one branch to another branch in that time the message received by the authorized officer who has a right of power of attorney. After that, he/she fills up the TT form.
Following things are included in the TT form:
TT number
TT test number
Name and account number of the payee
Power of attorney number of the sender and receiver of TT
The amount to be transferred
After fill up the TT form, he tests the number of TT. If he ensures through testing the test number then he credits the account of the payee. On the other hand, if the test number is not proved then he calls back to the sending branch of TT and request to send a new TT.
Table No 10:Telegraphic Transfer
| | | | | |
| --- | --- | --- | --- | --- |
| Months | TT issue number | TT issue amount Tk | TT payable number | TT payable amount TK |
| March | 2580 | 21360500 | 2568 | 165895995 |
| April | 2490 | 20054236 | 2356 | 155706846 |
| May | 2745 | 24376589 | 2630 | 177853540 |
Ref: Telegraphic Transfer Issue & Payable Register of UBL at Mitford Branch
Clearing Department
According to the Article 37 (2) of Bangladesh Bank Order, 1972, the banks, which are the member of the clearinghouse, are called as Scheduled Banks. The scheduled banks clear the chouse drawn upon one another through the clearinghouse. This is an arrangement by the central bank where everyday the representative of the member banks gathers to clear the chouse. Banks for credit of the proceeds to the customer's accounts accept cheque and other similar instruments. The bank receives many such instruments during the day from account holder. Many of these instruments are drawn payable at other banks. If they were to be presented at the drawer banks to collect the proceeds, it would be necessary to employ many messengers for the purpose. Similarly, there would be many chouse drawn on this the messengers of other banks would present bank and them at the country. The whole process of collection and payment would involve considerable labor, delay, risk and expenditure. All the labor. Risk, delay and expenditure are substantially reduced, by the representatives of all the banks meeting at a specified time, for exchanging the instrument and arriving at the net position regarding receipt or payment. The place where the banks meet and settle their dues is called the Clearinghouse 
Functions of the Department
   The following are the main functions performed by the department:
        ► Pass outward instruments to the clearing-house.
        ► Pass inward instruments to respective department.
        ► Return instrument incase of dishonor.
        ► Prepare IBCA or IBDA for the respective branch and HO.
        ► Accounting Entries of Clearing Department.
Collection Department
1.     Clearing :
As far safety is concerned customers get crossed cheque for the transaction. As we know crossed cheque cannot be encased from the counter rather it has though been collected through banking channel i.e. clearing. A client of UTTARA Bank received a cheque of another bank, which is located with in the clearing range deposit, the cheque in account at UTTARA bank. Now UTTARA bank will not pay the money until the cheque is honored.
2.     Transfer Delivery:
Transfer delivery is a cheque collection procedure among internal branches within the Clearing House. When a cheque is of a Branch Office is deposited to another Branch Office
Then collecting branch on that date sends cheque to their, Local Office, Sends that cheque to that respective branch and takes necessary action for honoring cheque. If the cheque is dishonored then authorized branch send the cheque to the local office and Local Office send that cheque to the collecting branch on the collection data.
Here Clearinghouse function is not required because transactions occur among the same branch of same Bank within the Clearing House.
3.     Cheque is of a some Branch of UTTARA Bank:
 If the cheque is of a branch office of a bank (within the Clearing House of same city)
Then the collection branch sends the cheque to the authorized branch / drawn on branch and issues an IBCA to the collecting branch.
On the other hand, if the cheque is of another Bank ( outside of Clearing House to another city) then cheque collecting branch will find out whether any branch office of the colleting branch situated near to Authorized branch.
If yes, then cheque collecting branch will send the cheque to the branch office near Authorized branch, that branch (near Authorized branch) office collect the cheque from drawn branch and issues an IBCA.
If not, then the collecting branch will send that cheque to the Authorized branch, after that Authorized branch will send a DD with mentioning the name of their branch office near collecting branch and collecting branch will collect that cheque there by.
4.     Outward Bills for Collection (OBC)/Short collection (SC) :
Customers deposit cheque draft etc for collection attaching with their deposit sleep. Instrument within the range of clearing are collected through local clearing house but the other which are outside the clearing range are collected through OBC mechanism. A customer of UTTARA bank principal branch local office Dhaka is depositing a Cheque of Sonali bank Cox's-Bazar. New as a collection bank Uttara Bank principal branch will perform the following task.
Received seal on deposit slip.
Uttara Bank local office principal branch crossing indicating them as collecting bank.
Endorsement give payees A/C will credit on realization.
Entry on register from where a controlling number is given.
Collecting bank can collect it either by its branches or by the drawer's bank they will forward the bill then to that articulate branch. OBC number will be given on the forwarding letter.
5. Inward Bills for Collection (IBC):
 In this case bank will work as an agent of the collection bank branch receives a forwarding letter and the bill. Next steps are:
Entry in the IBC register, IBC number given.
Endorsement given-"our branch endorsement confirmed".
The instrument is sent to clearing for collection.
Miscellaneous creditor A/C.
Now following procedures will take place in case of the following two case.
6. Credit Transaction:
    When branch requests another branch ( of the same bank) to pay  a certain amount against any instrument ( cheque, DD etc ) and become liable to that bank, issues a IBCA to that branch and these transactions are recorded in the Credit side of IBCA A/C serially.
7. Debit Transaction:
When some cheque or any sort of financial instrument of another branch are deposited in a branch and this branch pays those instruments on behalf of authorized in the Debit side of IBDA A/C.
 Responding Branch : When a branch responds against an IBCA or an IBDA that branch is called Responding Branch
8. Credit Transaction:
Cheque are deposited for payment in the a branch that branch sends those cheque sends those cheque or other financial instruments collecting branch makes payment against those financial instruments, before paying this branch as originating Branch sends an IBDA to the Authorized Branch / Responding Branch.
If those financial instruments are dishonored then respective parties are not paid and authorized Branch / Responding Branch again sends an IBDA to the Originating Branch. These returned financial instruments advice are recorded in the Credit side of the IBCA A/C.
9. Cash:
Cash section demonstrates liquidity strength of a bank. It also sensitive as it deals with liquid money. Maximum concentration is given while working on this section. As far as safety is concerned specials is also taken. Tens situation prevail if there is any imbalance in the case.
10. Teller Customers Relationship who delivers and receives cash from the cash counter is known as teller a customer meets most of the time in a bank with a taller on the counter. So teller should hold certain quality should be friendly, provided prompt service and be accurate in his task.
11. Cash Packing and Handling:
Cash packing and handling needs a lot care as any mistake may lead to disaster. Packing after banking hour when the countries closed each is packed according to denomination. Notes are counted several times and packed in bundle Stetted and stumped with initial.
Loans and Advance
Uttara Bank Limited is a scheduled commercial bank. Through financial intermediation the bank seeks avenues for employment of its funds where: (a) there is a profit, (b) risk is minimal; and (c) the cost of administrating is low.
Categories of loans offered by UBL
    ► Agriculture
    ► Large and medium scale industries Export
    ► Other commercial lending (jute and fertilizer)
    ► Small and cottage industries > Consumer Loan
    ► Personal loan
    ► SME (Small of Medium Enterprise)
    ► House Repairing of Renovation Loan (HRL)
Some other loans are:
a) Housing loans b) Commercials  c) Transport  d) cold storage  e)Brick field f) Gold loans  g) Against work orders  h) Against (FDR)  i) Loans against Sanchaypatra j) Loans against WEBD, ICB, unit certificate  k) Others special program.
Table no 13: Loan
| | | | |
| --- | --- | --- | --- |
| Loan | Number of Loan | Amount TK | Recovery Amount TK |
| March | 31 | 37593000 | 506000 |
| April | 31 | 36106000 | 1487000 |
| May | 31 | 35626000 | 480000 |
Ref: Delivared by Manager of UBL at Mitford Branch
Foreign Remittance:
 UBL is the member of Money Gram and SWIFT networks. Using the services of this global network, non-resident Bangladesh nationals can send money from abroad to their home country within a few minutes without any risk. UBL has also arrangement with foreign exchange companies like UAE Exchange Co., Redha –Al-Ansari Co.etc.
Money Gram:
Money gram is represented in over 115countries and is available at more than 25,000 locations worldwide. In the USA alone Money Gram is available at more than 15,000 locations. Besides, in the UK Money Gram is available through 1700 Postal Branches and 500 Thomas Cook travel shops making is the UK's largest money transfer network. Finally using the Money Gram service could not be simpler. All one has to do is to visit a conveniently situated Money Gram agent anywhere in the world and to hand over the money they want to send their relatives or friends along with the one-off transaction fee:
Sender completes a "send" form and gets a receipt. Money Gram Agent gives a Ref. No. This has to be passed to the receiver.
UBL makes an enquiry on the Money Gram computer network to obtain authorization to pay recipient and recipient receives the fund.
Money Gram is one of the fastest ways to transfer money. Customers using Money Gram can send or receive money usually within 10 minutes from anywhere in the world.
Beside this customer can also get remittance from:
X-press money
AFX (AL-FARDEN Fast Reemit)
Habib Qatar
Placid Express
Table no 14: Remittance
| | | |
| --- | --- | --- |
| Months | Number of Remittance | Amount |
| March | 23 | 611724 |
| April | 25 | 852936 |
| May | 21 | 649361 |
Ref: Remittance Register of UBL at Mitford Branch
Findings
In order to improve the service quality customers expressed different opinion from their point of view. I can scrutinize their opinion, which is the gist of their suggestions. They have to take some steps to improve the service quality. More branches should be opened in Dhaka city and in other cities of the country. They will have to start consumer credit scheme and other schemes that will help the consumer. It is badly needed to provide modern banking services such as Credit Card, ATM Card, Visa Card etc. Uttara Bank Limited is providing better service comparing to other private banks. In the near future some new banks are going to be opened. So in order to complete in the market Jamuna Bank Limited should be very careful about their service. They will have to improve service quality and provide more facilities.
Findings in different sections of the Bank
General Banking Department
According to some client's opinion, introducer is one of the problems to open an account. If a person who is new in the city wants to open an account it is a problem for him/her to arrange for an introducer of SB or CD accounts holder.
Foreign Exchange Department
Modern technical equipment such as Fax machine is not sufficient in foreign exchange department. As a result the exchange process makes delay and it is also complicated.
Investment Department
Sometimes the securities taken against the loan are deliberately overvalued by the employee to unlawfully help the client. As a result if the client fails to repay the loan the bank authority cannot collect even the principal money invested by selling of those assets. It is also very important factor that leads to loan default.
The investment department takes a long time to process a loan.
Commendations
Banking is service-oriented marketing. Its business profit depends on its service quality. That's why the authority always should be aware about their service quality.
To provide quality service to the customer it is necessary to have a trained team of an organization or an institution. For this reason the bank should recruit fresher, bright, energetic persons such as MBA, BBA and MBM etc.
Bank should offer more facilities to the customer such as Credit Card, Visa Card, Master Card, ATM machine etc.
One of the business strategies is promotion. Successful business depends on how they can promote their products or services to the customer. In this connection to improve the business status bank should introduce more promotional programs.
As the clients are not in favor of introducing system, if possible the rule of introducing to open an account should be changed. Because they face in many problem to arrange an introducer at the time of opening accounts.
SWOT Analysis:
SWOT is an acronym for strengths, weaknesses, opportunities, and threats. SWOT analysis is a potent tool for evaluating a bank's internal strengths and weaknesses and its external opportunities and threats. Such an analysis provides a clear understanding of a bank's strategic situation, and therefore, enables it to formulate its strategy that must result in an effective match between its internal capability (its strengths and (weaknesses) and its external situation (reflected partly in its opportunities and threats).The Bank's strength and competitive capabilities can be shown by the SWOT analysis. The SWOT analysis is grounded in the basic principle that strategy-making efforts must• aim at producing a good fit between a company's resource capability and its external situation. The SWOT analysis is as follows:
Strengths:
Reputation & Branch Location: UBL has already established a favorable reputation in The banking industry of the country particularly among the new comers. Within a period of twenty six years, UBL has already established a firm footing in the banking sector having Tremendous growth in the profits and deposits. Mitford Branch is suitable for customers because Mitford Branch is a commercial area.
Sponsors & Skills: UTTARA bank Limited at Mitford Branch has sponsors from various sectors of Bangladesh. The most successful entrepreneurs from various sectors started this company. As a result there was a combination of different thoughts and skills in the management of the bank, which is very much essential for success in today's competitive market.
Profitability: As already mentioned earlier, UBL at Mitford Branch was an established bank in the banking industry of Bangladesh. They have already achieved a high growth rate accompanied by impressive profit growth rate.
Comfortable Liquidity Position: UBL at Mitford Branch is in comfortable liquidity position because of good transaction.
Loyal customers: UBL at Mitford Branch having loyal customers, this branch is in strong position.
Provide evening banking services: UBL at Mitford Branch provides evening banking services which encourage customer to open A/C for getting evening banking services.
Weaknesses:
Advertising and Promotion: The bank does not have any formal promotional activity. They do not give any sort of advertisement or do not have any marketing activity. They do not even too many bill boards.
Traditional System: UBL at Mitford Branch uses traditional system whereas other  banks always update them self day by day.
Lack of High Skilled Human Resources: Even the internship students are paid nothing. This is why high skilled human resources are discouraged to join here.
Centralized Decision Making: The decision making of the bank is too many centralized. No decision is made without the authorization of the head office.
Lack of onlining system: UBL at Mitford Branch can't come to closer to the customers only the reason of Lack of onlining system.
Lowest pay scale salary: UBL at Mitford Branch employers get lowest pay scale salary around other banks.
Opportunities:
Corporate banking: UBL at Mitford Branch is operating corporate banking. In our country there is a huge opportunity of consumer banking. So, UTTARA bank can reposition their branding and introduce consumer banking with corporate banking.
ATM system: The banking sector of the country is becoming modernized in the country. People like to draw money any time from anywhere. So ATM card is getting popularized in the country. So, UBL at Mitford Branch can introduce ATM system in their bank.
Introduce products and schemes: The intention of the people has been changing. They now want to save more. They also want some benefit on their saving. So UBL at Mitford Branch can introduce more products and schemes.
Reduces charges and grow up customers:Bangladesh has a huge consumer base for maintaining several accounts. So UBL at Mitford Branch has the opportunity to keep these customers by reducing its current fees and charges.
Threats:
Competition among the banks: In Bangladesh, after economic reform, more private bank has started their operation in the country. They are coming with different types of attracting products. This has increased the competition among the banks.So, UBL at Mitford Branch is in threats.
The value of local currency: The value of local currency is decreasing. So investment in banking is decreasing. More over the inflation is increasing in the country. So people want to save money but in many cases they cannot. As a result, UBL at Mitford Branch is getting less deposit.
Bankrupt: There is a tendency of the people of the country to become bankrupt. Few days ago Oriental bank has a great suffering. In our country, the receivable from top 20 bankrupt companies stood 88.36 billion. This is discouraging UBL at Mitford Branch to make new investment.
Excessive competition: Excessive competition from private banks, use of modern concepts and     technologies in banking by competitors where UBL at Mitford Branch leg behind from other banks.
No new deposit creation: Due to the current economic slowdown, there is hardly any new deposit creation as there few investments and savings accompanied by a galloping inflation.
Merger and Acquisition: the worldwide trend of merging and acquisition in financial institution is causing concentration. The industry and competitors are increasing in power in their respective areas. But, UBL at Mitford Branch has lack of merger and acquisition.
CONCLUSION
From the discussion it can be concluded that Uttara Bank Ltd.  Is playing an important role in the economic development of the country and it has a prospect future to have a very good position in the banking sector. Banking sector is the chief financial Intermediary in a country. It is a very challenging institution and in age of globalization and free trade, the process and the system of running a bank is changing. UBL already managed itself with this changing environment. The company strategies are clear and concise. Their return is pretty good. If the company goes this way, one can expect that in near future Uttara Bank Limited may become one of the top performers.
Banks always contribute towards the economic development of a country. Compared with other banks UBL is contributing more by investing most of its fund in fruitful projects which will increase production of the country. It is obvious that right channel of banking establishes a successful network over the country and increase resources. The bank will be able to play considerable role in the development of the country.
The bank is committed to run all of its activities as per Central Bank over. UBL, h3aving its steady progress and continuous success, has earned the reputation of being one of the leading private sector banks of the country. The bank has shown continuous progress in this important sector. Main items of import like machinery, garments, fabrics and accessories, ships for scrapping, rice, pharmaceutical raw materials etc. and main items of export like jute-goods, readymade garments, leather, frozen fish, fertilizer etc. are operating through the help of UBL are financed by this bank. UBL's capital adequacy, deposits, reserves, earning per share, export, import and remittances are increasing day by day. So, undoubtedly NCCBL is going to be the top-most commercial Bank in Bangladesh.
 From the learning and experience point of view I can say that I really enjoyed my internship at UTTARA Bank Ltd. Mitford Road Branch that is mandatory for my MBA program enabled me to have an insight into the practical working of a bank.
Recommendations
Improvement of the Human Resource Department
The HR department of this bank is one of the weakest areas and many of the human resource development police and practices are not being followed or implemented. Though, there has been performance appraisal for the employees but still it is lying idle and no action has been taken. The management should immediately apply the performance appraisal system and take appropriate actions on the basis of that appraisal. All sorts of promotions or other benefits should be based on the report of the performance appraisal. The traditional method of considering years of work experience as the criteria should be changed and rather the new method of looking at the output, productivity and quality of the work should be considered. The HR wing has to be more active rather the maintaining administrative duties. Other than the head of this division, the staffs in this wing are incompetent for this position. More qualified and skilled HR professional should be recruited for this department for the future growth of the HR in UBL. The HR department should be gradually extended at the branch level as the bank is expanding so that each branch has a HR official.
Formulation of Recruitment / remuneration policy
UBL must pursue a strong and an effective recruitment system so that the right people are recruited at the right job. As already mentioned earlier, other than the Probationary Officers and Management Trainees there are major flaws in the recruitment of the staffs from other banks during the embryonic stage. But now as the bank is expanding, it must focus on I attracting, getting and retaining qualified personnel for filling up its positions. It is worth spending more on attracting qualified human resources there than getting the wrong people in the wrong positions
Stop Reference Appointment
UBL management and particularly the Board of Directors must change the system of appointing people by giving the reference. It has been deeply observed that most of the reference appointees are not up to the standard and have a poor performance. It may not be absolutely possible to eliminate the reference appointment system as it is a local private company, but still the tendency can be reduced to a certain extent if the management and the Board of Directors undertake bold steps.
Disguised Employment
Currently this has become a major problem at UBL. In order to enhance the productivity of the work force at UBL, the management must consider the appropriate amount of work force requires and must assess the productivity of each employee.
Enhancement of remuneration package.
The present compensation package at UBL is very unimpressive and not capable to attract quality personnel to fill up its positions. Many skilled and devoted officers of the bank are depressed with their compensation package. Currently, the management is trying to attract more MBA's in future. But the bank must redesign its compensation' package to attract quality human resources particularly qualified MBA's for the bank. Since the foreign banks pay double that of UBL and other private banks also have a higher scale than UBL, it is high time that the management should consider revising the remuneration package in order to attract quality human resources.
Improvement of quality of services.
Like in many other emerging market economies, commercial banks in the Bangladesh economy are to face an Increasing competition for their business in the coming days. Their business will no longer remain easy as they had earlier. The real change in the banking business has started to come with the govt. decision to allow the business in the private sector in the middle of the eighties.