According to the current State of the Global Climate report, four significant climate change records were broken in 2021: greenhouse gas concentrations, sea-level rise, ocean heat, and ocean acidification. The situation of the world climate is clearly not good. In fact, the World Meteorological Organization's (WMO) latest study may be one of the clearest and most comprehensive depictions of our planet's problems in recent memory.
In addition to these four major record-breakers, the report highlights a significant increase in extreme weather in 2021, including extreme heat, flooding, drought, and hurricanes, resulting in billions of dollars in economic losses, growing concerns about food and water security, and a growing amount of human suffering. "Extreme weather has the greatest immediate impact on our everyday life," said WMO Secretary-General Professor Petteri Taalas in a statement. "Years of catastrophe preparedness investment have improved our ability to save lives, despite rising economic losses." But, as the drought catastrophe in the Horn of Africa, the recent disastrous flooding in South Africa, and the terrible heat in India and Pakistan demonstrate, much more has to be done."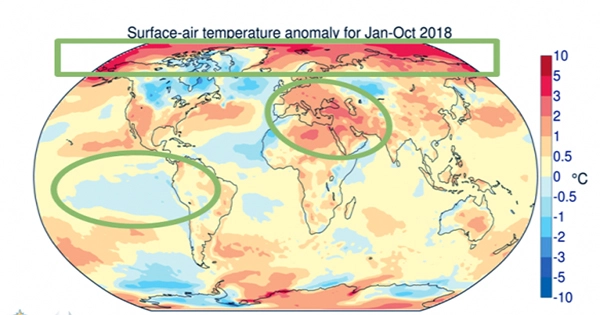 The WMO research also revealed that the last seven years have been the warmest on record, with the average global temperature in 2021 being 1.11°C higher than pre-industrial values. "It's only a matter of time before we have another record-breaking year." Professor Taalas stated, "Our climate is changing right before our eyes."
Here are some of the report's important conclusions and takeaways: High greenhouse gas concentrations never seen before Greenhouse gas concentrations officially achieved a new world high in 2020, with carbon dioxide concentrations reaching 413.2 parts per million (ppm) globally. Over the next two years, this figure increased, reaching 420.23 ppm in April 2022. The last time global carbon dioxide levels regularly exceeded 400 ppm was roughly 4 million years ago, when the planet was around 3°C (5.4°F) hotter and sea levels were significantly higher than they are now.
Ocean acidification is at an all-time high. According to the findings, the open ocean surface pH is likely at its lowest level in at least 26,000 years. The seas absorb a significant quantity of CO2 produced by humans in the atmosphere. Seawater becomes increasingly corrosive as a result of the emissions, endangering ecosystems, coastline protection, and food security. The fall in ocean pH also indicates that the seas' ability to absorb CO2 from the atmosphere is deteriorating.
Sea levels have reached new highs. In 2021, the global mean sea level set a new high, rising an average of 4.5 millimeters each year from 2013 to 2021, more than twice the rate between 1993 and 2002. This is terrible news for coastal human populations and makes tropical cyclones more vulnerable. Warmest seas ever, all of the evidence implies that the upper 2,000 meters (6,561 feet) of ocean water has warmed significantly in the last two decades, and that it will continue to do so in the future. It's also evident that the warmth is now reaching deeper than it was previously.
So, what are our options now? Independent climate experts have called the study "terrifying" and "grim reading," but that's hardly unexpected considering that warning bells have been blaring for decades. Above all, experts believe it emphasizes the need to ramp up efforts to reduce carbon emissions by phasing out fossil fuel use and reducing deforestation. If not, we may anticipate the effects of climate change to be more severe, sooner, and more frequently. "The World Meteorological Organization's State of the Global Climate report for 2021 is a dire warning for human health and well-being.