Feofaniya (Ukrainian: Феофанія; also called Theophania) is a park, which is a beautiful respite in the bustling city of Kiev, the capital of Ukraine. Located near the southern outskirts, this park became part of the Soviet state farm system and home to the main observatory for the Institute of Botany of the Ukrainian Academy of Science. This school is well known in Ukraine and Europe in its studies of biodiversity.
The park's total area is about 1.5 km2 (0.58 sq mi). The first Soviet computer, MESM, was built in Feofaniya. Feofaniya was first mentioned in 1471 as Lazorivschyna (Лазорівщина), which at the time belonged to an owner named Khodiki. The name is said to derive from a monk named Lazar. In the 17th century, the area was referred to as Shakhravschyna (Шахравщина).
Feofaniya Park is today the youngest and most promising holiday destination for Kyiv residents and visitors. The park is a part of the Nature Reserve Fund of Ukraine, which is an integral part of the world system of natural territories and objects under special protection. The State Institution of the Institute of Evolutionary Ecology of the NAS of Ukraine is in charge of these lands.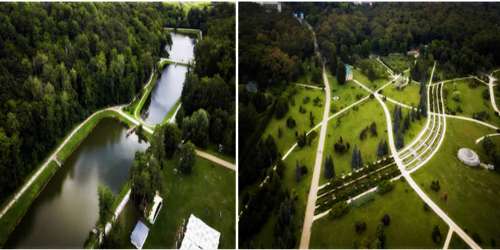 The modern name Feofaniya dates back to 1803 when Feofan Shiyanov settled in the area, set aside for charity purposes. During the 1860s, Feofaniya belonged to the St. Michael's Golden-Domed Monastery in central Kiev. Buildings built in the area were constructed in the Ukrainian Baroque style, however, they did not survive.
In 1919, Feofaniya was converted to the Soviet state farm, and later transformed into the main observatory for the Institute of Botany of the Ukrainian Academy of Science.
In 1972, Feofaniya was declared a park, and from 1992 a government designated park, which belongs to the "Feofaniya" conservatory of the National Academy of Science of Ukraine. Reconstruction work began on the area in 2004, which, when finished (projected in 2008) will include new landscaping, water and canal features. Located near Feofaniya are the St. Panteleimon's Convent, the Nikolay Bogolyubov Institute of Theoretical Physics, and the Government Clinical Hospital "Feofaniya."
The main purpose of its creation is the preservation and use for the aesthetic, educational, scientific, environmental and wellness purposes of the most outstanding examples of park construction.
A unique feature that distinguishes Feofania Park among others is the harmonious combination of non-man-made masterpieces of primordial nature with contemporary art of landscape design against the background of the spiritual grandeur of St. Panteleimon's Cathedral. This locality carries the energy of its centuries-old history, rich with many religious events and is a unique cultural and natural formation with potential functions of healing, recreation, tourist attraction and religious center.
From 424 Houses to 507 Condos/Apartments, find unique vacation rental for visitors to enjoy a memorable holiday or a weekend with their family and friends. The best place to stay around Feofaniya Park is on Vrbo. Vrbo has 424 Houses near Feofaniya Park.
Information Sources:
feofaniya.kiev.ua
wikipedia