Europe has a well-deserved reputation for regulating Big Tech, taking the lead on issues like privacy, data security, and, most importantly, competition. Now, new antitrust legislation is making its way through the European Parliament, including criteria for identifying significant internet "gatekeepers." 
While the Digital Markets Act is likely to target a number of U.S. tech firms, the DMA — and European antitrust and competition policies in general — may also be used to compete with China if utilized wisely. In recent years, Europe has gradually become aware of China's threat to transatlantic technological superiority. Despite the fact that many Europeans are gradually coming around to Washington's threat assessments, Europe still lacks the instruments and political will to deal with the problems posed by Beijing's juggernauts.
Although transatlantic policy responses to China should be coordinated, they do not have to be identical. To tackle China's market-distorting actions in the technology sector, the US and Europe should combine their unique capabilities and toolkits. In addition, starting with the DMA, Europe should use its comparative advantage — establishing and implementing competition regulation — to compete with China.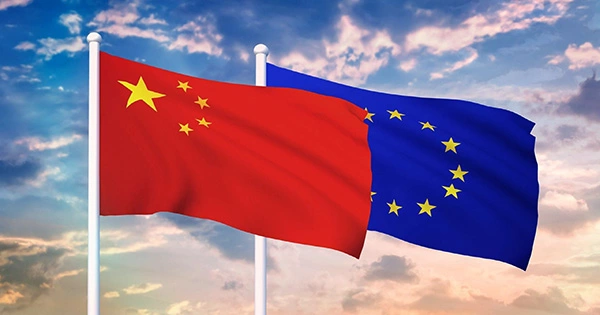 Beijing's tech behemoths are vying for dominance and control of the global technological ecosystem, which the transatlantic allies cannot afford to overlook. For its major technological enterprises, the Chinese Communist Party (CCP) has established a goal of market dominance.
To achieve this purpose, the CCP is engaging in anti-competitive activities in order to boost the market positions of its enterprises. In addition to governmental subsidies, the CCP frequently offers enterprises sweetheart agreements to boost their market position.
This dynamic is demonstrated in the 5G case study. Huawei received $75 billion in state backing from the Chinese government in the form of tax exemptions, discounted resources, and financial aid. Meanwhile, China's home market allows state-backed champions, like Huawei, to take advantage of low competition and strong market share to sell services in third nations for a fraction of the cost. 
When confronted with this fact, Nokia and Ericsson, Europe's major 5G technology suppliers, historically struggled to compete with Huawei in their home market. As a result, Beijing's internal economic strategy has global ramifications. To resist Beijing's rising influence in Europe, European governments have developed investment-screening systems in the last year. They still have work to do, though. Only 18 of the 27 member nations have created investment-screening systems, with six more in the works.
There are further grounds to doubt the mechanism's effectiveness. Only eight of the 265 initiatives assessed by the European Commission were rejected. Only 8% of the initiatives under consideration were Chinese. They also do not specifically address anti-competitive activity. This is starting to change. The European Commission proposed a rule on foreign subsidies affecting the internal market in May 2021, which includes mechanisms for investigating and potentially stopping financial contributions by non-EU governments regarding foreign subsidies. 
While Europe's early efforts are encouraging, they are insufficient to confront Chinese enterprises' market positions and the Chinese government's anti-competitive practices. Europe, on the other hand, is ideally positioned to capitalize on its regulatory momentum. Given China's multilayered strategy, Europe should consider alternatives to subsidies. 
To successfully compete with China's internet giants and address Chinese businesses' unfair market position, Europe must employ antitrust legislation to target Chinese companies that engage in anticompetitive activity, notably by calibrating the Digital Markets Act (DMA). When investment screens are combined with antitrust regulation, Brussels will have many instruments to deal with Beijing's anti-competitive activity.
Antitrust policy is a logical expansion of Europe's toolset for combating China's anti-competitive activities. While the antitrust policy in the United States has generally been viewed through the lens of consumer welfare, antitrust policy in Europe is frequently viewed through the perspective of market competitiveness. 
Furthermore, Europe is typically hesitant to see Chinese businesses through the lens of national security or anti-China sentiment. Antitrust and competition policies are pursued to guarantee market competition in Europe, while investment-screening systems focus on national security.
Because of this framework, Europe's antitrust policy is a logical fit for dealing with Beijing's anticompetitive behaviors. Indeed, lawmakers of the European Parliament argued this week that the DMA should extend to Alibaba of China. This measure would also address the perception of anti-American bias in antitrust enforcement. Chinese corporations do not do enough business in Europe, according to Commission officials, to be subject to the DMA.
However, because of this strategy, European authorities nearly exclusively target American companies. When seen through a geopolitical lens, however, China's technology national champions pose a larger danger to Europe's innovation ecosystem than American technology enterprises. This is still a source of friction in Washington, and it threatens to stifle the transatlantic partnership.