The internship is designed to bridge the gulf between the theoretical knowledge and real life experience. It is designed to have a practical experience while passing through the theoretical understanding. The report is the result of three months internship program with National Bank Limited, Banani Branch. Today, necessity of a Bank as a financial institution is undeniable. These institutions play a vital role in the field of financial stability o a country. Banking sector is one of the stable financial institutions of a country economy.
In the first chapter I discussed the origin of my report. I also explained the objective of my study and the scope of my report. I have also explained the methodology regarding this report. Both primary and secondary data and information have been used in preparing this report. Like all study, this report has also certain limitations which were in some cases unavoidable.
In Chapter Two I discus about National Bank Limited overview by which we will know history, important vision and mission and objective of NBL.  I also give information about NBL management chart in my report. In chapter three I have tried how I spend internship period and discus nature of the internship & my specific responsibilities and observation.
In chapter Four it's all about deposit. Types of deposit, all of NBL deposit product, brief description of different types of deposits, process of open a account, banani br. deposit performance etc discus in my report.
In chapter five mentioned about important part of any banking sector that analytical part. In these part I discuss about deposit amount of different year , percentage of increasing deposit yearly , amount of different type of deposit & index analysis of deposit by showing some chart .
Chapter six is last part of this report because here discus about recommendation, finding and conclusion of this report.
Finance is the life blood of trade, commerce and industry. Now-a-days, bank money acts as the backbone of modern business. Development of any country mainly depends upon the banking system.
Generally by the word "Bank" we can easily understand that the financial institution deals with money. But there are different types of bank like; Central Banks, Commercial Banks, Savings Banks, Investment Banks, Industrial banks, Co-operative Banks, etc. But when use the name term Bank without any prefix, or qualification it refers to the commercial banks. Commercial Banks are the primary contributor t o the economy of a country. So we can say Commercial Banks are a profit making institution that holds the deposit of the individuals & business in checking & saving account and then uses these funds to make loans. For these, people and government are very much dependent on these banks as the financial intermediary. As banks are profit earning concern; they collect deposit at the lowest possible cost and provide loans and advanced higher cost. The differences between two are the profit for the bank. Banking sector is expanding its hand in different events every day. At the same time the banking process is becoming faster, easier, and the banking area becoming wider. As the demand for better service increases day by day, they are coming with different innovative ideas and products. In order to survive in the competitive field of the banking sector, all banking organization are looking for better service opportunity to provide their fellow clients. As a result, it has become essential for every person to have some idea on the bank and banking procedure.
Bachelor of Business Administration (BBA) course requires 3 months attachment with an organization followed by a report assigned by the supervisor in the organization and endorsed by the faculty advisor. I took the opportunity to do my internship in National Bank Ltd (NBL). My topic of internship is authorized from the head office of National Bank Ltd. My supervisor Professor Dr. Abul Hossain, faculty of Business administration, DIU, also approved this topic and authorized me to prepare this report as part of the fulfillment of internship requirement.
I have worked in various Department of NATIONAL Bank Ltd, Banani Branch. In this report, I will try to make an overall analysis on all activities of National Bank Ltd specially focuses on deposit analysis.
Objective
As business student it is indispensable to undergo some practical Report like this for the purpose of having flavor of professional atmosphere and make rectification, as required.
Broad Objectives      
General objective of the study is to examine overall deposit management system of National Bank Limited.
To get an overall idea about the management policy of NBL as well as commercial Bank.
 Specific Objectives
To analyze various deposit schemes of National Bank Ltd.
To examine the deposit appraisal procedures followed by National Bank Ltd.
To Report the control mechanism followed by NBL for deposit.
To observe the overall asset quality of NBL.
To recommend some suggestions for further development of NBL..
To know the customer opinion about deposit scheme in NBL.
This report covered the overall deposit system of (NBL) Bank Limited and also includes relationship of the customers with the bank as well as the deposit principals covered by the bank as a general banking system.
The report is fully investigative in nature. Another report has been prepared on the basis of experience gathered during the period of internship. I have presented my experience and finding by using different charts and tables, which are presented in the analysis part. This report data have been collected from two sources:
Primary sources
Secondary sources.
The main constraints of the study are insufficiency of information, which was highly required for the study.
Every organization has their own secrecy that is not revealed to others. While collecting data through interviewing the employees, they did not disclose much information for the sake of the confidentiality of the organization.
Bank policy was not disclosing some data and information for various reasons.
Another main reason the bank personnel were very busy, they couldn't provide me much time.
It is painful but true that they do not give financial or extra facilities for the interns.
National Bank Limited has its prosperous past, glorious present, prospective future and under processing projects and activities. Established as the first private sector bank fully owned by Bangladeshi entrepreneurs, NBL has been flourishing as the largest private sector Bank with the passage of time after facing many stress and strain. The members of the board of directors are creative businessmen and leading industrialists of the country. To keep pace with time and in harmony with national and international economic activities and for rendering all modern services, NBL, as a financial institution, automated all its branches with computer networks in accordance with the competitive commercial demand of time. Moreover, considering its forth-coming future, the infrastructure of the Bank has been rearranging. The expectation of all class businessmen, entrepreneurs and general public is much more to NBL. At present we have 154 branches under our branch network. In addition, our effective and diversified approach to seize the market opportunities is going on as continuous process to accommodate new customers by developing and expanding rural, SME financing and offshore banking facilities
The emergence of National Bank Limited in the private sector was an important event in the Banking arena of Bangladesh. When the nation was in the grip of severe recession, the government took the farsighted decision to allow the private sector to revive the economy of the country. Several dynamic entrepreneurs came forward for establishing a bank with a motto to revitalize the economy of the country.
National Bank Limited was born as the first hundred percent Bangladeshi owned Bank in the private sector. From the very inception, it was the firm determination of National Bank Limited to play a vital role in the national economy. We are determined to bring back the long forgotten taste of banking services and flavors. We want to serve each one promptly and with a sense of dedication and dignity. National Bank, has now acquired strength and expertise to support the banking needs of the foreign investors. NBL stepped into a new arena of business and opened its Off Shore Banking Unit at Mohakhali to serve the wage earners and the foreign investors better than before.
NBL at A Glance
National Bank is the dynamic first generation bank established in 1983 focusing on technology and service. The then President of the People's Republic of Bangladesh Justice Ahsanuddin Chowdhury inaugurated the bank formally on March 28, 1983 but the first branch at 48, Dilkusha Commercial Area, Dhaka started commercial operation on March 23, 1983. At present, NBL has been carrying on business through its 155 branches and 20 SME spread all over the country. Since the very beginning, the bank has exerted much emphasis on overseas operations and handled a sizable quantum of home bound foreign remittance. It has drawing arrangements with 415 correspondents in 75 countries of the world, as well as with 37 overseas Exchange Companies located in 13 countries. NBL was the first domestic bank to establish agency arrangements with the world famous.
NBL was also the first among domestic banks to introduce international Master Card in Bangladesh. In the meantime, NBL has also introduced the Visa Card and Power Card. The Bank has in its use the latest information technology services of SWIFT and REUTERS. NBL has been continuing its small credit programmers for disbursement of collateral free agricultural loans among the poor farmers of Barindra area in Rajshahi district for improving their livelihood. National Bank, has now acquired strength and expertise to support the banking needs of the foreign investors. NBL stepped into a new arena of business and opened its Off Shore Banking Unit at Mohakhali to serve the wage earners and the foreign investors better than before.
Since its inception, the bank was aware of complying with Corporate Social Responsibility. In this direction, we have remained associated with the development of education, healthcare and have sponsored sporting and cultural activities. During times of natural disasters like floods, cyclones, landslides, we have extended our hand to mitigate the sufferings of victims. It established the National Bank Foundation in 1989 to remain involved with social welfare activities. The foundation runs the NBL Public School & College at Moghbazar where present enrolment is 1140. Besides awarding scholarship to the meritorious children of the employees, the bank has also extended financial support for their education. It also provided financial assistance to the Asiatic Society of Bangladesh at the time of their publication of Banglapedia and observance of 400 years of Dhaka City.
NBL focused on all key areas covering capital adequacy, maintaining good asset quality, sound management, satisfactory earning and liquidity. As a consequence, it was possible to a record growth of 175.51 percent with Tk. 8,809.40 million pretax profits in the year under review over the preceding year. The net profit after tax and provision stood at Tk. 6,860.34 million which was Tk. 2,070.47 million in the previous year registering a 231.34 percent rise. The total deposits increased to Tk. 102,471.83 million being 33.37 percent increase over the preceding year. Loans and advances stood at Tk.92,003.56 million in the year under report which was Tk. 65,129.289 million representing 41.26 percent rise over the preceding year. Foreign trade stood at Tk. 144,255.00 million in 2010 compared to Tk. 115,939.00 million, increased by 24.42 percent compared to that of the previous year. During 2010, the bank handled inward remittance of Tk. 49,145.30 million, 10.73 percent higher than that of the previous year. Return on Equity (ROE) registered a 77.84 percent rise over the preceding year. The bank has a strong team of highly qualified and experienced professionals, together with an efficient Board of Directors who play a vital role in formulating and implementing policies.
Every men has mission and vision which they reach expected aim. As men or persons manage, operate or maintain their company or business, also company or business has vision and mission. By this vision and mission we can easily gain our dream or expected aim step by step.
National Bank Limited Vision and Mission
Vision
Ensuring highest standard of clientele services through best application of latest information technology, making due contribution to the national economy and establishing ourselves firmly at home and abroad as a front ranking bank of the country are our cherished vision.
Mission   
Efforts for expansion of our activities at home and abroad by adding new dimensions to our banking services are being continued unabated. Alongside, we are also putting highest priority in ensuring transparency, account ability, improved clientele service as well as to our commitment to serve the society through which we want to get closer and closer to the people of all strata. Winning an everlasting seat in the hearts of the people as a caring companion in uplifting the national economic standard through continuous up gradation and diversification of our clientele services in line with national and international requirements is the desired goal we want to reach.
Their objectives are to conduct transparent and high quality business operation based on market mechanism within the legal and social framework.
Their greatest concerns are to provide their customers continually efficient, innovative and high quality products with excellent delivery system.
Their motto is to generate profit with qualitative business as a sustainable ever-growing organization and enhance fair returns to the shareholders.
Be committed to the community as a corporate citizen and contribute towards the progress of the nation
Build a strong deposit base.
Introduce new products & services and upgrade existing products & services at comparatively low cost in order to assure quick respond to the changing demands in the market
Promote the well being of the employees and raise their morale
Proper combination of loan and deposit
Strengthen corporate identity and values
Fulfillment of their responsibility to the government by paying taxes and abiding by other rules
Bring the entire system under a very advanced IT platform
Socialize and present the bank to the community as a corporate partner
Encouraging and motivating the new entrepreneurs to establish industries and business in line with development of national economy.
Enhancing savings tendency of the people by offering attractive and lucrative new savings scheme.
Financing the foreign trade of the country both Export and Import.
Enhancing the mobilization of savings both from urban and rural area.
The prime objective of NBL is to deliver a quality that demonstrates a true reflection of their vision and mission Excellence in Banking. Improve the quality of lone and services, and diversify the sources of revenue.
Focus on Current, Savings & Short Term Deposit Accounts to reverse the ratio (30:80) with Fixed Deposit Receipt.
Take immediate action required to reverse the rise of Cost of Fund.
Increase fee based income: increase volume & fee of Letter of Credit & Guarantee, increase export and exchange earnings.
Reduce operating cost by at least 30%.
Better customer service and expand their service whole home and abroad.
Organizational Strategy
As the financial services industry is a very competitive industry, the main strategy of NBL is the organic growth – to build branches and strengthen their distribution network. They will continue to invest and expand in Bangladesh as fast as local regulations allow.
The principal strategies are:
Strategy
People

Attract, retain and reward top performers
Profitable growth
Growing sales and increase the revenues

Execution
Performing with skill and speed

Credit quality
Maintaining credit quality and understand the role in managing losses.

Customer Centered
Always providing exceptional customer service

Ownership
The performance and result should be owned

Efficiency
Lowering the cost and wise use of resource
 Management Hierarchy of National Bank Limited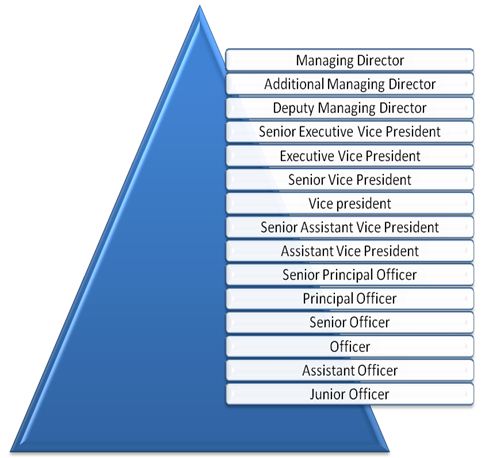 Financial Highlights of NBL
| | | |
| --- | --- | --- |
| Particulars | 2011 | 2010 |
| Paid-up Capital | 8603.66 | 4412.13 |
| Total Capital Fund | 24905.03 | 19190.79 |
| Capital Surplus/deficit | 5223.79 | 5137.42 |
| Total Assets | 169037.38 | 134732.31 |
| Total Deposits | 128215.97 | 102471.83 |
| Total Loans and Advance | 115388.89 | 92003.56 |
| Total Contingent Liabilities and Commitments | 44392.67 | 45045.10 |
| Credit Deposit Ratio (in %) | 90.00% | 89.78% |
| Percentage of Classified Loans against Total Loans and Advances (in %) | 2.83% | 3.89% |
| Profit after Tax and Provision | 6085.70 | 6860.34 |
| Amount of Classified Loans during the year | 3264.95 | 3642.57 |
| Provision kept against classified Loans | 1166.79 | 1086.08 |
| Provision Surplus | 325.41 | 268.79 |
| Cost of Fund (in %) | 10.35% | 9.12% |
| Interest Earning Assets | 140198.97 | 110401.84 |
| Non-interest Earning Assets | 28838.42 | 24330.47 |
| Return on Investment (ROI) (in %) | 12.00% | 32.78% |
| Return on Assets (ROA) (in %) | 4.01% | 6.05% |
| Income from Investment | 3320.22 | 6115.41 |
| Earnings Per Share (Tk.) | 7.07 | 7.97 |
| Net Income Per Share (Tk.) | 7.07 | 7.97 |
| Price Earning Ratio (approximate) | 9.45 | 24.03 |
| Net Assets Value per shares (Tk.) | 25.02 | 43.30 |
| Net operating cash flow per share (Tk.) | 8.88 | 7.90 |
It was very interesting working at National Bank. The people there are really nice and talented. The things that I have noticed and observed are:
Work is never left pending for the next day unless it is absolutely necessary
The work process could be made faster with better computers and operating systems.
 A good job performance is rarely praised, hence lacking motivation of the employees
There is always a rush of customers so there is no standard on what the employees do throughout the day. The work activities of an employee is set, but what to do when varies along the day
How to give better customer service and good behave
The work activities are always set and divided for each of the employees. This is the way it should be, but when I saw it firsthand it was remarkable. Each and every employee has a certain set of responsibilities. He/she carries out those responsibilities throughout the day. It is also easy to assign duties that way. Even though this is the case, I often saw other staff members helping each other out.
All of activities are important and how to any difficult work solve easily.
"Those who use time properly become successful; those who save money in due time, never face financial difficulties".   ——- Hazrat Ali (R 🙂
Bank Deposit refers to an amount of money in cash or cheque form or sent via a wire transfer that is placed into a bank account. The target bank account for the Bank Deposit can be any kind of account that accepts deposits. Another, A bank deposit is a sum of money deposited in a financial institution for the purpose of providing access to investments or storing the money in a secured location.
For example, a Bank Deposit is generally made when opening an account or in the course of routine business or personal transactions that involve placing funds with the bank for future use. Bank deposits can be made in a number of different ways. The most direct way is to walk into a bank or a bank branch in which you hold an account. You are then usually required to fill in a Bank Deposit slip with the particulars of your account and the amount of money you wish to deposit. In addition, Bank Deposits can be made via wire transfer, as well as through a direct deposit plan from employers in many cases.
Types of Bank Deposit
There are variations in the needs and demand of the people. It is almost impossible for banks to satisfy all these diverse demands with a single type of account. That's why banks generally offer the following types of accounts to satisfy customer's demand: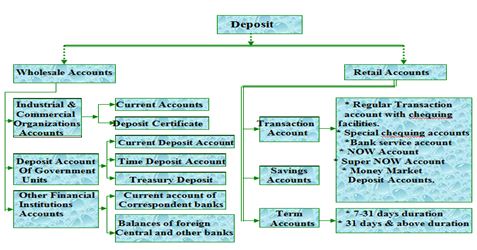 Deposit Product and services are
1. Savings Deposit
2. Current Deposit
3. Term Deposit
4. Foreign Currency Deposit
5. Monthly Savings Scheme
6. Monthly Income Scheme
7. Double Benefit Scheme
8. Milliner Income Scheme
9. Serious Saver's Account
10. Super Saver's Term Deposit Account
11. School Banking
Savings Deposit
Savings accounts are accounts maintained by retail financial institutions that pay interest but cannot be used directly as money (for example, by writing a check). These accounts let customers set aside a portion of their liquid assets while earning a monetary return. For the bank, money in a savings account may not be callable immediately and therefore often does not incur a reserve requirement freeing up cash from the bank's vault to be lent out with interest.
Mainly we see Saving Account open lower and middle classes people who have to save a part of their incomes to meet their future need intend to earn an income from their savings. This cause people are encouraging savings of individual, jointly, non-trading people, institutions, society, clubs and so on the depositing small amount of money in the bank.
Benefits and Restriction of Savings Account
By this savings account we can get some interest after half year for specific deposit amount. The rate of interest payable by the Bank's on deposit mention in the savings account will determined by the respective bank. Interest is now calculated in the minimum balance to the credit of the account during the period from first to last day of each calendar month on every half year at the end of June and December. This interest rate may be 4% or 5%.
On the other hand NBL has some restriction such, account opening amount or initial deposit amount minimum TK. 5,000 which is some people burden. Minor problem is account introducer or reference which some people not found this time.  Another problem is withdrawal facilities which one savings account customers can maximum 3/4 days transaction in a week. Interest rate is low.
Savings Account Opening Formalities
Saving Account can open individually or jointly any person but some NBL rules and regulation or formalities maintain which is discus below:
Collect Savings Account application from and fill up
At first collect saving account application from and properly fill up persons account page, person related information from ( if jointly need two person related information from), KYC from, Transaction Profile(TP) which is most important , transaction type, quantity etc fill up.
Introducer means which person has savings account exists in this bank. By this introducer signature and his account number include in S/B account opening from. This system apply may be more security about in this account.
Every customer is required to supply to the bank with his/her signature. These signatures are taken on cards, which are preserved by the bank, and the signature of the account holder on the cheques is compared with the specimen signature.
Mandate for operation of the account by an agent
In case a customer desires to get his/her account operated upon by another person then the bank will obtain a mandate in writing to that effects as well as the specimen signature of the person in whose favor the mandate is given.
Opening and operation the account
After the above formalities are over, the banker opens an account in the name of applicant. Generally the minimum amount to be deposited initially is Taka 5,000 for opening a current account. Then the bank provides he customer with.
Documentation of Saving Account
Personal TIN certificate
Two copies passport size photographs
National ID card or Passport Photocopy
Nominees photographs
Saving Deposit Slip Book
With a view to facilitate the receipt of credit items paid in by a customer, the bank will provide him/her deposit book either loose or in book forms. The customer has to fill up the pay in slip at the time of depositing the money to the bank. The cashier with his/her initials and stamps will return the counterfoil to the customer on the receipt of the money.
Saving Deposit Cheque Book
To facilitate withdrawals and payment to third parties by the customer, the bank will also provide cheque book to the customer. But it is noted that to get a cheque book, the customer has to dully fill up the cheque requisition slip to the banker.
In deposit terminology, the term Current Deposit refers to a deposit to a bank account or financial institution without a specified maturity date. These types of Current Deposit account generally only earn demand deposit interest.
Current Deposit Example:
Current Deposit will often be made into a bank or other financial institution's account in the local currency. The deposit will then generally be made available to the customer for withdrawal at any time and without an early withdrawal penalty. Funds are typically made immediately available to the customer for withdrawal by writing a check. Such Current Deposit accounts are generally used for businesses that have a need for issuing checks to pay employee salaries and bonuses, as well as to provide cash for inventories and other such business expenses. The bank or financial institution where the Current Deposit account is held usually pays out interest on the funds periodically, such as monthly or quarterly.
Fixed Deposit Account (FDR)
These are the deposit, which are made with the bank a fixed period specified in advance. It is purely a time deposit account. The bank does not maintain cash reserves against these deposits and therefore the bank offers higher rates of interest on such deposits. Interest is paid at rate determined by the length of the period of deposit; the higher is the rate of interest. Loan is sanctioned against FDR.
Opening and Operation of Fixed Deposit Account
The depositor has to fill in an application from wherein he/she mentions the amount of deposit, the period for which deposit is to be made the names in which the fixed deposit receipt is to be issued. In case of deposit in joint names, the banker also takes the instructions regarding payment of money on maturity of deposit ex, whether payable jointly or payable to either or survivor etc. The banker also takes the specimens signature of the depositors. A fixed deposit receipt is then issued to the depositor acknowledging receipt of the sum of money mentioned therein. It also contains the rate of interest and the date on which the deposit will fall due for payment. In this account no transaction is allowed and no cheque book is issued. Customers are given Fixed Deposit Receipt or Slip only.
Benefits of FDR
Any amount can be deposited.
Premature encashment facility is available.
Overdraft facility available against term receipt.
Account Opening
1 copy of recent photograph of account holder.
Nominee's Photograph.
Monthly Saving Scheme (MSS)
National Bank Limited offers monthly savings scheme for its retail customersThere are three types of saving scrim such as 3 years, 5 years and 8 years period in this account. After specific time/period you get attractable amount by this scrim
| | | | |
| --- | --- | --- | --- |
| Monthly Installment | Return after 3 years | Return after 5years | Return after 8 years |
| 500 | 20,627 | 37,896 | 70,849 |
| 1,000 | 41,255 | 75,791 | 1,41,697 |
| 2,000 | 82,510 | 1,51,583 | 2,83,394 |
| 3,000 | 1,23,765 | 2,27,374 | 4,25,091 |
| 4,000 | 1,65,020 | 3,03,166 | 5,66,788 |
| 5,000 | 2,06,274 | 3,78,957 | 7,08,485 |
| 10,000 | 4,12,549 | 7,57,914 | 14,16,970 |
| 20,000 | 8,25,098 | 15,15,828 | 28,33,940 |
| 30,000 | 12,37,647 | 22,73,742 | 42,50,910 |
| 50,000 | 20,62745 | 37,89,570 | 70,84,850 |
Benefits of Monthly Saving Scheme
Account may be opened for any installment and term, which is not changeable.
You can open this account monthly installments of deposit will be Tk.500/-, Tk.1, 000/- , Tk.2, 000/- , Tk.3, 000, Tk.4000/- , Tk.5, 000/- and Tk. 10, 0000 or any countable amount (Highest Tk. 50,000).
A person is allowed to open more than one account for different installment in a Branch/ Bank's no           Monthly Installments (Taka)   Amount to be paid on completion of Term
This account open different name
Below 18 years children can open this account with their guardian.
Account Opening
1 copy of your recent photograph.
Nominee's Photograph.
 4.3.5 Monthly Income Scheme (MIS)
Under this scheme one will deposit a minimum of tk.1, 00,000/- or its multiple for three years and will enjoy monthly benefit of Tk.1, 000/- for every Tk.1, 00,000/-.
Benefits of Monthly Income Scheme
Deposit of Tk.1, 00,000/- and its multiple maximum of Tk 50, 00,000/- shall be acceptable under this scheme.
The account may be opened either singly or jointly.
Below 18 years children can open this account with their guardian.
| | |
| --- | --- |
| One Time Deposit | Monthly Income |
| 1,00,000.00 | 1,000.00 |
| 2,00,000.00 | 2,000.00 |
| 3,00,000.00 | 3,000.00 |
| 4,00,000.00 | 4,000.00 |
| 5,00,000.00 | 5,000.00 |
| 10,00,000.00 | 10,000.00 |
| 20,00,000.00 | 20,000.00 |
| 30,00,000.00 | 30,000.00 |
| 40,00,000.00 | 40,000.00 |
| 50,00,000.00 | 50,000.00 |
Account Opening
1 copy of recent photograph of account holder.
Nominee's Photograph.
Valid photocopy of Voter ID card or passport.
Double Benefit Scheme (DBS)
Dreams come true. National Bank Limited now offers Double Benefit Scheme for its customers. The benefits under this scheme shall become double after 6 years.
Benefits of Double Benefit Scheme
Deposit of Tk.50, 000/- and its multiple maximum of Tk 50, 00,000/- shall be acceptable under this scheme.
A person is allowed to open more than one DBS Account.
The account may be opened either singly or jointly.
All DBS account holder shall be offered with free Life Insurance Policy under this scheme.
Below 18 years children can open this account with their guardian.
Account Opening
1 copy of your recent photograph.
Nominee's Photograph.
School Banking
Adult or non adult student can save their money for next time. They can also related country's economic development activities by this money. For more interested to save their money NBL offer school banking. By this account they can save money and operate with their guardian.
Serious Saver Account
Serious Saver Account is a attractable scheme which offer NBL. You can easily open this account by monthly deposit minimum Tk. 20,000/10,000.
By condition you can withdraw money next time deposit minimum Tk.10, 000/5,000 but you get extra 3% interest more than saving account.
The account may be opened either singly or jointly.
Below 18 years children can open this account with their guardian
Account Opening
1 copy of recent photograph of account holder.
Nominee's Photograph.
Valid photocopy of Voter ID Card or passport.
Term Deposit
Term means specific time which can be short term, Medium Term or Long Term. Term Deposit is 1 year, 2 years, 3 years, 5, 7, 10 years and after specific time we can get expected amount by this term deposit.
Short Term Deposit (STD)
It is also a time deposit account. The formalities for opening of this account are similar to those required for current account. The only difference is that 7 (seven) days notice is required for withdrawal of any sum and interest is paid. If the withdrawal on demand is desired, it may be paid to the for-feature of interest for the period of notice or the expired period of notice. STD interest rate is 4.5%.
Special Notice Deposit (SND)
National Bank Limited offers interest on customer's special notice deposit account and gives facility to withdraw money any time.
National Bank Limited gives opportunity to maintain foreign currency account through its Authorized Dealer Branches. Bangladesh nationals residing abroad or foreign nationals residing abroad or Bangladesh and foreign firms operating in Bangladesh or abroad or Foreign missions and their expatriate employees can operate this account.
Benefits of Foreign Currency Deposit
No initial deposit is required to open the account.
Interest will be offered 1.75% for US Dollar Account, 3.00 % for EURO Account and 3.25% for GBP Account.
They will get interest on daily product basis on the credit balance (minimum balance of US$ 1,000/- or   GBP 500/- at least for 30 days) maintaining in the account.
Account Opening
2 copies of recent photograph of account holder.
Nominee's Photograph.
Passport Copy.
ID of residence in abroad.
NFC Deposit
National Bank Limited gives opportunity to maintain foreign currency account through its Authorized Dealer Branches. All non – resident Bangladeshi nationals and persons of Bangladesh origin including those having dual nationality and ordinarily residing abroad may maintain interest bearing NFCD Account.
Benefits NFC Deposit
NFCD Account can be opened for One month, Three months, Six months and One Year through US Dollar, Pound Starling, Japanese Yen and Euro.
The initial minimum amount of $1000 or 500 Pound Starling or equivalent other designated currency.
Interest is paid on the balance maintain in the Account. This interest is tax free in Bangladesh.
Account Opening
2 copies of recent photograph of account holder.
Nominee's Photograph.
Passport Copy.
ID of residence in abroad.
NBL Deposit Interest Rate at a Glance
SL.
Category Of Deposit
Revised rate of interest (p.a.)
w.e.f  July 01, 2011 (%)
1
Savings
Below 1.00 Crore
4.00
1 Crore  to below 25 Crore
4.50
25 Crore  & above
8.50
100 crore & above
9.00
2
Special Notice Deposit
Below 1.00 Crore
4.00
1 Crore  to below 25 Crore
7.00
25 Crore  to below 50 Crore
7.50
50 Crore  to below 100 Crore
7.75
100 Crore & above
9.00
3
FDR for 1 month  &  above but less than 3 months
Any amount
10.50
Up to 12.00
4
FDR for 3 months & above but less than 6 months
Any amount
11.00
Up to 12.00
5
FDR for 6 months & above but less than 1 year
Any amount
11.00
Up to 12.00
6
FDR for 1 year and above
Any amount
Up to 12.00
 Present Deposit Scenario of NBL
Year

Deposit

(in Millions)

Percentage  Change

(Increase / Decrease)

2007

47961.22

              18.86 %

2008

60187.89

              25.49 %

2009

76834.13

              27.66 %

2010

102471.83

              33.37 %

2011

128215.97

              25.12 %
NBL invests their funds in different sectors. They actually diversify their deposit by investing their funds in the share of different companies, zero coupon bonds, debenture, Govt. bond, Govt. security, and other bonds. The deposits of National Bank Limited for last five years are as follows-
General Findings
This bank invests deposited funds maximum in the long term maturity bucket rather than short term maturity bucket.
NBL has more long term deposit than short term deposit, and due to competitive market NBL has to incur higher cost on their deposits.
NBL has lack of manpower to serve the growing customer demand. So they not are being able to provide service to the customer in efficient manner.
NBL don't have any effective training policy. Though it has a training institute but they are not using this institution properly.
This introduced ATM facility to customers yet. But customers are not satisfied about this.
The client's are bound to submit a lot of documents to the bank to avail Consumer Credit. The Bank is overloading the clients by charging so much documents and papers which seems to the clients being harassed by the relevant officer.
SWOT on Findings
It is needless to say that there are certain risk factors which are external in nature and can affect the business of the bank. The factors discussed below can significantly affect the business:
General business and political condition
NBL's performance greatly depends on the general economic conditions of the country. Although the bank is in the lower capacity of using its total assets effectively. The effect of recession is still unfolding which may result to slowdown in business environment. Political stability is a must for growth in business activities.
Changes in borrowers credit quality
Risk of deterioration of credit quality is inherent in banking business. This could result due to global economic crisis and supply side distortion. The changes in the import prices affected the commodity sectors and ship breaking industry. Deterioration in credit quality requires provisioning
In the ordinary course of business, legal actions, claims by and against the Bank may arise. The outcome of such litigation may affect the financial performance of the bank.
Implementation of Basel II
Basel II will run parallel during 2009 but NBL needs to be complied with respect to credit risk management, its supervision and establishment of effective internal control. The grading of the borrowers and its link with capital requirement may slow down the credit expansion. The establishment of effective control requires more investment in technology and operating expenses are likely to increase.
Volatility in equity market
Securities and Exchange Commission and the stock exchanges improved their supervisory role but the equity market is still volatile. The recession fear also added to the volatility. If volatility continues it is likely to affect the performance of the bank.
Changes in market conditions
Changes in market conditions particularly interest rates on deposits, volatility in FX market are likely to affect the performance of the bank. Depositors are becoming price sensitive and any unilateral upward change by a bank will exert pressure on interest rate structure of the banking sector. It is feared that wage earners remittances may decline due to fall in job opportunity in international market. Unless offset by export performances, there may be pressure in the FX market.
NBL is proceeding with its strategic plan and its successful implementation is very important for its financial performance. Major deviation due to external and internal factors will affect the performance of the bank.
Operational risk is inherent to all businesses more so when the operation is technology based. Although all risk mitigation techniques are taken but it is not certain that there may not be any major failure in the operating system arising from error, fraud, unforeseen external events etc. The failure may impact the performance of the bank.
Recommendations
New investment schemes should be introduced to meet customer demands to stay ahead in competition and better satisfy customer requirements.
Proper future forecasting is much more needed in case of credit or investment opportunities.
The productive sectors of our country are not so developed. So the bank has to invest on the productive sector of our country to improve this sector for the betterment of our economic condition.
Large investment risk must be minimized and should be emphasis to its SME and consumer     credit scheme so that recovery rate may increase and risk may decrease.

The bank has to improve their deposit policy. The deposit of the bank should be more diversified.
The employee especially credit department are deal with different dimension of risk, so they have to properly trained.
In order to successfully implement the strategy, the in-house capacity development is important. This is to be done through continuous training of the employees.
Extend the business to existing clients through more product range and penetrate new markets through expansion of network in rural areas.
The bank has to ensure adequate and timely loan loss provisions are made based on actual and expected losses.
They have to make the regular review of the worse accounts.
NBL should concentrate on Smoothing service and reducing time consumption. Therefore, NBL should recruit more employees at their branches.
Ensure the use of latest technology in banking operation to meet up the customers demand.
NBL has to introduce their ATM booth across the country to meet up the customers demand.
Conclusion
The popularity of banks is increasing day by day which leads to increase competition as well. All the Commercial Banks are offering almost the same products and services and almost same their operation system. But the ways they provide the services are different from each other. So people choose their bank according to their satisfaction and need. They believe in developing strong interpersonal relationship with each other. As such, they are morally bound to provide high quality banking services with the latest technology to obtain optimum return on shareholder's equity ensuring safety of depositor's money and making all out efforts to introduce their innovative Islamic Banking products to their existing and prospective customers. Banks always contribute towards the economic development of a country. It is obvious that the right thinking of this bank including establishing a successful network over the country and increasing resources.